Rick Santorum Wants You to Know Excluding Homosexuals is Essential to the Boy Scouts' Survival
February 6, 2013 | Posted by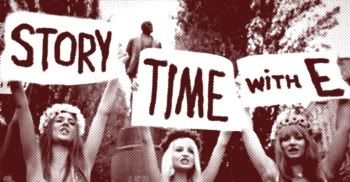 I was never a Boy Scout, but it's my understanding the organization once played an important role in American culture. Since they don't sell overpriced cookies like their counterparts of the opposite sex (and probably for other reasons), the Boy Scouts of America are an institution of diminishing relevance that must adapt if it wants to continue.
On Wednesday, the Boy Scouts had scheduled a vote on whether or not to take an important step into the 21st century by lifting their ban on homosexuals. They've apparently decided to delay that decision for a few months, so for now the ban stays. Prior to the delayed vote, Rick Santorum said that the inclusion of gays would be tantamount to "murder." Just in time, too – it's been months since we've had excuse to disparage Santorum.
The story so far…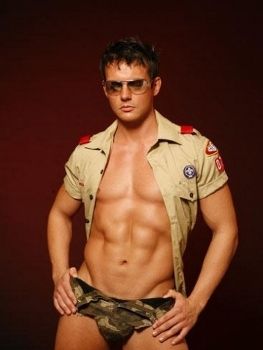 Artist's rendering of personal fitness merit badge recipient
The Boy Scout's National Executive Board held its first meeting of 2013 this week in Texas. This particular meeting got more attention than usual since the Boy Scouts said they would consider reversing their longstanding exclusion of homosexuals. Opponents of the gay ban showed up at the hotel where the meetings were held with purportedly 1.4 million signatures on a petition opposing the policy.
It's not hard to find stories of people who have been kicked out of the Boy Scouts for being gay. Some recent cases:
• Jennifer Tyrell of Bridgeport, Ohio was "fired" from her 7-year-old son's troop for being gay in March 2012.

• A Missouri Eagle Scout named Eric Jones lost his job as a camp counselor this past summer for coming out of the closet.

• 17-year-old Ryan Frederick completed the Eagle Scout requirements, but was denied the recognition and kicked out of the Boy Scouts for being gay a few months ago.
In an era when homosexuality is no longer widely viewed as a deviant lifestyle choice, the Boy Scouts' gay ban seems antiquated. And it's not as if they are in a position to be excluding interested parties. According to the Huffington Post, their membership has been in steady decline:
[M]embership in the Cub Scouts – the BSA's biggest division – dropped sharply last year, and was down nearly 30 percent over the past 14 years.

According to figures provided by the organization, Cub Scout ranks dwindled by 3.4 percent, from 1,583,166 in 2011 to 1,528,673 in 2012. That's down from 2.17 million in 1998. […]

The BSA's overall "traditional youth membership" – Cub Scouts, Boy Scouts and Venturers – totaled 2,658,794 in 2012, compared to more than 4 million in peak years of the past. There were 910,668 Boy Scouts last year, a tiny increase from 2011, while the ranks of Venturers – a program for youths 14 and older – declined by 5.5 percent.
One can imagine how adopting a more inclusive policy might improve membership. Recent survey data indicates that the general public thinks the Boy Scouts should lift its ban on gay members. With a less discriminatory policy, the Boy Scouts could enhance its image and make some gains.
On the other hand, some special people believe lifting the ban would be the Boy Scouts' death knell. Take Rick Santorum. (Please.) In the midst of this debate, the 2012 Republican Iowa caucus winner wrote a commentary for some rightwing website about how the gay ban is the only thing the Boy Scouts have going for them anymore. It's pretty much what you would expect:
Liberal activist lawyers went to court to force the Boy Scouts to change, but the Supreme Court in 2000 upheld the Boy Scouts' right to set its own policies. […]

[Lifting the gay ban] will remove the legal protection given to them by the most recent Supreme Court case that permitted the BSA to include or exclude members based upon commonly held "viewpoints." If those principles are now optional, every troop that doesn't want a homosexual or atheist scoutmaster will be sued. That assumes those troops run by faith-based individuals and church hosts will stay with the Boy Scouts. Many will simply leave and pursue alternative ways to continue to invest in the development of their young men's character, leaving the Scouts hollowed out at its core. […]

Scouting may not survive this transformation of American society, but for the sake of the average boy in America, I hope the board of the Scouts doesn't have its fingerprints on the murder weapon.
Fun fact: when you type "rick santorum boy" into Google (as you might if you were about to search for "rick santorum boy scout gay ban" or some such), it auto-completes to "rick santorum sphincter boy." Try it at home!
On one hand, you can kinda sorta understand how a conservative might be afraid that lawsuits will ruin private associations. American lawyers have a long history of making a nuisance of themselves. As much as their discriminatory policy is outdated, the Boy Scouts are a private organization and under no obligation to admit gays or atheists if they don't want to. The fact that they had to engage in a lengthy and expensive legal battle to protect their rights is deplorable. You can see how liberal activist lawyers have regrettably put Rick Santorum in a position to make a fair point.
On the other hand, Santorum is an ass who won't even make a fair point when given the opportunity. There's a perfectly valid argument to be made in defense of freedom of association here. Instead, Santorum condemns the removal of God from the public square, and tut-tuts "sexual liberation" and "the transformation of the family." Like a lot of religious conservatives, Santorum seems to believe that a world that includes homosexuals is not capable of virtue. That's a quaint notion at best.
Even if we acknowledge the Boy Scouts (or any private organization) has the right to exclude people from membership for any reason, it's fair to ask what such exclusion will accomplish. If there is some evidence that homosexual Boy Scouts pose some kind of threat to their fellow members, Santorum does not bring it to our attention. If there is any reason to believe that homosexuals in leadership positions in the Boy Scouts are especially likely to abuse vulnerable youngsters, let's hear it.
In the absence of evidence to the contrary, continuing the ban on gays appears to be discrimination for its own sake. I would think that an organization with declining membership should not make itself less appealing to the general public, but that's exactly what Santorum is suggesting. No wonder no one can bring themselves to vote Republican anymore, even in a miserable economy and a looming debt crisis.
To the extent that the Boy Scouts are struggling to survive the transformation of American society, it might be because its values are no longer reflective of mainstream opinion. Lifting its ban on gays may not ensure the Boy Scouts' long term sustainability, but appeasing the likes of Rick Santorum seems like an ill-advised strategic orientation. If that's the direction the Boy Scouts want to continue, they will deserve a hasty demise.

comments powered by Disqus