The Tuesday Communique 10.09.12: Comments?
October 9, 2012 | Posted by

– The Wrestling News Experience with Stephen Randle
– The Wrestling 5&1: Winter vs. Tara with Tony Acero
– Thursday Sports Entertainment News Report with Sean Kelly
– The Wednesday Wrestling Week That Was with Sam Smith
– The Contentious Ten Bound for Glory Matches with Gavin Napier
– Moments That Changed Wrestling History: 4 Horsemen with Craig Wilson
– The Piledriver Report: The Rise of Ryback with Ronny Sarnecky
– The 8 Ball: Underrated Performers with Ryan Byers
– Shining A Spotlight: Odd Couples with Michael Weyer
– Ask 411 Wrestling: Vince Sr, Tenay, Patriot & More with Mathew Sforcina
It's another week
You bet your bottom dollar
That there will be news.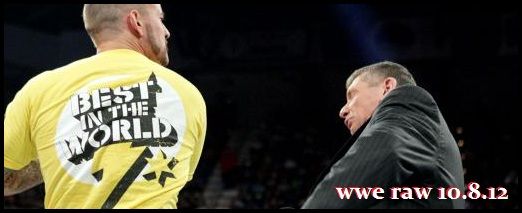 How deep was he under anesthesia? This stuff happened weeks ago!
– Alright! We got JR and JBL at the booth tonight!
– Cole's not supposed to be a dick, so this could be good!
– Missed who? He was off TV for a week!
– Fluff is gone… and now he can confront Punk himself.
– Still need to earn a shot, bro.
– RYBACK!
Ryback def. Primo & Epico (2 min)
– I thought they cared about the tag division?
– Sweet missile dropkick into a backstabber. Shitty camera angle.
– No more clotheslines! You'll kill them!
– Crowd popped HUGE when he got them both up. Dude is getting way over.
– Little Jimmy likes the ladies!
– This is something else. AND COLE IS SELLING THE SHIT OUT OF IT!
– And Vince dumps them out. Let's see what happens.
Vince's State of the WWE Address
– Vince says nothing important. My wife says he looks skinny.
– Here comes Punk. This would have lots of promise a year ago.
– Sadly this isn't anything close to an epic encounter.
– They keep bringing up Steve Austin the last few weeks. Fuckers better stop teasing.
– Sorry guys, but this story doesn't make me want to keep watching.
– I thought he was going to make him fight Cena in the Cell or be fired.
– Didn't Punk say he could just quit and take the title?
Tag Tourney Semi-Final: Sin Cara & Rey Mysterio def. Prime Time Players (7 min)
– Uh… they have THREE HOURS — why does a team that has a push get a jobber non-entrance?
– Sin Cara's entrance video is so damn hokey. It's like Dud
– Look at that suicide dive!
– He dove right into a commercial break!
– Good action but that finish was a bit anticlimactic.
– Luchadores v. Rhodes Scholars will be a good final.
Non-title: Sheamus -NO CONTEST- Wade Barrett (13 min)
– Okay, seriously. YOU HAVE THREE FUCKING HOURS. What's with the short entrances?
– Really? Big Show? This match could have been awesome.
– "I'm a dollar out here with two dimes!" – JBL
– Did people REALLY make fun of Sheamus for looking like he was Irish? In Ireland?
– Nice counter to the kick on the apron. Sheamus hit his back on a commercial!
– The back and forth boot to the head and punch to the gut in the corner was sweet.
– Tensai? Jim Ross is going to have to change his pants with all of these Hosses!
– And there he goes!
– They had a pretty darn good match going on there. I hope they get another shot soon.
– I'm sorry, but I'm not buying Punk as this character. He's playing it great but I don't care
– I know he hasn't played for a few years, but Cena DWARFS Strahan.
Non-title: US Champ Antonio Cesaro def. Tyson Kidd (4 min)
– If they would give them 10 minutes to go all out this match would be amazing.
– Instead it's a boring squash while Cole and JBL argue about Vince.
– Nice double stomp on the apron.
– Tyson with a bit of a rally…
– HYOOOOOGE UPPERCUT! Neutralizer and it's done.
– Not bad.
Non-title: Tag Champs Team Hell No def. Dolph Ziggler & Alberto Del Rio (17 min)
– JBL hates Mil Mascaras!
– Cole and JBL are arguing. Yay.
– Bryan hits a flying knee on Ziggler, who lands in a commercial!
– Back with Ziggler rolling through a frankensteiner. Nice.
– Cole's assessment of Kane & Bryan acting like siblings is a good description.
– Can somebody give Dolph Ziggler a storyline?
– Holy tilt-a-whirl backbreaker!
– Bryan's throwing elbows!
– Hot tag! Double chokeslam! NO! Famesser! Nearfall!
– Don't tag yourself in! He's on a roll!
– Missile dropkick!
– Kane tags himself in! Chokeslam! The crowd is the winner!
The Miz on Larry King NOW
– This has massive trainwreck potential.
– He had to ask his wife if he liked WWE!
– Did Larry King just set up a feud for the IC Title?
– Also, I think they broke up Truth & Kofi
– MIZ WITH THE BUUUURRRRRNNNN!
– Oh shit! Things just got real! Give her the SCF!
– Dive off the top! It's a step down from the Orton feud, but hey, I'm for it.
– Holy shit Larry King can walk!
Tag Tourney Semi-Final: Team Rhodes Scholars def. Santino Marella & Zack Ryder (3 min)
– They're really calling them Team Rhodes Scholars?
– Nothing of note until a simple jab stopped Santino's comeback cold.
– Rhodes Scholars win and celebrate with a handshake into a cartwheel!
Divas Title: Champion Eve Torres def. Kaitlyn (3 min)
– Oh no. Layla is on commentary again.
– Worst back bodydrop ever!
– Torture rack! I didn't know I was watching that kind of movie!
– Layla is complaining that Kaitlyn is hurt. JBL calls her out for it and makes her look stupid.
– Heel hook!
– This is a good storyline, but Layla can't pull it off and JBL calling her out doesn't help.
– Aberdeen, Washington! Haha that was awesome.
– He should have said "Parts Unknown" for Kane. I don't even know what he did say.
– Fruit roll-up! I KNEW that mask reminded me of something.
– Skeletor!
Non-title: CM Punk -NO CONTEST- Vince McMahon (10 min)
– Punk from nowhere! Holy crap!
– Vince is up! Takedown!
– No bell, but the match seems on.
– Roundhouse by Punk.
– What a maneuver! That's all? Come on Punk, you're better than that!
– Vince is busted open! He looks 100.
– Punk over the announce table! Vince follows! JR namedrops Muskogee!
– I shouldn't be enjoying this.
– Singapore cane!
– Punk runs! Down goes Heyman!
– Punk has his own cane! They're going at it! This is awesome!
– Punk's begging off! LOW BLOW!
– He's killing him! GTS!
– No! RYBACK! HOLY SHIT!
– Cena FEEDS RYBACK! CROWD IS GOING FUCKING INSANE!
– Punk escapes Shellshocked!
– THAT IS HOW YOU END A SHOW!
Overall RAW Thoughts
I was expecting some sort of major announcement or shakeup when Vince came to RAW, but it turns out that he just came in to shake Punk up. I'm actually glad that there was no major change announced now that I've seen the show. I don't know if they'll keep the momentum going, but that closing segment was fucking fantastic. I LOVED IT. The crowd went apeshit with everything and I was right with them. The rest of the show was up and down. The tag tournament matches were okay and the right teams won. Sheamus, who is SmackDown's champion, continues to be a workhorse on RAW and put on a very good match with Barrett. Kofi and Miz started a feud over the IC Title in an entertaining segment that I was expecting to be crap, so that was a plus. The tag champs had a very strong match with Ziggler & ADR and entertained backstage as well. Not much to complain about. I wasn't on board with the Punk stuff until tonight, but suddenly I'm all over it and I want to see what happens next. They actually used the 3 hours pretty darn effectively. Thumbs up from me.


Wrestling Communiquickies
– That name sucks. It will be changed.
– Cody Rhodes went to Egypt and seemed confused about how people were trained to wrestle.
– Colt Cabana was hoping to use Slick's "Jive Soul Bro" as Scotty Goldman's theme song.
– Sex.com is offering Hogan what one would assume is a shit ton of money for his sex tape.
– A parody has already been made of the tape. I will hopefully never be lonely enough to watch it.
– Linda Hogan is going to be on a new TLC show called Brides of Beverly Hills, which is sure to be riveting TV.
– Impact Wrestling last week had its fewest amount of viewers in 2 years. Vince will be showing up this week.
– Russo.
– Dana White said that he would definitely bring Brock Lesnar back for another fight.
– Batista won his first MMA fight on Saturday. I wanted to be an ass about it, but he was very humble.
– Hornswoggle and Curt Hawkins had surgery. No word on whether or not it was to meld them together.
– No details have been released, but it appears that Christian is no longer scheduled to make an appearance for TNA's Hall of Fame ceremony during this weekend.
– RVD's contract with TNA expires in a few months and he doesn't know what he plans to do next.


WWE Main Event on Ion
I absolutely loved this show. It rang very true to wrestling shows of the past. Two announcers talking to the crowd to open the show, video highlights of each wrestler and quick interviews. That gives the match a slight backstory. The match itself, Punk v. Sheamus this week, was stellar. They got close to 20 minutes to tell a decent story and it was exactly what they needed. Miz was very good on commentary, Cole is continuing to get back to normal babyface announcer Michael Cole and everything clicked just right. The heel champion gets a classic cheap victory, both the loser and winner are interviewed again after the match is complete and we move on. Throw in a very good tag tournament match to send the TV viewing audience to bed happy and you have a great, simple formula for a one-hour weekly show. It absolutely breezed by and I could not have been happier with it. Blah blah they gave away this match with no build on a B-show. It's not worth complaining about. Take it for what it is and enjoy it. I certainly did.


WWE On Netflix
Just a random thought… I've been watching a lot of WWE's stuff on Netflix and for some reason the picture quality is almost always pixelated and kinda crappy. It never happens with anything else, yet somehow it is nearly impossible to get good quality on the instant watch WWE stuff. Of course as I type this I'm watching the "Falls Count Anywhere" DVD and the picture is great. My son is loving the Cactus Jack/Sting match from Beach Blast '92. Also, Foley, who is naturally the host of this one, makes a Pat Patterson "nut" reference within 5 minutes. I wonder how many people who bought this DVD got that.


Brian Pillman: RIP
This past Friday was the 15th anniversary of Brian Pillman's death. That's a long ass time. Here, check out a match from 1989 against Lex Luger!


Hogan Knows Breast
Cheap headline (and pretty lame), I know, but I couldn't help myself. You owe it to yourself to check out the play-by-play of the 32 minute video from Gawker. They also have 1-minute long clip for those curious. I'm of course talking about the newest sex tape on the market, Hulk Hogan fucking (kinda) a woman who may be Bubba the Love Sponge's ex wife. At the time she may still have been his wife, as the story goes that Bubba liked to share her with Hulk (maybe other guys, too — I bet he let Beefcake and the Nastys run a train on her). Here's the Gawker post, written by AJ Daulerio, who does a fantastic job of making me want to be sick while at the same time captivating me and not allowing me to stop reading. Not long after this hit the 'net, Hulk's ex wife Linda was picked up for DUI. They claim she had "a glass of wine on an empty stomach" and some "medication that made the effects greater", but I don't see how that makes it better. Probably worse, I'd say. Banner week for the dissected Hogan family!


Chris Jericho Not At 'Mania?
Chris Jericho said on Twitter that he won't be at WrestleMania 29. Word is that talks have broken down because WWE refuses to give him control over his dates even though he would plan to be around for a few months at a time, leave to go on tour and then come back and do the same. I assume that means he would continue to do house shows as well as showing up every week on RAW (and a bunch of episodes of SmackDown too!) I can't believe that WWE balked at whatever Jericho wanted. The guy has done anything and everything asked of him and when he comes back to TV he commits to a full fucking schedule, not just every once in a while appearances. If they really gave him shit for what he wanted, that's a load of crap. I still think he'll be at 'Mania though. I mean, the dude lied to me about returning to TV at the end of 2007. Right to my ear! I will NEVER take him out for burgers like I promised! Not for a liar! A Canadian liar!


So I Was Watching NXT
I'm getting through some more episodes and I must say that I'm loving the Ohno/Steamboat feud. It's absolutely simple and just fantastic. The match they had on the 9/26 episode was damned good and anybody who wants to see the future needs to check it out. These dudes need to be brought up to the main roster. Seth Rollins tweeted the same sentiment about himself, saying: "There are moments where I feel like if you strapped the entire business to my back I could take it to places its never been. Like right now." There has been a ton of talk all over the 'net recently about how WWE needs to find a replacement for John Cena. How about replacements? Lots of them. That way
CHIKARA Pro Wrestling
1-2-3 Kid v. Amazing Red v. Frightmare v. Obariyon || Chikara King of Trios 2011 (Night 2) – April 16, 2011
From TJ Hawke:
This was a semi-final match in the Rey de Voladores. The winner of this match would go on to the face El Generico in the finals on Night 3 of King of Trios. This match was definitely enjoyable, and I would recommend that you check it out. The 1-2-3 Kid wrestling redemption storyline of the 2011 King of Trios was one of my favorite things in wrestling from 2011. The Kid and El Generico would go on to have an awesome match on Night 3, which is a DVD that you should absolutely buy.
For more, please visit FreeProWrestling.com
Thus we end another edition of the Tuesday Communique. Smith is in tomorrow. That's all I got.
– Nicholas A. Marsico
comments powered by Disqus