Ottawa Game Show Speaker Suggests Developers Should Kill Their Girlfriends and Move to New York
May 30, 2014 | Posted by
Gavin McInnes is a known commodity who can be relied on to be offensive. He makes comments that are deliberately demeaning to… well, everyone. What he doesn't do is really make sense. He's the kid in your fifth grade class saying things just to get a rise out of people, who happened to get rich mostly due to dumb luck. You can never even be sure that McInnes, a known prankster, is being serious: he always has the option of retroactively claiming that he was just making a joke, or some wingnut point about the media.
He swore like a sailor at an all-ages conference, and dropped the word "apartheid" twice for no apparent reason. He slagged Montrealers and Torontonians, derisively referenced transgendered black women and people with Asperger's Syndrome, made an offhanded suggestion that former colleagues should have killed their girlfriends, and said that fat men are the best salesmen because they can hold their booze. He also implied he and Vice's other founders attempted to fund the magazine through welfare fraud, and advised those gathered to go into the welfare office with crossed eyes and to write with their left hand. (Note: the magazine is quick to point out is no longer affiliated with the publication.) Of course, he frequently referenced how much money he had, because this makes him an authority on, apparently, everything. He sneered at the entire concept of conscious diversity and promoted a false meritocracy which is controlled, of course, by pricks like him.
This is all actually tame by McInnes' standards, and many guys in the room – and a few women – laughed enthusiastically. But here's the thing: McInnes has never made a video game. He never even referenced contributing to a video game. So why the hell was he the keynote speaker at the first day of a video game conference?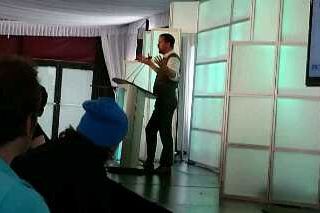 The only thing I could think of is that the conference organizers wanted to generate shocking headlines, working on the theory that there's no such thing as bad press. I was later told by someone who complained about McInnes' comments that he was an organizer's brother. If that's true, then McInnes' entire meritocracy argument goes out the window — there's nepotism at work somewhere in that structure. Either way, starting the conference in this hostile fashion did a disservice to the hard-working local developers who actually were there to be judged on the merits of their products. As Ubisoft Montreal's Ambre Lizurey mentioned in a later panel, behaviors breed behaviors, and opening the conference with hostility left a charge in the air at the National Arts Centre.
Ubisoft itself is a flagship for diversity and worldwide collaboration, which was the topic of Lizurey's talk, so I'm sure they'd be just thrilled by the content of the keynote. Sabrina Carmona from Square Enix Latin America talked about how Square Enix had to hire actual Latin people to make games for the Latin market, which demolished McInnes' argument that a person's race or gender didn't matter as long as they have "the best ideas", a statement so empty it sounds like something from a politician's speech. Actual game developers made it abundantly clear that McInnes' opinions don't actually have any merit in video game development. Some, however, quoted his terminology, I suppose in a very Canadian attempt to create something useful out of spewed invective that was never intended to be anything but noise.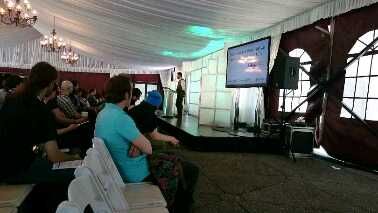 Certain attendees were open with their dismissal of the keynote. Kolden Simmonds, of the Level Up Student Games Showcase in Toronto, works with high school students in some of Toronto's most multicultural neighborhoods. He spoke eloquently to me about how he doesn't come to game conferences to learn how to make money. He comes to get a better understanding of the challenges the industry may offer, as well as the networking. Based on comments like this, it seems like video game conferences, on the whole, need to step up their game when it comes to helping Canadian game devs make money.
The vast majority of speakers and attendees at OIGC were from mobile gaming, which is the sector where small and mid-sized studios can realistically hope to turn a profit without massive financial risk. Mobile gaming is the only option in emerging markets like Latin America, where consoles cost two thousands dollars, but the average adult has two phones. Carmona said that another issue in the Latin market is that many people there can't read, so gameplay must be intuitive and images must be familiar.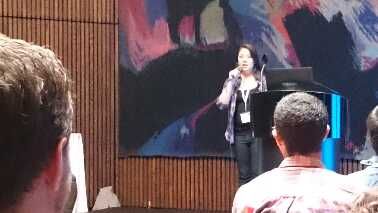 It's okay to think she's cute. She said so herself.
The most polished mobile game exhibiting was Montreal developer Ludia's cute How To Train Your Dragon builder game called Rise of Berk. It still makes me laugh that a cockney rhyming slang term for a woman's genitalia is now the name of the setting of a popular children's franchise. That being said, I'm still going to play the game, because it seems like there's a fair bit to do in it. Rise of Berk implements both a resource economy and a light gacha system: Toothless goes searching for resources that come back in satchels. You have to open the sachels to see what you get. Of course, new dragon eggs are among the things you can "win". Ludia's product is not a game made to promote the movie. The company buys licenses to base games around, so the products have to stand on their own.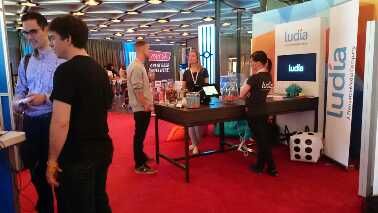 Ottawa start-up Diametric Games is also looking to release a mobile game called Gas. Gas is a surprisingly challenging side-scroller platformer where you fart your way through levels, consuming foods that cause gas and avoiding antacids, to propel yourself to the bathroom before you soil your pants. The making of Gas required the original recording of eighty different flatulence simulations – made by CEO Rob Stamper himself with his mouth — to narrow it down to the cycling sound effects that made it into the game. Stamper has issued a challenge to future players to record reaction videos of people playing Gas in public with the sound up. I suggested to him that his pitch to advertisers be "Cut one above the noise of mobile game ads." He hopes to eventually monetize the game by partnering with companies that make stomach aids, and offering product coupons as rewards for completing levels. So if you didn't get enough digital farts in South Park: The Stick of Truth, keep an eye out for Gas.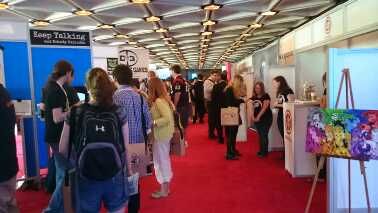 There were also a few Steam games in attendance like the insanely fun "Starwhal" — a 4 player arcade title where you customize a space narwhal, then stab other narwhals in the heart with your narwhal horn until they explode. Starwhal is also coming to the PS4 later this year.
Also on display was the asymmetric Occulus Rift party game "Keep Talking and Nobody Explodes". Keep Talking and Nobody Explodes involves one player wearing the Occulus Rift device, who is the only player that can see the digital bomb that the game requires you to diffuse. That player describes what they are seeing to an unlimited number of additional players, who use additional notes to tell them which buttons to push, which wires to cut, and the orders of symbols and words that stop the bomb from going off. The game is still being refined, but the idea is extremely cool. The goal is to have Keep Talking and Nobody Explodes ready as a launch application when the Occulus Rift hits the consumer market.
Meanwhile, the panels programming was a mixed bag. The keynotes and indie track were housed in a tent on the terrace of the National Arts Centre, and that tent became increasingly moist and aromatic as the day went on.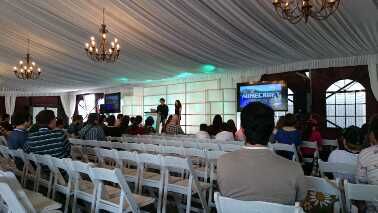 I bailed on the nighttime networking party because I could not imagine how sweaty and gross that tent would be when it was full of drunk people. The hotel bar had been bad enough the night before. OIGC is a boozy conference, even by video game industry standards. Fortunately, the wine and scotch served at the hotel bar were very good. The food served at the National Trade Center, however, was iffy. The vegetarian sandwiches were soggy and the fish options were limited to smoked salmon. And this was the lunch line, which wrapped right around the second floor of the National Arts Centre like the bread lines in Communist Russia:
None of this would have been a problem if there was any other food available for purchase within the National Arts Centre itself. In order to get food or a decent cup of tea, you needed to leave the sprawling building, something that is not easy to do when you're cramming panels, interviews, and demos into two very busy days with very little coordination help from the organizers. The upside to lunch was that you could eat overlooking the Rideau Canal, with a great view of the Chateau Laurier.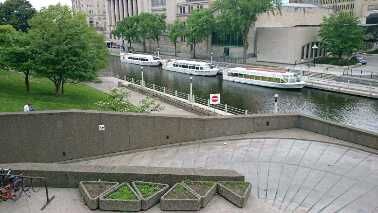 Despite the swamp-like conditions, the Indie track felt energized. The speakers were happy to be there and legitimately supportive of up-and-comers. There were numerous instances of devs giving out their personal emails, or looking at people's mobile games in the hall to provide tips. The only downside to the indie track was that developers had to leave their booths to do talks, which meant many an unattended booth, or booths manned by people who couldn't really properly describe the game. It would have been better if indie programming had been limited to half days, so that there would be reliable periods in the demo space where all hands were on deck. Some products missed out on coverage simply because there was no one at a given booth to talk to. It took me a while, for instance, to actually find a rep for a retro dieselpunk RPG called Windforge – a game that lets you hunt flying whales, then carve them up with a jackhammer for resources. I admit, I yelled "Call me Ishmael" while playing.
Meanwhile, the business track was located in possibly the worst place in the whole conference: in an unremarkable panel room behind the Mill St. Brewery booth and the Java Hut.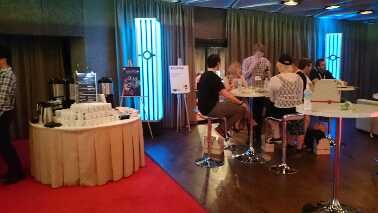 The poor location negatively impacted panel attendance, but the panelists dispensed candid, honest advice about the business aspects of the video game industry, including how to get start up funds, tax credit opportunities, and when to incorporate, trademark, and patent… and when not to. There was so much information that it was overwhelming, but it was important stuff. Of particular note was the details of upcoming changes to how trademarks are obtained in Canada, which will make it easier and cheaper for creators to trademark characters.
Jumping over to the Game Dev track meant entering the coolest room of the three – both literally and figuratively — accessible via secret door…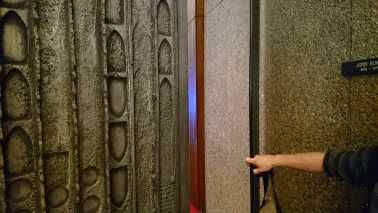 it also had a huge art installation in the background of the speaker's podium.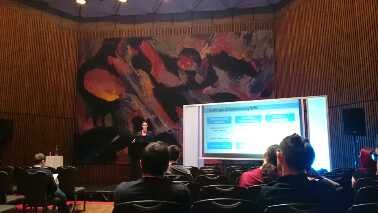 That room housed my two favorite panels of the conference. The first was the aforementioned Ubisoft Montreal panel on the worldwide collaboration for Assassin's Creed Black Flag. Ambre Lizurey differentiated between the practice of outsourcing, which is modules working on distinct pieces of a game, and Ubisoft's method of collaboration, which involves, for example, a character created by one studio navigating a map built by a second studio, with missions designed by a third. Because of time zones, Assassin's Creed: Black Flag was created through 24 hour global workdays, with work in Singapore ending just as the workday in Montreal was starting up. The cleverness of Ubisoft's approach to producing an annual title was inspiring, and it's a model that can be adopted even by small companies because the most important element is people skills.
My other favorite panel of the conference was Sabrina Carmona's panel on keeping your game alive after launch. Carmona is a native of Brazil, and this was her first-ever presentation in English, although you couldn't tell. Carmona was at ease as a presenter, professed her newfound love of poutine, and detailed the various ways that mobile game developers can retain and grow their player base after their original brief launch window. Not surprisingly, makers of free-to-play games are far more interested in the feedback of those who actually spend money on the game. It also seems like freemium games are much like a never-ending kickstarter campaign: the game-makers have to constantly crunch analytics and offer updates, incentives, and player rewards.
The man of the hour, however, was Yars Revenge creator and Silicon Valley therapist Howard Scott Warshaw. HSW, as his in-game Easter eggs refer to him, is also known as the unfortunate programmer tasked with making the disastrous Atari 2600 E.T. The Extraterrestrial game in just five weeks. That game's failure contributed to the collapse of Atari, and was recently excavated from the New Mexico desert, but Warshaw speaks about the experience both with good humor and introspection. He doesn't see the E.T. experience as a personal failure, because he still made a game in five weeks. The industry-wide bust had much more to do with Atari's business practices than any single game.
Since the Atari days, Warshaw has gone back to school and emerged as a psychotherapist, with a practice specializing in clients in Silicon Valley – engineers, programmers, and other highly intelligent people. Warshaw's practice is so successful that he says he doesn't really have an interest in getting back into programming – He finds his current work too fulfilling.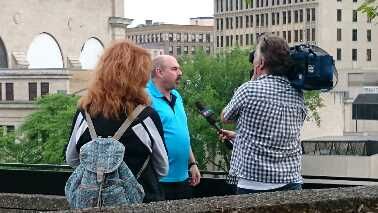 Warshaw is warm and likeable, and has body language that makes you think that he's just on the verge of hugging everyone he talks to. He was extremely approachable and the tent room was the most full I'd seen it all conference during his talk. His optimism during his day two keynote was as infectious as the hateful pessimism of the day before, and I think it soothed many a hangover.
Another nice surprise was the art show, organized by Adam Tupper, who also contributed many of the more eye-catching pieces, including this Blackest Night My Little Pony piece: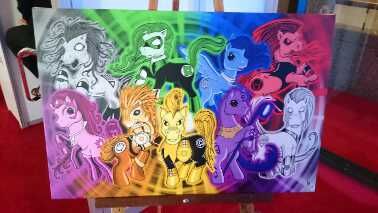 Unfortunately, none of the pieces of art on display had any indication of the artist's name, so an opportunity for kudos was somewhat lost – something Tupper told me they intend to fix for next year. Still, the paintings spread throughout the trade show space did liven things up, and gave the room a "for geeks, by geeks" feel.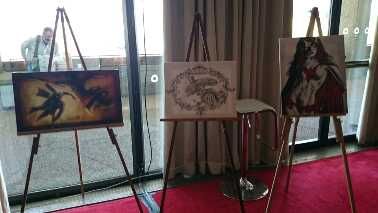 After my two days there, summarizing the Ottawa International Game Conference is difficult. I never really got a feel for what the conference intended to be, perhaps because it's still a young show. My lasting impressions were that video games are still a great art form, there are a lot of passionate, good people working in games at all levels, and that Ottawa has an innovative local scene. The conference itself, however, needs work on its identity: not only must it attract better triple A talent, but it needs to choose its speakers more wisely, streamline some of the programming tracks, and improve its communication with the media to make it easier to get interviews. A proper press room with decent internet would have been extremely handy, because the internet in the hotel at night, predictably, sucked.
And the Ottawa International Game Conference needs to keep the loud, offensive rambling in the bars where it belongs, where it's fun, and not force it down attendees' throats first thing in the morning without a content advisory for the unwary. There's a time and place for everything, including Gavin McInnes, but after the debacles surrounding the Killer Instinct Rapefail at E3 and Mike Krahulik's numerous uninformed statements, the fact that McInnes' comments didn't ignite a full scale culture war implies a distinct lack of relevance, applicable to both the conference as a whole and Gavin McInnes himself.