20th Century Women (Blu-Ray) Review
March 28, 2017 | Posted by
20th Century Women (Blu-Ray) Review
20th Century Women is a film that I was greatly looking forward to viewing, especially considering the cast. That is why it is such a bummer that the film did not really pop on screen for me. The film features actors such as Annette Bening, Elle Fanning, Greta Gerwig, and Billy Crudup. I try to preach the importance of going into a film with an open mind, but I'd be lying if I said that there were not some films I looked forward to watching more than others. This was one of them, and it just fell flat on its face for me in terms of tone, drama, and overall feeling. The highlight is the acting.
The film is set in 1979 Santa Barbara. It focuses on three women in particular, and they are all very different from one another. Dorothea (Annette Bening) is a divorced woman that keeps her feelings tucked inside and is struggling to connect with her son, Jamie (Lucas Jade Zumann in a star-making performance). Her problem is she wants what is best for her son, but she does not know how to communicate her true self or really be there for him. Jamie doesn't even know all that much about his mother and when he tries to ask her questions, she is quick to stick to the basics and never get into anything too personal.
Seeing that this is an issue, she enlists the help of a woman that lives with her named Abbie (Greta Gerwig), a free-spirited photographer with red hair that is also battling cervical cancer. There is also a next-door neighbor named Julie (Elle Fanning) that often sneaks into Jamie's room and spends the night. Julie's mother is a therapist and they don't have much of a relationship. Jamie and Julie never have sex, but they share a connection with one another. There is also a handyman living with them named William (Billy Crudup), and he just seems to go with the flow.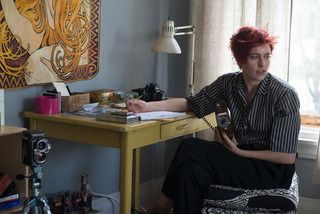 Abbie is much more helpful than Julie, as Julie is a little self-involved and does not want to be a mother figure to Jamie. Abbie gives Jamie books on feminism and how to please a woman. She is trying to make him a man for the future so that he is reliable, caring, and understanding to women. He is interested in learning as much as he can about being a great man and also being there for women. He does not want to be like every other guy out there that only views women as sexual objects.
The acting is top notch all the way around in this ensemble, and that makes it hard to pinpoint just one actor or actress for their performance. Everyone brings something unique to the table. The best of the lot, in this film, if I'm being pushed, is Greta Gerwig. Everyone knows her as the queen of the independent flick, and she brings her usual spunk and eccentric qualities to the role. She feels the most real out of all the characters in the film. Praise also must be given to young Lucas Jade Zumann for holding his own with everyone and never looking flustered or overwhelmed.
The film is written and directed by Mike Mills, and he does a lot with the music and with the style of the film. It is very bland and it does not hit any of the emotional high notes. It is important in a film like this to not bog it down with unnecessary nonsense. Between the voiceovers, backstories, music, and the visual touches, it takes away from what could have been a pretty good movie. All of the really good performances are not enough to carry this average film, sadly. That falls on Writer/Director Mike Mills as he penned a script that is oftentimes too simple and run-of-the-mill.
Blu-Ray Info: 20th Century Women is released on a single-disc Blu-Ray from Lionsgate Home Entertainment. It comes with a Digital HD copy from Ultraviolet and it has a running time of 118 minutes. It is rated R for sexual material, language, some nudity, and brief drug use.
Video Info: The film is released on 1080p High Definition 16×9 Widescreen 2.00:1 presentation. I can't recall if I have ever seen this aspect ratio on a film before, but if I have, it has definitely been a while. It looks great and is very scenic. When the director is not doing too many tricks and simply allowing us to bask in the beauty, it is something to behold.
Audio Info: The audio format is English 5.1 DTS-HD Master Audio with subtitles in English and Spanish. The audio sounds really impressive and also stands out during the dialogue scenes.
Special Features:
Audio Commentary with Writer/Director Mike Mills: He is a very intelligent fellow, which is what makes the finished product all the more frustrating. This was a personal experience for him, and he goes into detail about that on this commentary track. He also discusses getting the look of the film right and how the cast came together.
Making 20th Century Women (09:31): Writer/Director Mike Mills talks about how each film is a limb and he has used three so far. This film was a portrait of women that raised him. There are also interviews with the key cast members, a producer, costume designer, and cinematographer.
20th Century Cast (10:49): The director talks about the casting process and we are also treated to interviews with all of the main actors and actresses from the film as they talk about preparing for their roles and what drew them to the project.
6
The final score: review Average
The 411
In the end, even though 20th Century Women is merely average and not terrible, I just can't recommend that you check it out. It did receive an Oscar nomination for Best Original Screenplay, but I just don't see it. What is even more maddening and frustrating about this film is the fact that there are moments where there are scenes that are comical or well-acted. In a film that is almost two hours, you would expect them to be more frequent in a film with this type of cast. I've seen three films from Mike Mills, and I have not really enjoyed any of them. Maybe his style and the way he does his films are just not for me. Usually, when a film is average, I say it is worth checking out at Redbox at least. I won't even say that for this one. This one just left me feeling like it was more of a film made for the director than with an audience in mind. Again, I'd skip this one. It's a real disappointment.
legend