31 (Blu-Ray) Review
December 21, 2016 | Posted by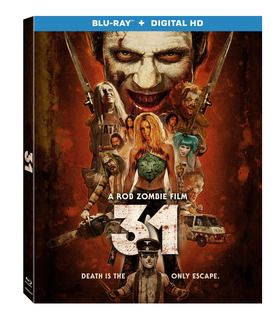 Whenever a film by Rob Zombie is released, it is sure to be a visceral experience and something to remember, that is for sure. Even if all of his films are not hits or particularly good, one can never call them boring. Personally speaking, my favorite is still The Devil's Rejects. He has a tremendous visual eye and his films are very in-your-face and balls-to-the-wall. He takes no prisoners and really goes for it. My second favorite film of his is now the film 31, which is an impressive blood fest that is unrelenting, gory, brutal, and incredibly well shot and put together. It is very entertaining and moves at a brisk pace.
Once again, he casts his wife in Sheri Moon Zombie, and it would be great to see her in more horror projects besides her husband's projects. She has done a few outside of Rob Zombie's films, but she really brings a kick-ass approach to this performance and a powerful intensity. She is a natural on screen, and it is a shame she is not used more in other flicks. Here, she teams up with a group of carnies played by Jeff Daniel Phillips, Lawrence Hilton-Jacobs, Meg Foster, and Kevin Jackson. While on the road, they find themselves abducted and playing a very dangerous game called 31, which is run by Father Murder (Malcolm McDowell).
The way he and his associates are dressed, it almost looks like they are coming straight out of The Hunger Games. In order to win the game of 31, they must survive for 12 hours against a bunch of crazy clowns. As per usual, there is nothing scarier than clowns. Father Murder and his cronies also place bets on which individual they think will survive based on what they have seen and the odds change as the game goes on throughout the course of the movie. They have to face off against characters such as Sick-Head, Schizo-Head, Psycho-Head, Death-Head, and Sex-Head (played by Elizabeth Daily).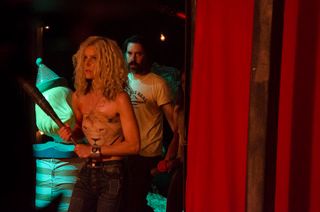 It is easier said than done as there are cages and weapons all over the place, but they do a good job of sticking together as best as they can, considering the circumstances, which was a good change. So often in horror films, audiences see characters that do things that are just flat out dumb. It is part of the genre, but it can be frustrating. Here, they are all adults and they think and act like adults. They want to survive the game. The film opens with a grisly and chilling dialogue delivery from Richard Brake, as he plays Doom-Head. It lets the audience know right away what they are in store for during this movie.
That is one of the best things about Rob Zombie movies, love them or hate them. He really goes for the throat and he is not afraid to offend, go for the jugular, and really take it back to 70s horror where it is unapologetic, gruesome, and brutal to watch at times. That is greatly appreciated, as it is clear he is a hardcore fan of horror and it shows in his films. He lets everyone know that these are messed-up people doing messed-up things. At times, it feels hopeless, bleak, and dark. That is how a horror film should feel when it is done right.
In the end, as mentioned previously, this is my second favorite Rob Zombie film behind The Devil's Rejects. Looking at the box office numbers, it didn't set the world on fire and it didn't make a ton of money, which is always disappointing, as it discourages studios from making more movies like this in the future. There is always room at the box office for a hard R-rated horror flick filled with blood and guts and unlikable characters that are sick and twisted. Rob Zombie's films are always a treat for their eyes as well, and one can tell he puts a lot of effort into the look and feel of the flick.
Blu-Ray Info: 31 is released on a single-disc Blu-Ray from Lionsgate Home Entertainment. It is rated R for strong bloody horror violence, pervasive language, sexual content and drug use. It also comes with a Digital HD copy from UltraViolet as well. It has a running time of 103 minutes.
Video Info: Released on 1080p High Definition 16×9 Widescreen 2.40:1 Presentation, 31 looks grisly, grimy, brooding, and moody on Blu-Ray. The film is set on Halloween in 1976 and certain shots in the film reminded me of The Texas Chain Saw Massacre, especially when they are all in the van. It is a throwback for sure while still looking fresh and colorful.
Audio Info: The English 5.1 DTS-HD Master Audio track sounds awesome, as the gory scenes sound really on point and terrific. There are also subtitles in English and Spanish.
Special Features:
Audio Commentary With Writer/Director Rob Zombie: I could listen to Rob Zombie talk all day long, and he gives a ton of information on the genesis behind the project, filming it, and bringing it to life. He's a very fascinating individual with a lot to say, and he is not shy about voicing his views.
In Hell Everybody Loves Popcorn: The Making of 31 (2:11:00): This can be watched using a play-all option and includes five different chapters: Chapter 1: Pre Production, Chapter 2: Days 1-6, Chapter 3: Days 7-11, Chapter 4: Days 12-16, and Chapter 5: Days 17-20. There is a lot covered here, and I don't believe they leave anything out of the filmmaking process. I wish more films did things like this, as the audience really gets to see all that went into it and what the days were like from start to finish. It's incredibly informative and entertaining.
8
The final score: review Very Good
The 411
First of all, as a film, I really enjoyed 31. I'm not afraid to admit that I love some gruesome kills and some blood and guts. I love horror that is just going for it without holding anything back and really features some dangerous characters, especially Doom-Head, played by Richard Brake. This is one sick man, and he reminded me of someone that would be in The Devil's Rejects. Rob Zombie is really talented behind the camera, and he is a good writer as well. I'm always interested in seeing his films, even if they don't always turn out as well as I think they should considering his talent. Again, this is his second best film behind The Devil's Rejects. The audio and visual aspects are really, really good, and the special features go above and beyond in terms of explaining the film. The audio commentary is also worth listening to as well. If you love horror and feel that more R-rated horror movies should be released and seen, purchase this one right away as the more it makes on Blu-Ray or DVD, the more likely they are to release it even if it doesn't do well in the cinema. I was looking forward to this one the minute it was put in my PS4, and I was not let down. It is a race for survival and very entertaining.
legend