411 Fact or Fiction Movies/TV 12.28.12: Week 363
December 28, 2012 | Posted by
Hello, everyone! Christmas is now in our rearview, and 2013 is now staring us square in the eye. With that in mind, I now present to you the final Fact or Fiction of the year 2012. Helping us out on this endeavor is long-time staffers George Sirois and Tony Farinella. Let's see what they have to say…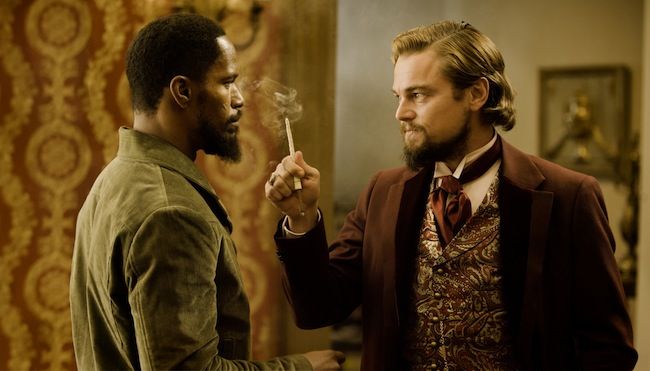 1. Django Unchained will wind up being considered one of Tarantino's very best efforts.
George Sirois: Fact. If there's one thing you can say about Quentin Tarantino, it's that he puts everything he has into his films. If there's a story he wants to tell, it doesn't matter what genre it fits in, he's going to make it universally appealing. And he's proven to doubters that he's not going to pad his dialogue with pop culture references like he did in his earlier work like Reservoir Dogs and Pulp Fiction by setting his most recent stories during World War II and during the era of slavery. Having seen the most recent trailers, and hearing Tarantino's enthusiasm about working with people like Jamie Foxx and Leonardo DiCaprio, I have a feeling that Django Unchained will continue to win over any remaining Tarantino doubters and play to the strengths that earned him his fans almost two decades ago.
Tony Farinella: Fiction. I respect the hell out of Quentin Tarantino and his films. There's no doubt that he loves film and that shows in every second of his movies. However, something about this one is just not hooking me in as a viewer. I don't know if it's the trailer or what, but I'm not super excited to see it. I will see it, as Quentin Tarantino has earned my money as a viewer and earned my trust. I just don't know if it will be one of his best films. It will still be a very good movie and worth seeing, I imagine, but something from it is just missing for me and I can't put my finger on it. I'm sure the enthusiasm and passion will be noticeable while watching the film, but will that translate into one of his best efforts? I'm on the fence about it.
Score: 0 for 1
2. An Angry Birds movie is a horrible idea.
George Sirois: Fact. Yes, it's an absolutely horrible idea, which makes me not surprised in the least that it could become a reality. So all I can do is just hope that it goes as far as a twinkle in an idiotic producer's eye and quickly fades away at the sight of a new trend, something more cinematic like, say, Words with Friends.
Tony Farinella: Fact. It is a horrible idea, no question, but it's probably a horrible idea that's going to make money. The merchandise for Angry Birds is everywhere and kids seem to eat it up like candy. This is a brand that is successful and anytime you have that, you know Hollywood is chomping at the bit to cash in and turn into a movie of some sort. Just because it's going to make money, that doesn't make it a good idea for us as audience members to check it out. I don't see how they can turn this into a feature length film, and I have no interest in finding out.
Score: 1 for 2
3. Glen Mazzara quitting The Walking Dead over "creative differences" with AMC is a portent of bad things to come.
George Sirois: Fact. Yes, I understand that the quality of the show remained high after Frank Darabont was let go by AMC, but it was because of people like Glen Mazzara. If they would just let the people who are primarily responsible for the show's initial success let them do the job that they do so well, then all AMC needs to do is sit back and count their money. Unfortunately, we've seen this kind of behavior before and it's been nothing but bad news for the shows that were affected.
Tony Farinella Fact. I've never watched The Walking Dead, believe it or not, but I have many friends who love the show and swear by it. The whole zombie thing has just never appealed to me with the exception of Shaun of the Dead. Speaking from the point of view of someone who has never watched the show, the dreaded words "creative differences" are never good to hear. The fanbase I know is rabid and loud, so if they aren't happy, they will make themselves heard. Will they turn it off if they don't like what they see? That's another story all together.
Score: 2 for 3
Switch!!!
4. You have little to no interest in seeing Les Miserables.
Tony Farinella: Fiction. It could really go either way for me, but I'd rather see it and hate it than not see it and wonder if I missed something. Everyone I know who has seen the musical on stage tells me that there is not a dry eye in the building. I'm all for cinema being used as a way to move me and because of that, I want to be able to say that I've seen this film. Of course, there is all the Oscar talk surrounding the film as well.It could be one of those overrated films that is all hype and then you see it and you're like, "Eh, that's it?" Still, I want to experience it on the big screen and see for myself.
George Sirois: Fiction. I've been a fan of this show ever since I saw the 10th Anniversary Concert air on PBS in 1996, and when I heard who was going to be behind the camera for this long-awaited big-screen adaptation – as well as who was going to be in front of it – I knew this was going to be a must-see film for me. The fact that a film director is tackling this is a huge plus for me (like Tim Burton did with Sweeney Todd and Chris Columbus did with Rent; I saw both The Producers and Mamma Mia as missed opportunities since they were directed by the directors of the Broadway shows and didn't take advantage of the medium at their disposal), and by the time this is posted online, I expect to have already seen this.
Score: 3 for 4
5. Jimmy Fallon will replace Jay Leno on The Tonight Show in 2014.
Tony Farinella: Fact. I think Jimmy Fallon is hilarious, and I think he would be a perfect fit for The Tonight Show.Fallon seems to have his pulse on what the all-important 18-34 demographic likes and finds funny. Leno seems to have lost his touch, and I haven't found his show all that amusing or interesting lately. It's been pretty underwhelming. Fallon is young, enthusiastic, and really connects well with his guests. He's having fun and in turn, I have fun watching him.
George Sirois: Fiction. The fact that Fallon is doing such a good job with the 18-34 demographic in New York City (I'll admit, I was a skeptic at first, but he won me over in time) makes me feel like he would be a great player in the late-night world. However, I don't think his appeal would translate to the 11:35 timeslot yet. The audience that watches The Tonight Show is used to a more laid-back kind of show, one that would impede Fallon's progress that he's built up in the past few years. Plus, his style of humor is better suited to a New York audience, just as Letterman's is, while Leno seems more at home in California. And most importantly, NBC has to be absolutely sure that Leno is willing to walk away from the show that he got back after Conan's time came and went. If he's not, and NBC is forcing him to walk away, then it's not going to be an easy transition for Fallon or anyone else considered to move into that desk.
Score: 3 for 5
6. John Cusack would be a horrible choice to play Rush Limbaugh in a planned biopic of the controversial broadcaster.
Tony Farinella: Fiction. John Cusack is an underrated actor in my view, and this is an outside the box choice. I like it. He just played Edgar Allen Poe, and this would be another interesting character to tackle. Cusack has always, to me at least, come across as likable with a mean streak underneath with his characters. I'd never call Rush Limbaugh charming, but he would be able to capture that mean streak and that asshole persona on screen pretty well. I'm not exactly sure how he looks like him, however, but I'm sure there will be heavy makeup to look the part.
George Sirois: Fiction. Tony put it just right; Cusack is a really interesting choice and behind the expected heavy makeup and prosthetic job (paging Rick Baker), his performance would be able to humanize Limbaugh in a way that Limbaugh himself never could. I hope this becomes a reality because I'd be interested in seeing it unfold on the big screen.
Final Score: 4 for 6
And there you go, George and Tony agree more often than not. Thanks to them both for taking part. There will be no Fact or Fiction column next week, so until two weeks from now, I hope you all have a Happy New Year!
-BP
TWITTER
http://www.twitter.com/411s_Ben_Piper
http://www.twitter.com/411mania
http://www.twitter.com/411wrestling
http://www.twitter.com/411moviestv
http://www.twitter.com/411music
http://www.twitter.com/411games
http://www.twitter.com/411mma

NULL