411 Interviews The Cynja Creator Heather C. Dahl
January 29, 2016 | Posted by
"Hidden deep inside our planet's virtual world, hiding in the darkened cyber alleys of our digital neighborhoods, a new generation of bad guys has risen. Zombies, worms, botnets – all threaten our happiness and future. But there is hope. A lone warrior battles this new sinister cyber evil. He is the Cynsei.
The Cynsei is trying to keep us safe.
But the guardian of all things noble in cyberspace cannot fight alone. His enemies are too numerous. If the Internet is to escape falling into darkness, the Cynsei needs help. But who would be brave enough to travel into the depths of malicious networks?
A Cynja, that's who."
The Cynja just might be the most unique concept of any comic book out.
From the minds of Heather C. Dahl, Shirow Di Rosso, Chase Cunningham, and backed by a whole team of internet specialists, The Cynja is Grant Wiley, who wields 'hex grenades,' wears a binary vision monocle that can detect malicious code, and carries 'optic pulse' swords that slash through bandwidth. Just over-the-top enough to have kids go, 'Cool!'"
Heather's background includes a career as a journalist who covered politics and foreign affairs on the ground and now she researches battles in cyberspace. I had the good fortune of talking with Heather about this intriguing concept and she was gracious enough to share some nuggets of gold!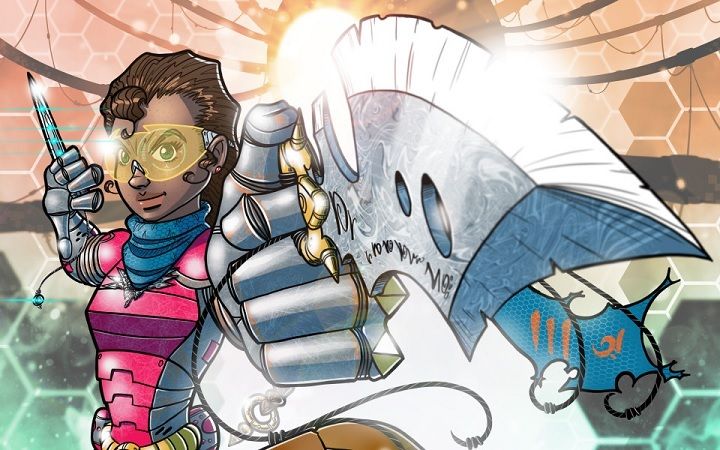 Steve Gustafson:Thanks again for answering some questions for 411wrestling.com. For those new to The Cynja, can you explain what the concept is and how it came about?
Heather C. Dahl: Once upon a time, I found my 9 year old nephew, Grant, fighting some imaginary dragons, which—to be honest—while fun, struck me as somewhat impractical. No disrespect to dragons—or dragon slayers—but they're old-school. So I said, "C'mon Grant, why don't you fight the real bad guys—the ones that live in our computers?"
He had no idea what I was talking about.
This was frustrating because fighting bad guys is his passion. And there are lots of bad guys in cyberspace.
So I decided to buy him a book that would explain the wild cyber world of worms and zombies and Trojans and show him how awesome this world—the world I work in—really is. It would also introduce him to an important life lesson: We now live in an era of digital crime.
The problem was, there was nothing cool, nothing awesome—nothing that truly captured this dynamic virtual world. Nada—Zilch—Zip. So I had no choice, I had to write this book myself.
The first step was to call my friend Chase Cunningham, who fights cyber bad guys for real. "Why don't we write a way cool book for kids about cybersecurity?" I said. And Chase replied, "Dude, yeah!"
We both agreed—we live in a digital world that is continually under threat, and there wasn't anything for kids that connected them to this world. We wanted to write a cool story about cyberspace that would grab a kid's imagination, teach them about being safe online—and possibly even inspire the next generation of security professionals!
Steve Gustafson: Very awesome and quite the origin. What's been the response so far from fans; both parents and young readers?
Heather C. Dahl: What we didn't anticipate is how quickly young readers would start demanding our next book. Early on PC Magazine did some independent testing and found The Cynja made kids go "Cool!" The kids loved it and their little reader test base was "eagerly anticipating the next issue." And they're not the only ones we've heard from. We've received fan mail from young Cynjas all over the world, including photos of homemade Cynja costumes, as well as hearing about an eight-year old reader holding a Cynja party that included a Cynja swag bag for all his guests.
We initially thought our story would appeal to kids ages five to eight years old, we were surprised to find the story resonating with "kids of all ages". Parents often tell us that they are learning about information security while reading along with their kids.
The news headlines we all hear–the Sony compromise or the Target breach—are, sadly, all too real and devastating, even though it's hard to visualize the way they happen and their impact. Visualizing this virtual world is an important step toward cybersecurity being taken seriously by everyone everyday. It's important for kids and parents to understand together that being safe online is just as important as being safe on a playground.
What we've found since writing our first book is that a parent's concern about their children's digital lives unites families across all nationalities, languages and socio-economic backgrounds. It's why our book series is now available in English, Dutch and Spanish with more translations on the way. An adult might not necessarily be concerned as to whether their personal data will be compromised in the next large breach but they are very, very concerned about their child becoming a victim to online dangers.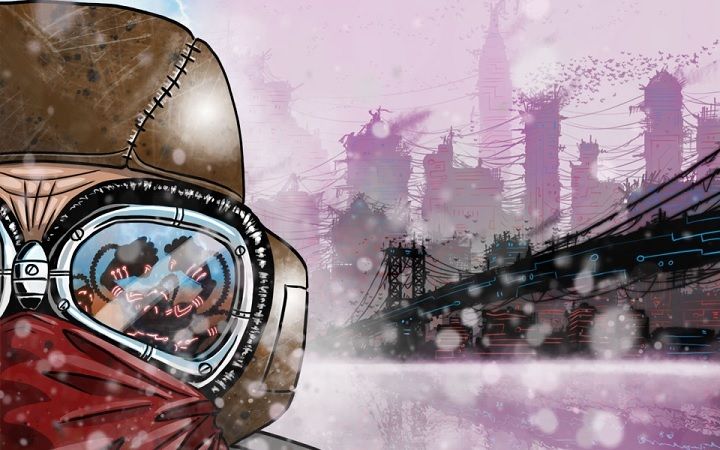 Steve Gustafson: Wow! Visiting the web site, it's obvious to see that this is more than just a simple comic book. You do workshops, speaking events, CynjaSpace, and several other affiliated interactive projects. It all works, thanks to the unique concept, but where do you see The Cynja expanding?
Heather C. Dahl: It all works because all of us involved come from tech and creative backgrounds. Then combine that with the artistic direction of Shirow Di Rosso, our illustrator, who we call the Artmaster. Shirow was an IT engineer before joining our team, so he knew exactly what this cyber world looked like and how to visualize it in an imaginative yet accurate way. He was born to draw this comic.
In just two years, The Cynja has grown into everything you've described and more! Our book is being sold worldwide, we write a weekly web comic strip, created an activity book, blog, and run a subscription newsletter—all designed to help families make smart digital choices. We're about to release Code of The Cynja Volume 2, offering a Spanish translation of Volume 1, and are in the final stages of development on a new app called CynjaSpace that will revolutionize how parents protect kids online!
Our ultimate mission is to bring cyberspace to life for children around the world through our Cynja stories, videos, games, apps, and books. We want to inspire children and their families—to teach them how to make smart choices as they navigate their digital lives.
Steve Gustafson: About CynjaSpace, how did that come about and how will it be different than a social media network?
Heather C. Dahl: Think of CynjaSpace as cyberspace with training wheels. It is a mobile app to help parents easily and safely manage their children's cybersecurity education. The app is in Beta testing now and will be available on iOS in the spring. CynjaSpace encourages kids to experience and engage in all aspects of digital life like email, chat, social sharing while teaching online privacy, security and rewarding kids for positive behavior. All while the parents get to the guard the gates, customize activity controls for the needs of their specific child, and get personalized guidance on their digital parenting.
This isn't another type of lame web search monitoring software, a ho-hum tutorial, or even just a social network; CynjaSpace inspires kids to learn how to be Internet savvy while interacting with our original comic characters and expert storylines. Ultimately, our Cynja characters are the role models for kids in cyberspace.
The most important part is that in CynjaSpace families own their own data! We don't data mine to target ads at kids. We don't store and keep your information forever. We don't do creepy stuff in the name of selling your personal data. We believe kids and families have a right to not be tracked and targeted in our app.
When we first published The Cynja, two years ago, so many parents began asking us for help when it came to protecting their kids online. They wanted to know how we keep our own kids safe. We knew there was nothing out there on the market that we trusted to support the demands of a child's digital life today. As cybersecurity professionals, we knew that the solution wasn't a bunch of individual point products, but a fully protected environment to teach kids how to make smart choices online. That's why we created CynjaSpace to be the app that we want for our own kids and all our young readers so they can experience better and safer digital lives.
Steve Gustafson: What should parents know about their kids and going online? Do you feel parents do a good enough job staying educated on protecting their children?
Heather C. Dahl: Cyberspace isn't the Magic Kingdom. It's the Wild West—only worse, as it's a place where it's really difficult to observe people as they make choices and experience the consequences. At The Cynja, we focus on teaching the technology to kids. For the adults—we help inspire parents to become digital role models for their kids in the virtual world too. To do that, an adult doesn't need a deep technical knowledge they simply need to be transparent with the children in their lives about how they make choices online. Who do our kids aspire to be in their digital world if they don't get to watch us live ours?
We must understand being a cyber hero for children is far more than being a successful Internet entrepreneur. It's living a smart and ethical life online. It's treating people and data with respect. It sounds straightforward, but here's the problem: It's hard for many kids to see their parents as digital role models because their parents don't open up their online lives to their kids. Our kids aren't riding tandem as we email, shop online, surf the web, and use social media, but that's the view of the cyber world that kids need to experience. Just like daily life, digital life not a fairytale; it's a place where there are real consequences.
I'm here to tell you, all adults—techies or not—are the role models for all the children in our lives. If we are concerned about our children's digital welfare then we are the ones who must fill this void. We—the families, parents, aunts, uncles, grandparents—are the ones who have the power to change the direction of our kids' digital futures.
At The Cynja, we offer families multiple resources from our books, web comics, to our Cynsei's Connection newsletter and our Birds, Bees & The Botmaster columns to arm adults with common sense digital expertise and help them live digital lives that their kids can see, respect and emulate.
Steve Gustafson: How do you balance keeping The Cynja educational yet cool and fun at same time?
Heather C. Dahl: The cyber world is filled with battles between good and evil—it's as thrilling as any comic book—and yet it didn't have its own superhero. So we started thinking, what would you call someone with superpowers in cyberspace? What would they look like? They'd need to be smart and stealthy, wouldn't they? And have awesome weapons? And before you could say "DDoS attack!" we had The Cynja—a cyber ninja!
We're so proud that PBS NewsHour described The Cynja as "geekily accurate". Chase and I set out to write a kids adventure story rooted in real technology. In fact, Chase and what he does at work, is our inspiration for the first Cynja character. Chase provided insight into what it was like to fight real battles in cyberspace—in all their glorious, geeky detail. But we then had to turn this into something a kid would relate to—and so I spent a lot of time with my nephew trying to see the world through his imagination—and what it's like to be the hero of your own magical battles against digital bad guys, instead of dragons.
We wanted to illustrate The Cynja in a way that readers could understand the gravity of being stuck in an infected network or encountering malicious malware. We hope that all of our readers – not just kids – will have fun, be mesmerized by Shirow's images, the characters, and the action. Then we hope they make the connection between fantasy and the real world. All the villains in the book, the viruses, zombies, worms and bots are the real bad guys in cyberspace, the same bad guys information security professionals fight everyday at work. We hope at the end of the story kids know that bad guys can live in their computers, tablets, and possibly in Mom's smartphone. And that's why they need to make smart choices to be safe online.
Steve Gustafson: What's next for The Cynja series?
Heather C. Dahl: Our villain the Botmaster is back! He's about to unleash the most perilous malware the cyber world has ever known. Can this sinister leader of digital danger be stopped before all is lost? Will one boy be able to save the Internet by himself? Who will win this battle? A cyberheroine, that's who!!
Our cyber adventure continues with Code of the Cynja Volume 2 about to be released very soon!
And visit us at Comic-Con International again this July where we've been selected to showcase our comics for the second year in a row!
Steve Gustafson: Thanks again Heather! I can't wait to head back over to www.thecynja.com and do some more exploring!