411 Movies Roundtable 02.01.13: February 2013
February 1, 2013 | Posted by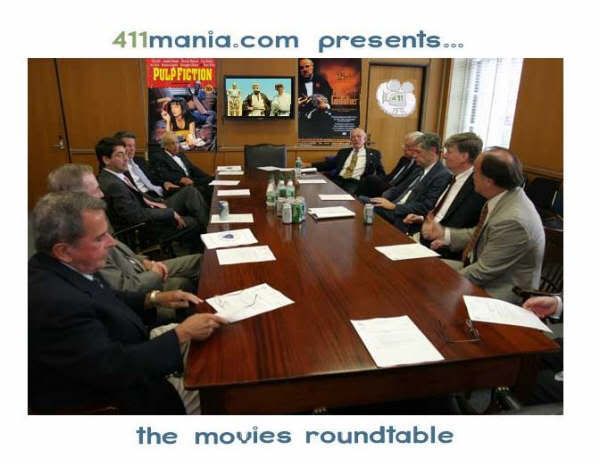 Ladies and gentlemen, here we have the February 2013 411 Movies Roundtable. Some of the staffers have decided to give you their thoughts on the movies that are coming your way in February.
For the February 2013 edition, the following staffers have contributed:
Jeremy Thomas: Host/Writer of multiple columns. The 8 Ball
Jeremy Wilson: Author of The Hush-Hush News Report
Bryan Kristopowitz: Creator of The Gratuitous B-Movie Column
Shawn Lealos: The Man Behind Alternate Takes
Chad Webb: Writer of Editor's Note
THE MONTH THAT WAS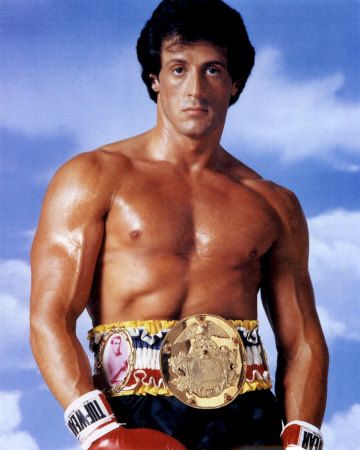 BRYAN KRISTOPOWITZ
Biggest Winner of the Months
: Ben Affleck. Despite not getting a Best Director Oscar nomination, Affleck's
Argo
seems to be on course for a big Oscar night later this month. Affleck has already picked up a Golden Globe, a Producer's Guild and Screen Actors Guild award for best picture. How can he lose?
Biggest Loser of the Month: Ahnold Schwarzenegger. While his new action flick The Last Stand isn't his best work, it's still a pretty good action flick. It's fun, it has some nifty action scenes in it, and Ahnold shoots a guy in the head with a shotgun at point blank range and we get to see it. That's always cool (it gets you an automatic spot on the "Greatest Movie of All Time" list). But audiences didn't show up (the movie opened in 10th place). Hopefully, the movie will find its audience on DVD and television because, all in all, it's pretty good. It's not great, but it's pretty good.
Biggest Movie News of the Month: JJ Abrams officially named director of Star Wars Episode VII. Yes, it would have been cooler if Spielberg had been named as director, but Abrams is a very acceptable second choice. Abrams knows how to handle special effects, big action scenes, and large casts. You have to know how to do all of those things if you want to succeed at making a good Star Wars movie.
Your Most Anticipated Movie of the Month: Bullet to the Head is at the top of the list along with Die Hard 5. Both movies look great. Dark Skies looks pretty good, too.
Recommended DVD Release of the Month: The Package (Austin and Lundgren), The Man with the Iron Fists, Smiley, Silent Hill 2, and Joshua Tree (aka Army of One).
Classic Movie of the Month: Over the Top (1987): Sylvester Stallone is a trucker/sort of professional arm wrestler who tries to build a relationship with his estranged son. The movie really doesn't have a plot until the end, when Stallone's Lincoln Hawk (or Hawks. The name changes towards the end of the movie for some reason) tries to win the arm wrestling world championship in Las Vegas. Stallone is great as Hawk(s), Robert Loggia is sleazy as fuck as Jason Cutler, Hawk(s)'s rich bastard father-in-law, Terry goddamn Funk as Cutler's bodyguard, David Mendenhall as Hawk(s)'s son Jason (he actually stops becoming annoying at the end of the movie), and the great Rick Zumwalt as Bull Harley, the baddest motherfucker in the arm wrestling world. Holy shit is that final arm wrestling match incredibly awesome and incredibly ridiculous. And how about that Kenny Loggins song "Meet Me Half Way?" You won't be able to get out of your head for a week.
Movie Quote of the Month:
"Being number one is everything. There is no second place. Second sucks."- Bull Harley (Rick Zumwalt)- Over the Top (1987)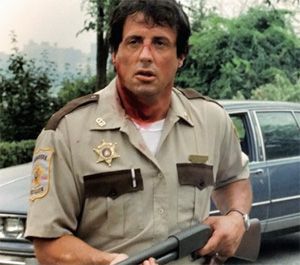 JEREMY WILSON
Biggest Winner of the Month
: Ben Affleck. I was tempted to have Affleck as Biggest Loser as well, but getting snubbed for a Best Director Oscar nomination isn't the end of the world, especially in light of what Affleck and the film has earned in its place. Winning both Best Picture and Director at the Golden Gloves and Critics Choice Awards was only the beginning, as it also went on to claim Best Picture from the Producers Guild and Best Ensemble at the SAG awards. Unbelievably,
Argo
may bulldoze its way through historical stumbling blocks and become only the fourth film ever to win the Academy Award for Best Picture without its director receiving a nomination as well. It would be only the second in the last 80 years. No film in
Argo
and Affleck's mold has been in a stronger position to pull off one of the most astounding wins in what has been a crazy and unpredictable awards season.
Biggest Loser of the Month: I don't want to pile on, but Arnold Schwarzenegger did not have a great month. His first major headlining film role in a a decade, The Last Stand pretty much bombed big time. It debuted at #9, has earned only $11 million domestically and there's absolutely no chance it'll break even. It's too early to cast judgment on if Schwarzenegger's comeback will fail, but we might have to have a discussion on whether the audience for his brand of action movie is still there. Time may have finally caught up to The Terminator. We'll learn more with Sly Stallone's Bullet to the Head and their joint picture The Tomb.
Biggest Movie News of the Month: How can it be anything but J.J. Abrams being named director of Star Wars: Episode VII? The man who brought some of the most popular TV shows of the past dozen years and recharged Star Trek's creative batteries, Abrams has always been a fan of Lucas' space opera franchise and now he's the guy tasked with arguably the biggest job in movies. It's a tall task and many will be looking to nitpick or tear him and his movie down, but I have faith. I was a big fan of Star Trek and Super 8 and if he can match or surpass what he did in those two films, Episode VII could be something pretty special.
Your Most Anticipated Movie of the Month: Beautiful Creatures. In all honesty, it's not the greatest crop of releases. Having said that, I've been intrigued by Beautiful Creatures for a number of months, since I spotted the first trailer. By all accounts, it looks like Twilight with witches; instead of rainy, dreary Pacific Northwest it's been turned into a Southern Gothic supernatural romance. Trust me when I say Twilight with witches in the Deep South isn't necessarily the most appealing story. The thing I find intriguing about it is the cast; it's frankly a pretty incredible cast, blowing away the caliber of talent involved in all five Twilight films combined. Jeremy Irons, Emma Thompson, Emmy Rossum, Viola Davis, Margo Martindale…I mean, if it were just one or two, you could chalk it up as "easily skippable." With all those talented people involved? Frankly I want to see what all the fuss is about and what people like Irons, Thompson, Rossum and Davis see in the material. It might suck and it might just be a payday for them…but it might be a supernatural romance that blows Twilight away and gives the subgenre a real decent chance at legitimacy (for non teenage girls, that is). Or maybe it could be over-the-top enough to be fun. Either way, it would be a major upgrade over Stephanie Meyer's bullshit.
Recommended DVD Release of the Month: It's hard for cinephiles not to get nerdy excited when talking about new Criterion Collection releases. However, even the long awaited and much hinted release of Elia Kazan's Oscar winning On the Waterfront, can up the ante in the anticipation department. Arriving February 19th, Kazan's classic is finally being released with a two-disc Blu-Ray (with a new 4K digital restoration) and a three-disc DVD (with two alternate restorations of the film in different aspect ratios). Both editions include a number of delicious extras, including three documentaries, new interviews, a conversation between critic Kent Jones and Martin Scorsese, and a commentary by authors Richard Schickel and Jeff Young. In the long, storied career of Marlon Brando, On the Waterfront might be his finest work.
Classic Movie of the Month: On the Waterfront One of the most universally hailed films in Hollywood histroy, Elia Kazan's masterpiece continues to impact all who see it over fifty years after it was first released. Marlon Brando gives the performance of his career as the tough prizefighter-turned-longshoreman Terry Malloy with a backdrop tale of individual failure and social corruption, Kazan's film follows Terry's deepening moral crisis as he must decide whether to remain loyal to the mob-connected union boss Johnny Friendly (Lee J. Cobb) and Johnny's right-hand man, Terry's brother, Charley (Rod Steiger), as the authorities close in on them. Driven by the vivid, naturalistic direction of Elia Kazan and savory, streetwise dialogue by Budd Schulberg, The film was an instant sensation, winning eight Oscars, including for Best Picture, Director, Actor, Supporting Actress (Eva Marie Saint), and Screenplay.
Movie Quote of the Month: From On the Waterfront:
Charley: " Look, kid, I – how much you weigh, son? When you weighed one hundred and sixty-eight pounds you were beautiful. You coulda been another Billy Conn, and that skunk we got you for a manager, he brought you along too fast. "
Terry: "It wasn't him, Charley, it was you. Remember that night in the Garden you came down to my dressing room and you said, 'Kid, this ain't your night. We're going for the price on Wilson.' You remember that? 'This ain't your night!' My night! I coulda taken Wilson apart! So what happens? He gets the title shot outdoors on the ballpark and what do I get? A one-way ticket to Palooka-ville! You was my brother."
Charley: "Oh I had some bets down for you. You saw some money."
Terry: "You don't understand. I coulda had class. I coulda been a contender. I coulda been somebody, instead of a bum, which is what I am, let's face it. It was you, Charley."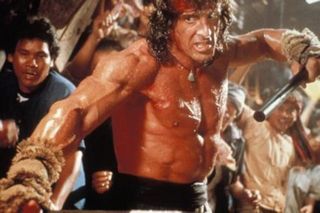 SHAWN LEALOS
Biggest Winner of the Months
: Ben Affleck. After the Oscars pretty much shit all over Affleck, the Golden Globes named him Best Director and named his movie the Best Drama Movie. Then the SAG Awards turned around and awarded his movie with the Best Cast award. Ben Affleck can honestly turn around and tell the Oscars to "Argo …" well, you know the rest. Ben has officially arrived as a director.
Biggest Loser of the Month: Arnold Schwarzenegger. This just sucks. Arnold comes back and gives us a really fun action movie. However, audiences stayed away. Maybe they are tired of Arnold after all the non-movie publicity. Maybe the trailers didn't impress enough people. However, the man who was once the biggest star on the planet flopped horribly in his return to leading man status.
Biggest Movie News of the Month: J.J. Abrams signs on to direct Star Wars: Episode VII. It has to come as a complete shock for the man who actually revitalized the Star Trek franchise to take over the Star Wars franchise before his next Star Trek movie even hits theaters. If he can do for Star Wars, what he did for Star Trek, fans are going to be very happy. They now have a great screenwriter on board and a very talented director. My hopes are rising.
Your Most Anticipated Movie of the Month: A Good Day to Die Hard – I'm a sucker for the Die Hard franchise and still really like Bruce Willis as an action star. Bring it on.
Recommended DVD Release of the Month: Sushi Girl – A couple of years ago, I interviewed Tony Todd and he had a lot of good things to say about Sushi Girl. He compared it to a Tarantino flick and with a cast that included Mark Hamill, Sonny Chiba, Jeff Fahey and Danny Trejo, I was intrigued. Last year I interviewed Michael Biehn and he signed on for a small role. He told me that if the movie had a bigger studio behind it, Mark Hamill would be an Oscar winner. Now, I am really jacked to finally see it. The movie hits stores on Feb. 19.
Classic Movie of the Month: Le Samourai – Jean Pierre Melville directed this classic Film Noir back in the '60s and it remains one of the coolest of its genre. The film has a protagonist who is a hired assassin betrayed by one of his employers. When he survives the hit, he sets out to find out which of them turned on him. John Woo is planning on remaking the movie in modern time and I'm not real happy about it. Search out the original (its available through Criterion) and watch it.
Movie Quote of the Month: "I never love. Never really." – Jeff Costello, Le Samourai
JEREMY THOMAS
Biggest Winner of the Months
: I hate to be Mr. Obvious here, but yeah, you can't not go with Ben Affleck on this one. Everyone was shocked when he wasn't nominated for Best Director and
Argo
wasn't given a snowball's chance in Hell of being an Oscar contender as a result but wins at the Golden Globes, PGA Awards and SAG Awards have now pushed it improbably into front-runner status ahead of
Lincoln
. It may well turn out that we have the first Best Picture that didn't win Best Director in twenty-four years, which would make me happy because I think it has all the tools it needs to win.
Biggest Loser of the Month: Russell Crowe, who has become the mocking point du jour for Les Miserables and whose Broken City was a commercial disappointment. Crowe used to be one of the true heavyweights in Hollywood, and he doesn't have the eight years off that Arnold did as an excuse. I'm a big Crowe fan, but even I have to admit his January kinda sucked.
Biggest Movie News of the Month: Yeah, no question here. J.J. Abrams directing Star Wars: Episode VII is the news of the year so far. Abrams will also be producing (and possibly directing) Star Trek 3, putting the two biggest science fiction franchises of all time in his creative hands. Almost anyone else would have me worried about this. With Abrams, I'm just excited.
Your Most Anticipated Movie of the Month: Man, when did February start sucking even worse than January for new releases? A Good Day to Die Hard is the easy winner here for me. John McClane is back and in R-rated form, and I know I'll be there to hear the full "Yippie-ki-yay" line return, expletive and all.
Recommended DVD Release of the Month: Some good stuff is coming out this month; I really have to go with Skyfall, which was one of my favorite films of the year. Craig does his best work yet as Bond, Sam Mendes shows what a great director can do with the franchise, Javier Bardem and Judi Dench are awesome…what more could you want?
Classic Movie of the Month: I'm going to go with the original Die Hard, which sees its twenty-fifth anniversary this year. Do you feel old? I do. John McTiernan created what is pretty much the perfect action film and Bruce Willis became John McClane forever. Plus you got the introduction of Alan Rickman to the world stage in a brilliant villainous performance. Die Hard changed the course of action films forever in a major way and remains perhaps my favorite action film ever.
Movie Quote of the Month: "'Come out to the coast, we'll get together, have a few laughs…'"
John McClane (Bruce Willis), Die Hard
CHAD WEBB
Biggest Winner of the Months
: Yeah I have to run with the pack on this one. Ben Affleck was undoubtedly a bit perturbed when he failed to garner a Best Director Oscar nod, but what better way to say "Screw you!" then to win most major awards ceremonies afterwards. It certainly has the momentum at this point, and I would love to see it win the big prize, but only time will tell. You never know which way the Academy will go.
Biggest Loser of the Month: Lindsay Lohan. Well, I guess that's too easy so I'll have to go with Arnold Schwarzenegger. His film The Last Stand was far from a masterpiece and no it won't turn January into a sought after month for blockbusters, but it was a lot of fun. In terms of box office, yes Arnold lost this month. Part of it could be that the public had no interest in his flick, but it could also be because January-February are generally terrible movie attendance months. Nevertheless, what annoys me is when people equate a box office flop with the movie itself being bad. THEY ARE NOT THE SAME! Yes, sometimes a movie flops and for good reason because it's crap, but not all the time. I hope Sly's Bullet to the Head fares better.
Biggest Movie News of the Month: JJ Abrams signing on to direct Star Wars Episode VII was indeed huge news. He's a competent filmmaker and understands the sci-fi genre well. Fans should be content knowing he is at the helm.
Your Most Anticipated Movie of the Month: My pick here is Bullet to the Head. People are probably getting tired of my Stallone gushing at this point, but I will look forward to his action vehicles as long as he still pumps them out. And let's face it, that might not be for very much longer. The dude is getting old, but this looks entertaining.
Recommended DVD Release of the Month: We have lots of great stuff arriving in stores in Feberuary. Bryan already mentioned some of the Dolph Lundgren efforts, but we also have Argo, The Master, and Skyfall. But I must concur with Mr. Wilson and say On the Waterfront. Criterion is set to give this a much needed double-dip. It's one of the greatest films of all-time and it was in dyer need of the royal treatment on DVD/Blu-Ray. Jeremy already talked about the plot, so I won't reiterate that but with Elia Kazan directing and Marlon Brando giving one of many legendary performances, you can't go wrong. If you haven't seen this yet, shame on you.
Classic Movie of the Month: I have two. The Rock has a new action movie coming out this month so I'll recommend one of his underrated offerings, Gridiron Gang. It's hardly a classic, but I did enjoy it more than I expected and The Rock was terrific in it. Secondly I'll push The Wackness from director Jonathan Levine. He has Warm Bodies on the way and he did make 50/50, but I loved his 2008 sophomore effort and thik more people should check it out if they dig his style.
Movie Quote of the Month: From The Wackness – Dr. Squires (Ben Kinsgley): "It used to be you could lick a sheet of acid, hold up a band, fu** a whore in Times Square without anyone batting an eyelash. Now, one blunt, we're in the clink. This whole city's fu**ed!"
COMING ATTRACTIONS
February 1st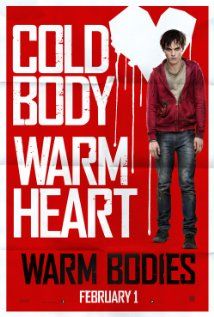 Warm Bodies

Rated PG-13
Plot: After a zombie becomes involved with the girlfriend of one of his victims, their romance sets in motion a sequence of events that might transform the entire lifeless world.
Director: Jonathan Levine
Stars: Nicholas Hoult, Teresa Palmer, John Malkovich, Dave Franco
Bryan Kristopowitz
: This zombie comedy looks pretty good. I'm a little leery of the PG-13 rating (how can you have a zombie movie without disgusting gore? I'm sure you can do it, but why would you want to?), but the trailers have been fantastic and, come on, John Malkovich is in it. Did you ever think that would happen? John Malkovich in a zombie movie?
Jeremy Wilson: The marketing has been pretty good and the concept of a zombie rom-com is admittedly intriguing, especially since the zombie genre has become a bit overstuffed in recent years. It looks like a winner, especially for a February release. Plus, it's got John Malkovich! That's always a reason to see something.
Shawn S. Lealos: I saw this movie already, and honestly, hardcore zombie fans are going to HATE this movie. However, fans of quirky independent flicks will like it enough. I called the movie the Juno of zombie movies. This is more about quirky humor than zombie killing. Be warned before going in. I liked it but it was perfectly average.
Jeremy Thomas: I really want this to be good, but somehow I have a bad feeling about it. There's something just a bit too kitschy about the concept; sometimes you find films like this and they just look like they're trying too hard to fit into a certain niche. I like the cast; in particular, I think that Teresa Palmer is an underrated actress who just hasn't found the right film yet. Jonathan Levine is a fantastic director to boot. That's why I have hopes for this, but I just get a bad feeling.
Chad Webb: Jonathan Levine is a fine filmmaker and had I simply read about the premise I would have been really intrigued and anxious to see this. Unfortunately the trailer gives almost everything about the story, including its ending, away in two and a half minutes. I'm surprised no one else has mentioned this, but hey, it still might be solid. But with the trailer spoiler, my desire to see this has waned. It's for this reason I never saw The Astronaut Farmer. Ok, well I didn't think that looked interesting anyway, but you get the idea. I tend to see movies this early in the year based on showtime convenience, so we'll see if I end up catching this after all.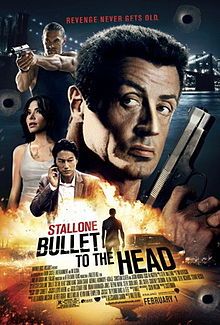 Bullet to the Head

Rated R
Plot: After watching their respective partners die, a cop and a hitman form an alliance in order to bring down their common enemy.
Director: Walter Hill
Stars: Sylvester Stallone, Jason Momoa, Christian Slater, Sarah Shahi
Bryan Kristopowitz
: I can't wait to see this. Stallone looks like the ultimate badass in the trailers, Jason Momoa looks like a great bad guy for Stallone to fight, and the great Walter Hill is coming back to the action movie game. He's responsible for some of the best action flicks of the 1980's/early 1990's. Welcome back, man.
Jeremy Wilson: I know a lot of folks are excited, but none of the trailers have piqued my interest. I'm not a huge Stallone fan and I can't say I've been overly impressed by much of Jason Momoa's work. However… I see Sarah Shahi's name among the cast. And when in doubt, a pretty woman can tip the scales from a "skip" to a "see."
Shawn S. Lealos: I've been excited about this movie for over a year now. Based on the graphic novel "Du Plomb Dans La Tete," the movie features an older hitman teaming with a younger police officer to seek revenge on two murders. With Stallone as the lead, it will hopefully be a fun action. I have reservations, but I hope it is good.
Jeremy Thomas: The trailer looks fun and with a little bit of luck, this could a hit in a lackluster month. Stallone looks to be doing his typical great action work, though I'm not too keen on the older guy/younger guy dynamic they have between the two heroes; it seems lifted straight out of Live Free or Die Hard right down to conversations about music in the car. That's a minor gripe though as long as they don't extend it out too much. I don't expect brilliance out of this, I expect a good time and I think I'll have that here.
Chad Webb: How many times has Sly portrayed a hitman throughout his career? I'm not sure off hand, but I know it is quite a few. I'm ok with that. The role suits him. The Expendables 1 & 2 were outstanding all-star cast action films, but I'm glad Stallone is returning to some of the solo vehicles from the 80's. I miss these sort of action pictures and it should be fun to see he and Jason Momoa go toe-to-toe. Walter Hill is the definition of a mixed bag director, but I have faith that this will be an entertaining mindless film with plenty of fights, explosions, and shootouts.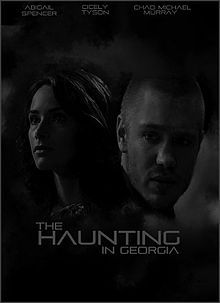 The Haunting in Connecticut 2: Ghosts of Georgia

Rated R
Plot: A young family moves into an historic home in Georgia, only to learn they are not the house's only inhabitants. Soon they find themselves in the presence of a secret rising from underground and threatening to bring down anyone in its path.
Director: Tom Elkins
Stars: Abigail Spencer, Chad Michael Murray, Katee Sackhoff, Emily Alyn Lind
Bryan Kristopowitz
: What the hell does this title even mean? Why not just call it
Ghosts of Georgia
and leave it at that? Wouldn't that make a little more sense? Looks like a total waste.
Jeremy Wilson: Screw this movie. HARD. It might as well be called "We've made this cheap-ass horror film, we've given it a title that reminds you all of that one horror movie we made some money off of a few years back even though it doesn't really have anything to do with that, we're dumping it during a slow time of year and we expect you all to hand over your money because you seem to like all the scary possessed horror stuff." It's a little long but it's almost as catchy as this thing's real title. Its original title? The Haunting in Georgia. It's rather hard to milk a moderately successful horror movie though, since it doesn't have Connecticut in it. It breaks my heart more since Starbuck is in it and I like Abigail Breslin as well. But a crappy horror money grab is a crappy horror money grab, whether it's in Connecticut or Georgia. Or "both."
Shawn S. Lealos: I never saw the original, but heard really bad things about it. Since I didn't see the first movie, I probably will skip out on this one as well. The exorcism genre is getting kind of old now, anyway.
Jeremy Thomas: The two things I remember strongest about The Haunting in Connecticut are the kid looking like he's throwing up and that 411 alumnus Erik Luers hated it with a passion. I didn't like it, but felt it was completely forgettable, a fact that is proven by how little I recall. So why is this called The Haunting in Connecticut 2 again? Oh right, it's a "sister film," which means "unrelated story that we want to give half a chance to earn some cash on." Nothing about this looks appealing. Pass.
Chad Webb: It is hard to disagree with the aforementioned rants about the idiocy of the title. This is a blatant money grab, but to be truthful, even if this were just titled Ghosts of Georgia, I would have little to no interest in it. I need to sit down with some hardcore horror fans and ask them why they keep going to see this cookie-cutter, recyclable garbage. The only way I will see this is if it starts making "Worst of 2013" lists.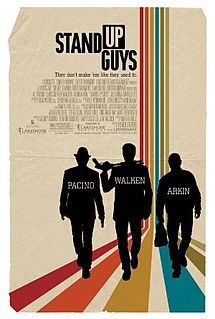 Stand Up Guys

Rated R
Plot: A pair of aging con men try to get the old gang back together for one last hurrah before one of the guys takes his last assignment — to kill his comrade.
Director: Fisher Stevens
Stars: Al Pacino, Alan Arkin, Christopher Walken, Julianna Margulies
Bryan Kristopowitz
: With this cast I should be more enthused about seeing this. But I'm just not. It looks boring as fuck, and that's a depressing thought. Did everyone in the cast owe Fisher Stevens money or something?
Jeremy Wilson: Rental. Pacino, Walken, Arkin. You can't ignore those three, even if it ends up being a piece of garbage. I've seen worse trailers, so I might check it out when I can.
Shawn S. Lealos: I am really interested about this movie. Sure, Al Pacino isn't in many good movies anymore, but seeing him, Christopher Walken and Alan Arkin teaming makes me intrigued. The trailers look funny and it seems like all three are having fun. I am cautiously optimistic that this could be a fun movie that never really takes itself too seriously.
Jeremy Thomas: I'm all for this one. The cast is fantastic, the trailers look good and I'm very interested to see what Fisher Stevens brings as a director. Crime comedies can sometimes work very well but often bomb regardless of the talent involved—right, Killing Them Softly? I'm willing to give this the benefit of the doubt, if only because I am desperate for Al Pacino to right the path of his career. It's been on a downward spiral for quite a while.
Chad Webb: Look, the cast is comprised of iconic actors and watching them in mediocre efforts is often better than some of the trash we have to put up with, but I have to agree with Bryan that this looks dull. And again, the trailer reveals entirely too much information. If you've seen, it comes down to whether or not Christopher Walken will eventually kill Al Pacino. It just comes off like this trio will be phoning it in, and combine that with the trailer and I'm just not sure how much I want to watch this. And the Plague from Hackers is directing, so there's that.
February 8th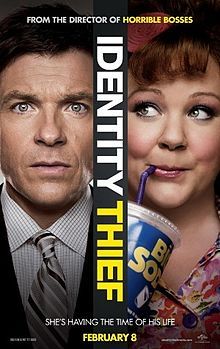 Identity Thief

Plot: When a mild-mannered businessman learns his identity has been stolen, he hits the road in an attempt to foil the thief — a trip that puts him in the path of a deceptively harmless-looking woman.
Director: Seth Gordon
Stars: Jason Bateman, Melissa McCarthy, John Cho, Amanda Peet
Bryan Kristopowitz
: This comedy looks funny, but I think I'd be more enthused about it if Jason Bateman wasn't starring in it. I can't stand him. Why couldn't they get Nicolas Cage or Seth Rogen?
Jeremy Wilson: Count me among those not under the comedic spell of Melissa McCarthy. I continue to think Bridesmaids is vastly overrated and I'm still scratching my head how her supporting turn in the comedy got her over the hump and won her an Emmy for Mike & Molly. I enjoyed Seth Gordon's Horrible Bosses and I really like Jason Bateman…but there's just nothing I've seen that has me lining up to see this. If anything, McCarthy's involvement keeps me from wanting to see it.
Shawn S. Lealos: I like Jason Bateman and Melissa McCarthy and my wife finds the trailers hilarious. To me, it looks like almost every other comedy Bateman has been in recently and offers very little different. I'm sure it will make me laugh but I don't know how original it will be.
Jeremy Thomas: This seems like a case of some great talent and a great concept coming together but not coalescing. The trailers haven't been funny and while I think Bateman and McCarthy are both very funny when they want to be, they just don't seem to be clicking here. I really hope I'm wrong because we could use a good comedy, but this doesn't look to be it.
Chad Webb: Jason Bateman and Melissa McCarthy are both hilarious actors, but they both suffer from the same problem. They hit highs in their career due to specific projects, but they tend to select poor scripts after that peak. Don't get me wrong, Seth Gordon's Horrible Bosses was ok and this could very well provide a few laughs, but McCarthy just filmed a bunch of mediocre looking projects and Bateman has been doing that for awhile. I can see this having one or two good gags, but the story will be clumsy and over the top.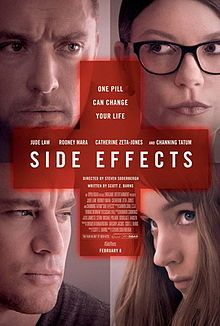 Side Effects

Plot: A woman turns to prescription medication as a way of handling her anxiety concerning her husband's upcoming release from prison.
Director: Steven Soderbergh
Stars: Rooney Mara, Channing Tatum, Jude Law, Catherine Zeta-Jones
Bryan Kristopowitz
: Director Steven Soderbergh claims this will be his last movie, at least for a little while. I'm intrigued by the commercials I've seen for it. It doesn't look half bad for a Soderbergh movie. And am I the only one freaked out now by Rooney Mara?
Jeremy Wilson:The trailers have been alright and I didn't love the last Steven Soderbergh-Scott Z. Burns collaboration (Contagion). However, I still find myself unnerved and intrigued enough to want to see what looks like a pretty twisted and interesting story with a pretty good ensemble.
Shawn S. Lealos: Am I the only person who watched the trailers and have no idea what to expect in this movie. I never even knew Soderbergh was working on it, so its arrival is a surprise. Anyway, this looks like a movie I will definitely check out because it has me curious.
Jeremy Thomas: If Soderbergh makes a movie, I'll be there to see it. They aren't always commercial hits, but they're always more interesting than you would expect them to be. Soderbergh has assembled the kind of impressive cast he's always able to put together and this is essentially Rooney Mara's first film since The Girl With the Dragon Tattoo. Can she follow up on her brilliant turn there? I hope so.
Chad Webb: I will see whatever efforts Steven Soderbergh releases. He has been on a Channing Tatum kick for awhile now. Haywire I liked, but not Magic Mike. The trailer was enticing enough for me to see this. With Soderbergh you'll get a movie near brilliant and then one that is almost worthless. Who knows what this will be, but he works better the more recognizable talent he has on board.
February 15th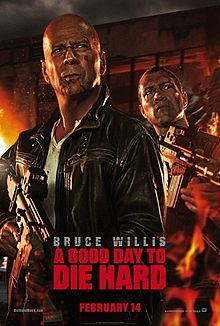 A Good Day to Die Hard

Rated R
Plot: John McClane travels to Russia to help out his seemingly wayward son, Jack, only to discover that Jack is a CIA operative working to prevent a nuclear-weapons heist, causing the father and son to team up against underworld forces.
Director: John Moore
Stars: Bruce Willis, Jai Courtney, Mary Elizabeth Winstead, Patrick Stewart
Bryan Kristopowitz
: The last John McClane adventure was okay, but it didn't live up to the reputation of the previous three.
Die Hard 5
here looks freaking insane. Big, noisy, and full of monster stunts and gun fights. Outstanding. Can't wait.
Jeremy Wilson: Unlike so many, I didn't hate Live Free or Die Hard. I'm not going to defend it as a great movie or even a decent Die Hard movie. I'm just saying I didn't hate it. Bruce Willis shootin' and blowin' stuff up real good. I'll see it…although I think we can all agree on wanting to see the "Yippie ki yay…" slogan/quip retired for good.
Shawn S. Lealos: This is my most anticipated movie of the month. I really, really hope they bring this back to the quality of the first three. I am very excited to see this movie and just pray it does not disappoint me.
Jeremy Thomas: McClane is back and in full swearing mode, which has me excited. I actually rather enjoyed Live Free or Die Hard and I think that this looks at least as good as that one. The keys will be the dynamic between Willis and Courtney as father and son, as well as whether the villain will hold up to the likes of the Grubers. If they pull those off, it will be clear sailing.
Chad Webb: I dig all the Die Hard movies to varying degrees and this looks to continue the trend of big, loud John McClane adventures. The danger with this franchise (similar to what happen with the Brosnan Bond entries) is that each sequel carries to requirement of being bigger, louder, and more over the top than the last. Every action sequence from the previous installment has to be amped up and when you do that it can veer into cartoonishly awful territory. Each of the Die Hard sequels has flirted with this line and while Live Free was fun it was close to being downright silly. I hope this one remains true to the series without going overboard.
Beautiful Creatures

Rated PG-13
Plot: Ethan longs to escape his small Southern town. He meets a mysterious new girl, Lena. Together, they uncover dark secrets about their respective families, their history and their town.
Director: Richard LaGravenese
Stars: Alice Englert, Viola Davis, Emma Thompson, Emmy Rossum
Bryan Kristopowitz
: This movie doesn't look all that great, but it'll probably turn out to be better than it has any right to be based on its cast alone. I think I'll wait for the DVD, though. I just can't see myself paying movie theatre money to see this.
Jeremy Wilson: It looks insane and I'm not entirely sure if that's going to be good, bad or so bad it's good. They've assembled quite the cast and I really want to see what got them all on board. Pretty much for that alone, I'll be seeing it.
Shawn S. Lealos: I said I had no idea what Side Effects was really about, and I am even more confused about Beautiful Creatures. On the surface, it looks like the next Twilight. However, the visuals look amazing in the trailer and it seems to have more of a The Craft vibe. Make no doubt about it, this is a movie for teenage girls and housewives, but it actually looks miles better than Twilight was. I'm interested.
Jeremy Thomas: The latest attempt to cash in on supernatural romances, I can't say that I am incredibly excited about it. But then, maybe I'm just subconsciously keeping expectations low so that I'm pleasantly surprise. The cast is certainly an impressive one and the trailers look damned good, so you never know; maybe this will be worth checking out. I'll give it a shot.
Chad Webb: I've seen the trailer a couple of times and I still don't know what to expect here. The cast is impressive, but the story and tone are nowhere near that. I have not been a fan of anything Richard LaGravanese has done with the exception of his short in Paris, Je T'aime so I have mixed feelings about this one. I'll probably check it out just because I'm curious.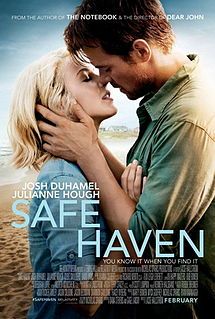 Safe Haven

Plot: A young woman with a mysterious past lands in Southport, North Carolina where her bond with a widower forces her to confront the dark secret that haunts her.
Director: Lasse Hallström
Stars: Cobie Smulders, Julianne Hough, Josh Duhamel, David Lyons
Bryan Kristopowitz
: Outside of seeing Cobie Smulders on the big screen again, I can't come up with any worthwhile reason to go see this. I'm just not a fan of Josh Duhamel.
Jeremy Wilson: This is a Nicholas Sparks story, like The Notebook. Except they swapped Josh Duhamel in for Ryan Gosling and Julianne Hough for Rachel McAdams. So uh…no thanks.
Shawn S. Lealos: Oh, hey look – a Nicholas Sparks movie. That means a melodrama where one of our beloved characters dies and another learns a valuable lesson. It was great in Message in a Bottle and got old shortly after that.
Jeremy Thomas: Lasse Hallstrom's last Nicholas Sparks film, Dear John, was better than it should have been but still not good. I have no reason to suspect that this will be any better.
Chad Webb: Though it might be uncool to say, The Notebook was quite good for a romance. The leads had chemistry, the director had a capable hand, and it all clicked. After that, Hollywood has been trying to replicate The Notebook by tackling more Nicholas Sparks novels. His stories are filled with cliches and somewhat lame. The Notebook would have been that to if not for the cast and crew. The theory now seems to be that if we adapt one of Sparks' novels, it will automatically be a hit. I don't see that happening here. The casting looks atrocious and Lasse Hallstrom should be doing…ummm anything else.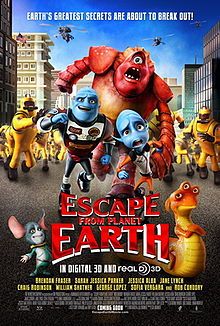 Escape from Planet Earth

Plot: Astronaut Scorch Supernova finds himself caught in a trap when he responds to an SOS from a notoriously dangerous alien planet.
Director: Cal Brunker
Stars: Brendan Fraser, Sarah Jessica Parker, Jessica Alba, Jane Lynch
Bryan Kristopowitz
: The trailer for this is quite funny, and I like the idea of "humans as the bad guys." You just don't see that kind of thing all that often in movies. Or TV.
Jeremy Wilson: I write a column about movies for this website . I read about this industry for hours every day. And I literally just learned about the existence of this movie ten seconds before writing this. I'll skip it.
Shawn S. Lealos: Am I the only person who thinks this looks just like the Dwayne Johnson animated movie Planet 51, except instead of a human who wants off an alien planet, it is about an alien who wants off of earth. I didn't like Planet 51, and don't see much to like in this one either. I'll end up seeing if with my son, but I don't except to really enjoy it.
Jeremy Thomas: The voice cast for this is good, but then when aren't they? The story doesn't particularly lend itself to much in the way of originality and the animation looks okay at best. I expect it will be, just like most animated films not from Pixar or DreamWorks, enjoyable and quickly forgotten about.
Chad Webb: You know those animated movies that aren't released by Pixar or DreamWorks? You know, the ones that have big name voice casts but really if you look closer at the names you'll realize they're terrible choices? This is one of those. It will likely not be very good, but not be totally agonizing either. IN other words, you will forget about this a week after it hits theaters.
February 22nd
Snitch

Rated PG-13
Plot: A father goes undercover for the DEA in order to free his son who was imprisoned after being set up in drug deal.
Director: Ric Roman Waugh
Stars: Dwayne Johnson, Susan Sarandon, Jon Bernthal, Rafi Gavron
Bryan Kristopowitz
: I'm always in the mood for The Rock in action movie mode. And Barry Pepper and Benjamin Bratt look like they're having the time of their lives in the trailer. I'll probably check it out.
Jeremy Wilson: Apparently, the WWE Champion still makes movies. It looks like the standard Dwayne action movie, with the interesting casting twist that Susan Sarandon is in it. Interesting cast (with Barry Pepper and Jon Bernthal), but nothing makes it must-see.
Shawn S. Lealos: The Rock in an action movie is all it takes to sell me. I will see this movie, and seeing the trailer and cast, I'm pretty sure I will love every minute of it – no matter how dumb it might be.
Jeremy Thomas: There is nothing wrong with a big, dumb action film; in fact I often prefer that to action films that try and fail to be smart. The cast on this one is interesting; I would love to see Jon Bernthal get a chance to excel on the big screen, and David Harbour is always good in action-thrillers. I doubt I will love this, but I'll enjoy it well enough.
Chad Webb: I do think The Rock has talent as an action star. He showed that a bit in The Rundown and even moreso in Fast Five. His problem is usually a combination of a poor screenplay and playing the character too straight. He has charisma, but is incredibly generic and artificial when delivering his lines. Go rent Faster, The Scorpion King, Walking Tall, or Race to Witch Mountain for proof. He's better when he has people to play off of. His solo vehicles have very little humor and he comes off as forced and uncomfortable. They're not even among the "so bad it's good" variety. They just exist. But he is always improving and I really hope this is a fun ride because I have the same doubts. I envision Pain and Gain being better, but we shall see.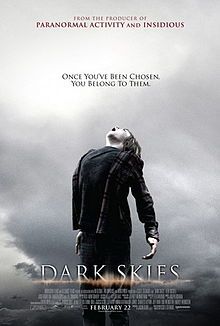 Dark Skies

Plot: As the Barret family's peaceful suburban life is rocked by an escalating series of disturbing events, they come to learn that a terrifying and deadly force is after them.
Director: Scott Charles Stewart
Stars: Keri Russell, Josh Hamilton, Dakota Goyo, J.K. Simmons
Bryan Kristopowitz
: This movie looks weird, and when it comes to "strange alien occurrence" movies, the weirder the better. I especially like the trailer part where Keri Russell starts slamming her head into the glass window. That made me jump. A must see.
Jeremy Wilson: Sorry, this looks dreadful and I believe I heard some hearty laughter in theaters when the trailer came up. Plus, this is Scott Stewart we're talking about. The guy who brought you the incredibly mediocre Priest and the heinous abomination that was Legion. Beware, all ye who enter a Scott Charles Stewart picture of your own volition.
Shawn S. Lealos: I guess we haven't seen a good alien invasion movie in a while. This might not change that fact. The trailer has some interesting ideas strung through it, and I love J.K. Simmons, but I have a bad feeling about this movie.
Jeremy Thomas: I keep thinking of the failed sci-fi TV series about an alien invasion when I see the title of this movie. That doesn't help it much. What also doesn't help is Scott Stewart as director…but hey, at least he's not doing yet another film about a religious warrior fighting in rebellion of the higher authority to stop a supernatural menace from destroying the world by saving a young girl. At least, I don't think that's what this film is about. If he manages to put that plot into this one, he will be the definition of "one-trick pony," except that he didn't even succeed the first time.
Chad Webb: Scott Charles Stewart has proven to be a horrid filmmaker and I think this will continue his streak of turds. Alien invasion storylines are not common, but this has less of a sci-fi vibe than it does a horror/haunting vibe. It feels all wrong and has the potential to be just as bad as Stewart's Priest and Legion. Keri Russell banging her head on the glass doorway is unintentionally hilarious.
Thanks for reading and stay tuned next month when we look at Jack the Giant Slayer, Oz: The Great and Powerful, and G.I. Joe: Retaliation
NULL