411 Movies Roundtable: Most Anticipated Movie, Hobbit, More
January 9, 2013 | Posted by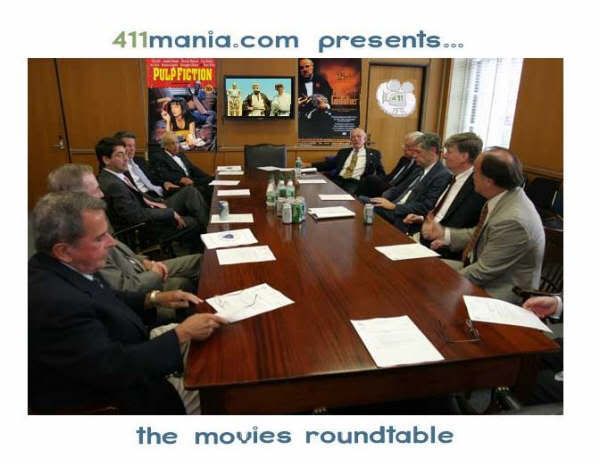 Ladies and gentlemen, this is the first 411 Movies Roundtable of 2013, which might have been an accomplishment if we hadn't stopped doing this for so long. Nevertheless, some of the staffers have decided to give you their thoughts on the exciting crop of movies January always brings.
For the January 2013 edition, the following staffers have contributed:
Jeremy Thomas: Host/Writer of multiple columns. The 8 Ball
Jeremy Wilson: Author of The Hush-Hush News Report
Bryan Kristopowitz: Creator of The Gratuitous B-Movie Column
Shawn Lealos: The Man Behind Alternate Takes
Chad Webb: Writer of Editor's Note
THE MONTH THAT WAS
BRYAN KRISTOPOWITZ
Biggest Winner of the Month
: Peter Jackson.
The Hobbit: An Unexpected Journey
may have seemed liked a sure thing box office wise its first week, but would it have staying power like the previous
Lord of the Rings
movies? The answer is yes, even with the 48 frames-per-second thing weirding some people out. Now, onto the second movie.
Biggest Loser of the Month: Tom Cruise. Jack Reacher was expected to do similar business to Cruise's Mission Impossible 4 but it didn't. It, like The Guilt Trip and This is 40, got pushed around by The Hobbit. Audiences apparently do like Jack Reacher, so it does have that going for it. Maybe home video will be its savior.
Biggest Movie News of the Month: Hugh Jackman will apparently be appearing in the next X-Men movie. No one seems to know how Jackman will be appearing in the movie, but, hey, he's going to be in it, and that's reason enough to make the next X-Men movie an even bigger must see.
Your Most Anticipated Movie of the Month: It's a toss up between The Last Stand and Parker. Stand has the full on return of Ahnold to the action movie world, and Parker is yet another Jason Statham action movie. I'm always in the mood for one of those.
Recommended DVD Release of the Month: Dredd, Taken 2, and Universal Soldier: Day of Reckoning are three of the big ones for January hands down.
Classic Movie of the Month: Red Heat (1988)- Ahnold plays a badass Soviet cop who has to come to Chicago to pick up a notorious Russian drug smuggler brilliantly played by Ed O'Ross. While in Chicago Ahnold hooks up with Jim Belushi, a smart ass Chicago cop that has to deal with a smarmy Larry Fishburne and a constantly pissed off Peter Boyle all day. The prisoner pick-up goes badly, and suddenly Ahnold and Belushi are running around Chicago blowing away bad guys and looking for O'Ross. Gina Gershon appears, as does the great Brion James and Brent Jennings. Walter Hill directs. Awesome late 1980's action flick.
Movie Quote of the Month: "You want to know what my crime is? My crime was being born. I'm thirty-eight years old, and I've been locked up twenty-six of those. I educated myself in here, and I've come to understand that this country was built on exploiting the black man. Of course, I don't hear anything about brothers in your country. But your country exploits its own people just the same, so I guess that makes me the only Marxist around here, right, comrade? You see, boy, this ain't just no drug deal! This is politics, baby, this is economics, this is spiritual! I plan to sell drugs to every white man in the world… and his sister!"
– Abdul Elijah (Brent Jennings)- Red Heat (1988)
SHAWN LEALOS
Biggest Winner of the Month
: Hollywood in general. Remember that giant recession everyone was talking about. Remember how no one could afford to do anything because no one had jobs? I guess someone forgot to tell the movie going audience who spent a box-office record $10.8 billion this year on movies. Three movies surpassed $1 billion in 2012 (The Avengers, Dark Knight Rises, Skyfall) and nine more surpassed $500 million. It was an amazing year for movies and most of them were quality escapist fare as well. Congrats to Hollywood.
Biggest Loser of the Month: Spike Lee. The guy is a complete tool and really just needs to keep his mouth shut about other directors. He hated Jackie Brown and now he is talking trash about Django Unchained, calling it an insult to slaves. This is all without seeing it. Spike Lee is irrelevant now (I would like to see Old Boy change that), and as Samuel Jackson said, Tarantino consistently makes hit movies, something Lee hasn't done in years.
Biggest Movie News of the Month: James Bond's Skyfall surpasses $1 billion worldwide and becomes the highest grossing film ever in the UK, breaking the old record set by Avatar. Who said that Bond was dead?
Your Most Anticipated Movie of the Month: Gangster Squad – This was one of my most anticipated movies last August until the theater shooting in Colorado convinced the studio to demand a scene in the movie be changed, so as not to offend victims of that tragedy. The movie looks amazing, with great actors (Ryan Gosling, Sean Penn, Giovanni Ribisi), and is directed by the guy who brought us Zombieland. How can this movie not be great?
Recommended DVD Release of the Month: Frankenweenie – Tim Burton's loving homage to classic Bl-level movie horror in his most recent stop-motion movie was the best animated film of 2012 other than Wreck-It Ralph. The story was great, the animation perfect and the entire film was a great deal of fun. This might be Burton's best film since Ed Wood.
Classic Movie of the Month: Following – I haven't been buying many movies because of a lack of funds lately, but one I refused to pass on was Christopher Nolan's Following, which hit Criterion in December. It was his first film, and you can see a lot of the traits that would make him a star with Memento. If you want to see one of today's greatest directors when he was just starting out, there are much worse movies out there than Following.
Movie Quote of the Month: "You take it away… to show them what they had." – Cobb, Following
JEREMY THOMAS
Biggest Winner of the Month
: Hobbits…or more specifically,
The Hobbit
. There were a lot of questions as to whether the new Middle Earth trilogy would hold up to the quality of the
Lord of the Rings
, and while critical consensus has been somewhat tempered the fan reaction has been nothing short of ecstatic. The film has topped the box office for three straight weeks and may just be the first film to hit four in a row since
The Hunger Games
this coming weekend; at the time of this writing it has $702 million worldwide in just three weeks. Fans have fallen in love with it; the only regular point of contention is whether the forty-eight frames per second version is really worth seeing. I have yet to check out the HFR version but I've seen the regular version and loved it, and am excited as hell to see the next two installments in the coming years.
Biggest Loser of the Month: Gerard Butler, who at this point has lost so much star power that he can't even make a film open above $6 million. Playing For Keeps was his second bomb of 2012 after Chasing Mavericks; he really hasn't had a full-on live-action hit since 2009's The Ugly Truth. He needs to find a solid action franchise to resurrect his career with pronto. Maybe Sly has a role for him in Expendables 3? He can only hope.
Biggest Movie News of the Month: I'm gonna go with the Week of Epic Trailers that was earlier in the month where we saw trailers hit for Pacific Rim, Star Trek Into Darkness, Man of Steel, G.I. Joe: Retaliation, After Earth and The Lone Ranger. They aren't all going to be good (Lone Ranger, I'm looking at you), but man was that a week of previews unlike anything I think we've seen in a long time.
Your Most Anticipated Movie of the Month: In a weak crop of films, Gangster Squad stands out even more than it otherwise would. A fantastic cast, a talented director, a neo-noir feel and cops versus the Mafia? Yeah, I'm completely in for this one.
Recommended DVD Release of the Month: There's actually a really strong crop this month; I loved Frankenweenie but I'm going with Dredd as I think it will be a fun one to revisit, as well as to see if my positive reaction was just due to lowered expectations.
Classic Movie of the Month: With Arnold Schwarzenegger making his return to a starring role in films, I thought I would look back and go with a classic Arnie film in Commando. This is cheeseball 1980s Schwarzenegger at his finest as he battles through an army of mercenaries to get his daughter back. Featuring a great turn by Vernon Wells as the bad guy Bennett and some of Arnold's best cheesy lines, it is an absolute classic.
Movie Quote of the Month:
"Remember, Sully, when I promised to kill you last?"
"That's right Matrix, you did!"
"I lied."
-John Matrix (Arnold Schwarzenegger) and Sully (David Patrick Kelly), Commando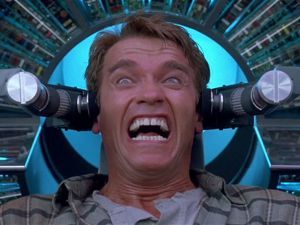 JEREMY WILSON
Biggest Winner of the Months
: Peter Jackson. When
The Hobbit
got caught up in the MGM bankruptcy debacle a few years ago and Guillermo del Toro departed after two years working on it, many believed the project would lose steam and perhaps even shut down altogether. In stepped the only person capable of righting the ship and instill confidence in fans that we would see
The Hobbit
on the big screen – Peter Jackson. The man who won numerous awards bringing epic fantasy's greatest story to the big screen, Jackson took the reins and before we knew it,
The Hobbit
started filming, wrapped and then was expanded into a new trilogy.
An Unexpected Journey
is now in theaters and while it doesn't quite reach the heights of his
Lord of the Rings
trilogy, it is still great to return to Middle Earth and a has been pretty much an unqualified box office success.
Biggest Loser of the Month: Peter Jackson. The rumblings started at CinemaCon 2012 and turned into a derisive roar upon An Unexpected Journey's release. The decision to film his new Hobbit trilogy in 48fps – or High Frame Rate (HFR) – has added a level of discussion to the film's release beyond mere story, characters or effects. For some, it is an interesting, if somewhat bracing, technological advancement that will further change what we know as the cinema. For others – many others – it is nothing short of a debacle, something that has altered not only the image quality on screen, but fundamentally changes and lessens the story it is trying to tell. My own opinion? I was frankly dumbfounded, even knowing all the hullabaloo going in. It is certainly bracing and is unlike anything we've seen before. I did not hate it, but I also never got used to it. The quality of the 3D is undeniably superior and for someone who wears these horrible 3D glasses over regular eyeglasses (thus giving me "6 eyes" I suppose), the smoothness and ease of the 3D experience is a godsend. I never had to adjust my glasses, never had to readjust my vision. I also understand that this is the first – literally the first – mainstream example of HFR. I admittedly don't know a great deal about the technology behind it or if there can be improvements, but I'm willing to give it some time before I summarily dismiss it. That said, like I stated before, I never fully accepted it while watching the film and I remain very skeptical that HFR will become the standard viewing experience in the next decade or two (especially if the experience remains essentially the same as it did watching An Unexpected Journey. It is too jarring and almost constantly feels like someone is pushing the fast forward button on and off. Some effects look fantastic while others look laughably bad. In the end, it causes an inconsistent viewer experience and serves as a distraction (I fortunately made the decision to first see the film in standard 2D, 24fps before a second viewing in HFR). Peter Jackson's first Hobbit film has made lots of money and fans, but his using the franchise as the guinea pig for 48fps remains – at best – a mixed affair. It was not the best first impression HFR could have had, that's for sure.
Biggest Movie News of the Month: I'm going to agree with Jeremy Thomas and say that epic week of trailers that just came out one after the other: Man of Steel, Star Trek Into Darkness, Pacific Rim, Oblivion, After Earth, G.I. Joe: Retaliation and The Lone Ranger. Personally, I thought Star Trek Into Darkness was the best of the bunch, especially since I can't stop thinking about how J.J. Abrams loves jerking around and teasing everyone. Nobody can get a straight answer seemingly about anything to do with that film and the obvious parallel with Wrath of Khan (hand on the glass) was either proof that Khan is involved, or that Abrams is deadset on throwing everyone off until the very end. I have no idea…except that it will likely be pretty epic.
Your Most Anticipated Movie of the Month: Gangster Squad. I refuse to believe any film with Ryan Gosling, Sean Penn, Emma Stone and Josh Brolin in the same cast can be bad. Or at least the kind of film you usually find delayed and dumped in January. I also feel somewhat bad for the film's unfortunate luck, victim to circumstances beyond its control. Its trailers have come out around some of the most painful and tragic mass shootings we've ever seen and delayed from 2012 awards season to 2013's dumping ground. If I'm being honest, Emma Stone in that red dress is pretty much enough to get me to see it.
Recommended DVD Release of the Month: One of the criminally unseen and underrated movies of 2012, Seven Psychopaths is one of the smartest and best comedies of the year. Writer-Director Martin McDonagh is on a one-man mission to give Colin Farrell's film career legitimacy and purpose as the star has excelled in both of McDonagh's feature films (the fantastic In Bruges was his first). In Seven Psychopaths, Farrell plays a struggling screenwriter who accidentally becomes entangled in the Los Angeles criminal underworld after his strange friends (some of whom number the seven psychopaths mentioned in the title) kidnap a gangster's beloved Shih Tzu. Along with Farrell, the film features a fantastic cast including Christopher Walken, Sam Rockwell, Woody Harrelson, Abbie Cornish, Olga Kurylenko and Tom Waits. It's surreal, satiric, often hysterical and another incredibly smart screenplay from McDonagh, who continues to turn the crime satire on its head. There are a tone of one-liners and it definitely feels more Tarantino-esque than In Bruges. Basically, it's the best kind of demented fun.
Classic Movie of the Month: Bubba Ho-tep. In honor of the first new Don Coscarelli film in a decade (John Dies at the End), it might be a good time to go back and check out the man's work. The man behind the Phantasm series, Coscarelli's Bubba Ho-tep is a very good horror-comedy that has Bruce Campbell as Elvis Presley in a nursing home haunted by an ancient Egyptian mummy and Ossie Davis as Jack, a black man claims to be JFK.
Movie Quote of the Month: From Bubba Ho-tep
JFK: "He had me on the floor and had his mouth over my asshole!"
Elvis: "A shit eater?"
JFK: "I don't think so. He was after my soul. Now you can get that out of any major orifice of a person's body. I read about it."
Elvis: "Oh, yeah? Where, man? Hustler?"
CHAD WEBB
Biggest Winner of the Months
: I agree with everyone on Peter Jackson and
The Hobbit
taking this category for December. After the big dig in box office percentage after the first week, people were worried about how much it would gross, but that turned out not to matter as it would go on to be #1 four weeks in a row. It's an awesome movie and deserves the money and attention. Critics might be divided, but most fans enjoy it even if it's not as brilliant as
The Lord of the Rings
thus far. Amidst all the top-notch December flicks, it is impressive that
The Hobbit: An Unexpected Journey
stood tall for so long.
Biggest Loser of the Month: 
When isn't Lindsay Lohan the biggest loser of the month? In truth you could pick a lot of different things here, though I don't think there was any obvious choice. Many December films get swept under the rug due to overwhelming attention for Oscar hopefuls and prestige pics. Jack Reacher, The Guilt Trip, Parental Guidance, and even though I loved it, This is 40 were overlooked. Of course I'm also inclined to mention Spike Lee, who is always an irritating jerk. He is apparently the only person who can make a movie about black people. He's criticized Tarantino on numerous occasions and many others over the years. Just consider everything I referenced a qualified loser for December.
Biggest Movie News of the Month: Any update on Girl Meets World! Wait…what? Just kidding. Jackie Chan being in The Expendables 3 is exciting, as is Vin Diesel's Hannibal trilogy gaining traction again. I agree with the Jeremys that the trailers were awesome this month, but I'm going with Glen Mazzara, showrunner of The Walking Dead, announcing that he is leaving the series. That means the show will have 3 showrunners in 3 seasons. Clearly something is amiss and I don't think the blame goes with Mazzara or his predecessor Frank Darabont. I hope the show isn't too affected by these changes, but I don't see how that can be avoided.
Your Most Anticipated Movie of the Month: 
I have to admit, I am really looking forward to The Last Stand with Arnold Schwarzenegger. It could be a disaster, but then again, Arnold's duds are also great fun to watch and mock (Eraser). The fact is this is being directed by South Korea's Kim Jee-woon, who has proved himself a master at crafting unique action sequences (The Good the Bad the Weird). The cast is a mixed bag, but I hope it's entertaining.
Recommended DVD Release of the Month: Looper was released in January, but it's already out as I write this, so I'll recommend the great End of Watch and the hilarious Seven Psychopaths, both of which arrive on DVD/Blu-Ray toward the end of the month.
Classic Movie of the Month: 
Since I already mentioned it, I'll pick The Good the Bad the Weird from director Kim Jee-woon. If you enjoyed action and westerns, you'll dig this. It also focuses a great deal on comedy, which blends with the story really well. But the action is epic and creative and that alone is worth checking this out. It was on my Top 10 in 2010. It showcases some fabulous Asian actors and the wide-ranging talent of Kim Jee-woon.
Movie Quote of the Month: Park Chang-yi: "They died like dogs. Died in vain. Actually, no one dies in vain. Only those left behind feel empty."
COMING ATTRACTIONS
January 4th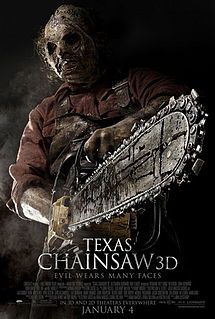 Texas Chainsaw 3D

Rated R
Plot: A young woman travels to Texas to collect an inheritance; little does she know that an encounter with a chainsaw-wielding killer is part of the reward.
Director: John Luessenhop
Stars: Alexandra Daddario, Tania Raymonde, Scott Eastwood, Trey Songz
Bryan Kristopowitz
: I'm not quite sure where this fits into the
Texas Chainsaw
timeline (it's meant to be a sequel to the 1974 original, right?), but, really, does it matter? The trailers have been nasty, and the idea of Leatherface in 3D is enough to make me want to see it.
Shawn S. Lealos: I've never been a big fan of the TCM franchise, although I do like the fact that this is a direct sequel to the original. I guess the people in the town killed the murderous family and burned their house to the ground and this movie picks up decades later when a girl heads down to claim some property she inherited. I like the fact that the new director brought in some classic faces (Gunnar Hansen (Leatherface), Tobe Hooper (the director of the original), Marilyn Burns (original Final Girl)) for small cameo roles. It seems like they are really paying homage to the original.
Jeremy Thomas: The Platinum Dune remake run on Texas Chainsaw Massacre was garbage torture porn and nothing more. Marcus Nispel turned the first film into trash and the prequel isn't even worth mentioning except for Jordana Brewster. Maybe now that the property is in Millenium's hands we can get something good, but to be honest I'm doubtful. The big problem with sequels to this franchise is that outside of the first sequel, there's nothing new ever added to it. It is all the exact same plot with only very minor variations. There are no new revelations, the victims-to-be act exactly the same and this looks to be the same. The trailer doesn't look terrible, but it doesn't look good either. I don't have high hopes.
Jeremy Wilson: The first film of the year. The first film I'll likely skip.
Chad Webb: I liked the very first Texas Chainsaw Massacre. Just about everything else from that franchise has been doggie doo. Like Bryan I have no idea how this fits into the chronology and to be honest, I could look, but who cares? I will give the marketing department credit. The posters are cool, but I have little interest in this. If I see it at all, it will be because I'm bored and feel like being punished that day.
January 11th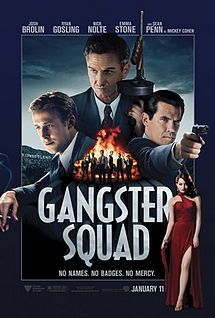 Gangster Squad

Rated R
Plot: A chronicle of the LAPD's fight to keep East Coast Mafia types out of Los Angeles in the 1940s and 50s.
Director: Ruben Fleischer
Stars: Sean Penn, Ryan Gosling, Emma Stone, Giovanni Ribisi
Bryan Kristopowitz
: This movie has a decent cast, and the trailers have been exciting. I'm just not sure if I'm ready for the "movie was changed in light of the massacre in Colorado" thing that will no doubt dominate the coverage right up until its release. Who will be the first one asked about "sensitivity in light of what's happened?" Will it be Penn? Gosling? Maybe Josh Brolin?
Shawn S. Lealos: I mentioned above why I am so excited for this. The cast looks magnificent, the director is a young talent I really like and this entire thing looks cool as hell. Count me in.
Jeremy Thomas: This one is right up my alley. I love a good noiresque film and this has that in spades from the looks of it. The cast is an exceptional ensemble of established and up-and-coming talent and Ruben Fleischer continues to make interesting decisions as a director, following up Zombieland and 30 Minutes or Less with this extreme change of pace. I didn't like 30 Minutes or Less but I respected his efforts on it; it was an interesting failure. The trailers have been amazing and I am quite psyched to see it.
Jeremy Wilson: Neo-noir crime drama with Sean Penn chewing every piece of scenery he can and Emma Stone looking jaw-droppingly beautiful. I'm there.
Chad Webb: Ok, this DID look really good. If you recall the original trailer included a scene where guys are blowing people away in a movie theater. Then the tragedy in Aurora happened and the studio demanded reshoots. From what I've read that theater scene occurred during a crucial part at the end of the film. The release date was changed from December to January. This cannot be positive. I hope this is still a solid gangster thriller, but I have doubts. The cast is excellent, but you have Sean Penn in full scenery-chewing, over the friggin top mode. Penn switches between memorably great performances and ones where he exaggerates so highly that he embarrasses himself. This strikes me as the latter.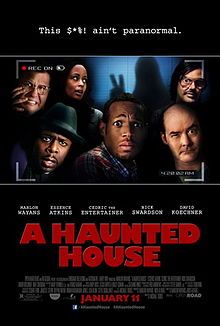 A Haunted House

Rated R
Plot: Malcolm and Keisha move into their dream home, but soon learn a demon also resides there. When Kisha becomes possessed, Malcolm – determined to keep his sex life on track – turns to a priest, a psychic, and a team of ghost-busters for help.
Director: Michael Tiddes
Stars: Marlon Wayans, Essence Atkins, Nick Swardson, David Koechner
Bryan Kristopowitz
: I'm surprised it's taken this long to do a full on parody of the
Paranormal Activity
movies. I've liked the previews, and Marlon Wayans usually does a good job in this kind of movie. I'm just glad that Friedberg and Seltzer aren't involved in this thing.
Shawn S. Lealos: I'd rather (fill in the blank with disgusting, horrifying images) than watch this movie. The Wayans have not made anything worth watching in many years. This one looks worse than the rest.
Jeremy Thomas: Ugh, really? I would rather watch Scary Movie 5 than this, and Scary Movie 5 looks terrible. This looks beyond terrible. I weep for the state of the spoof movie, because clearly there isn't a single person in Hollywood who knows how to do them right anymore.
Jeremy Wilson:Not for all the tea in China could you get me to see this. No Wayans has done anything decent since In Living Color.
Chad Webb: I am a movie writer who prides myself on seeing everything, but I almost always skip these parodies unless the reviews are "worst of the year" bad. The jokes seen in the trailer are horrendous, but that's what we've come to expect from crap like this. Zero creativity goes into these. I wish they would stop making them, but there are apparently some poor souls out there who find them hysterical. Not me, I'll pass.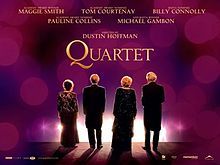 Quartet

Rated PG-13
At a home for retired opera singers, the annual concert to celebrate Verdi's birthday is disrupted by the arrival of Jean, an eternal diva and the former wife of one of the residents.
Director: Dustin Hoffman
Stars: Maggie Smith, Michael Gambon, Billy Connolly, Tom Courtenay
Bryan Kristopowitz
: Eh. It has a good cast. At least it has that going for it.
Shawn S. Lealos: I might be the oldest writer here at the 411mania movie zone, but even this looks to be aimed at a crowd much older than me. I like Dustin Hoffman, and seeing him direct is nice, but I don't think I will be anxiously awaiting this movie.
Jeremy Thomas: Yeah, this movie clearly isn't aimed at 411's demographic. (For the record Shawn, you only have a few years on me! Yes, we are old.) However, the cast is great and I'm very interested to see what Dustin Hoffman brings to the table as a director. Honestly, I'll give anything with Maggie Smith and Billy Connolly a shot; I won't be first in line to see it but I will definitely be checking it out.
Jeremy Wilson: Not to be confused with A Late Quartet. I've heard okay things about Dustin Hoffman's directorial debut and this seems like it could be a nice, solid adult movie. At least it has a strong cast with Maggie Smith, Billy Connelly and Michael Gambon.
Chad Webb: I'm confused as to the comments that this is aimed at an older audience. So? It's a movie and this is the movie-zone. Moving on. I am interested to see what Dustin Hoffman can accomplish as a director and this has a good cast, so I'll see it at some point. I saw the trailer and it looked ok I suppose. Maybe it would make sense if I see this side-by-side with A Late Quartet, which I missed during its limited run.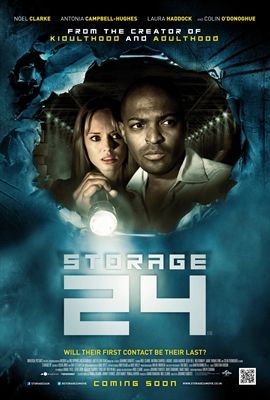 Storage 24

Rated R
Plot: In London, a military plane crashes leaving its highly classified contents strewn across the city. Completely unaware that the city is in lockdown, a group of people become trapped inside a storage facility with a highly unwelcome guest.
Director: Johannes Roberts
Stars: Noel Clarke, Colin O'Donoghue, Antonia Campbell-Hughes, Laura Haddock
Bryan Kristopowitz
: Yet another British sci-fi action horror movie. I'm all for that. I just hope that it gets a theatrical release beyond the major cities. If given the chance people will go see it. I know I would.
Shawn S. Lealos: It can't just be me who watches the trailer for this movie and immediately thinks that it is an Alien rip-off. Instead of being trapped in space, they are trapped in a storage facility with some kind of crazy alien. I haven't seen anything this director did before, but he apparently made his name in cheap horror and finally gets a chance for something with real money here. It looks scary, and I like younger filmmakers getting a chance at the big time, so I'll check this one out.
Jeremy Thomas: This film gets an immediate boost of interest for me because of the cast, which includes Noel Clarke (Mickey Smith from Doctor Who) and Colin O'Donoghue (Hook in Once Upon a Time). The plot is admittedly a kind of high-concept sci-fi horror thing and those are often dicey propositions, but the trailer looks like a lot of fun and as long as it doesn't take itself too seriously, I think this will be a fun little flick.
Jeremy Wilson: It's got an interesting cast, but it doesn't have good buzz or reviews going for it. I'll likely check it out, but I'm guessing it'll get lost as the year goes on and won't catch the kind of cult and critical buzz that 2011's British sci-fi-horror import Attack the Block did.
Chad Webb: The cast is decent enough, but the plot doesn't come as anything extraordinary. The quality will likely boil down to the acting and direction because the story is mediocre. I doubt I'll check this out until it hits DVD.
January 18th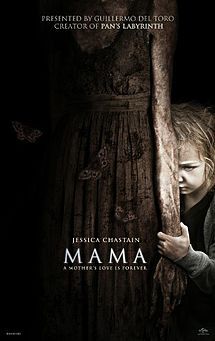 Mama

Rated PG-13
Plot: Annabel and Lucas are faced with the challenge of raising his young nieces that were left alone in the forest for 5 years…. but how alone were they?
Director: Andres Muschietti
Stars: Jessica Chastain, Nikolaj Coster-Waldau, Megan Charpentier,Isabelle Nélisse
Bryan Kristopowitz
: Oh, who cares? Ghost movies rarely ever work, and the previews for this have been horrendous. I just can't generate the necessary enthusiasm, even with del Toro involved.
Shawn S. Lealos: This looks really, really scary. I love how the trailer pretty much refuses to show the ghostly mama (although if you saw the original short, you know what she looks like). I love these kind of creepy terror movies that puts the entire family in danger. This might be this year's Insidious. I am really looking forward to this one.
Jeremy Thomas: This is one that could easily go either way. On one hand, Del Toro's involvement is a huge plus and the trailer has some wonderfully creepy moments. On the other, I do kind of get an Uninvited or Unborn sense out of this one, which is not in any way a good thing. Jessica Chastain and Nikolaj Coster-Waldau are rising stars thanks to all of Chastain's film work and Coster-Waldau's role in Game of Thrones and I would love to say they give me more confidence, but even Jennifer Lawrence had her House at the End of the Street. I am interested, but prepared in case it fails.
Jeremy Wilson: Guillermo del Toro's involvement gets my attention. Jessica Chastain's involvement gives me hope. Chastain has done incredibly strong work the past couple years and Mama could be one of the few films in this January slate that could get people's attention.
Chad Webb: I tend not to get my hopes up when the talented filmmaker is merely producing the work or presenting it. But Jessica Chastain and Jamie Lannister are involved, so that's a plus. I will admit that the short film this is based on is creepy, but stretched out to a feature it seems like another lame ghost story with poor CGI. Who knows? I'll probably give it a shot.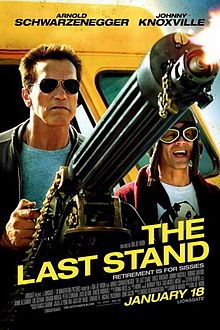 The Last Stand

Rated R
Plot: The leader of a drug cartel busts out of a courthouse and speeds to the Mexican border, where the only thing in his path is a sheriff and his inexperienced staff.
Director: Jee-woon Kim
Stars: Arnold Schwarzenegger, Eduardo Noriega, Forest Whitaker, John Patrick Amedori
Bryan Kristopowitz
: The great Ahnold Schwarzenegger returns to the action movie world to try to reclaim his old box office clout. Will he be able to? Do audiences still care to see him outside of
The Expendables
franchise? I can't wait to find out. And Forest Whitaker deserves a box office hit, too.
Shawn S. Lealos: This is Arnold Schwarzenegger's big return to a starring vehicle, and it is time to see if the big man still has it. I don't think this movie will get a lot of buzz, but I am excited to see Arnold back in front of cameras with big guns instead of suits and ties.
Jeremy Thomas: Arnold is back. Do you really need to say much more than that? The presence of Johnny Knoxville has me a bit wary as he is so rarely good, but one of his few decent roles was in Walking Tall and that's the kind of feel I'm getting from him here. What really has me intrigued is director Jee-woon Kim, who has done some great work in Korea with A Tale of Two Sisters, The Good, the Bad, the Weird and particularly I Saw the Devil. I would love to see him have a hit here and get the opportunity to keep making interesting films on whatever scale he would like to.
Jeremy Wilson: I wouldn't really be interested in this if Arnold was in his prime. The fact that he's AARP-eligible only makes it more skippable. Oh yeah, that and the fact Johnny Knoxville is starring opposite Arnold. Yup…it's January.
Chad Webb: I talked about this above, but even though it looks like a conventional actioner, I am anxious to see Arnold's return. Kim Jee-woon is a talented director, but hopefully he was able to work with the American cast well enough. That is usually the problem when foreign directors try an English-language debut.
Broken City

Rated R
Plot: An ex-cop trailing the wife of New York City's mayor finds himself immersed in a larger scandal.
Director: Allen Hughes
Stars: Mark Wahlberg, Russell Crowe, Catherine Zeta-Jones, Kyle Chandler
Bryan Kristopowitz
: This will probably be, at least, watchable based on its cast alone. I'm not too enthused by the movie's trailer as it seems to give away the whole movie. But, again, with a movie like this, it's all about the casting. I'll give it a try if I have the time.
Shawn S. Lealos: This trailer makes the movie look like an intense thrill ride. Mark Wahlberg is a tough cop and Russell Crowe is the mayor who uses him to get what he wants. The last movie that Allen Hughes directed was the amazing Book of Eli, and between the trailer and the cast here, this one looks like it is a can't miss film for January.
Jeremy Thomas: I'm always down for a Hughes Brothers film. Russell Crowe continues his career comeback here and while I don't believe that this will be a huge hit, it should do respectable business for its genre. The story seems intriguing and the trailer hooks you in without giving up too much; I'll definitely be seeing this.
Jeremy Wilson: It's a Mark Wahlberg January release. Last year was Contraband. This year, it's Broken City. I have no idea what Russell Crowe or Catherin Zeta-Jones are doing with their careers at this point, but this looks about a banal an action film as one would expect from Hollywood at this time of year. To be fair, I haven't seen Menace II Society or The Book of Eli so maybe Allen Hughes can make something interesting out of this, but I haven't seen anything from the trailers to entice me.
Chad Webb: This is a case where the trailer gives away too much information. The cast has some strong names on it, but this is January, so how good can this really be. I'm not expecting anything shocking from this plot. My prediction is that this will be fairly straightforward from start to finish. You might see a lame twist, but that's about it. And I guess this is the first effort from Allen Hughes apart from his brother Albert. Together they have a mixed bag resume. I'm anxious to see how they fare on their own.
January 25th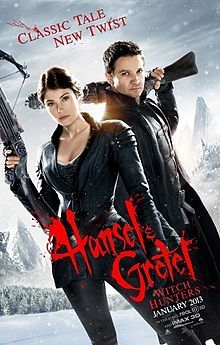 Hansel and Gretel: Witch Hunters

Rated PG-13
Plot: In this dark spin on the fairy tale, siblings Hansel and Gretel are a formidable team of bounty hunters who track and kill witches all over the world.
Director: Tommy Wirkola
Stars: Jeremy Renner, Gemma Arterton, Peter Stormare, Famke Janssen
Bryan Kristopowitz
: Are we even sure this movie is coming out this month? It looks ridiculous enough to work, but
does
it work? That's the big question here. I mean, why keep moving the release date around if it's a sure thing?
Shawn S. Lealos: I know this movie isn't going to be awesome or anything, but I want to see it just the same. I like Jeremy Renner and Genna Arterton, so that gives this movie two plusses right off the bat. I also like fantasy movies in fairy tale styled worlds. I think this will be a fun movie, no more and no less, but it is still one that I want to see.
Jeremy Thomas: Man, this is going to be so entertaining. Note that I didn't say it would be "good," just entertaining. The leads are two of my favorite newer stars and the story is so ostentatious that I have to see it. Famke Janssen looks to be in rare form here and this should just be a fun ride. Don't get me wrong, it could be a disaster along the lines of Van Helsing but with Tommy Wirkola (Dead Snow) behind the camera, I expect it to have the right sense of sly humor to make the ridiculousness work.
Jeremy Wilson: If it's genuinely funny, it has a chance. If it comes out like Van Helsing or Abraham Lincoln: Vampire Hunter, you can chalk it up as an early 2013 Razzies Frontrunner. I haven't been encouraged by trailers.
Chad Webb: I am amazed that anyone on this panel has anything even remotely positive to say about this. I'll be the first to admit I was wrong if it turns out to be good, but seriously, Hansel and Gretel as action-horror heroes? The studio might as well promote the tagline of: "This is what scraping the bottom of the barrel looks like." Yes, Jeremy Renner and Gemma Arterton are talented, but not enough to save this pile of junk. The trailer was horrific and supremely dumb. Unless this has a hidden tongue-in-cheek attitude, this will be terrible.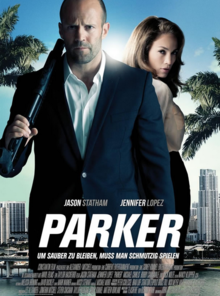 Parker

Rated R
Plot: A thief with a unique code of professional ethics is double-crossed by his crew and left for dead. Assuming a new disguise and forming an unlikely alliance with a woman on the inside, he looks to hijack the score of the crew's latest heist.
Director: Taylor Hackford
Stars: Jason Statham, Jennifer Lopez, Michael Chiklis, Nick Nolte
Bryan Kristopowitz
: I'm always in the mood for a new Jason Statham action movie, and the previews for this have been fantastic. I'm leery of having Jennifer Lopez in it, though. Are we getting a Jason Statham movie with Jennifer Lopez in it, or is it really a Jennifer Lopez movie with Jason Statham in it? I really hope it's the former and not the latter. I really do.
Shawn S. Lealos: I love old-styled B-level action movies with A-list stars. Back in the old days, that included Bruce Willis, JCVD, Dolph Lundgren and Arnold. These days, there is only one man left standing who can make these year in and year out and get them into theaters. I love me a Jason Statham movie and as long as it has non-stop action and Statham kicking ass, that is all I care about.
Jeremy Thomas: This is exactly the kind of garden-variety Jason Statham film we see every year. Statham plays a criminal with a sense of honor who finds himself in over his head and teams with an unlikely ally to take on a superior force of bad guys for (revenge/honor/doing the right thing). I'm serious, go and look at his filmography and that describes about half of his films. The cast for this one is above the usual Statham film cast, so that's a plus. I wouldn't say I'm excited about this but it could be decent.
Jeremy Wilson: Jason Statham in the usual Jason Statham movie, but this time with J-Lo. Umm, no thanks.
Chad Webb: I'm not a huge Statham fan, but he can deliver an entertaining action pic when he wants to. The problem is that sometimes he settles into mediocrity. His best vehicles had a twinge of cheesiness and laughably bad fun to them. Too often it just seems like he is going through the motions. This has the potential to be either. But it could be a nice diversion one weekend and hey, J-Lo is in her underwear, so score.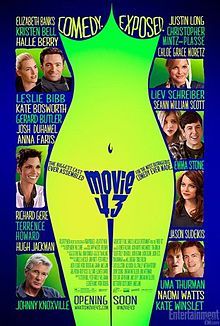 Movie 43

Rated R
Plot: An ensemble comedy intertwining different tales.
Directors: Elizabeth Banks, Steven Brill, Steve Carr, Rusty Cundieff, James Duffy, Griffin Dunne, Peter Farrelly, Patrik Forsberg, James Gunn, Bob Odenkirk, Brett Ratner, Jonathan van Tulleken
Stars: Emma Stone, Stephen Merchant, Richard Gere, Liev Schreiber
Bryan Kristopowitz
: What exactly is this movie supposed to be about? Does it actually have a plot, or is it just a really long sort of sketch featuring a massive A-list cast? I'm sort of interested in finding out. Sort of.
Shawn S. Lealos: This movie will offend everyone and I will see it the first chance I get. Sketch comedy movies are rarely worth watching, but the fact that these jokes are all so low brow and filthy makes me excited to see it. I think this is a movie anyone who isn't easily offended will love.
Jeremy Thomas: I'm gonna see this just to see so many A-list "important" movie stars gutter-balling it for the sake of comedy. This is likely to be an absolute disaster on the level of Bucky Larson, That's My Boy, Jack & Jill, Zookeeper and…well, what I'm trying to say is, Happy Madison sucks. And this might suck too, but I'll give it a try.
Jeremy Wilson: This looks like it could be absolutely hysterical. At least, the trailer made me laugh out loud. Whether it will deliver over a feature-length running time is questionable though. Anthologies are always tricky to pull off and I have a feeling some of the segments will be better than others, leading to a funny, if inconsistent, movie. For the cast alone, it's probably worth seeing.
Chad Webb: This could be bad, but the trailer makes me laugh every time so I'll be optimistic. I am a fan of anthology films, and since this is a comedy it should be fun. Critics will hate it because they can't help but use the same excuse for any anthology offering, complaining that some shorts were better than others. Well, that's inevitable. Still, this should be good for laughs.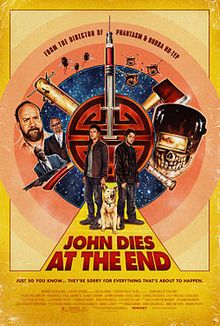 John Dies at the End

Rated R
Plot: A new street drug that sends its users across time and dimensions has one drawback: some people return as no longer human. Can two college dropouts save humankind from this silent, otherworldly invasion?
Director: Don Coscarelli
Stars: Chase Williamson, Rob Mayes, Paul Giamatti, Clancy Brown
Bryan Kristopowitz
: A new Don Coscarelli movie is always a welcome event, although it looks like the only way I'm going to get to see this is via Video on Demand. That's not cool. I mean, Paul "pig vomit" Giamatti is in it. He has a little box office clout, doesn't he? Shouldn't his presence be enough to get this in 1,000 theatres?
Shawn S. Lealos: The last movie by Coscarelli I saw was Bubba Ho Tep and I loved it. This movie looks absolutely bat-shit insane and I cannot wait to see it. I will honestly say I have no idea what it is about, but everything about this looks awesome. This could be the sleeper cult movie of 2013.
Jeremy Thomas: This looks so insane that I can't help but want to see it. Don Coscarelli is someone whose films I always check out and I've never seen one that I didn't like. The supporting cast is really good and the trailer is bizarre; this could well be the Cabin in the Woods of 2013. And that's a good thing.
Jeremy Wilson: It'll be different, that's for sure. Probably the most "out there" and different thing being released this month. Worth seeing just to see how weird it can get.
Chad Webb: It's tough not to be intrigued by this what with the spoilerific title and the cool trailer. Don Coscarelli is a strange filmmaker. Some of his efforts are funny and enjoyable in a B-movie way, but others are just bad, like all of the Phantasm sequels. But I have a good feeling about this one, especially since Paul Giamatti is in it.
Thanks for reading and stay tuned next month when we look at Bullet to the Head, Identity Thief, and A Good Day to Die Hard!