411 Movies Roundtable: The Hobbit, Skyfall, Django Unchained, More
December 3, 2012 | Posted by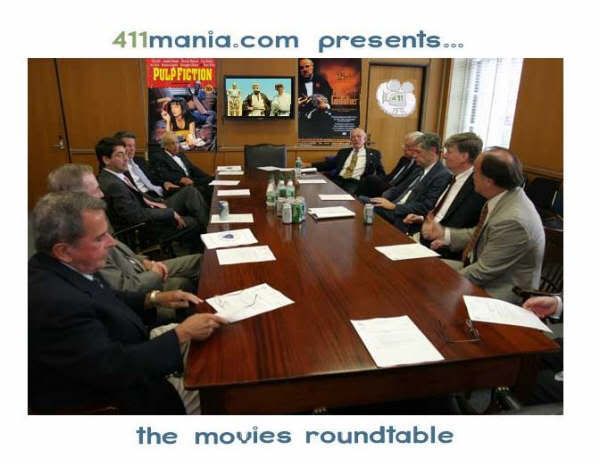 Here we are nearing the end of 2012 and damn it has been a pretty good year for movies. And boy we needed one after the past couple disappointing years. December looks to have some highly anticipated releases that will only improve the overall quality we've seen. Below you can read how most of us are heaping praise on Skyfall, greatly anticipating Django Unchained, and couldn't care less about Parental Guidance
For the December 2012 edition, the following staffers have contributed:
Jeremy Thomas: Host/Writer of multiple columns. The 8 Ball
Jeremy Wilson: Author of The Hush-Hush News Report
Bryan Kristopowitz: Creator of The Gratuitous B-Movie Column
Shawn Lealos: Host of the Movie-Zone Top 5
Chad Webb: Writer of Nether Regions
THE MONTH THAT WAS
BRYAN KRISTOPOWITZ
Biggest Winner of the Month: James Bond. Skyfall had the biggest opening of any Bond movie to date, and star Daniel Craig is being called "the best Bond of them all" (ludicrous, yes, but it's still quite the accolade). And even better, it had major legs the whole month. Could this end up being a $1 billion Bond?
Biggest Loser of the Month: Andre Braugher. His latest TV show, the great Last Resort, failed to find an audience and has been cancelled. Braugher is a great actor, but for whatever reason, ever since Homicide: Life on the Streets, he hasn't had much luck staying on the air. Maybe he needs to find a way to do more character actor work in features? He's good enough to be one of those guys that does intense work in "independent film" and is a perennial awards nominee.
Biggest Movie News of the Month: Steven Spielberg won't be directing the next Star Wars movie. Or any of the next trilogy, it sounds. It was probably never going to happen anyway, but, with a new trilogy on the way, I kind of thought that big Steve was interested. I mean, he was going to do Return of the Jedi at one point, right? Here was his big chance to play in the Star Wars universe. And it ain't gonna happen. It's a shame.
Your Most Anticipated Movie of the Month: Probably a toss up between The Hobbit and Jack Reacher. The Hobbit, for obvious reasons, is yet another Lord of the Rings movie, and how can you not want to see one of those? And Jack Reacher looks like the badass movie of the month, maybe even the year. Will it, can it, live up to the hype?
Recommended DVD Release of the Month: Ted, Seth MacFarlane's first effort as a movie director. Easily one of the best times I had in a movie theatre this past summer. Will MacFarlane do a commentary track in character as Ted? Will Flash Gordon show up in a special feature? I can't wait to find out.
Classic Movie of the Month: Fletch (1985). Based on the character created by novelist Gregory MacDonald, Fletch stars Chevy Chase as Irwin "Fletch" Fletcher, a wise ass investigative reporter for a Los Angeles newspaper. He's always on the trail of something big and sensational, and as we meet him, working undercover on a story about drug dealing on the beach, a rich man played by Tom Matheson hires Fletch to kill him. Why? Well, you're going to have to watch the movie and find out. Chase is brilliant as Fletch. Every scene he has is quotable. A sequel was made four years later, Fletch Lives, which was pretty good, but not quite as good as Fletch.
Movie Quote of the Month: "Fat Sam: I got some reds. Fletch: You don't mean Communists, do you, Sam?" George Wendt (Fat Sam) and Chevy Chase (Fletch)- Fletch (1985)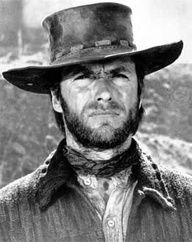 JEREMY WILSON
Biggest Winner of the Months: Bond. James Bond. By the time you read this, Skyfall will have passed $800 million at the worldwide box office. When it's all said and done, Skyfall could get close to being the first billion-dollar Bond movie – it's already the highest grossing 007 film of all time. The winning doesn't stop there though, as Skyfall has also garnered universal acclaim from critics and fans alike and has jumped into many peoples' "Top 3 Bond movies of all time." It has also help further established Daniel Craig and his tenure as perhaps the most noteworthy and cinematically compelling in the franchise's history. Certainly its best since Connery and Goldfinger. It also proves that when put in the right hands, Bond can be more than gadgets, girls and guns. It can be something more.
Biggest Loser of the Month: Cloud Atlas and – by extension – audiences. While it's probably too early to cast a verdict on DreamWorks Animation's Rise of the Guardians, it is not too early to pass final judgment on the performance of Cloud Atlas. It wasn't good. I've said before that I loved watching Cloud Atlas even if I remain undecided on how great I believe the actual film to be. Personally, I think that will take years and multiple viewings, but at least I saw it in theaters. I know it was a tough sell and not a film for everyone, but I wish complex, risky artistic endeavors like Cloud Atlas got more support during their theatrical runs. The poor performance of Cloud Atlas (among others) will just lend credence to Hollywood executives' belief that audiences simply want the rehashed and safe. Maybe they do. You didn't have to like Cloud Atlas (a lot of folks didn't), but I root for movies and don't want to see them fail. It would have been nice for a big, sweeping, complex risk made for adults to do at least reasonably well.
Biggest Movie News of the Month: I wouldn't put it on the level of last month's big news (see: Star Wars), but Joseph Gordon-Levitt reportedly in serious talks to pick up where Christian Bale – and Bruce Wayne – left off as Batman seems like kind of a big deal. I think we've all been varying degrees of concerned regarding WB's upcoming rush job Justice League movie and I think the questions surrounding who would fill The Big Bat's shoes were near the top of the list. We'll have plenty of time to debate whether it's what they should be doing, but this is the first thing about this project I'm actually encouraged by. JGL is one of Hollywood's best young actors and while he doesn't necessarily have the physique one would expect a superhero to have, I think he can pull it off. I also think moving on from Bruce Wayne is the best thing WB can do at the moment. Christopher Nolan's entire Dark Knight run is predicated on the notion that Batman is an idea, a symbol…bigger than any one person. Nolan likely didn't really care how his vision transitioned or translated to any subsequent Justice League movie, but it does allow WB to try a Batman without Wayne under the mask. It also can let them transition easier to a different tone from what Nolan instilled in his films and – maybe – take the Batman property in a different direction (Batman Beyond perhaps?).
Your Most Anticipated Movie of the Month: Can I have a tie? The Hobbit: An Unexpected Jounrey & Les Misérables. I've been waiting for the former for 9 years and the latter is one of the great musicals of all time and the film I've expected the entire awards season to orbit around. I can't wait for either.
Recommended DVD Release of the Month: One of the touchstone films of 2012 and a strong Oscars bet, Benh Zeitlin's Beasts of the Southern Wild is one of the most original and visionary American films of the past decade. Acclaimed by critics, it's already won numerous honors on the festival circuit (Cannes included) and isn't done yet. It is a true indie and features a volcanic performance from a child actress that puts 95% of other kids' performances to shame. Beasts hits DVD & Blu-ray December 4th. For those unfamiliar, the film's synopsis reads:
Faced with both her hot-tempered father's fading health and melting ice-caps that flood her ramshackle bayou community and unleash ancient aurochs, six-year-old Hushpuppy must learn the ways of courage and love.
Classic Movie of the Month: Brazil. Terry Gilliam's dystopian masterpiece is one of science fiction and cinema's great cautionary tales. Jonathan Pryce plays a daydreaming everyman who finds himself caught in the soul-crushing gears of a nightmarish bureaucracy. It has come to be regarded as one of the seminal films of the 1980s, and has been joined the ranks of anti-totalitarian classic by literary masters such as George Orwell, Aldous Huxley, and Kurt Vonnegut Jr.. It is arguably Gilliam's best, most celebrated work and in terms of set design, cinematography, music, and effects, Brazil is a nonstop dazzler.
Movie Quote of the Month: From Brazil (Out on Criterion Blu-ray Dec.4)
Sam Lowry: "I only know you got the wrong man."
Jack Lint: "Information Transit got the wrong man. I got the *right* man. The wrong one was delivered to me as the right man, I accepted him on good faith as the right man. Was I wrong?"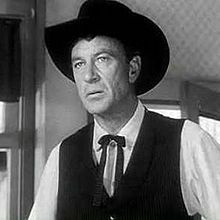 SHAWN LEALOS
Biggest Winner of the Month: Twilight. How the hell did this happen? Not only did Twilight beat every movie that hit on Thanksgiving, for its second straight first place finish, but it was actually an – dare I say it – entertaining movie by the end. I hated the entire franchise, but damn if that giant fight at the end wasn't satisfying for me after being forced to watch the rest of the movies. Plus, nothing is better than Twilight fans screaming in horror when their favorite characters get their heads ripped off in the movie, all because it never happened in the books. Bravo to Bill Condon for having the guts to slam Twi-Hards in the faces with those scenes.
Biggest Loser of the Month: Lindsay Lohan. She tries to rebuild her career with Liz & Dick, fails and gets critically panned, finds out charges are being filed for her June car accident where she lied to the cops about driving, might get her probation revoked as a result, learns she might get sued by Lifetime for breaking her contract by driving the day of the accident, and then punches a woman in New York City at 4 a.m. outside a nightclub. Just put her in jail already.
Biggest Movie News of the Month: The biggest news to me might be non-news by the time it is all said and done. That is Joseph Gordon-Levitt "absolutely" playing Batman in the new Justice League movie. This was supposed to tie the Christopher Nolan trilogy into the new Justice League movie to create a nice connected world. A lot of people cried that Batman had to be Bruce Wayne, and then we got a great interview with Nolan where he actually said his plan was to create a world where Batman could be interchangeable people (kind of like Batman, Inc?) and that makes sense with John Blake taking on the role. Another site said the rumor was false according to JGL's reps and then Drew McWeeny shot back saying he trusts his source and the people will always deny it until they are ready to announce it. I hope it's true, despite the complaining about not using Bruce Wayne.
Your Most Anticipated Movie of the Month: Django Unchained. When Quentin Tarantino gives me a new movie, it will always be my most anticipated movie of any month. I cannot wait for this movie to come out and will probably catch a midnight screening if there is one. Can't wait.
Recommended DVD Release of the Month: Dark Knight Rises. All this talk about Joseph Gordon-Levitt has me jacked to see this again – now. Yes, I saw it on IMAX and yes, I have a screener copy from the studios for yearend voting consideration, but I want this for the special features.
Classic Movie of the Month: The talk of Christopher Nolan brings me to one of this month's Criterion Collection releases, Following. This was Nolan's debut film, and was similar to Memento, in that it was a fractured narrative. However, this movie was like a puzzle, told in jumbled pieces (kind of like 500 Days of Summer). I saw it years ago on VHS and now I can't wait to see it on Blu-ray.
Movie Quote of the Month: "People need dramatic examples to shake them out of apathy and I can't do that as Bruce Wayne, as a man I'm flesh and blood I can be ignored I can be destroyed but as a symbol, as a symbol I can be incorruptible, I can be everlasting." – Bruce Wayne, Batman Begins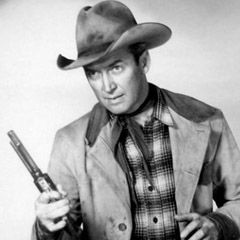 JEREMY THOMAS
Biggest Winner of the Month: It's a close call between Twilight Saga: Breaking Dawn – Part 2 being surprisingly watchable and Skyfall being a runaway success, but I have to go with Bond because it was a huge global success and a better film than I even hoped for. The cast was exceptional, Sam Mendes showed what a real visionary director can do with the franchise and Daniel Craig seems redeemed after the unfairly-drubbed Quantum of Solace. It's also made nearly a billion dollars worldwide, which is nothing to sniff at.
Biggest Loser of the Month: I was just about to put the Wachowski siblings for taking another hit to their box office credibility with Cloud Atlas, but then Lindsay Lohan came along and didn't disappoint with her latest train wreck behavior. Liz & Dick was terrible by almost every account…no, I didn't see it so I can't judge for myself, but it's a bad month for her just based on the critical reaction, and the so-so ratings. Then she accomplishes what has to be a record by getting charges filed against her simultaneously on two separate coasts of the United States, both for her allegedly lying to the police about her California accident and smacking a psychic in a New York nightclub after she got flack for using the offensive term "gypsy" (it's "Rroma" or "Romani," thank you very much Ms. Lohan.) Yeah, life sucks for Lindsay.
Biggest Movie News of the Month: Oh hell, this is actually a tough one. I'm actually going to go with the fact that Patrick Stewart, Ian McKellan AND Hugh Jackman are all returning to the X-Men franchise for Days of Future Past. Yeah, Jackman never really left but you know what I mean. The "Days of Future Past" storyline is an iconic one and Bryan Singer seems to be keeping this on the right track. Color me seriously excited.
Your Most Anticipated Movie of the Month: A coin flip puts Django Unchained above The Hobbit: An Unexpected Journey. After a relatively iffy few years (admittedly, with a couple pleasant surprises), I think this is perhaps the best potential holiday movie season in quite a while.
Recommended DVD Release of the Month: Duh. The Dark Knight Rises hits home video, and I can't not go with that. You can bet I'll have this one on release date.
Classic Movie of the Month: With Django Unchained hitting theaters, I've been thinking about spaghetti Westerns a lot. So let's go with the classic The Good, The Bad and The Ugly, Sergio Leone's quintessential entry into the genre amidst his many brilliant films. Eastwood and Leone were magic together and this is their shining example of that.
Movie Quote of the Month: "Two hundred thousand dollars is a lot of money. We're gonna have to earn it."
Blondie (Clint Eastwood), The Good, The Bad and The Ugly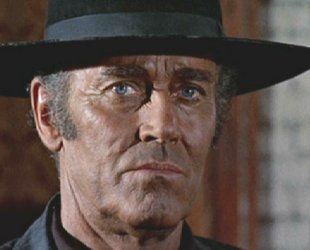 CHAD WEBB
Biggest Winner of the Month: I suppose it has to be Skyfall right? The Twilight Saga: Breaking Dawn – Part 2 did well, but we knew it would. Skyfall has become the biggest grossing 007 film of all-time, which is an amazing accomplishment for a franchise that has experienced its share of hills and valleys. It's also a fantastic Bond movie, so there's that.
Biggest Loser of the Month: Many have said Lindsay Lohan, and they're not entirely wrong, but isn't she a loser every month? Why give her more attention than she deserves? There have been a lot of crappy situations for movie/TV news in November, and I could probably put Ariel Winter's Mom on here if I wanted, but I'm going to go with Angus T. Jones from Two and a Half Men. Out of nowhere he calls the show "filth" and begs people not to watch based on his newfound religious beliefs. Ok. So he's religious. Fine, whatever. But what kind of incredible douche who makes millions trashes his own series while so many other willing, talented actors could fill the shoes of such a thankless, forgettable role? He apologized, but who really believes that? I can't say I had much respect for him before, but I sincerely hope his career crashes and burns.
Biggest Movie News of the Month: For me the biggest news is a bunch of rumored stories that all converge on Man of Steel. We have heard about a potential cameo/end credits scene that hands off to the upcoming Justice League movie. We've also heard that Joseph Gordon-Levitt may be playing Batman in that Justice League picture. Many are excited about this based off the conclusion of The Dark Knight Rises. Part of me feels that WB is not trying to appease continuity hounds as much as they want to cast a face people/fans will not get overly pissy about. Anyone attempting to play Batman has a steep hill to climb, but if Gordon-Levitt is indeed hired, the objectors won't be as outspoken. Who knows? I am curious, but we'll see what happens down the line.
Your Most Anticipated Movie of the Month: Parental Guidance. Wait…what? No, it has to be Django Unchained. I greatly look forward to every Quentin Tarantino film and this is no different. I hope it's a good time.
Recommended DVD Release of the Month: This December is not really the greatest month for DVD/Blu-Ray releases, so I'll go with The Dark Knight Rises even though it's the obvious choice. I am looking forward to picking up Premium Rush. That was an under appreciated, sadly overlooked action movie.
Classic Movie of the Month: Since Django Unchained is coming out, why not recommend the original Django from 1966 starring Franco Nero. Hardly a "classic" by any stretch, but it is a very entertaining spaghetti western from director Sergio Corbucci. This is a violent, dark film. The locations are muddy, wet, and desolate which is interesting for the genre. This does have some memorably cheesy moments, such as Django dragging a coffin through the streets or firing unlimited ammo from his ridiculous gaitlin gun. Corbucci's approach was a bit different from others at the time, but this film is exciting and has an undeniable energy.
Movie Quote of the Month: Django: "You can clean up the mess, but don't touch my coffin."
COMING ATTRACTIONS
—December 7th—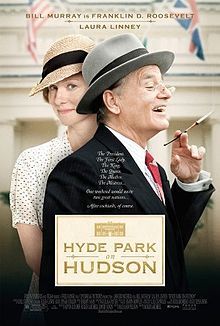 Hyde Park on Hudson
Rated R
Plot: The story of the love affair between FDR and his distant cousin Margaret Stuckley, centered around the weekend in 1939 when the King and Queen of the United Kingdom visited upstate New York.
Director: Roger Michell
Stars: Bill Murray, Laura Linney, Olivia Williams, Samuel West
Bryan Kristopowitz:: Good God, this movie sounds like a project to get Bill Murray another Oscar nomination. It does look watchable, though, so it has that going for it, too. I do wonder, though, just how wide a release this movie is going to get. Does it rate a wide release?
Jeremy Wilson: Not so long ago, Hyde Park on Hudson was an early Oscar frontrunner and Bill Murray was a good bet to at least get a nomination. I mean he's playing FDR for goodness sake! Well, fast-forward seven months and a period piece about a U.S. President IS heading to the Academy Awards. Too bad it's Lincoln. I'll watch it for Murray, Linney and Olivia Williams, but it's consistently gotten mediocre reviews. No pressing need to necessarily see it in theaters.
Shawn S. Lealos: I'm just really not that excited about this one. I like Bill Murray and I'm interested in seeing him in this movie, but there is just something about it that makes me think, "blah." It also hasn't gotten the best reviews, and I skipped out on the recent press screening here, so I don't know what to think. I'll probably skip it.
Jeremy Thomas: Bill Murray plays Franklin D. Roosevelt. That if nothing else would get me to see this. But beyond just that, I have respect for Roger Michell, who is a bit of an underrated director with some good films like Changing Lanes under his belt. I'll be watching it, even if it isn't incredibly high on my list.
Chad Webb: On paper, this sounded like a win, but now it seems destined to fade away silently. This might very well be a good film, but it has two things going against it. Not that countless actors over the years haven't done the same thing, but this seems to have been made just so Bill Murray can score an Oscar nod. Daniel Day-Lewis has the President corner nailed down, so sorry Bill. The other knock is how stylistically and tonally it is similar to The King's Speech. Thos does have a strong cast and a competent director in Roger Michell, but I don't see this getting the attention it seeks.
—December 14th—
The Hobbit: An Unexpected Journey
Plot: A curious Hobbit, Bilbo Baggins, journeys to the Lonely Mountain with a vigorous group of Dwarves to reclaim a treasure stolen from them by the dragon Smaug.
Director: Peter Jackson
Stars: Martin Freeman, Ian McKellen, Richard Armitage, Andy Serkis
Bryan Kristopowitz:: The trailers so far have been fantastic, and if the previous Lord of the Rings trilogy tells us anything, director Peter Jackson knows what he's doing when it comes to Middle Earth and all that nonsense. Would it have been cool if Guillermo del Toro had been able to do it? Of course it would have (Ron Perlman would have been in it!). But Jackson at the helm just seems right.
Jeremy Wilson: I'm breathing into a brown paper bag just thinking about it. Back to Middle Earth I go. Oh god I can't wait.
Shawn S. Lealos: If Peter Jackson makes a movie, I will watch it. I don't know about spreading one book over three films, but he has a lot of bonus material in the back of the book to work with. Either way, I watched all three LOTR movie, and loved them, so I figure I will love this one as well. Count me in.
Jeremy Thomas: This is a movie fans have wanted to see since Jackson's Lord of the Rings trilogy and there were times where it didn't look likely at all. The production seemed cursed for a while between MGM's financial problems delaying it, Guillermo Del Toro bowing out due to said delays, union problems and more. But it is finally here and I couldn't be more excited. The cast is phenomenal and we know how amazing Jackson is with Tolkien's material. Can it be December 14th now?
Chad Webb: We waited for years for Peter Jackson and all the New Line Cinema legal battles to stop so he could direct it. Many filmmakers were rumored, and in Guillermo Del Toro's case, he was brought on, but as fate would have it, Jackson was hired. He should be the one to make it and I can't wait. The trailers are all fantastic. People have complained that this will now be a trilogy. I don't understand why. This is Peter Jackson folks. Trust me, there will be enough material. I hope this lives up to everyone's expectations.
—December 21st—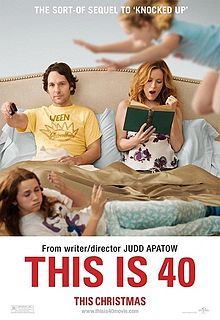 This is 40
Rated R
Plot: A look at the lives of Pete and Debbie a few years after the events of Knocked Up.
Director: Judd Apatow
Stars: Paul Rudd, Leslie Mann, Jason Segel, Melissa McCarthy
Bryan Kristopowitz:: Will this movie be funny? Yes. It will also probably be incredibly obnoxious. Because, really, what is this movie about? Two people whining about how much it sucks to be 40? You ever met someone like that in real life? It's awful. You're 40? Who gives a shit? You do know the world will still have gravity tomorrow, right? Get the hell over it.
Jeremy Wilson: The "somewhat, sort-of sequel" to Knocked Up looks like a winner and one of the few decent comedies arriving in theaters in the next few months. Big fan of Paul Rudd and Leslie Mann, so I'll be checking it out in theaters.
Shawn S. Lealos: The best parts of the first movie was with Paul Rudd and Leslie Mann, and I normally enjoy everything that Rudd does. Plus, this is Apatow, so it's gotta be funny, right? I have an upcoming press invite for it, and I sure as hell won't skip out on this one.
Jeremy Thomas: I came late to the Apatow party. I thought 40 Year Old Virgin was only mildly amusing and didn't see Knocked Up until it hit DVD, but since then I've been fully on board. This looks to be very funny; Rudd is almost always great (we are pretending Wanderlust didn't exist for the purposes of that statement) and Leslie Mann is an underrated comic talent. This could go very wrong of course; any comedy could. But I have a feeling it won't.
Chad Webb: I always look forward to Judd Apatow's dramedies. These characters were fabulous in Knocked Up so I think a feature length film on them will terrific. People bitch about the length of his efforts, but those people have an attention span problem. I've been waiting for this since it was announced and Apatow doesn't usually disappoint.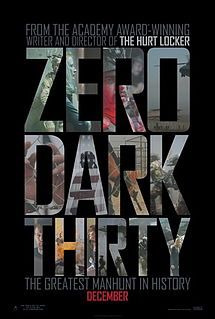 Zero Dark Thirty
Plot: A chronicle of the decade-long hunt for al-Qaeda terrorist leader Osama bin Laden after the 9/11 attacks, and his death at the hands of the Navy SEAL Team 6 in May, 2011.
Director: Kathryn Bigelow
Stars: Chris Pratt, Jessica Chastain, Joel Edgerton, Jason Clarke
Bryan Kristopowitz:: It'll be interesting to see how much of this movie is drama and how much of it is "action thriller" and just how "documentary-like" it's going to be. Because that's sort of what we've been promised. And since just about every character in the movie is some kind of composite, just how "authentic" is it really going to be? I bet it'll be awesome regardless.
Jeremy Wilson: It's gotten very strong reviews and is a likely Oscar nominee featuring 2011's Golden Girl Jessica Chastain. Kathryn Bigelow's cinematic take on the hunt for Osama Bin Laden is her follow-up to 2009's Best Picture The Hurt Locker. That film's screenwriter Mark Boal is back as well and everything looks like a winner.
Shawn S. Lealos: I get to see this next week at an advanced screening and I CAN NOT WAIT. I really enjoyed Kathryn Bigelow's last war film, Hurt Locker, and honestly she has made a lot of great movies over her career that makes her a trusted filmmaker (Near Dark and Point Break to name two). I have a feeling this one is going to be really good.
Jeremy Thomas: I'm very excited to see Bigelow's film about the hunt for and killing of Bin Laden. The cast is one I'm very high on and Bigelow is always a threat to be amazing as a director. The subject is of course topical, but I'm not looking for a strictly fact-based story. I'm more looking for a thrilling and exciting film that was inspired by the story, and that's what I expect to get.
Chad Webb: Kathryn Bigelow is a talented director, but I get the sense that she's trying to capture lightning in a bottle twice here. No, this is exactly the same as The Hurt Locker, but it's in that same ballpark. I hope it's good, I really do, but I feel like it was rushed a bit after Bin Laden's death. On the bright side, it has Jessica Chastain and Joel Edgerton in the cast, both of whom are outstanding. I have doubts, but do hope this turns out positive.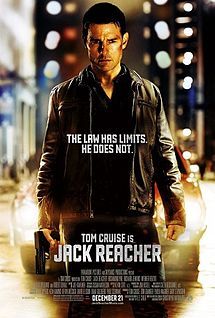 Jack Reacher
Rated PG-13
Plot: A homicide investigator digs deeper into a case involving a trained military sniper who shot five random victims.
Director: Christopher McQuarrie
Stars: Tom Cruise, Rosamund Pike, Richard Jenkins, Jai Courtney
Bryan Kristopowitz:: Holy hooey is Tom Cruise badass in the trailers for this. I just hope the movie lives up to its own hype. I really don't want to see a potential badass movie really be a lame waste of time.
Jeremy Wilson: I've never read any of the books this character is based on, but apparently Tom Cruise is something of a departure for what the character is supposed to be. It looks fun enough, but nothing about the trailers or clips have really made it stand out against a very crowded holiday slate.
Shawn S. Lealos: Fans of the book are complaining that a short Tom Cruise was cast to play the 6'5″ Jack Reacher in the movie. I haven't read the books, so I don't care. I still consider Tom Cruise to be one of the best actors in Hollywood and his involvement makes me happy. I thought his last big movie, "MI: 4" was great and I'm really looking forward to this one as well.
Jeremy Thomas: "Meh meh meh, Tom Cruise is too short for Jack Reacher." Who cares? Cruise is a top action star for a reason and he looks to be in his usual excellent form here. Say what you want about the man on a personal level, but he always brings the goods when the camera is on him and I'm really looking forward to seeing him kick some serious yet again.
Chad Webb: I really meant to read one of the books before this comes out. I still might, but the trailer is awesome and one of Tom Cruise's strengths is that of an action star, so this should be sufficient for quality action/fight scenes if nothing else. Oh, did I mention that Werner Herzog is the villain? If that's not bad ass, I don't know what is.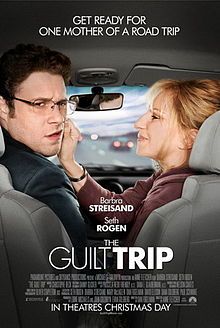 The Guilt Trip
Plot: An inventor and his mom hit the road together so he can sell his latest invention.
Director: Anne Fletcher
Stars: Seth Rogen, Barbra Streisand, Adam Scott, Yvonne Strahovski
Bryan Kristopowitz:: Rogen and Streisand seem to have good chemistry in the trailers, and that's what's going to make or break this comedy. Chemistry. If Streisand turns out to be an obnoxious bore or Rogen looks like he's sleepwalking through it, it's game over. Hopefully it all works out and it's funny.
Jeremy Wilson: At first, I was going to talk about how this is Barbara Streisand's first non-Fockers movie in 16 years. Then, I was going to say I really don't mind Seth Rogen. Finally, I was going to mention how at least it doesn't look as bad as Parental Guidance. However, the fact is that it looks really mediocre and is helmed by Anne Fletcher, that great auteur behind Step Up, 27 Dresses and The Proposal. Skip it…unless you need something to see with your mother and/or grandmother.
Shawn S. Lealos: You know, I like Seth Rogen and normally I am in for his movies, but I can't stand Barbara Streisand and this just looks like a movie I wouldn't like. So, skip it for me.
Jeremy Thomas: I like Barbra and Rogen fine individually, but this really doesn't work for me. The best thing you can say about Anne Fletcher is that she was smart enough to stand out of the way and let Sandra Bullock and Ryan Reynolds' chemistry carry The Proposal; the other two films she has directed have been disasters. I just don't care about this one at all.
Chad Webb: I will say that Seth Rogen and Barbara Streisand seem to have solid chemistry based on the trailer, but I'm getting some weak vibes regarding the plot. It strikes me as a road trip movie with a series of random gags strung together. That might be hilarious, but I'm not sure. This is the type of flick that I will likely end up missing because of all the other titles I'm trying to see before the year's end.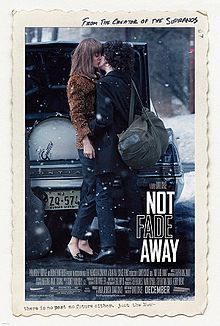 Not Fade Away
Rated R
Plot: Set in suburban New Jersey the 1960s, a group of friends form a rock band and try to make it big.
Director: David Chase
Stars: John Magaro, Will Brill, Jack Huston, James Gandolfini
Bryan Kristopowitz:: David Chase is the writer-director here, and based on that I should care. But, right now, I don't. I'm just glad the movie isn't about 1968.
Jeremy Wilson: David Chase's feature film directorial debut, I've heard inconsistent reviews and buzz. Those who love it, LOVE it, but it seems more think it's a miss. It will likely get lost in the holiday shuffle and probably will end up a 2013 rental.
Shawn S. Lealos: I liked The Sopranos and I like movies about rock bands, so this one holds two keys to getting me in the theater to watch it. However, unless I get a press screening or a screener copy, this isn't something I would pay money to see, so there is that…
Jeremy Thomas: I love a good rock drama, and this looks like it will be one of those. It doesn't scream "breakout success" to me but there's nothing wrong with a film not being the sleeper hit of the season. It seems to have modest aims and that's fine; I'm optimistic that I will enjoy it.
Chad Webb: I should be more amped about David Chase making his feature directorial debut, but this one has not gotten much hype, which is unfortunate. This looks like it could be a fulfilling rock drama, but is this the right time of year for it to drop? I agree that it will probably get lost in the shuffle, but I'm still going to try and see it.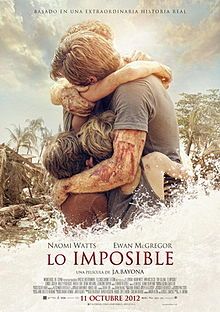 The Impossible
Rated PG-13
Plot: An account of a family caught, with tens of thousands of strangers, in the mayhem of one of the worst natural catastrophes of our time.
Director: Juan Antonio Bayona
Stars: Naomi Watts, Ewan McGregor, Tom Holland, Oaklee Pendergast
Bryan Kristopowitz:: This looks amazing. I just wonder, though, how much hooey we're going to hear in regards to how "true" the "true" story on display really is. Plus, why isn't the movie about "regular" people as opposed to movie stars like Naomi Watts and Ewan McGregor? You just know that question is going to come up somewhere.
Jeremy Wilson: Looks extremely intense and both Naomi Watts and Ewan McGregor are dark horses for awards season. I wonder what kind of roll-out it will get and whether it too will be lost in the shuffle. It worries me for two reasons: 1) I fear it treats a deadly, tragic event as just a mere environment to tell a heartwarming Hollywood story involving survival, love, et cetera, et cetera, almost to the point of offensive (ala Extremely Loud and Incredibly Close); 2) I'm worried that, sort of like Flight, it will be anchored with a terrific 10-15 minute sequence and then slowly unravel from there or never quite match.
Shawn S. Lealos: I will watch this movie either this week or next, and it actually has me interested. The story is nice, a family is separated in a tsunami and has to find each other. I'm sure a lot of people who like to cry and complain will bitch about the fact that we are cheering for a white family to survive while the natives die around them, but I don't care what those people think. This looks like a nice mix between an award seeking movie and a nice thriller. Plus, Ewan hardly ever disappoints me.
Jeremy Thomas: This one looked to be great when I first heard about it but it seems to have dropped off the radar somewhat. That's not to say it doesn't still look great, but I also wonder if it will be buried among the big releases of the season. It looks to be getting a limited release (assumedly for award consideration) and I imagine it will be one of those that expands in January or so, which would be the smart way to go.
Chad Webb: This could be great, but the trailer gives away a lot, and that can sometimes soften the expectations of people. Ewan McGregor and Naomi Watts appear to give powerful performances and Juan Antonio Bayona is a skilled director. He made the magnificent The Orphanage and this is his first film since that hit theaters in 2007. We've seen tales about survival, true stories of disasters, and so on, but will this separate itself from the pack and the loads of competition enough to get noticed come Oscar time? I'm not sure, but I'll be seeing it either way.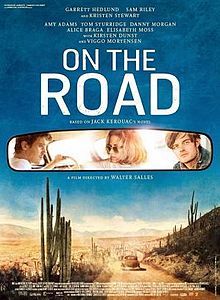 On the Road
Rated R
Plot: Young writer Sal Paradise has his life shaken by the arrival of free-spirited Dean Moriarty and his girl, Marylou. As they travel across the country, they encounter a mix of people who each impact their journey indelibly.
Director: Walter Salles
Stars: Garrett Hedlund, Sam Riley, Kristen Stewart, Viggo Mortensen
Bryan Kristopowitz:: This is another "prestige" movie that I should care about deeply because of the people involved and the work it's based on. The problem is I just don't. The movie will probably be good and great and all that, but… give me another month or so and we'll see if I care more then.
Jeremy Wilson: Jack Kerouac's novel is a classic. It seems based on reviews that Walter Salles' adaptation – which many thought couldn't be pulled off – doesn't quite get there. The film got a mixed reacted at Cannes and I don't even think Kristen Stewart's boobs will get many people to see it.
Shawn S. Lealos: Another one I might watch this weekend. Kristen Stewarts boobs. Other things happen too.
Jeremy Thomas: I was actually looking forward to it, but few accounts of it have been positive. Mostly the consensus seems to be that it is dull and lifeless, especially compared to Kerouac's landmark novel. I will still be checking it out but my expectations are rather low right now…which frankly may be to the film's benefit.
Chad Webb: Adapting Jack Kerouac's novel might seem like a surefire success, but like The Catcher in the Rye, I have a feeling that On the Road is one of those classic, ingrained in our culture books, that is better left as a book. Many movies have been inspired by The Catcher in the Rye, but none have been strict adaptations. Perhaps that would have been the best option here too. We'll know soon enough. Walter Salles is a respectable director, but this would be a tough test for the very best filmmaker. I'm not enthused by what I've seen thus far, so I'm not expecting to be blown away.
—December 28th—
Django Unchained
Plot: With the help of his mentor, a slave-turned-bounty hunter sets out to rescue his wife from a brutal Mississippi plantation owner.
Director: Quentin Tarantino
Stars: Jamie Foxx, Don Johnson, Leonardo DiCaprio, Kerry Washington
Bryan Kristopowitz:: Leonardo DiCaprio is playing the bad guy in this. He also apparently didn't like saying the "N" word. That's what we're going to hear about right up until the movie finally comes out. I'm not a Tarantino nerd, but this looks generally okay. I'll probably see it.
Jeremy Wilson: It's a Quentin Tarantino film. That means it's an event. Merry F'n Christmas.
Shawn S. Lealos: If you only see one movie this month, watch Django Unchained If you only see two, watch it twice. Quentin Tarantino is a God and can do no wrong. This is the movie of the month for me, and one of my most anticipated of all of 2012. I swear, if the Mayans return to earth to destroy us before this movie hits theaters, I will join Will Smith and Jeff Goldblum to fight them myself.
Jeremy Thomas: Quentin Tarantino recently said that Death Proof was his worst film. I agree, and I like Death Proof quite a bit, so that tells you how excited I am about this one. The trailer actually looks pretty damned amazing, the cast is one of the best of the year and honestly there is nothing that doesn't excite me about this. Just remember, the D is silent.
Chad Webb: I would go see Quentin Tarantino's films no matter what they were about. That's how consistent a filmmaker he has been in my eyes. There have been a lot of casting changes and so forth, but that has happened with Tarantino in the past. He knows what he's doing and this should be fantastic.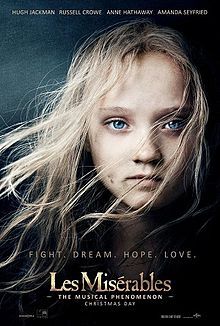 Les Miserables (2012)
Plot: An adaptation of the successful stage musical based on Victor Hugo's classic novel set in 19th-century France, in which a paroled prisoner named Jean Valjean seeks redemption.
Director: Tom Hooper
Stars: Hugh Jackman, Russell Crowe, Anne Hathaway, Helena Bonham Carter
Bryan Kristopowitz:: Up until I saw the "extended first look" trailer for this I was probably mildly interested in seeing it. But after suffering through director Tom Hooper's self important bullshit to Anne Hathaway's "selfish" remark my interest in it is completely gone. The cast, the director, everyone involved can go screw themselves.
Jeremy Wilson: I love musicals and Les Miz is one of the greatest. Hell, Victor Hugo's novel (on which the story is based) is one of my favorite novels of all time. I initially had reservations about Hooper (probably still harboring resentment for The King's Speech Oscar wins), but everything I've seen and heard has helped assuage some of my doubts. They're taking a BIG risk by not recording the numbers and dubbing them in in post-production. If it works (which initial reaction seems to indicate it has), it'll likely payoff big time. It's been my Oscar pick for months and I still feel pretty good about it. It and Lincoln will likely challenge for the most nominations and Anne Hathaway – whether Bryan likes it or not – is the heavy favorite for Supporting Actress. Can't wait to see it.
Shawn S. Lealos: Never been a huge fan of straight up musicals and don't care that much for historical pics either, so this one has two strikes. However, I have to go see it, so I am giving it the benefit of the doubt.
Jeremy Thomas: I am also a huge fan of musicals and I am looking forward to this, especially with the buzz it is getting. Unfortunately, Nine also got a ton of early buzz and see how that turned out. I think this one has a much stronger overall talent roster behind it though, and that will obviously work to its favor. I really, really want it to succeed because Hollywood hasn't quite captured audience's imagination with musicals for the last several years despite some good entries in the genre. Will this pull it off? I hope so.
Chad Webb: This looks fabulous, it really does, but Les Miserables has been adapted time and time again over the years and in a few cases, the films were excellent. I'm not rooting against Tom Hooper, but I'll have mixed emotions if this thousandth re-telling of Victor Hugo's book sweeps in and wins the hearts of award voters in a year when so many great films should be recognized. It has been quite some time since a musical took home the big prize and all the elements are in place for that to happen. Tom Hooper is an amazing director, but come on, he won it all in 2010.
Parental Guidance
Rated PG
Plot: Artie and Diane agree to look after their three grandkids when their type-A helicopter parents need to leave town for work. Problems arise when the kids' 21st-century behaviors collide with Artie and Diane's old-school methods.
Director: Andy Fickman
Stars: Billy Crystal, Bette Midler, Marisa Tomei, Tom Everett Scott
Bryan Kristopowitz:: This almost looks okay as a goofy comedy, but I have a feeling it's just going to be Billy Crystal mugging for the camera and Bette Midler playing an exaggerated version of herself. I'll probably check it out when it hits TV in the summer.
Jeremy Wilson: Nope. Not even the plastic faces of Billy Crystal and Bette Midler (both of whom I like and respect) can make this funny enough to see. The first trailer was hideous and the second one was only slightly better. Sad to see talented people like Crystal and Midler slumming it.
Shawn S. Lealos: This looks like a movie my mom would watch.
Jeremy Thomas: I seriously could not care less about this film. I have no inclination to see it based on the trailers. That is all I care to say about it.
Chad Webb: I just watched an episode of Last Man Standing (yes, someone actually watches that) and in 23 minutes it covered almost the exact same scenario that Parental Guidance has stretched into a full length feature. Billy Crystal is hilarious, but he can do better than this. Pass.
Thanks for reading. Stay tuned for next month's roundtable!
All movie poster images from Wikipedia.org
NULL