411 Oscar Coverage 2013 2.20.13: Best Picture and Director
February 20, 2013 | Posted by
Welcome back once again to 411's continuing Oscar coverage. I am and shall continue to be Ben Piper.
Hollywood's biggest night where they all collectively pat themselves on the back and congratulate one another is now firmly upon us. And as in years past, they will most assuredly choose winners that either none of us saw coming, or make the safe choices that make us in the internet pop culture pundit business shake our heads in common disbelief. After all, The Motion Picture Academy Of Arts And Sciences haven't really picked a true "Best Picture" that will stand the test of time in the last several years. Because honestly? How many times have any of you rewatched either The Artist or The King's Speech in recent memory? Exactly. But for the time being, I'll digress.
I do have to commend the Academy for the thinking outside the box for once and choosing Seth MacFarlane to be this year's host of the festivities. I'll admit that I can't stand Family Guy and while Ted made me chuckle at times, I thought it overrated. But after the last two previous years which saw Anne Hathaway & James Franco crash and burn spectacularly, followed up by Billy Crystal whose sell by date expired sometime shortly after the turn of the millennium, I am genuinely rooting for him to succeed in this endeavor.
Argo at this point looks to be the clear front-runner to win Best Picture, as it has basically won out and run roughshod over all of its competitors up to this point in this year's awards season. If it wins, it will be a historical rarity in that a Best Picture Winner that also didn't receive a nomination for its Director has won less than a handful of times.
I'd chalk this up to the same stodgy old fogey Academy politics that have plagued the awards historically. The majority of Academy voters are white males well past retirement age. And while the rest of us common folk commend, congratulate, and applaud Ben Affleck for his second coming as a top notch director? The Academy thus far? Not so much. Although I would like to see these same old stodgy Academy veterans explain publicly how Argo basically directed itself.
Which is so not going to happen.
So now with Affleck left out of the Director race, it truly is anyone's game. The biggest name on the list, Steven Spielberg appears at this point to be the frontrunner for his work on Lincoln, although it wouldn't be the first time his name does not get called when that is what is expected. There stands an outside chance that The Academy may just reward Michael Haneke, a French filmmaker who is not widely known in the States, but has built a lifelong career of great efforts in Europe, for his work on Amour.
Best Motion Picture
Amour
By Jeremy Wilson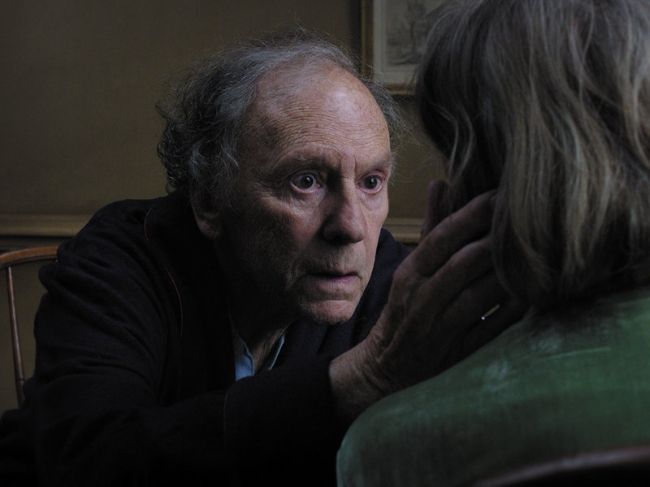 Other Oscar Nominations: Best Actress, Best Director, Best Original Screenplay, Best Foreign Feature
Amour – Many Americans who don't follow the industry or aren't big film buffs may have been surprised to see Amour among the eight nominees for Best Picture at this year's Academy Awards alongside more mainstream fare like Argo, Les Miserables, Lincoln and Silver Linings Playbook. . For those who do pay attention and love cinema from all over the world, the collective reaction was "about time!" While Michael Haneke isn't a household name here in the United States, the Austrian filmmaker is one of the most renowned auteurs in world cinema, writing and directing acclaimed works such as Funny Games, The Piano Teacher, Caché (Hidden), The White Ribbon and now Amour. Although his nominations for Best Director and Best Original Screenplay at this year's Oscars are his first, Haneke has been recognized the world over, receiving numerous prestigious awards. He is especially a favorite at the Cannes International Film Festival, where he and his films have won 2 out of the last 3 Palme d'Or awards (it's been up for the award 6 times in the last 15 years), 2 FIPRESCI prizes and been named Best Director one other year.
The heartbreaking power of the love story at the center of Amour as well as its two lead performers (Jean-Louis Trintignant and Oscar nominee Emmanuelle Riva) have propelled Haneke's film to unprecedented levels of acclaim. In the final months of her life, retired music teacher Anne (Riva) and her husband of sixty years (Trintignant) struggle with the debilitating effects of two strokes on both her health and her quality of life. As Georges cares for the increasingly unhappy Anne, the couple finds the nature of their life together irrevocably changed. For a director accused of making cold, calculated films in a distinct style (critics would call it remote), Amour emerged as something else from the director – a warm, sensitive and heart-wrenching ode to love, marriage, life and death. While it won't be named Best Picture, Amour will likely win something at this year's Oscars. Its Best Picture nod is affirmation that it is one of 2012's truly special films and further proof that the Academy – and American filmgoers – would do well to continue recognizing the wonderful movies found outside of its borders.
Argo
By Shawn S. Lealos
Other Oscar Nominations: Best Supporting Actor, Best Adapted Screenplay, Best Film Editing, Best Original Score, Best Sound Editing, Best Sound Mixing
The Best Director of 2012 was Ben Affleck, and since he was not even nominated by the Academy, it is only fair that his movie takes home the biggest award of the night. Affleck did something very impressive with Argo. He took a story in which the ending is already written in the history books and still made it an exciting, heart pounding thriller. Sure, there are people who decry the authenticity of the film, but they are just Canadians, so I don't pay too much attention.
Argo is a strange movie. There are really no outstanding performances (even though Alan Arkin got an Oscar nomination for his comical role), although all the actors are solid. Taking the place of a strong acted movie is simply a fantastic story, perfectly directed and a movie that stands on its own as a masterpiece. When a movie can take a cast of great actors and the story still overshadows all the individual performances, it is a movie that deserves the highest of praise. Argo has gotten praised at just about every awards ceremony so far, and there is no reason that the same won't happen at the Oscars.
When I left the theater after seeing Zero Dark Thirty, I said that it had just replaced Argo as my number one movie of 2012. Two months later, it is Argo that remains more memorable as a movie I am more interested in revisiting. That alone makes this my favorite movie of 2012.
Beasts Of The Southern Wild
By Chad Webb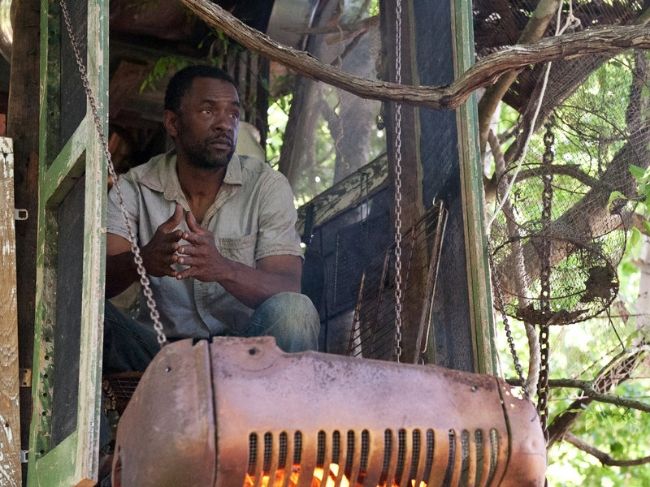 Other Oscar Nominations: Best Actress, Best Director, Best Adapted Screenplay
Every year a film comes out of nowhere and surprises audiences. We can usually count on a good portion of the Academy Award Best Picture nominees to include new efforts from consistently reliable filmmakers and prestige pics, but there is always one title that we cannot foresee, one movie with an unknown cast from a up and coming director that gains momentum and gathers buzz gradually throughout the year. In 2012 that film was Beasts of the Southern Wild, about a father Wink and his daughter Hushpuppy escaping the Bathtub (the area they live in) as a storm causes the marshland waters to rise. This is a fictional tale that combines fantasy sequences with a dramatic Hurricane Katrina-like parallel. That 2005 tragedy allows the viewer to connect with the characters easier. Two things stand out about Beasts of the Southern Wild. The first is the acting, which is incredible on its own, but even more impressive considering the limited to no experience of the two stars, Dwight Henry and Quvenzhane Wallis. The latter, a 9 year-old, knocks our socks off with a powerhouse turn. She is the youngest actress to receive an Oscar nomination for Best Actress. The other aspect of this festival darling that raises heads is the arresting direction of Behn Zeitlin (based on a screenplay and stage play by his collaborator, Lucy Alibar), who employs a style that is both natural and surreal, capturing gorgeous, lingering images of the destroyed bayous of Louisiana. This is Impeccably shot with intimate drama, thrilling action, and genuine suspense. Zeitlin knows when to be patient, when to increase the adrenaline, and when to "wow" his audience. A memorably moving score and a superb use of narration as well. As is the case with most small movies of this ilk that make a giant impact, the chances of winning the big prize are slim, but no doubt it is an honor to be nominated and a grand opportunity to spread the word so more people should see it. Beasts of the Southern Wild is a fabulous piece of work and an unforgettable debut. It deserves its spot.
Django Unchained
By Bryan Kristopowitz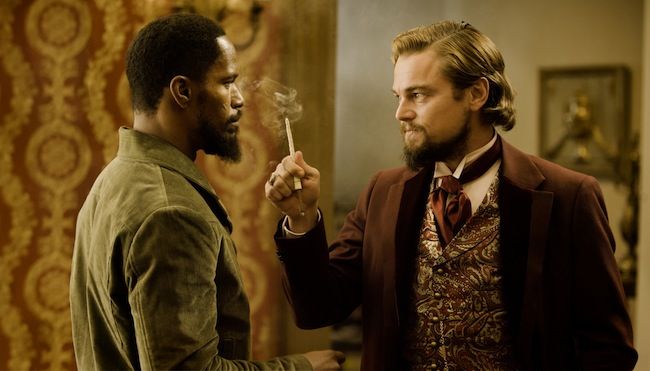 Other Oscar Nominations: Best Supporting Actor, Best Original Screenplay, Best Cinematography, Best Sound Editing
Writer-director Quentin Tarantino's latest effort tells the story of Django (Jamie Foxx), a freed slave turned bounty hunter who desperately wants to reunite with his "still-a slave" wife Broomhilda (Kerry Washington). With the help of his bounty hunting mentor Dr. King Schultz (Christoph Waltz), Django has to infiltrate "Candie Land," a massive Mississippi plantation owned and operated by the sleazy Calvin Candie (Leonardo DiCaprio), in order to live happily ever after with his wife. Now, in order for all of that to happen, we have to see Schultz remove Django from slavery, teach Django the bounty hunting trade, and ignite a sense of confidence in a man who, up until he was freed, was treated as a piece of property, not a human being. The movie starts off as a kind of adventure story, segues into both a love story (finding Broomhilda) and a horror story (pretty much everything Django and Schultz witness on the road to Candie's plantation is incredibly nasty), and ends as a revenge story. It's damn near three hours long, chock full of brilliantly gory violence, and populated with amazing performances (Waltz has been nominated for a Best Supporting Actor Oscar). It's Tarantino's, at least in this writer's opinion, most entertaining movie to date. It's also Tarantino's biggest box office hit. People really, really like this movie. But what are people in the pop culture world talking about when Django Unchained is mentioned?
The "N" word. It's used by various characters, both white and black (mostly white), perhaps over one hundred times (I wouldn't be surprised if it's more than that). Its use is meant to depict "accurately" the language of the time of the movie's setting (the late 1850's). Lots of people, white and black. are incredibly offended by the presence of the word in the movie, while others have defended Tarantino's seemingly overabundance of "N" words. Is Tarantino making a point about society and racism and making America confront its past, or is he just playing around with one of the most powerful, dangerous, and hated words in the English language simply because he can? He's probably doing all of those things.
Look at Samuel L. Jackson's Stephen. Jackson is amazing in the role, but the character is going to offend oodles of people. Stephen is a black man that hates black people. A "House Negro," he has taken the racist attitudes of his owner Calvin Candie and amplified him. It's almost like Stephen is a bigger racist than Calvin, a man who openly owns black slaves and has them fight to the death for his amusement. It doesn't seem possible. And yet there's Stephen, flipping out over having Django sleep in a guest room because "you'll never get the smell out of the room." Jesus Christ that's awful. What the hell is wrong with that guy?
Django Unchained certainly isn't for everyone, but then Tarantino movies by and large aren't for everyone anyway. The movie has been nominated, but it probably won't win. Being nominated will have to do as its major accomplishment. Well, outside of making lots and lots of money. Few of the nominees this year can say they did that.
Les Miserables
By Micheal Weyer
Other Oscar Nominations: Best Actor, Best Supporting Actress, Best Costume Design, Best Song, Best Sound Mixing
Expectations were higher for this film than any of the other nominees. For over a quarter of a century, the musical version of Victor Hugo's novel has thrilled and entertained audiences across the world. Almost as long has been talk of a movie version and at long last, it came to the screen amid talk of how well it could work and whether it could do justice to the show it was based on (after all, even hits like Rent and The Producers faltered in their big-screen turns even with the original cast involved). Tom Hooper, having proven himself with his Oscar-winning work on The King's Speech ably brings the musical to life by doing exactly what should be done: Not be hidebound to the stage but willing to take risks broadening the film's scope and appeal. He shows early on how he is good for the job with the inspired idea of having the elderly priest who helps Jean Valjean (Hugh Jackman) be played by Colm Wilkinson, who originated the role on Broadway, thus a "passing the torch" moment between the two that helps launch the movie. Hooper does broaden it, bringing 1800's Paris to life with great pieces like prisoners working at docks and shows how truly small the barricade of the revolutionaries is, emphasizing their lack of a chance for success.
But Hooper is smart enough to know it's the music that matters and he brings those famous numbers to life like no one could imagine. His single-shot take of "I Dream a Dream" is what will earn Anne Hathaway a Best Supporting Actress Oscar and his brilliant idea of having the actors sing live rather than be recorded allows their performances to shine much better than a standard musical. While a few seem off (Russell Crowe doesn't quite having the right chops for Javert although his acting is good while Sacha Baron Cohen ironically tones it down for a role meant to be played over the top), the rest are more than able, including Samantha Barks' fantastic turned as the doomed, love-lorn Epione. The close-ups let us feel the emotions of these people as they sing their hopes, dreams and fears and makes you instantly care for them more than mere dialogue could do. There are small touches that help things out (like when Javert pays respect to a young fallen fighter) but still the feel of the grimy and dark time that makes it all work. Hooper's use of the numbers with the story (such as "Do You Hear the People Sing?" taking place at a lavish event) is key to the movie's success and more than lives up to the expectations of its millions of fans. Not just one of the best stage-to-film adaptations ever but stands on its own as a powerful piece of the human spirit, music and all that carries you along and deserves to be noted as one of the best films of the year.
Life Of Pi
By John Dotson
Other Oscar Nominations: Best Director, Best Adapted Screenplay, Best Visual Effects, Best Cinematography, Best Film Editing, Best Original Score, Best Song, Best Production Design, Best Sound Editing, Best Sound Mixing
Ang Lee's spiritual vision of Life of Pi is an artistic achievement in sight, sound, and narrative. Just like the The Lord of the Rings books, many claimed that the novel in which the film is based off of was unadaptable. The vision Lee brought to the source material is one of the most visually engaging experiences of last year. Pi's journey is an artistic masterpiece about the power of faith in the midst of complete hopelessness. His struggle for survival leads him down a path that illuminates the significance of nature and deities. The resulting film is one of the most visually compelling experiences of last year.
Life of Pi tells the story of a young Indian boy who is stranded alone in the middle of the ocean with a tiger on a lifeboat. The ship he was traveling aboard sinks along with his family, who don't survive the tragedy. Pi is then faced with the challenge of not only facing his own survival instincts, but also learning how to win over the respect of the ferocious tiger named Richard Parker. The narrative is expertly crafted, offering new stakes in Pi's situation at every moment. For a film that almost entirely takes place in the middle of nowhere, it keeps the surprises rolling every second. Ang Lee's visual direction of nature is stunningly beautiful. One scene involving a nighttime shot of Jellyfish glowing up a dark ocean damn near took my breath away. The visual 3D aesthetic in this film is some of the best work since the release of James Cameron's Avatar.
This is a worthy nomination for Best Picture. I highly doubt that Ang Lee is going to win in this category but I'll have zero complaints if he ends up walking away with Best Director. Life of Pi is a cinematic visual masterpiece that is a great contender for this award.
Lincoln
By Jeremy Thomas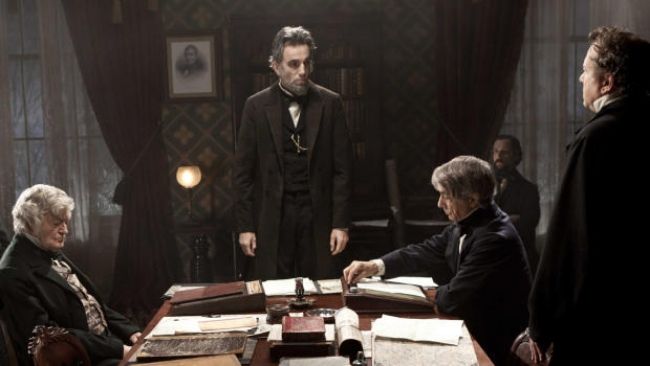 Other Oscar Nominations: Best Actor, Best Supporting Actor, Best Supporting Actress, Best Director, Best Adapted Screenplay, Best Cinematography, Best Costume Design, Best Film Editing, Best Score, Best Production Design, Best Sound Mixing
Lincoln was the early favorite when the Academy Award nominations were first announced on January 10th and while it's taken a backseat to the amazing momentum that Argo has built up, it is a testament to the film's quality and regard that it is still considered a remotely close race at all at this point. Steven Spielberg's tale of the one of the greatest, most revered presidents in United States history and his struggle to get the Thirteenth Amendment passed to officially abolish slavery is an astounding achievement on a technical and narrative level, anchored by Daniel Day-Lewis' brilliant performance as the titular character. That being said, Lincoln is more than just a single performance, as impressive as that performance may be. With a script by Tony Kushner that lays out the political drama in an engrossing way and a discerning detail to the production aspects, the film is a very welcome return to form for Spielberg after a few relatively lackluster efforts.
As good as Lincoln is, the big question on everyone's mind is whether it can be a spoiler for the freight train that is Ben Affleck's third film. It is going to be a down-to-the-wire horse race in my estimation and it's anyone's game; while Argo has the momentum on its side and wins across subsections of the Academy's voting base, one can't deny the power of Lincoln's nomination count or the fact that it is a more "prestigious" film than its chief rival. Some people (myself included) predicted that Lincoln would hedge closer to Benjamin Button's near-shutout than Return of the King's clean sweep, but I would also not be shocked if the reverse were true. And to the film's credit, I wouldn't complain all that loudly either.
Silver Linings Playbook
By Shawn S. Lealos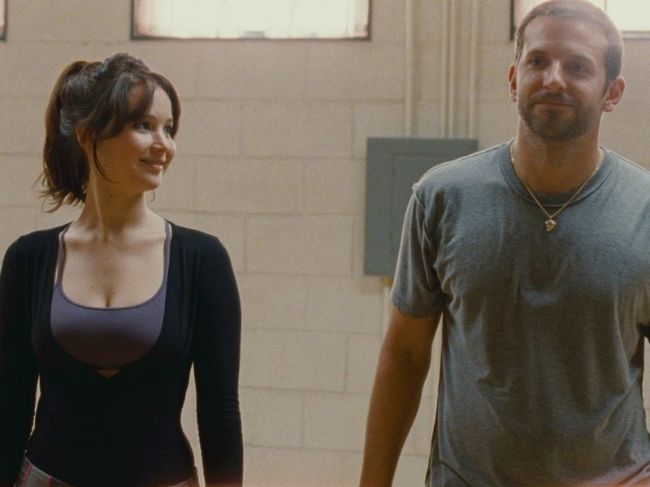 Other Oscar Nominations: Best Actor, Best Actress, Best Supporting Actor, Best Supporting Actress, Best Director, Best Adapted Screenplay
David O. Russell was telling a very personal story with Silver Linings Playbook, a movie he made for his son, who suffers from emotional disabilities. That made the movie a special one for him and it showed from the start to the finish. It has to be noted that this movie received four Oscar nominations for the actors, one in each category, showing how much work Russell put into telling each person's story. While I don't think Jackie Weaver really deserved an Oscar nomination she was great.
However, what Silver Linings Playbook accomplished was taking the three main characters played by Bradley Cooper, Jennifer Lawrence and Robert De Niro and showed them in a fair light, allowing them to display their character's mental problems but never making them look foolish or sugar sweetening their stories. With Cooper's character suffering from bipolar disorder, Lawrence's from manic depression and De Niro's from a severe form of obsessive compulsive disorder, there was enough here to be a "Movie of the Week" on Lifetime.
However, Russell never let it go that route. This was not a Hallmark special, but a real story in a gritty, yet very real, Philadelphia neighborhood. Nothing in this movie seemed fake. It was one of the best feel-good stories I have seen in a long time, with characters that stick with you long after leaving the theater. No, this is not a movie that has a realistic chance of winning an Oscar for Best Picture, but with its wonderful cast and great direction, it deserves the nomination as much as any on the list.
Zero Dark Thirty
By Bryan Kristopowitz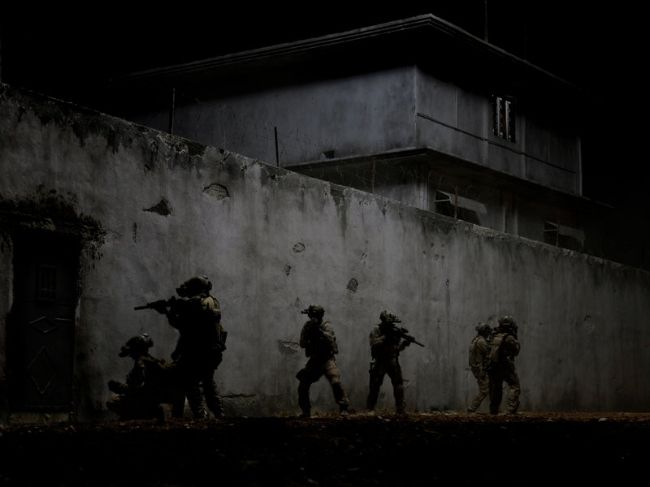 Other Oscar Nominations: Best Actress, Best Original Screenplay, Best Film Editing, Best Sound Editing
Since it arrived in movie theatres last December, Kathryn Bigelow's docudrama about the ten year manhunt of terrorist Osama bin Laden has divided critics and audiences over what, precisely, the movie is really about. Is it simply a cinematic depiction of what happened over the ten year period between September 11th, 2001, when Al-Qaeda killed three thousand Americans, and the Navy SEAL raid that killed bin Laden in May 2011, or is it a movie that advocates the use of torture to extract information from terrorists?
I personally don't think the movie advocates for or against anything. The characters we spend time with, such as Jessica Chastain's CIA agent that spends ten years tracking down every potential lead towards bin Laden or Jason Clarke's brutal CIA interrogator Dan, don't spend all that much time talking about politics. They do talk every so often about Congress, the administration, and what is and isn't "going to be allowed anymore" because of popular opinion back home, but these aren't major conversations. No one loves George W. Bush or hates Barrack Obama here. It's all about "the job" and finishing "the job." Anything outside of that job is irrelevant. And the "through line" that actual, real life members of both Congress and the CIA have complained about allegedly showing that torture lead to "actionable information" on finding bin Laden isn't there, either. Bigelow is far too detached from the events she's depicting to offer up any kind of opinion.
I'm not a big fan of this movie. I understand Bigelow and screenwriter Mark Boal's approach to the material, but I think they would have had a far more successful movie had they streamlined the story and focused on one period of time in the hunt for bin Laden such as the eventual SEAL raid. As a ten year story, there's just too much to digest. It isn't as powerful as it could have been.
But what the hell do I know? The movie has made decent money for everyone involved. It opened in the number one slot during its first weekend in wide release. People showed up to see it, and they're still showing up to see it. It's been nominated for Best Picture. The movie has nothing else left to prove.
And The Oscar will (Presumably) go to: Argo
Potential Spoiler: Lincoln
Best Director
Michael Haneke,
Amour
By Jeremy Thomas
Previous Nominations: None
Michael Haneke is a particular type of filmmaker that puts him in a rare field of directors who make films that are intentionally challenging on both emotional and intellectual levels. As anyone who has seen Caché, either version (or both) of Funny Games or The White Ribbon can attest to, Haneke's films are almost the opposite of a "popcorn film"; they leave the viewer emotionally twisted in ways that are often uncomfortable but always intellectually reflective. In some ways, Amour is his most psychologically-scarring film but it is also his most mainstream. Haneke puts his own touches on the harrowing ordeal of watching the love of one's life slowly degenerate in mind and body without the ability to do anything to stop it but makes it more accessible than his past efforts. More importantly, it shows Haneke's maturation as a filmmaker. There is no direct manipulation here; it is easily his most emotionally honest film to date and while the movie's story takes some hard-to-witness plot twists, they are handling with a delicacy and humanity that blunts the discomfort without lifting the emotional core of the film away.
With Amour, Haneke finds himself among some very significant directors in the Oscar field this year such as Steven Spielberg and Ang Lee; he also finds himself in a very interesting position. One of the biggest stories of the 85th Academy Awards has been the directorial snubs. With Ben Affleck not nominated the playing field is much open and it would not at all surprise me to see the director take this one away. He's far from a lock, but I would venture to say that there is no such thing as a lock in this category and while you have to consider Spielberg a front-runner, the ability of Haneke to make a French film that has deeply touched American audiences is a feat that can't be understated. This could easily be his night to surprise filmgoers and pick up his first AMPAS statuette.
Benh Zeitlin, Beasts Of The Southern Wild
By Jeremy Wilson
Previous Nominations: None
Benh Zeitlin (Beasts of the Southern Wild) – Perhaps the biggest surprise inclusion when names were called at this year's Oscar nominations unveiling was young Benh Zeitlin, a Sundance superstar who has had a whirlwind 12 months. Unveiled at Sundance 2012, Zeitlin's film Beasts of the Southern Wild was the runaway standout of that festival, a film that was generating acclaim and buzz from nearly every corner. Beasts seemed to represent everything that American independent film is supposed to stand for and the fact that it was Zeitlin's debut only made it more exciting. Practically overnight, an American filmmaking star was born and his Academy Award nomination seemed to put the cherry on top of what has been an incredible sundae.
Shooting outside of New Orleans in what was to become "The Bathtub" known in the film, Zeitlin shot on 16mm film with a small crew and the help of dozens of locals. Most famously, Zeitlin and company drafted local baker Dwight Henry to play Hushpuppy's father, a booming alcoholic almost as powerful as the Katrina-inspired storm at the film's climax. Then there's young Quvenzhané Wallis, 5 years old at the time of her audition, who arguably gives the greatest big screen performance from any 6-year-old that anyone can remember. While she is obviously a fascinating and talented young girl, much of the credit for her performance has to go to Zeitlin. Many say that one of the hardest things to do in film is directing kids and animals, but you'd never know it watching Beasts. Both Wallis' performance and Beasts itself feel organic and spontaneous, as if this movie just sprang to life.
Beasts feels transcendent, a thoroughly exhilarating film experience and sub-genre unto itself. Never have characters and a community so beaten down, so poverty-stricken simultaneously felt so alive or looked so beautiful. It's not a beauty meant to take advantage of or condescend, but instead act as the filter in which Hushpuppy – this powerful, independent girl with tiny features and an old soul – views her world. The fact of the matter is that Zeitlin achieved better world-building in his tiny independent with little to no resources than the vast majority of his contemporaries. Beasts of the Southern Wild is one of the best film sof 2012 and cannot be discussed as such without recognizing Zeitlin's achievement. The snubs of other, more famous filmmakers should not take anything away from Zeitlin or his very deserved recognition from the Academy.
Ang Lee, Life Of Pi
By Shawn S. Lealos
Previous Nominations: 3-
Brokeback Mountain
(won),
Crouching Tiger Hidden Dragon
2x (Director and Producer)
Ben Affleck deserves to win Best Director in this year's Oscars. With that said, he won't win because he wasn't nominated. Therefore, we are looking at the five men who got in instead of Affleck this year, and a lot of people will discount either Ang Lee, Michael Haneke or Benh Zeitlin. I am here to defend Ang Lee's presence on this list.
Life of Pi is one of those "books that can't be made into movies" that somehow gets made into a movie. In this case, Lee explains how he was struggling with it and realizing that saying might be right in this case. However, then Lee decided to try something different and thought about shooting it in 3D. That is when he figured out how to make it.
Life of Pi is one of the most beautiful 3D movies ever made. It is right up there with Avatar and Hugo as movies that use the technique how it should be used. 3D is not a technique that is best served by throwing knives at the audience. The best use of 3D is to take a world and show it in a full three dimensions. When that happens, the movie takes on a whole new life.
With Life of Pi, Ang Lee knew that he was asking audiences to sit with him through a journey that placed a boy and a Bengal tiger on a small boat in the ocean for 90-percent of the running time. How can you do that without the audience growing bored and restless, waiting for something big to happen? He did it by creating the world of the ocean in 3D and he succeeded greatly.
Sure, there are arguments that the movie's "faith-based" themes don't always ring true, but I honestly left the movie and had a debate with a fellow film critic about what the movie meant. I believed that the movie showed that believing in everything meant you believed in something and that helped him survive. The other critic believed that he believed in light over darkness and that helped him survive. Maybe we were both right.
The point is that Ang Lee directed a movie that made us think, created it in a very beautiful 3D landscape that proves how important this new technology is when done right, and directed a great story at that. For all that, Lee did something that no one believed was possible. He took a book that couldn't be made into a movie and made an Oscar nominated movie out of it.
Steven Spielberg, Lincoln
By Michael Weyer
Previous Nominations: 14-
War Horse
(Producer),
Letters From Iwo Jima
(Producer),
Munich
x2 (Director & Producer),
Saving Private Ryan
x2 (Producer & Director [won]),
Schindler's List
x2 (Producer and Director, won both),
The Color Purple
(Producer),
E.T. The Extra-Terrestrial
x2 (Producer and Director),
Raiders Of The Lost Ark, Close Encounters Of The Third Kind
Even for such a master filmmaker as Steven Spielberg, the challenge of tackling one of the most beloved figures in American history must have been daunting. But he rises to that with his usual amazing ability to replicate not just the look of the past but also the feel of the most horrible time in American history. The opening shot, where a pair of black soldiers talk to Lincoln, who's framed wonderfully under a single light, sucks you in from the start and Spielberg keeps it up throughout the film. The shots of brutal battles show how terrible they were but it's the political war that's key to the film as Lincoln must convince forces on both sides to pass the amendment banishing slavery and Spielberg is a wonder with close-ups and other great shots that makes these long speeches and arguments fly more than any simple action scene. Spielberg keeps it intimate with Lincoln and his wife clashing over her emotional issues as well as the guilt the President bears over so many American deaths. But he keeps his trademark humor such as the montage of Lincoln's agents trying to convince Congressmen to vote on the amendment. He remembers Lincoln was a great man but not quite a saint and willing to do what it took to get ahead. Under the deft hand of a master, Lincoln is more than a mere history lesson but rather lets us see the 16th President in a new light, one that reminds you of the icon he remains and Spielberg does a better job with that than anyone could give him credit for. If ever the man deserved another Oscar, it's for this as he delivers yet another masterpiece worthy of its subject whose message and work speak more now than ever.
David O. Russell, Silver Linings Playbook
By John Dotson
Previous Nominations: 1-
The Fighter
The romance genre is one of the toughest genres to sell me because of how formulaic the stories are in plot structure. Don't get me wrong, Silver Linings Playbook does utilize the formula but also throws in unconventional elements along the romantic tropes. This is what makes David O. Russell's direction so noteworthy. Just like The Fighter, the story follows a familiar formula but is supremely elevated through strong established characters. Not many directors can make such imperfect individuals appear likeable and interesting in this style. The resulting film is one of the most intelligently directed romances of 2012.
The film focuses on Pat (Bradley Cooper) a man who has recently been released from a mental institution for his Bipolar condition. At first, it's tough to have sympathy for his character until different aspects of his life begin to reveal themselves. He has an obsessive compulsive father (Robert De Niro), who has a problem with gambling. Throughout the film there is a strong push/pull relationship going on between Cooper and De Niro. Pat is also still recovering from a broken marriage, which is one of the biggest circumstances that pushes him over the edge. He sets out to reclaim the love he once had with his wife until his world is suddenly rocked by Tiffany, brilliantly portrayed by Jennifer Lawrence.
It's through these two screwed up individuals where David O. Russel's direction molds well for the performances. He is truly an expert at depicting the most screwed up relationships. Even if all the characters make bad decisions towards each other, at the end of the day, Pat and Tiffany are a chemically-imbalanced perfect match. Also, no director captures the essence of dysfunctional families better than David O. Russell. I think most of us have family members who drives us crazy, but we need them more than we like to admit sometimes.
Silver Linings Playbook is another great directorial effort from David O. Russell. Is he going to take home the Best Director award? I honestly would have to say probably not. However, the nomination is definitely deserved.
And the Oscar will (presumably) go to: Steven Spielberg, Lincoln
Potential Spoilers: Michael Haneke, Ang Lee.
And there you have it. Stay tuned to 411 over the course of the coming weekend for more Oscar coverage as I attempt to defend my half-title for the third year in a row (I tied with Jeremy Thomas last year and Chad Webb the year before) as chief Oscar prognosticator as well as the staff's thoughts on the ceremony itself. We'll see you then.
-BP
NULL