411mania Interview: Spring Breakers Costume Designer Heidi Bivens
March 25, 2013 | Posted by
Heidi Bivens is awesome. Not only does she have a great job but she's great at it. While you sit back in a dark theater or in the comfort of your living room enjoying a movie, you may not give much thought to people who work hard in creating the look and design of the film. Heidi is one of those people; a costume designer and stylist for movies, magazines, and music videos.
Heidi's latest work can be seen in Spring Breakers, a crime/comedy/drama/thriller that's written and directed by Harmony Korine with a cast that includes James Franco, Vanessa Hudgens, Selena Gomez, Ashley Benson, Rachel Korine, and Gucci Mane. The film follows four college-aged girls who decide to rob a fast food restaurant in order to pay for their spring break. Then things get really interesting. The movie has generated huge amounts of buzz and conversation with it's raw portrayal of the teenage odyssey that is Spring Break. Check out Jeremy Wilson's review HERE.
I was lucky enough to get some of Heidi's time to talk about the nature of her job, working on Spring Breakers, and what's next for the talented fashionista!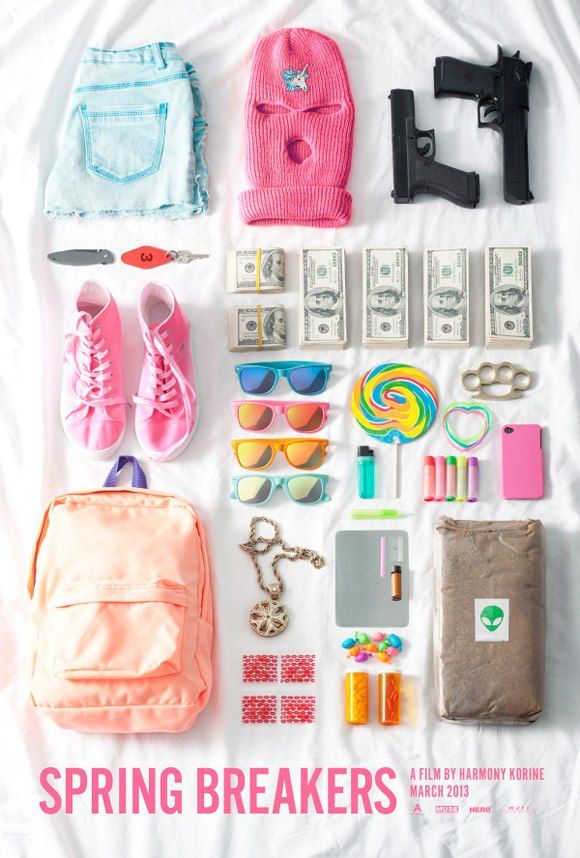 Steve Gustafson:
Heidi, thanks again for taking a few minutes to answer some questions for 411mania about
Spring Breakers
. I wanted to start out by asking how you first got started in fashion styling and costume design? Was this something you've always been interested in growing up?
Heidi Bivens: I studied filmmaking in college and was working with fashion publications like W and WWD. I've been interested in moving and still image and how it relates to fashion and filmmaking since I was a kid. My mom always had an archive of Vogue Magazines around and collected vintage clothing that she would photograph my sister and I in, so I think I owe the start of my career to my mother. I guess you could say my mom is a stylist in her own right!
Steve Gustafson: Very cool! I know you were an editorial assistant at Teen Vogue, Vogue, and In Style along with some contributing work at Details. How did you make the switch into films?
Heidi Bivens: I was interested in styling and fashion journalism while I was in college studying filmmaking, and always believed the two fields could inform each other. Early on in my career I was given the advice that I needed to focus and choose one field (film or fashion), and direct my efforts towards one endeavor. But I never listened to those people and just followed my interests. I feel like that's paid off. My best advice to any young person trying to make their way is to follow your gut.
Steve Gustafson: Follow your gut. I totally agree. Something I didn't know was you've also done styling for music videos! How is that different, or the same, as movies?
Heidi Bivens: A music video shoot usually only lasts a few days, where as a film shoot can span from one to many months time. Music video's can be made up of abstract imagery, or band performance while feature films are mostly narrative. Overall, I like both! Very different but both can be viable, worthwhile art forms.
Steve Gustafson: Cool! For some of our readers who may be a little unaware about what a costume designer does, can you explain your duties when it comes to film production? I'm always curious about pre-production and your day-to-day routine on-set.
Heidi Bivens: When I sign on to work on a film, the first thing I do is break down the script and figure out how many days are in the story and how many changes each character needs. I gather inspiration for the look of each character and meet with the director to decide which direction to go with the costumes. During fittings with the actors, the look of each character starts to come to life. Sometimes the costumes can be a collaboration with the director and actors/actresses depending on how much they want to be involved. Once shooting commences, I'm on set to establish costumes and then the wardrobe supervisor takes over to oversee any continuity.
Steve Gustafson:
So intriguing! I was "aware" but you gave me a much better idea. Moving on to
Spring Breakers
, how did you first get involved? Do they send you a script? Do you have a sit down meeting with director Harmony Korine?
Heidi Bivens: I heard about the script and am a big fan of Harmony's body of work as an artist and filmmaker. I have many mutual friends in common, but it was my amazing agent Rebecca Fayyad Palud that scored me a meeting with Harmony. I like to think there was a melding of minds and he knew I would play my 'A' game for him.
Steve Gustafson: Absolutely. In essence, you are an essential piece in bringing the characters to life. Where do you find your inspiration from for this movie?
Heidi Bivens: All over. I pulled inspiration from hip hop and street style, co-ed "girls gone wild" photos Harmony had collected over time, mall shopping in the South, vintage shopping in St. Petersburg area of FL, young girls on spring break, Surf and skate culture, local weekly mugshot newspaper like "Busted".
Steve Gustafson: Wow! You really do draw from all over. Looking at James Franco's "Alien" character, it could have easily come off as a joke without the proper look but every review I've read remarks how his appearance is spot on. Do you sit with the actors to get their input or do you go with your instinct?
Heidi Bivens: With Franco, I was able to decide on each look. Occasionally there would be something he didn't like, but I was able to convince him it was right for the character and the scene.
Steve Gustafson:
Gotcha. When I tell people I'm interviewing someone, they always want to throw in questions for me to ask. I've been hounded to ask: What was it like working with the cast? James Franco, Selena Gomez, Vanessa Hudgens, Ashley Benson, Rachel Korine, and Gucci Mane?
Heidi Bivens: I think everyone had a great time working on this film. I am guessing all involved will remember it as one of their better experiences on a movie.
Steve Gustafson: It certainly comes off that way. The buzz for Spring Breakers has been overwhelmingly positive and really being tagged as a cultural phenomenon that's an authentic portrayal of spring break. Numerous reviews have used the term "fever dream" to describe it. Your costume design is a big part of that. What are your thoughts about the movies subject matter and your part in bringing it to life?
Heidi Bivens: "Fever Dream". I love that. Harmony Korine changes the language of cinema. The question of the subject matter interests me greatly because Korine is the kind if director who let's the audience decide what is going on in the film. You could say "you get it or you don't", but I do believe there is an undercurrent in the film that is somehow commenting on youth and crime in America, culture of violence, and loss of innocence for example.
Steve Gustafson: That's what I've been reading in the reviews and it's generated plenty of discussion. Very nice. OK, what's next for you? What projects should we be keeping an eye out for?
Heidi Bivens: Another film I costume designed called The Wait, directed by M. Blash and starring Chloe Sevigny and Jena Malone screened at SXSW in March, I just wrapped a John Legend video featuring Rick Ross and directed by Paul Gore, and headed to Rome next to style a short film for FENDI, directed by Luca Guadagnino.
Steve Gustafson: Whoa! No rest for you! But it sounds like you're involved with some really interesting projects. How can fans keep tabs on your career?
Heidi Bivens: I have a twitter (@HeidiBivens) and a website portfolio (www.HeidiBivens.com).
Steve Gustafson: Cool. People should definitely check out your site as you have an incredible portfolio. Alright, that's it! Thanks again and all the best!
Heidi Bivens: Thanks Steve! Youdabest!