411's Comic Reviews: Detective Comics #949, Killer Frost Rebirth #1, More
February 9, 2017 | Posted by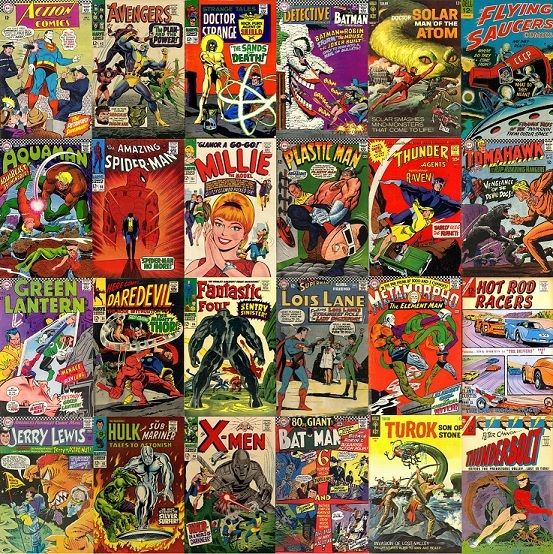 Hello and welcome to 411mania's weekly Comic Book Review Roundtable! Each week we'll be serving up a warm dish of reviews from Marvel, DC, and anything else that captures our interest. What did you pick up this week? Let us know in the comments.
Want to write a review? If you can write at least one review a week, consistently, email me at [email protected]!
Yesterday we discussed the Most Unconventional Superheroes!
Now on with the show!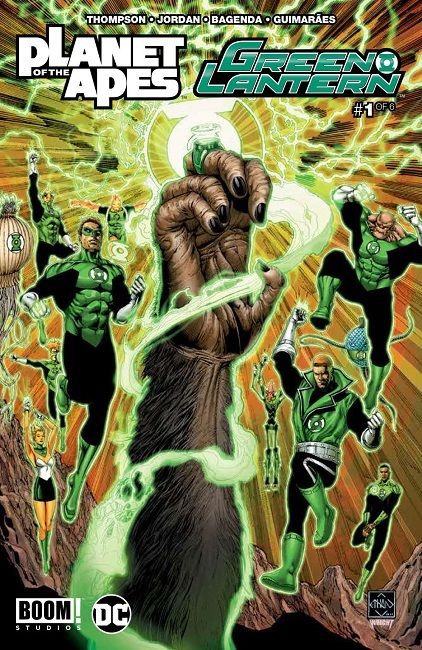 Planet Of The Apes/Green Lantern #1
Review by RobF
Another month, another Planet of the Apes crossover. This time we have the guardians of the universe, the Green Lanterns (with Sinestro in tow), meeting Cornelius, Zera and the rest of the Apes. Can Justin Jordan navigate through such an unnatural team-up or will we a bunch of monkey's uncles? (Sorry I could not resist)
The plot is fairly straightforward. Cornelius, in his search for Taylor, finds a ring but it turns out he's not the only party who wants it for himself. On the other side of the coin the Lanterns are investigating the disappearance of some of their compatriots despite the protests of the Guardians. Hal runs into Sinestro and in the struggle he ends up on a strange world.
One criticism I can offer is one that many crossovers suffer from: The author expects familiarity with the characters. It would be nice to have a little background since it's not clear what time period this story is representing. A small complain but an important one.
I am not a fan of Barnaby Bagenda's artwork. I prefer a more detailed, cleaner style. The colorist, Alex Guimaraes, does a fine job blending the cosmic and terran aspects of this story.
Although it does start slow I think Green Lantern/Planet of the Apes has the potential to be an interesting series. While it appears to be an odd pairing there is enough story to keep me engaged for another issue.
Rating: 7.0 out of 10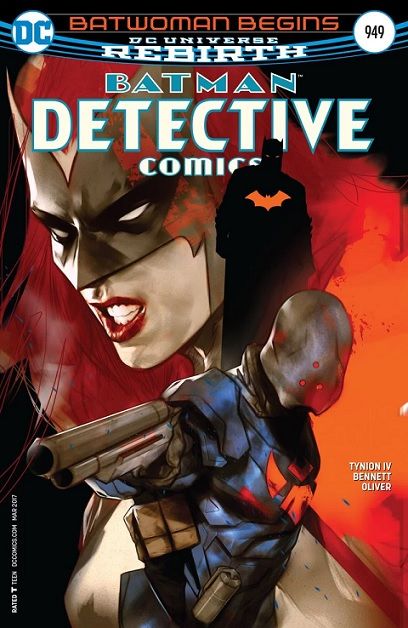 Detective Comics #949
Review by Jonathan Durden
When it comes to superheroes, Batman is my favorite. I have most of the Bat-family comics on my pull list right now. Detective Comics being one of them. This issue did not fail to fulfill my thirst for more Bat-family face time. It just did it in a different way.
This issue, like the issue before it, focuses on Katie Kane (Batwoman) through flashbacks and her relationship to her father, how she met Batman, and how she found out that he is her cousin, Bruce Wayne. Meanwhile, the two of them fight the man currently in charge of the Colony, Simon Samuels, who infiltrates the Belfry to free Batwoman's father and leader of Colony Jacob Kane.
James Tynion IV does a good job here showing the unique relationship that Katie has both with Bruce and her father. It also displays, through the beautiful artwork of Ben Oliver and Szymon Kudranski, some awesome action sequences and dynamic page layouts.
There are two things this issue seems to make clear: the "Monster Men" event was deliberately put in place to set up a larger story arc, and we have clearly not seen the last of the Colony. I am more intrigued in the Colony than I am in the monster venom that Simon Samuels got away with in the issue.
By the end of this mini-arc, Jacob Kane agrees to spill everything he knows about the Colony, and everything the Bat-family of Detective Comics will need to take them down, on one condition: he speaks only to Batwoman, his daughter.
Since Detective debuted last year, Tynion has continued to impress me as a storyteller and I can't wait to see what he has in store for us in the coming issues.
Rating: 9.0 out of 10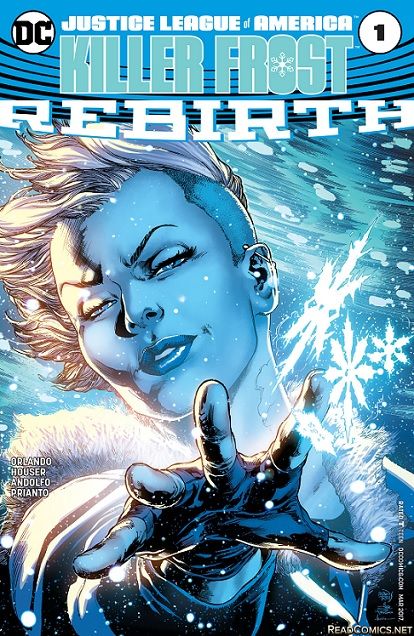 Justice League of America: Killer Frost Rebirth #1
Review by Stephen M. Lyon
Killer Frost provides a solid introduction to Killer Frost's move from being a villain to a hero (and member of the Justice League). The art in this title is top-notch comic book art; it doesn't distract the reader from the story (neither in a good way, nor a bad way) but keeps the reader wanting more. The book is written in a manner which focuses on her struggle to stay on the straight-and-narrow path, and her eventual success against challenges from Amanda Waller herself and others under the Suicide Squad director's control. The only flaw is that, unlike the other JLA one-shots, there is no mention of her origin, or the root of her decision to turn over a new leaf. Instead, the authors make the assumption that the reader has read the entire 6-part Justice League vs. Suicide Squad mini-series, which led up to Killer Frost's conversion. However, overall this is a good introduction of Killer Frost into the Justice League of America, and the unique dynamic she will provide. This should be picked up by anyone intending to follow the new league as it comes together.
The story begins with Frost preparing to be released, and Waller telling her that she does not believe her and that she's not going to make it out. Throughout the book Waller keeps setting her up to fail, from having individuals emitting radiation threaten her, to making her roommate an individual who's power is heat and fire, knowing that she needs to feed on heat. Somehow she persists and is released, where Batman meets her. He asks if she has her "hunger" under control, and she replies in the affirmative, but then it flashes back to show how she's been discretely taking minute amounts of heat from everyone throughout the story. It is not clarified if this is how she's allowed to keep it in control, or if she's doing this secretively, and faking her rehabilitation.
Killer frost is being set up to be the most interesting character in the new JLA series and I'm looking forward to seeing how the story develops, in general, as well as specifically how her character progresses.
Rating: 8.0 out of 10
Steve here! That's all the time we have. Tell us what you're reading below and see you back here next week! You can now find our reviews on ComicBookRoundUp.com!