411's Comic Reviews: Ghost Rider #1, Civil War II #7, More
December 8, 2016 | Posted by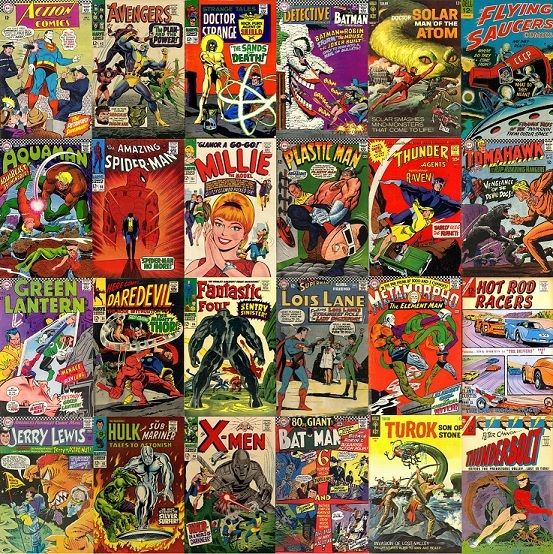 Hello and welcome to 411mania's weekly Comic Book Review Roundtable! Each week we'll be serving up a warm dish of reviews from Marvel, DC, and anything else that captures our interest. What did you pick up this week? Let us know in the comments.
Want to write a review? If you can write at least one review a week, consistently, email me at [email protected]!
Yesterday we discussed, "What's Next for Frank Miller?"
Now on with the show!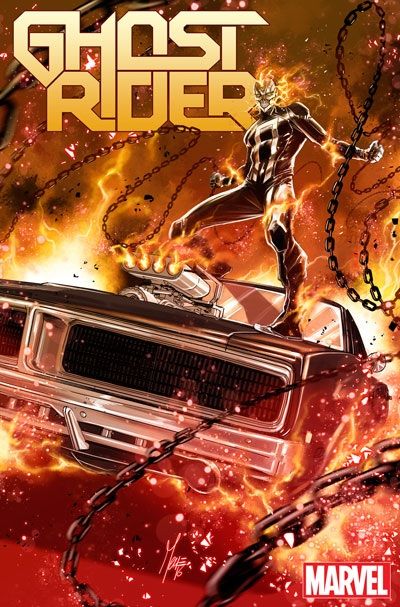 Ghost Rider #1
Review by RobF
In 2014 Felipe Smith relaunched Ghost Rider with Robbie Reyes as the new Spirit of Vengeance. To recap, Robbie dies trying to use a haunted muscle car in an illegal street race and he's brought back to life by the evil spirit of his dead uncle who just happens to be a serial killer. Now here in 2016 he's back hot off his appearance on Agents of S.H.I.E.L.D. Unfortunately this story fails on several levels.
One of the largest sins this issue commits is that it doesn't focus on the title character. Robbie Reyes, the latest Ghost Rider, hardly appears. Over half the comic is focused on the Totally Awesome Hulk and some non-descript demon which makes the 9th smartest man on the planet look foolish. Add in a guest appearance by the all new Wolverine and GR is the third option in a crowded debut. With 2/3 of the "new" Fantastic Four already in place can the Miles Morales Spider-Man be far behind?
And to top it off, Reyes is not written interesting enough to carry the rest of the issue. The story leans heavily on his relationship with his special needs brother, with all the subtlety of a hand grenade. Yes, we get it; Robbie is a good guy who loves his brother. His major beef is with some gangbangers over a traffic issue. Not exactly the strong villain this issue needs.
The less said about the second story the better. A skateboarder named Pyston Nitro? After vanquishing many of Marvel's top villains this seems like a major step down.
The art is the only saving grace. Both Danilo Beyruth and Tradd Moore's version of the Ghost Rider is spot on, some of the best I have ever seen. Too bad the stories don't match up.
Stories like this make me long for the Johnny Blaze/Danny Ketch days. Marvel badly wants to launch the Ghost Rider but I'm not sure Felipe Smith is the man for the job. I see cancellation in the future.
Rating: 1.0 out of 10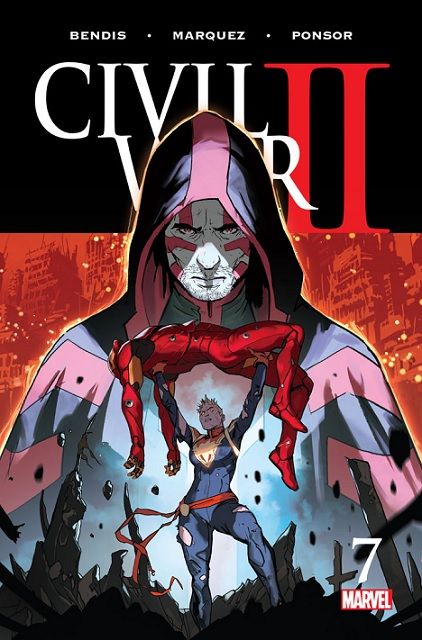 Civil War II #7
Review by Rob Bonnette
This is the next to last issue in the big Marvel event for 2016, an event that has been somewhat underwhelming for a lot of people including me. Like issue number six, it's primarily devoted to the vision that the Inhuman Ulysses had of Spider-Man (Miles Morales) standing over a dead and impaled Steve Rogers in front of the U.S. Capitol. It splits space between Miles at the Capitol in an effort to not let the vision come true, SHIELD attempting to bring him peacefully so he's not there to make the vision a reality, and Ulysses while he's having another vision of dark times ahead. And that's really all there is.
Miles has a conversation with Rogers, SHIELD director Maria Hill talks with Captain Marvel (Carol Danvers), and Ulysses is jarred from his vision by the Inhuman queen Madusa to explain what he saw (the events of his likely final vision were spelled out for us; without spoiling it let's just say that a worst case scenario happened involving Tony Stark that must be prevented). It ends with Danvers arriving at the Capitol with SHIELD in tow to bring in Miles quietly before Stark shows up in a supersized Iron Man armor suit and what looks to be the climactic throwdown between he and Danvers begins. Given what is transpiring in the post-Civil War Iron Man books it's pretty clear that this isn't going to end well for Tony.
Like all the other issues in the series, the artwork is great. Unlike previous issues, that doesn't make up for everything else. Danvers demeanor is a bit more subdued than it has been up to this point, but the damage to her character for the time being has been done. And the latest revelations regarding Ulysses make her stance even more nonsensical than is has been up to this point, while continuing to reduce Ulysses to a walking plot device. The issue also feels like an unnecessary stretching out of issue six; the story in the two issues really could have been told in one but you can't turn down that extra money when it's there, I guess. The onus has been put on Brian Michael Bendis to wrap this up in a way that will get all of us naysayers off of our stance, and while he is up to the task I think he's written himself into a corner this time.
Rating: 6.5 out of 10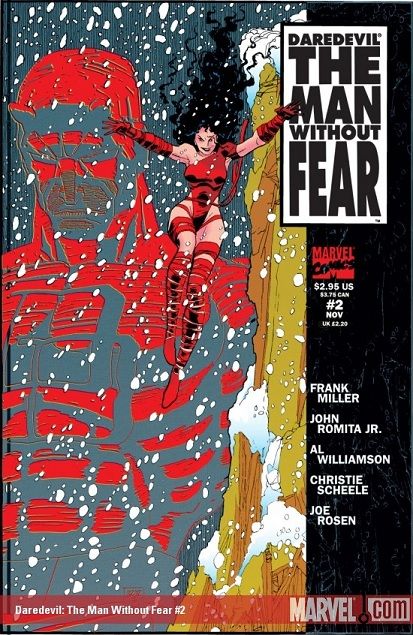 Daredevil: Man Without Fear #2 (1993)
Review by Sankalp G.
Daredevil: Man Without Fear's second issue is absolutely good. The introduction of any media are never entertaining; they lack the action and sometimes drama too. Reading them is sometimes a chore to understand the story or they act as buffer to reach the real action. The thing is, this issue introduces Elektra, Stone, and the lovable goof, Foggy Nelson, and I breezed through all of it, without getting bored. That tells you the power of storytelling by Frank Miller.
The issue starts of with revenge. Revenge of the death of the Jack Murdock. The way Matt does this is really entertaining and I believe the tone set here is the inspiration for the Netflix adaptation.
The way Matt himself narrates everything in present tense and is chilling. It's one of the reasons why the battles in the issue have a down-to-earth feel. The introduction of Foggy Nelson, the bullying, or the chase after Elektra are beautifully done and the incident which leads to the birth of Typhoid Mary have some impact on the story as well as Matt.
I am not going to talk about the art because I have discussed it last time; though the tone and theme set by the artists have been carried through in this issue, which often doesn't happen. Nothing else to add to my comments before.
Another solid issue and the some interaction from this series may contradict the adaptation, though even if they were taken as it is, it may not have changed much, which is a compliment to the creators of both. Good issue overall.
Rating: 9.0 out of 10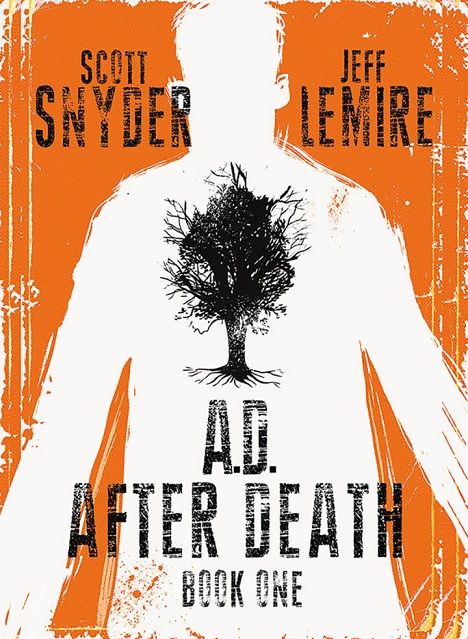 A.D.: After Death Book One
Review by Stephen M. Lyon
A.D.: After Death is a post-apocalyptic look at life after death is cured. This book is another work of genius by Scott Snyder – the writer for the widely acclaimed Batman series from DC's "The New 52" – accompanied by artwork by Jeff Lemire, published by Image Comics. Snyder is a great example of how great comics are not just about the art; this new series really is a graphic novel in the truest sense, in that the art is used to accentuate the story, not to create it. There are full paragraphs of text throughout this work, with visual art included to enhance the more striking moments that have been described (So if you don't enjoy reading, this probably isn't the comic for you). This is not to discount the work of Jeff Lemire, as his work perfectly enhances the story, without taking away anything; he deserves praise for his ability to limit himself and choosing to draw only the minimum that is necessary, as the bare-bones look really helps to create a feeling of despair and gauntness. This is a title that, if it finishes as strongly as it has started, will be a classic for years to come, and that will appeal to audiences outside of usual comic book readers.
The main character is a man by the name of Jonah Cooke, and the book begins with him giving a backstory of his life. The reader alternates back and forth between his biography and his current activity. It's the year 825 A.D. (as in 825 years after death has ended), and Cooke currently works as a farmer,appearing to be in his late 30s or early 40s, and reveals that he's been working for 3 cycles at this position (approximately 50 years). He's decided to switch his job assignment to a location known as Ridge, where it's apparently a quite, lonely post. It is also revealed that he's a compulsive thief. When he arrives at Ridge, he meets up with the woman he's replacing at this post, who appears to be an old friend named Inez.. It's revealed that this post is scanning the outside world, listening for signs of life in the world; there is an implication that the majority of the world's population died and that the world is mostly uninhabited. Nothing has been heard by the scanner for 600 years, when a vessel called Forager left to look for life and only sent one message back. This chapter ends with Inez leaving, and Jonah saying to himself that his plan starts now, and he begins scanning and calling out for signs of life.
I highly recommend this title be picked up; I'm sitting here right now anticipating the next chapter and I can't wait to see what happens next. The only caveat that keeps me from giving this a score of 10 is the size of the book, which has been published in magazine size, instead of the usual comic book size. While I do like how spacious everything is, the uniqueness wears off and I'm left wondering how I'm going to store this one comic, when the rest of my titles fit in a traditional bag/board in a short or long box. Nevertheless, it's definitely worth the time to pick up and read.
Rating: 9.5 out of 10
Steve here! That's all the time we have. Tell us what you're reading below and see you back here next week! You can now find our reviews on ComicBookRoundUp.com!