411's Comic Reviews: Super Sons #1, Wild Storm #1, More
February 23, 2017 | Posted by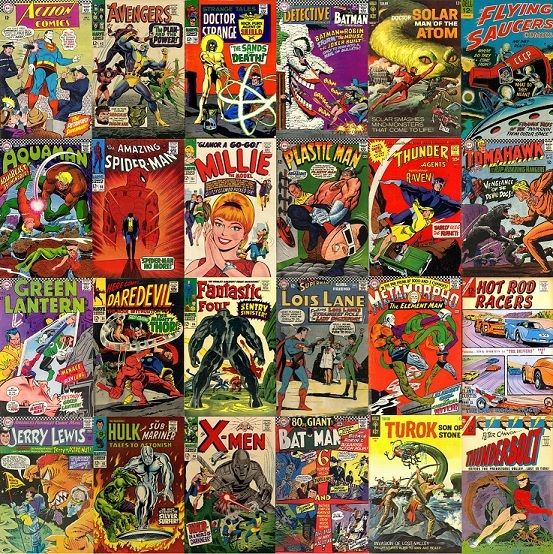 Hello and welcome to 411mania's weekly Comic Book Review Roundtable! Each week we'll be serving up a warm dish of reviews from Marvel, DC, and anything else that captures our interest. What did you pick up this week? Let us know in the comments.
Want to write a review? If you can write at least one review a week, consistently, email me at [email protected]!
Now on with the show!
The Wild Storm #1
Review by Steve Gustafson
"I couldn't be more excited to see these characters that are so near and dear to me reintroduced under the guiding hand of Warren Ellis. WildStorm represents an incredibly fun and exciting period in my career, and I can't wait to see what Warren and Jon have in store for fans in February."—Jim Lee, DC Comics Co-Publisher
When I was talking about this book with a couple of friends all I had to do was ask them, "What do you think of Warren Ellis?" Depending on how you answer will dictate if this book is for you or not. This book is a checklist for Ellis' style of writing and it's an enticing reintroduction to familiar characters with new iterations of Grifter, Voodoo, the Engineer, Jenny Sparks and others.
Ellis and artist Jon Davis-Hunt do what they do best in establishing a covert world filled with spies and dangers around every corner while giving a the world a shady view and a new purpose.
"A troubled woman, barred by her employer from continuing her research, walks miserably through New York City. It takes her a moment to notice that everybody else is looking up. A man has been thrown from the upper floor of the Halo skyscraper.
And that woman—Angela Spica, sick from the transhuman implants she's buried in her own body—is the only person who can save him.
What she doesn't know is that the act of saving that one man will tip over a vast and secret house of cards that encloses the entire world, if not the inner solar system. This is how the Wild Storm begins, and it may destroy covert power structures, secret space programs and even all of human history."
The writing and concept are enough to make this a recommended book but if you're looking for action, this isn't going to be the one for you. While Davis-Hunt is beyond capable, he's not given a whole lot to work with outside static scenes of characters talking. Nothing wrong with that but those looking for a "by-the-numbers" superhero brawl should know what they're getting into. This is definitely not your old Wildstorm.
Wild Storm #1 is a tremendous new take from Ellis and Davis-Hunt that lays the lines for a new Wildstorm that won't be content with following the rules of the old Wildstorm.
Rating: 9.0 out of 10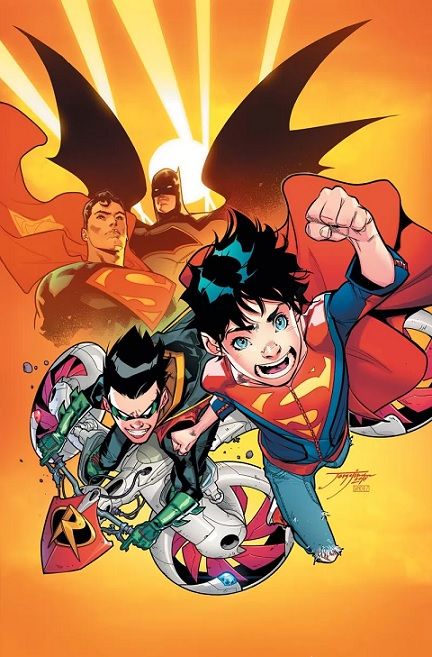 Super Sons #1
Review by RobF
The long and complicated relationship between Superman and Batman takes on a new dynamic in Super Sons 1. Peter Tomasi and Jorge Jimenez bring us the story of frenemies Robin and Superboy as DC presents the latest edition of World's Finest.
On one hand we have Damien Wayne, the son of Batman. Raised by Bruce Wayne and Alfred, his life is dominated by control and order. Largely arrogant and defiant, the latest Robin is quite a handful. Jonathan Kent, the son of Superman and Lois Lane, is the latest to don the Superboy mantle. His parents have raised him with humility and valor. It's this type of contrast in child-rearing that makes Robin and Superboy's relationship so interesting. Their rivalry is what makes an issue light on action a worthy read.
Jorge Jimenez does an admirable job with the artwork. His cartoonish style is appropriate for this type of story. He actually makes the boys look like boys, even super powered ones.
Tomasi clearly shows he understands these characters well. This is one of the more interesting interpretations of the Batman/Superman relationship. The chemistry between Damien and Jonathan is strong and I can see them growing up together in the DC Universe.
Rating 8 out of 10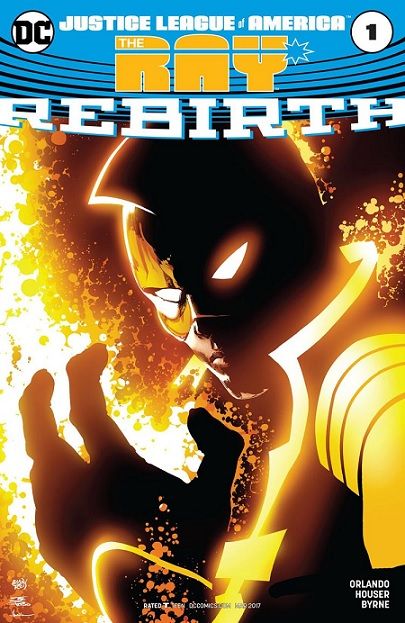 Justice League of America: The Ray Rebirth #1
Review by Stephen M. Lyon
The Ray is one of four characters being introduced into the Justice League of America through a series of one-shot comics. While Killer Frost provides an introduction into the league without an origin story, and Vixen and The Atom provide a hybrid of origin story and current conflict, The Ray sticks to a simple origin story. This is a wise move,as The Ray is the character probably least known by the new JLA readers. This title provides a story which gives a basic foundation for the hero, but it does not give everything away, allowing for there to be some mystery to be explored as the JLA series progresses. It begins with his childhood and his development into adulthood when he finally reveals himself to the world. This is a necessary title to pick up for anyone who wants a fundamental understanding of the JLA's new members.
The book begins with a young boy, Ray Terrill, sitting in a dark room. He's watching television and his mother comes in with a birthday cake, without candles; she gets exasperated when he asks for some, reminding him that he's allergic to light (even artificial light, meaning tv use must be sporadic). It shows a flashback to him playing with a friend, and the friend uses a camera which emits a flash, and results in the friend being injured (though we're not told how). We then flash forward to Ray when he's 16, and he decides he's sick of being a recluse, and decides living isn't worth it if he's trapped inside, so he ventures into the night. While out, his powers are triggered and he begins to realize that he has the ability to feed on light, but that he has to work to control it or the results can be devastating; it can be weaponized, he can use fly, and he can make himself invisible. It ends with him reuniting with his old friend from childhood, saving his life, and his deciding to become a superhero.
Much like the previous one-shots, this is a very simple story. However, it introduces the reader into the world of The Ray in preparation for the new JLA series, which I am continually becoming more excited about.
Rating: 7.0 out of 10
Steve here! That's all the time we have. Tell us what you're reading below and see you back here next week! You can now find our reviews on ComicBookRoundUp.com!