411's Comic Reviews: Teen Titans #5, Monsters Unleashed #4, More
March 9, 2017 | Posted by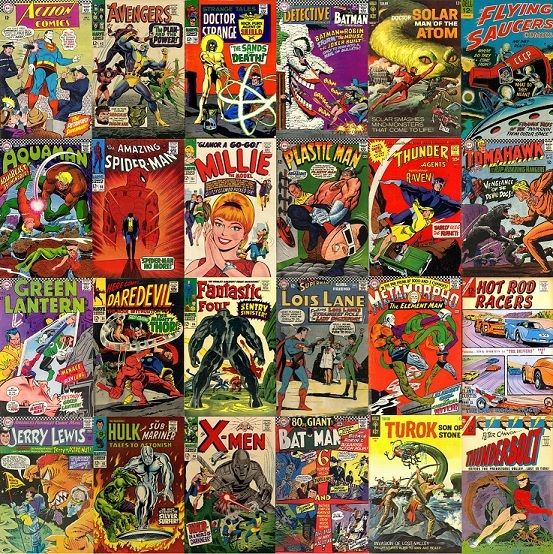 Hello and welcome to 411mania's weekly Comic Book Review Roundtable! Each week we'll be serving up a warm dish of reviews from Marvel, DC, and anything else that captures our interest. What did you pick up this week? Let us know in the comments.
Want to write a review? If you can write at least one review a week, consistently, email me at [email protected]!
Yesterday we asked, "Which Superhero is the Most Popular in Each U.S. State?"
Now on with the show!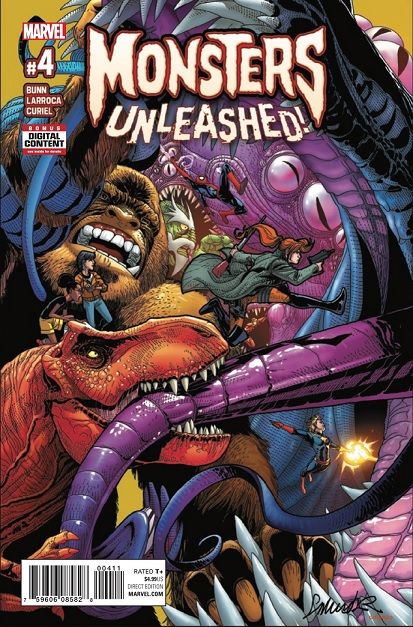 Monsters Unleashed #4
Review by RobF
With the re-emergence of Godzilla, and now King Kong, it's a good time to be a monster or a monster fan. Now Marvel has pulled out all the stops to present Monsters Unleashed. Fing Fang Foom, Goom and other classic monsters join the Avengers, the Inhumans, the X-Men, and the Champions to battle the Leviathan Queen and save the Earth. Cullen Bunn and this issues artist Salvador Larroca set the stage for the final battle.
Beside giant monster battles this issue focuses on Kei Kawade. He is a kid thrust into a very adult position of having to defend the planet from invasion. Moon Girl tries to help him but he is clearly stressed out. Most of us know how hard it is to work with distractions. Raise the stakes a million times and one can sympathize with Kei.
The other strength of this issue is the dialogue. Deadpool and Spider-Miles deliver some one-liners that will make you smile. Luke Cage and Iron Fist will make you laugh out loud.
I like the idea of having different artists per issue: You get a different perspective from each artist and let's be honest if you hate one issue the next one is only 30 days away. Larroca's art is perfect for this type of story. His monsters have the scale and detail that they deserve.
This series has the ability to revert me back to my younger days where kaiju ruled. Add them battling Marvel's best and I am in comic heaven. I only hope when the series is over the monsters find a permanent place in the Marvel U.
Rating: 8.0 out of 10
Renew your Vows #4
Review by Sankalp G.
A month ago, I praised this series and then went on to completely forget about it. Really, between all the dark-serious titles currently around, this one is completely fun, fluffy, and a little bit too cute to even notice. I don't know why Marvel is still putting new CW II titles out now. The saga with Mole Man takes a new turn for New York as the 4th issue brings this alternate universe a new hero- Spiderling.
There is not much to talk about storywise, considering the last issue was also spent in the Mole Man's underground cave with the Spider-family trying to save the world together…for the first time. Spider-Man (Peter) and Spinette (MJ) don't want to fight Mole Man as they want to protect Annie from him. They fall into a trap and Annie rescues herself and both Spidey and Spinette messing up their timing, colliding with each other. They then start arguing, which frustrates Annie and she goes in alone and able to save the day, becoming a super hero in the process, gaining the name given by her father: Spiderling.
There are other key things such as Normie Osbourne taking interest in Annie. Gerry Conway continues to put smile on the readers face with fluffy, light-hearted lines, throwing few lame Spidey jokes in with the usual family stuff. Anyone who knows the Spider-Man Marvel history will find this whole series heartwarming. Seriously, now I understand why Marvel pulled the One More Day on fans, as now they can sell titles like this and do some wonderful buisness. Art by Stegman is actually becoming better and better as the series progresses. This issue ties up the Mole Man's arc and we are heading into Sandman in the next issue.
Rating: 8.0 out of 10
Teen Titans #5
Review by Jonathan Durden
Given its intended audience, many comic readers may have overlooked this book or chosen to pick something else to take up space on their pull list. Which is fair. If you don't think you'll like something, why bother trying? I'll explain why you should try Teen Titans out to the best of my abilities.
First off, the series is being written by Benjamin Percy, who also writes Green Arrow, so if you are reading and enjoying Oliver Queen's current adventures, chances are you will enjoy this too. But maybe not. Just because it has the same writer doesn't necessarily mean one would like it, right? Fair enough. However, if you aren't a Green Arrow fan but you enjoy good art, cool one-page splashes, and some awesome coloring jobs, then you might enjoy this book for on the merit of its art. Penciled by Khoi Pham and colored by Jim Charalampidis, -both names I am personally unfamiliar with- this issue was a knock out for the art.
Another reason one might consider checking out this book is for the simple fact that instead of Red Robin heading up the Teen Titans, we get Damian Wayne. The banter, while sometimes childish and a bit cringe-inducing, can be amusing at the least and hilarious at its best. What else could you expect from Damian and Beast Boy being near each other?
All that said, this series clearly has the intended audience that it has (the younger readers), but I think it can be just as advantageous for the older guys as well as the new-comers and the young'uns. For the younger readers, it offers a fun team-up book that doesn't cross the line of violence into the more mature comics, and yet it does go near it enough to make them feel that they're reading something that still has some stakes in it. For older readers, there's always the amazing art and the sometimes-funny banter, and the fact that Damian Wayne is now leading the Teen Titans. Which granted, is not much to go on, but I suggest at least reading the Rebirth issue before completely checking out on it.
I was more impressed with this particular issue than all of the past issues, probably due to it being the climactic issue of this story arc. We get to see Damian come into his own and accept help from his new team and even calls them his friends. We also get a taste of what the team can do when they're all cooperating: they can take on a horde of Ra's Al Ghul's assassins with ease. I look forward to seeing what else they can do with all the power they have on their side.
I guess the thing to take away from all of this is that no matter how old you are, there isn't a maximum age anyone needs to be to read any given comic. You can't be "too old" for a comic. They can be good and entertaining and even help give some readers a cooldown from some of the heavier comics they've been devouring. The thing is, there is so much talent behind each and every comic that I think it's unfair to pass up on one simply because it's marketed more towards the younger audience. But that's just me.
Rating: 8.0 out of 10
The Fall and Rise of Captain Atom #3
Review by Stephen M. Lyon
The Rise and Fall of Captain Atom #3 continues the high quality storytelling of the first 2 issues. The writers seamlessly weave in elements of time travel, but do not go overboard so as to ruin our suspension of disbelief. The story gives new dynamics to the Captain Atom character which hopefully results in the character catching on for future series. The art is also above average; the art accentuates the story without overwhelming it – nothing groundbreaking, but solid traditional superhero art. I am definitely going to be purchasing issue # 4 when it comes out.
The story begins where issue # 2 left off: Captain Atom wakes up unaware of where he is after being suddenly transported away from his life in the 1990s. He's contacted by the Scientist he was working with before he went back in time, and it is revealed that he's now in the year 2017. His body has changed and he now has the ability to control his powers at will, and exercise those powers with precision. (SPOILER ALERT) Unfortunately it is revealed that his wife died in an auto accident, and he is grieving. The book ends with Captain Atom having a disagreement with the General overseeing the project, and while he's determining his next move (SPOILER) he receives an anonymous tip that he has a 17 year old son. The reader is left on a cliffhanger, awaiting how this will impact Captain Atom's next decision.
Rating: 8.5 out of 10
Steve here! That's all the time we have. Tell us what you're reading below and see you back here next week! You can now find our reviews on ComicBookRoundUp.com!