411's Comic Reviews: The Unworthy Thor #2, Saga #40, More
December 15, 2016 | Posted by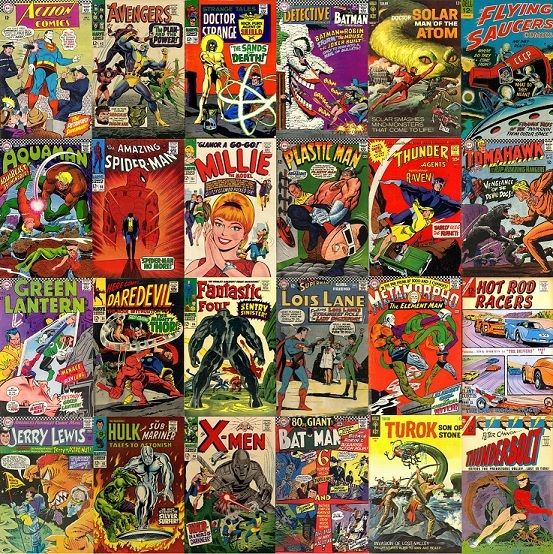 Hello and welcome to 411mania's weekly Comic Book Review Roundtable! Each week we'll be serving up a warm dish of reviews from Marvel, DC, and anything else that captures our interest. What did you pick up this week? Let us know in the comments.
Want to write a review? If you can write at least one review a week, consistently, email me at [email protected]!
Yesterday we discussed, "Is the Wonder Woman Backlash Justified?"
Now on with the show!
The Unworthy Thor #2
Review by RobF
Jason Aaron and Oliver Coipel present the Odinson's search for the Ultimate Thor's hammer in The Unworthy Thor #2. With the former God of Thunder at his lowest point will this quest make him feel worthy? Or will he die trying?
This issue picks up where we left last time, with Beta Ray Bill offering up his hammer. The Odinson declines, feeling he is unworthy of its power. Soon they are battling the Collector's minions over the stolen old Asgard. He finds out the alternate Mjolnir does exist and feels its power, only for a short time.
Aaron captures the suffering of both characters perfectly. You can feel Bill's pain and Odinson's guilt and shame as they try to navigate unknown waters. The most impressive part of this story is the Odinson himself. He is stripped of his title, his hammer, and his name, but his true character remains. No matter what people or his hammer thinks he is still man with honor.
What can be said about the artwork that hasn't been said? Oliver Coipel and colorist Matthew Wilson have taken an emotional and physical story and added a deeper layer with their layouts and details. Rarely does the story and artwork mesh so flawlessly. This story is definitely one for the ages.
The Unworthy Thor is one of the best books on the market right now. The Odinson is at his lowest point searching for redemption and I can't wait to see what comes next.
Rating: 10 out of 10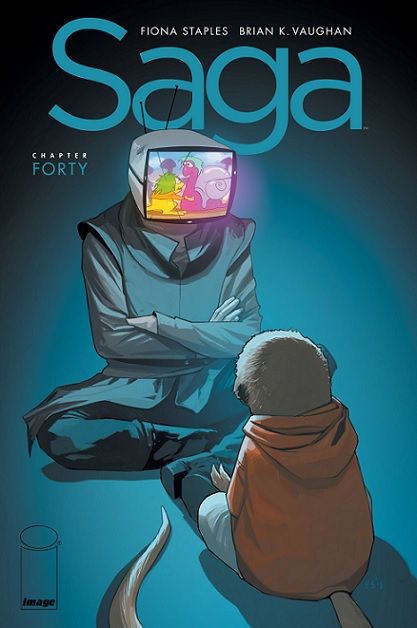 Saga #40
Review by Jonathan Durden
Saga is one of the first, if not the first, non-superhero comic I started reading. It's the one go-to recommendation I imagine most comic readers or LCS workers/owners make to new readers looking for something non-superhero but still fantasy. This series has everything. The universe the Brian K. Vaughan has created with Fiona Staples is so vast and maniacally complicated and intriguing I can't help but wonder if it rivals that of Harry Potter or A Song of Ice and Fire. In fact, I'm fairly confident that it does.
That being said, issue #40 was a real kick in the shin. The last page I'm sure left those who read it in dismay and perhaps disbelief. For me, and maybe others too, it was a pleasantly surprised moment of dismay. I don't want to give anything away, you'll just have to read it and find out. I will just say that Saga continues to blow my mind in how intertwined Vaughan has become with the world he has created. You can see it in his writing, you can tell he is now one with these characters and stories, something that shows the mark of a truly skillful and talented writer.
I don't want to sound like I'm just blowing smoke here, so I'll elaborate a little bit. The whole Phang arc so far has been nothing short of glorious in its introduction to new species and backdrops of beautiful pieces of nature (thanks to Fiona Staples). On top of that, he incorporates new character development in every jam-packed issue. Not to mention we get a new long-awaited appearance from Gwendolyn, Sophie, and Lying Cat. The addition of a talking mushroom that is grown specifically to relay historical events from an impartial point of view is brilliant as well.
Now the art. My goodness, the art. Staples quickly became one of my top-five artists on comics and I think I could make the case for her to be #1 easily. The emotions of the characters, the full-page to double-page splashes are phenomenal and I always look forward to her artwork in each new issue. Staples is becoming a "staple" in modern comic art. Sorry.
Rating: 10 out of 10
Steve here! That's all the time we have. Tell us what you're reading below and see you back here next week! You can now find our reviews on ComicBookRoundUp.com!