411's Comic Reviews: WWE Wrestlemania Special #1, Super Sons #2, More
April 6, 2017 | Posted by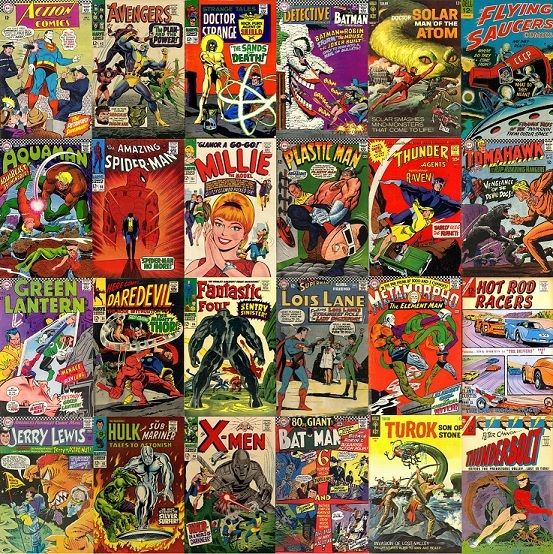 Hello and welcome to 411mania's weekly Comic Book Review Roundtable! Each week we'll be serving up a warm dish of reviews from Marvel, DC, and anything else that captures our interest. What did you pick up this week? Let us know in the comments.
Want to write a review? If you can write at least one review a week, consistently, email me at [email protected]!
** Yesterday we asked, "How is Diversity Impacting Comic Books?"
** With Peter Capaldi's Twelfth Doctor vworping to BBC AMERICA in the U.S. and Space in Canada on Saturday, April 15 at 9/8c, fans get a chance to continue their celebration of all things Doctor Who with Titan Comics' Doctor Who Comics Day on Saturday, September 2, 2017!
This year's thrilling event will present a story crossing over all four ongoing series (Ninth, Tenth, Eleventh, and Twelfth Doctor comics), kicking off with a super-accessible Alpha issue, drawn by Rachael Stott (Twelfth Doctor), on Doctor Who Comics Day itself.
"People have been clamoring for information about our next Doctor Who Comics Day for a while, so it's great to finally reveal the date for this year's cel-Who-bration!" said Titan Comics' Brand Manager, Chris Thompson, "With the Doctor returning to screens for his most stunning adventures yet in Season 10, we want to up the ante and make this year's Doctor Who Comics Day bigger than ever before! So, grab your Sonic Screwdriver and keep your eyes peeled for more details of this year's special event. Allons-y!"
Now on with the show!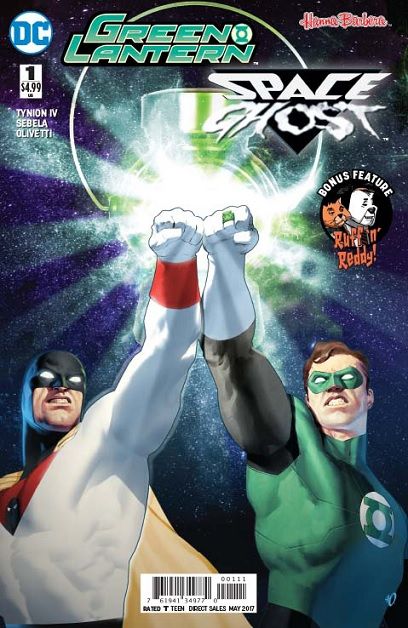 Green Lantern/Space Ghost Special #1
Review by RobF
I have to admit I was excited/intrigued by the Green Lantern-Space Ghost meeting. James Tynion IV and Christopher Sebela take a common approach to the one-shot but add some attitude to make it a winning combination.
On the surface this crossover is like many of its predecessors: The two heroes are drawn together by a common theme and have the obligatory tussle before uniting. In this case the writing sets it apart from the others. The constant bickering between SG and GL makes this an fun read. I also enjoyed it when the two heroes get to try out each other's weapons. The plot is forgettable in my opinion but the interactions make the story.
I have always liked Ariel Olivetti's artwork and here is no exception. I remember enjoying his art from a previous SG series so I knew I would here. His watercolor style works well here and his GL is great.
The Howard Chaykin penned "Ruff N Ready" did nothing for me. With the $4.99 price tag it felt like a throw in to justify the price. I didn't get it or enjoy it.
In the end Space Ghost/Green Lantern is a fun crossover with future possibilities. If it wasn't for the Ruff and Ready backup and the hefty price tag it could be considered a near perfect comic. Let's hope we get more down the line.
Rating: 8.0 out of 10
Super Sons #2
Review by Jonathan Durden
On the heels of Superman and Teen Titans, some may say that Super Sons is unnecessary. Why do we need another book with Damian Wayne when he's already in Teen Titans as their leader and Nightwing for its current arc. We already saw an arc for Clark Kent's son Jonathan in Superman and he is heavily involved in that series, why does Superboy need a book to share with Robin? I'm here to say that while it may seem unnecessary, it is a perfect read for fans of the constant feuding and banter of Supes and the Bats. Not to mention fans who can't get enough of our smugly-confident boy wonder.
First off, I would like to point out the writer: Peter J. Tomasi. Same guy that writes Superman. He, out of anyone, seems more qualified than most to write for Superboy. Second, the way Tomasi writes Superboy and Robin playing off of each other is brilliant. They are perfect foils for each other, as with Batman and Superman, but in a light of adolescence that adds humor to the whole story.
On top of that, the execution seems organic and well put together. I like the prologue where we see a glimpse into the future of the comic without it revealing too much. Issue two brings to light the villain that Robin recruited Superboy to help him find, in effect getting them closer to finding out the mystery of a series of LexCorp break-ins. I just love the way Tomasi writes these characters and the decisions they make are on point for what we'd expect of their characters.
Now, when we have a comic centered on a new teen (Robin, 13) and a pre-teen (Superboy, 10), the art should reflect their age and actions in a way that we see often from children of that age. Artist Jorge Jimenez does it with grace. He nails the expressions on their faces as SuperLex catches them trying to sneak in to LexCorp. He also gets the lazier way kids have of moving around; a more meat-and-potatoes type movement than the finesse we may see from our Justice League guys.
The ending of this issue made me hungry for more. The next issue will feature both Batman and Superman as they most likely intervene with Robin's (and a reluctant Superboy's) activities. Sure, one could say that this book didn't "need" to happen. It isn't necessarily one that may affect the greater arc of the DC Rebirth universe. However, it is a damn fun read. I would argue that Superboy and Robin having their own book is the perfect way to establish both characters in the universe as individuals instead of being extensions of their fathers.
All in all, this issue is a fantastic continuation of the spectacular start of this series. Robin and Superboy have a lot of differences, but I think that will just add to the substance of this book and make it more interesting for all readers. I could go on and on, but I'll stop it right here and let you check it out for yourself.
Rating: 10 out of 10
WWE Wrestlemania Special #1
Review by Sankalp G.
It's Wrestlemania season and the WWE released this Wrestlemania special with their regular WWE line. I haven't yet read the regular one but enjoyed this very much.
WWE Wrestlemania Special brings 4 memorable stories; one from New Day, which didn't really fit into the theme, which was WM stories.
The first story, which featured Razor Ramon and Shawn Micheals' famous IC title ladder match, had writer Box Brown take us back into that period by showing how cheesy and over the top the characters were. The art was similar too.
The second story shed some light on the relationship between Steph and HHH. Again this story is associated with a great Wrestlemania match in the form of Y2J and HHH. This was my favorite story in the collection. The art was good and the story felt realistic (as it gets). This story was so good that it made me check out the the original WWE line as Dennis Hopeless also writes the original line.
The third story was about New Day and their Optimistic Odyssey, Part Three. This one was harmless and fun but it shouldn't have been included in this book, which was supposed to be Wrestlemania themed and New Day were merely hosts for WM 33.
The fourth story was about Daniel Bryan and it captured his journey to the WM 30 main event, where he was told by everybody that he was "good but…" This story made be remember that awesome "Monster" video package WWE had created and writer Aubrey Sitterson captured the emotions of this story perfectly. It is definitely a treat for any Daniel Bryan fan and touched me the most.
The fifth chapter was the Sami Zayn and Kevin Owens' tale of two guys who are destined to fight forever, which continued at last WM for the IC championship. This was another good story and was perfectly able to capture the characters of both wrestlers from their kayfabed childhood to WWE stardom.
The WWE Wrestlemania Special was enjoyable and for anybody, no matter if they are a smark/mark or even a stranger. This comic was definitely better than the "Ultimate Thrill Ride", which was WM33, but the New Day story should not have made the cut and was a weird decision.
Rating: 7.5 out of 10
Steve here! That's all the time we have. Tell us what you're reading below and see you back here next week! You can now find our reviews on ComicBookRoundUp.com!