A Fool's Utopia 1.24.13: Ranking the Families
January 24, 2013 | Posted by
Welcome to another week of AA Fool's Utopia — and what a grand week it's been. I've spent the week taking a look at old sitcoms – one of my favorite past times.
It's well known that there are only a few sitcom settings that have proven to be successful over time. Number one on the list is "family." There have been more sitcoms about family that any other genre. This week I took that to new levels by ranking any sitcom that actually had the word "family" in its title. I took each sitcom and ranked them on a scale from one to ten in five different categories.
The categories are: Ratings, how did the show perform in its heyday; Legacy, how do we remember the show today; Star Power, did anyone from the show become huge stars; Longevity, does the show still run in reruns – is it still in demand; and Personal, my personal feelings on each show.
I did implement a couple of rules. Rule 1: Sitcoms only. No animation. Sorry Family Guy. Rule 2: American sitcoms only. It's all I know.
Out of a possible 50 points, the shows with the word "Family" in the title ranked as such from worst to first:
The Hogan Family, 1986-1991; 26 Pts
Though I grew up with The Hogan Family, the show didn't fare well in the Legacy and Longevity departments as really, no one remembers it. For a long time Jason Bateman was the oldest kid from The Hogan Family to me. It also suffered from an identity crisis as the show was originally a vehicle for Valerie Harper entitled Valerie. Harper had some disputes with the producers of the show and left after the second season being replaced by Sandy Duncan as the doting Aunt Sandy. Valerie supposedly died in a car accident, the show had two name changes across two networks and managed just enough ratings to stay on the air, but made little impact.
Family Matters, 1989-1998, 28 Pts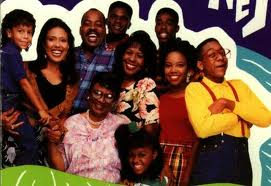 It was a surprise to me that this show ended up second to last on the list. I guess it probably shouldn't have as I personally disliked the show after about the third season. Take that with the fact that Jaleel White had to hide for ten years just to get the Urkel stink off of him before showing back up on the SYFY Channel to host about people touching snakes in the dark, and there's not a lot of points to be scored in the Star Power category either. And yes, I even took into consideration that Jaimee Foxworth is now a porn star. I think the show is more laughed at than revered, but everyone involved made money at the time, so it's all good for everyone.
Mama's Family, 1983-1990, 31 Pts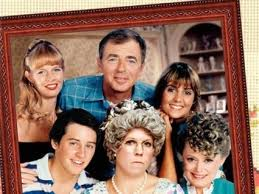 Did you forget about Mama and the Harpers? Mama's Family scored a lot of points in both the Personal category and Star Power. This is due to the fact that I probably watched every episode of this as a kid and recurring roles for Vicki Lawrence, Carol Burnett and Betty White. Mama's Family is even a spinoff of The Carol Burnett Show. I had decided a long time ago that if I were to ever get a dog, I would name him Vinton after Vinton Harper on Mama's Family. I've never owned a dog. Sorry, Vinton.
The Addams Family, 1964-1966, 36 Pts
While The Addams Family killed in Longevity and Legacy, they lacked in Ratings and Star Power otherwise, they may be at the top of the list. Think about this – a show that last for three seasons in the mid-60s spawned cartoons, product lines, video games and motions pictures as late as the end of the 1990s. That's legacy. If you talked to a hundred people on the street, ten might know Thelma Harper, fifty might know Urkel but ninety are going to know Uncle Fester.
Family Ties, 1982-1989, 40 Pts
Family Ties scored well in just about every category across the board. Of course it was a ratings hit when it was on the air. The success of Michael J Fox, and to a lesser extent Michael Gross (Tremors, anyone?) and Meredith Baxter-Birney certainly helped the show climb this list. While it may lack just a bit in longevity and legacy, people still remember the show. It hasn't aged incredibly well, but you're doing yourself a favor if you watch a couple of episodes know and then if just to see how a successful family sitcom works. It also helps that I was a huge fan of the show. Justine Bateman being incredibly hot to me at that time certainly helped.
All in the Family, 1971-1979, 42 Pts
If you read the opening paragraph on how I scored this, you probably already guessed this show was going to top the list. No big surprise. This show changed TV when it was on the air to the point that a disclaimer had to be shown before each show. In the fictional encyclopedia of television history, Allin Family doesn't just have its own entry, it has its own volume. Ratings, Legacy, Star Power – this show had everything. In fact, the only thing that really lowered it to the 42 pts. it scored was the fact that it was before my time and I thought of it as a show that my grandpa watched. There's a reason you weren't surprised that All in the Family was at the top of the list. That's because it belongs here.
FIVE RANDOM THOUGHTS
1. I had an interesting day last Friday. At 1 PM, I was talking over Skype with a guy I like to call Lance Henriksen. If you don't know who Lance Henriksen is, then you're not allowed to read this column anymore. Lance is crazy easy to talk to and I totally muffed the interview. I was told I would have anywhere from 15-20 minutes with Lance and I had some topic specific questions I wanted to ask him about his new film
It's In The Blood
as well as the
Pumpkinhead
series since we covered those in our various podcasts. I'm going to do my best to link an audio player in the SHAMELESS PLUGGING section of this column so you can stream the mini-episode of
The Resurrection of Zombie 7
podcast to hear the interview. It's basically ten minutes of wrap around, 30 minutes of interview and a six minute commercial for the podcast near the end. We talk everything from
It's in The Blood
, (which is available on Amazon VOD here. I recommend it. It's a good and creative film.), to
Pumpkinhead
, to Abraham Lincoln to Eminem – I kid you not.
I sincerely hope I get a chance to interview Lance again because he was great and was willing to go a lot longer than I had planned for. I feel like I almost booted him when he wasn't ready, but I love the guy's work. He even talks about a comic book he wrote that available on his website. I am most definitely going to pick it up and I will give you a review of it when I get it.
Next up, Felissa Rose.
2. This will be a short blurb but I just wanted to blurt out how happy I am that hiatus is over and midseason has started. I get my favorite show on television, Parks and Recreation back as well as Community and Workaholics. 2013 has been good to me so far.
3. I won't be pimping out The Zombie Reckoning podcast anymore because well, we just finished recording the very last episode. It was a great concept putting a zombie movie against a horror movie that had a common theme and judging them in seven different categories. However, the host of the show (by host I mean the page which hosted – not me, the actual host), The Horror Palace, is ceasing all podcasting operations due to this patent company Personal Audio LLC, suing everyone saying they have the rights to podcasting or some sort of podcast player. I don't blame Horror Palace for being cautious, but these lawsuits seem ridiculous.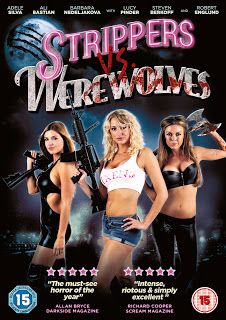 This is all to say that on the last episode of
The Zombie Reckoning
aside from our interview with Lance Henriksen, we paired two movies up with the common theme of strippers. Both are instant streaming on Netflix. The zombie flick was
Zombies, Zombies, Zombies: Zombies vs. Strippers
. The horror movie was
Stripper vs. Werewolves
. This is a long way to getting around to telling you that if you're looking to kill 90s minutes in an entertaining manner, I would recommend
Strippers vs. Werewolves
. It's an English film – and it's a very English film, but it's still a fun watch. I gave it 5/10 because I had some production, special effects and writing issues – but they were minor issues. Five out of Ten for me is a good, watchable movie.
4. I need some help here. For some reason, I am the only person in the world obsessed with people who have been on three successful sitcoms. "Successful" can be defined as good enough to have made it into syndication. It's a pretty exclusive club. I have two new applicants to consider.
The first is Julia Louis-Dreyfus. I don't count her time on SNL. However, both Seinfeld and The New Adventures of Old Christine certainly count. I've seen some episodes of Veep, but would that count since it's on HBO? I know it doesn't count yet anyways because it hasn't been on long enough, but I'm a progressive thinker here, people!
The second is Betty White. We have The Mary Tyler Moore Shoe and Golden Girls for sure (to think The Golden Girls was a show about old women in the late 80s and Betty White is STILL going!). Do we count her recurring role on Mama's Family? I don't think I would. She wasn't a regular cast member. She'd better hope that Hot in Cleveland lasts awhile I suppose.
5. SPORTS THOUGHTS:
a. I couldn't have gotten last week's games more wrong, could I have? I like the Falcons and they blew it as they are wont to do. I thought New England would blow out the Ravens because Belichick is a dick and would want revenge, but that didn't turn out right either, did it? Oh well, as long as the Patriots aren't in the Super Bowl, I'm happy. Now I just have to try and decide where to watch it. I have three options. 1) Private party at my favorite bar where I know I will get hammered beyond belief 2) With a friend at a sports bar that will be about ¾ full, but I know he will buy the booze or 3) At home, just chilling with a pizza.
Honestly, since I have no rooting interest in either team (I guess I'll root for San Francisco since Jim Harbaugh is in the Colts Ring of Honor) all three options are equally fun to me. I know – I'm strange.
b. I'm going through Super Bowl withdrawals. At this time last year, I was up in Indianapolis working the Super Bowl, meeting all kinds of cool people, watching all kinds of awesome concert and partying in the streets. I miss it! I hope Indy gets another Super Bowl. It was a fantastic time. Next time I am totally going to try the zipline!
c. I'm sick of Ray Lewis. Honestly, I respect the guy's career and have no doubts he is a first ballot Hall of Famer. However, I'm tired of watching him cry. I'm tired of watching him dance. I'm tired of watching his "fiery" speeches. If I lived in or had ties to Baltimore, perhaps I would feel differently, but I don't. If he wins the Super Bowl – great. If he doesn't – that's great too because he'll be one of the best at his position of all time. I do not for one second believe that if this season had ended short of the Super Bowl that he would have actually retired, however.
d. On the flip side of that, I am not tired at all of Tony Gonzalez, the greatest tight end to ever play the game. For a tight end to be #2 on the all time receptions list is amazing. The only guy in front of him is Jerry Rice, the greatest receiver (and perhaps football player) of all time. It is a reminder of how unfair life is that Tony will never get to play in a Super Bowl and will only have one career playoff victory while asses like Terrell Owens got to play in the big game.
e. While I hate losing Bruce Arians as offensive coordinator for the Colts, he deserved the shot at being a head coach and I wish him luck. I am excited about the hiring of Pep Hamilton. Not only has he worked with Andrew Luck before, but I think he brings the right attitude of "get the ball into the hands of your playmakers." The only reservation I have is less big plays to TY Hilton. Though, I wouldn't mind setting up some screens for the speedy little guy.
f. I'm happy that Andrew Luck is going to play in the Pro Bowl. I'm going to watch it because of it, but I think it's a little silly. He's in because Tom Brady has some fake injury and half the quarterbacks in the league will be a Pro Bowl quarterbacks. The Pro Bowl just needs to go. Though I did like it when Terrell Suggs told Tom Brady to have fun at the Pro Bowl – just as an aside.
USELESS TRIVIA AND SHAMELESS PLUGGING
LAST WEEK'S USELESS TRIVIA
Not counting guest appearances, how many people were regular cast members during the run of Ghost Hunters International?
ANSWER: Fifteen. Robb Demarest, Andy Andrews, Brian Harnois, Donna La Croix, Shannon Sylvia, Barry Fitzgerald, Dustin Pari, Joe Chin, Brandy Green, Paul Bradford, Angela Alderman, Ashley Godwin, Kris Williams, Scott Tepperman and Susan Slaughter. You can count Karl Pfeiffer, who was on a few episodes because of contract obligations or Britt Griffith who was banished to the show as punishment if you want, but I don't. Fifteen to Seventeen were acceptable answers.
THIS WEEK'S USELESS TRIVIA
Lance Henriksen is one of two actors to be killed by a Terminator, a Predator and an Alien. Who is the other?
THIS WEEK'S SHAMELESS PLUGGING
We are still at summer camp! This week our podcast is covering Sleepaway Camp 3: Teenage Wasteland. The Resurrection of Zombie 7 is on iTunes. It's free and entertaining. We just put up a bonus podcast today that includes the aforementioned interview with Lance Henriksen. This Sunday we'll be publishing and episode on Sleepaway Camp IV: The Survivor, which is a really interesting story.
If everything has gone as planned, the Bonus Podcast of The Resurrection of Zombie 7 that has the interview with Lance Henriksen should be able to stream on the player below. Keep your fingers crossed.


THIS WEEK IN RETRO
I've mentioned this before and I've even highlighted some of the characters before but I don't think I've ever actually devoted a RETRO segment to Super Mario Brothers 2! While the original Super Mario Brothers remains my favorite because I am old, Super Mario Brothers 2 still holds a special place in my heart. I specifically remember being adamant about this game being my birthday gift. I can't remember what year it came out – some research tells me 1987, so I guess it would have been in '88 when I got it, so I would have been 12 – just the right age.
There's two thoughts concerning this game. Some think it's not a true sequel because it's a Japanese game that was just converted to a Mario game to strike while the iron is hot and make some money. The other thought is my thought – it's called Super Mario Brothers 2. It has the same characters. Sure, the enemies are a little weird and Bowser is not involved, but Wart is pretty cool, right? And what's Mario mythology without the Shyguys?
Then there's Birdo. Who doesn't love Birdo? Birdo was the first and to my knowledge only Nintendo character that was transgendered. Eventually, Nintendo later decided that make Birdo a girl and pair her up with Yoshi, but just the fact that they had to make that decision should tell you how important
Super Mario Brothers 2
is! I loved the fact that you got to choose which character you wanted on each level and that each had their own strengths/weaknesses. I tried to choose Luigi as much as possible because I've always felt bad that he played second fiddle to Mario. Plus, I liked the fact that his legs wobble around like crazy when he jumps.
On my Super Mario Brothers All Star cartridge for the Super Nintendo, which I still play on occasion, Super Mario Brothers 2 is the most played game. I think it has something to do with my promise to myself to find ways to kill that little smiley face thing that chases you all around the stages once you get a giant key. Sure, the villains rarely show up in other Super Mario Brother games and Wart has been all but forgotten, but I love me some Super Mario Brothers 2 and I'm not afraid to say it. In fact, if there was a pin that said that, I would wear it proudly every third Wednesday each month.
23 Years Ago Today
January 24, 1990
#1 Single
"How Am I Supposed to Live Without You" by Michael Bolton
#1 Album
…But Seriously by Phil Collins
#1 Movie
Born on the Fourth of July
I must leave you now.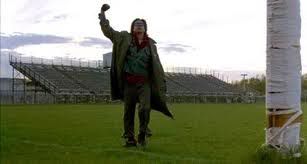 NULL