A Fool's Utopia 2.14.13: Celebrity Crushes
February 14, 2013 | Posted by
Happy Valentine's Day, everyone. Though I think it to be an exploitive holiday created by Hallmark solely for the sales of cards, chocolates and flowers, I am not above using it to my advantage when it comes to column topics. In lieu of spouting off about Valentine's Day episodes of classic television shows (maybe next year?), I've decided to take this time and space to use Valentine's Day as an excuse to go through the many "crushes" in my life. When I say "crushes," I of course mean celebrity crushes. I am sure that the crush I had on Allison Rhudy in 11th grade has no entertainment value to you. Though it should be mentioned that she turned out lovely.
Alyssa Milano
The first poster I ever purchased was out of a magazine. It was a Teen Beat or Teen Bop or something like that. It was my sisters. However, I saw an ad in it for a poster of Alyssa Milano. I can honestly say that outside of a lifelong crush I've had on Linnea Quigley (because of her breasts being the first pair I had ever seen, thank you Return of the Living Dead), Sam from Who's the Boss was my first real celebrity crush. I purchased the ad via mail and waited the appropriate 6-8 weeks for delivery. Does anyone else remember when it took 6-8 weeks to get something delivered? I forgot about it. It seems like about four months after I sent off for the poster, I finally got it. It began an obsession to cover ever square of inch of my wall (and something ceiling) with crap. This obsession lasted until I was almost 30. The picture above isn't the poster that I got, but it is kind of the same. She was sitting on a chair or something and was a bit older. I lost interest pretty much when Who's the Boss jumped the shark and she cut her hair short. I've never liked her with short hair.
Kathy Ireland
The first issue of the Sports Illustrated famous swimsuit issue that I ever purchased was the one pictured above, the 25th Anniversary issue with Kathy Ireland on the cover. This led to a long obsession. I bought no fewer than 4 Kathy Ireland posters and pretty much any magazine that she was featured on the cover of. Through the early to mid-90s, I littered any room I lived in with pictures from all sorts of swimsuit magazines – the majority of Ireland. I even went so far as to buy her workout video. I have an old VHS hidden somewhere with the made for TV movie "Danger Island" starring Ireland and a bunch of clips of her on various talk shows. Perhaps one day that will make for a fine RETRO segment.
Alicia Silverstone/Liv Tyler
I was nearing adulthood when my favorite band, Aerosmith, started releasing videos starring Alicia Silverstone. Then, of course, I only knew her as the "girl from the Aerosmith videos," but a crush was formed. While I didn't divulge as much with Silverstone as I did with others (frankly, there just wasn't a lot out there), I was still in lust. That is, until the video for "Crazy" where Alicia was paired up with Liv Tyler and I lost all interest in Silverstone for Tyler. There's probably some deep down psychological reason for this with her dad fronting my favorite band, but I'm not a psychologist. However, if the last image I have before I die is of Tyler in skin tight leather pants shaking her ass as she pumps gas – I think I'm okay with that.
Soleil Moon Frye
You would think with us being the same age that Soleil Moon Frye would be a lifelong celebrity crush of mine, but not so. Yeah, I watched Punky Brewster but come on, I was like six years old and girls were gross. It wouldn't be until much later that I would develop one sided feelings for Soleil. That would be during her B-horror movie career when she starred in movies like Pumpkinhead 2 and I've Been Waiting For You. Add that to Sabrina: The College Years and I was hooked, breast reduction surgery or no. Though I've never purchased Soleil Moon Frye merchandise (unless you count Pumpkinhead 2 in a four movie set), we did tweet her on The Resurrection of Zombie 7 podcast to see why she had to gain twenty pounds for the role. And if she would ever consider dating me if she got a divorce. She never responded to either question.
Spinderella
Didn't see that one coming, did you? Very Necessary was a big album during my high school years, which is an accomplishment considered that time was dominated mostly by the onslaught of Grunge. With songs like "Let's Talk About Sex," and "Shoop" getting plenty of airtime on both the radio and MTV, it was hard not to notice Spinderella doing her thing in the background – occasionally getting a front spot with Salt N' Peppa. Neither Salt nor Peppa did much for me (Peppa scared me), but a glance of Spinderella was always good for the heart. And the Spank Bank. Hey, at least I'm being honest.
NOT PICTURED ABOVE BUT ALSO CRUSHED UPON: Samantha Fox, Kelly LeBrock, Justine Bateman, Paula Abdul, Jennifer Love Hewitt, Daisy Fuentes, Christina Applegate, Miss Elizabeth, Susanna Hoffs, Nina Gordon and Louise Post.
FIVE RANDOM THOUGHTS
1. Just when I thought the candy companies couldn't surprise me anymore, I see this…
They've turned the leaders of our nation into candy. PEZ dispenser collectors everywhere just jizzed in their pants a little. I guess it's a natural progression from Mickey Mouse and Donald Duck PEZ to Presidents, but what's odd about the two sets of five available right now to the general public is that the ten Presidents highlighted are all the ones you forget when you're trying to recite the Presidents. If you were to guess five Presidents to be immortalized on PEZ dispensers, it would probably be Washington, Lincoln, Jefferson, perhaps Madison, Monroe, Roosevelt or JFK. It's entirely possible that all these Presidents already have their own PEZ dispensers and I've just overlooked it. The two sets I saw included…..
EDIT: After some research I found out that I stumbled across the second and third "editions" of the Presidential PEZ and they are merely going in order. The first edition included Presidents 1-5; the second edition included Presidents 6-10 and so forth. I believe there are only three editions to date. I feel a little on the stupid side for not realizing they were in order, but not stupid enough to actually change the paragraph above. What have I learned today? Laziness > Masking Stupidity
2. Love the SNL in the 80s special on NBC last Sunday. Saturday Night Live is such an odd piece of television history – there's nothing to compare it to. I think the show has done a fine job of taming the DVD market first with its Best of… series which included DVDs for not only particular actors but parody commercials, Christmas, Halloween, music performances, sports skits and even their 25th anniversary show. Then they started releasing the seasons individually on DVD. For some reason, they just stopped after Season Five. I understand there was a big transition after that season, but people like myself would still like them to continue with the seasons – it's been four years! I'd rather see Season Six on DVD than The Best of Keenan Thompson. The next move should be to release DVD compilations of certain skits with commentary from those involved. I would buy a Wayne's World compilation DVD. Or Goth Talk. Or Matt Foley, Inspirational Speaker.
3. SPORTS THOUGHTS:
a. I like the position the Colts are in. They are one of the top teams with cap room to spend. There is a plethora of good left tackles available for free agency, which will bring the price down. I'd really like to see them grab Paul Kruger from Baltimore. Baltimore is already over the cap, they haven't paid Flacco yet and Kruger will be an unrestricted free agent. I have much more faith in Ryan Grigson than I did Bill Polian near the end of his run. Grigson drafted three players (Luck, TY Hilton, Vick Ballard) that would probably go in the first round if the NFL were to redraft today. Polian didn't have a draft anywhere near that since the Colts won the Super Bowl in 2007.
b. Now with the NFL done for the season, college basketball has my full and undivided attention. Particular Big Ten basketball, which is amazing right now. Five ranked teams plus Minnesota, who has been in and out of the rankings. Add to that the fact that any of the other six teams can compete on a nightly basis (ie, Indiana at Illinois) and every game is worth watching. People here get pissed when IU goes to a place like Northwestern and only wins by 4 or 5 points. I tell them any road win in the Big Ten is a good win no matter how many points they win by. The Big Ten Network is my friend right now, and I don't think its implausible for two Big Ten schools to sneak into the Final Four come March.
c. Am I the only one who finds it funny that the NFL is scrambling around trying to create contingency plans in case of bad weather in early February in New York for the Super Bowl next year? The game being delayed? Played on a Saturday? If this actually has to happen, the NFL will have a black eye only because of its greed in getting the game into the New York market. Personally, I hope it goes smooth. I would love the game to be rotated amongst stadiums, not just domes and warm climates.
4. I am so happy that Workaholics is back on my TV. The first few episodes of the new season (or continuing episodes of last season – I don't know how they work these things) have been fantastic. I know I'm biased, but I particularly loved the possession episode with a cameo from Robert Englund. How is it that a show that's almost complete improvisation can be so much funnier than most scripted shows on TV – and almost every scripted show that gets huge ratings (I'm talking about every show minus maybe Parks and Rec and Community)?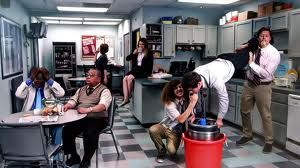 As an aside that has nothing to do with
Workaholics
, I also love the random and unexplained appearances by Joel McHale to give one off jokes on
Tosh.0
. Basically Tosh is admitting his show is just a ripoff of
Talk Soup
.
5. Did I miss some sort of transition or is Valentine's Day and Easter really making a move to become the next Halloween/Christmas in the candy department. I think I've seen more new candy items for these two holidays this year than I have the past five years combined. My usual Valentine's Day/Easter candy consumption is normally relegated to a couple of packages of the delicious Mini-Eggs and a couple of packs of Peeps. Now they have Peeps year round and Mini-Eggs are also a Christmas treat, so technically, I don't need Easter at all.
However, I've noticed Easter fighting back with giant sized Reeses Eggs, Twix eggs, Snickers eggs and that's just what I can think of off the top of my head at the gas station. My guess is if I went looking for even more crazy things, I would find them. I used to say that Easter was the second best time of the year for candy (just behind Halloween), but that was back when you could only get Peeps at Easter – now everything is year round, it seems like it got passed up. Easter is making a comeback. All hail the roundish thing that comes out of a chicken's butt!
USELESS TRIVIA AND SHAMELESS PLUGGING
LAST WEEK'S USELESS TRIVIA
While the most recent Super Bowl rates 11th in all time percentage of households, what the top rated Super Bowl in this category? You don't need to actually give the number, you can just name the participants for credit.
ANSWER: Super Bowl XVI (The Sand Francisco 49ers vs. The Cincinnati Bengals) pulled in a 49.1% of households. I'll give ups to COBY PREIMESBERGER because he had the right teams, just the wrong Super Bowl. The two teams also played in Super Bowl XXII, which pulled in 43.5% of households.
THIS WEEK'S USELESS TRIVIA
Who has appeared most on the cover of Sports Illustrated's swimsuit issue?
THIS WEEK'S SHAMELESS PLUGGING
Well, we're finally leaving summer camp and leaving the Sleepaway Camp series behind us. The Wrap Up show is streaming below. Subscribe for free on iTunes. This week, we're rewarding the fan that won our contest by letting them pick our ONE NIGHT STAND movie before we move to our next franchise. The fan picked movie we will be looking at is the 1974 slasher, Black Christmas. That comes out this Sunday – click the link above and subscribe!
THIS WEEK IN RETRO
I couldn't find a commercial for either of the things I'd like to talk about today, so above is a random commercial for NERDS cereal. I've talked about NERDS cereal before with its two flavors in the same box and even the NERDS cereal bowl that had a divider in the middle so as not to mix the two flavors. We all pulled the divider to let the two flavors mingle because we were mischievous like that, but that's not the point.
The point is Dweebs. Perhaps you have never heard of the long lost cousins of Nerds (yes, that is how they were promoted as cousins of Nerds candy), but in the early 90s Willy Wonka debuted Dweebs. Dweebs differed from their cousins in that they were a bit larger and more chewy. You know the stocking stuffer coal candy that comes around every Christmas that's really coal shaped gum? Kind of like that. Only in fruit flavors. And not quite as large. And not gum. Okay, nothing like that. A bigger nerd that was chewy instead of crunchy – how about that?
The trick with Dweebs is that they were always trying to outdo their more popular cousins. They accomplish this by not offering you one flavor per box; not offering you two flavors per box like their cousins, but Dweebs offered you three flavors per box! That might have been part of the downfall of Dweebs as I specifically remember the middle box being a bitch to open and pour. Whatever the reason, Dweebs didn't last long. After a few years they of the three flavored box became the stuff of legends like unicorns and dragons. That's right – unicorns, dragons and dweebs.
The second novelty candy I'd like to talk about today is brought to you buy Domino's Pizza. No, Domino's Pizza did not pay me for ad space in this ad (though I am open to the idea – you reading this Dominos?). What I am talking about is bubble gum that was paid for by Domino's. I'm hesitant to say that they produced the gum – I'm sure they just paid a candy company to make tiny Domino's pizza boxes filled with disc shaped bubble gum that vaguely looked like pizza.
And that's what it was. Nothing too special outside of the fact that you had a small pizza box with a coupon on the back that entitled you to a free topping on a Domino's pizza. I remember chewing this – even though at the time I was way too old to be mesmerized by pizza shaped discs of bubble gum in Domino's, I was. Honestly, if it were around today, I still would be. And I don't even like Domino's pizza.
23 Years Ago Today
February 14, 1990
#1 Single
"Opposites Attract" by Paula Abdul with The Wild Pair
#1 Album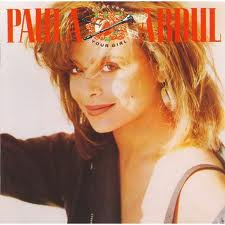 Forever Your Girl by Paula Abdul
#1 Movie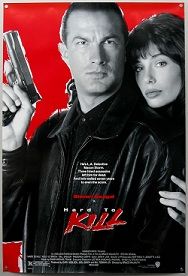 Hard to Kill
I must leave you now.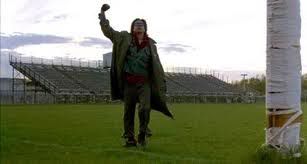 NULL