A Fool's Utopia 2.7.13: Commercial Break
February 7, 2013 | Posted by
Welcome to the recap of the extravaganza that was America's favorite holiday which isn't exactly holiday, but should probably be declared a holiday anyways – The Super Bowl. To all but two cities in the America, the teams are incidental. It's about the game, the coverage, the party and most importantly, the commercials. Over the years, Super Bowl commercials have become invaluable in releasing new product line, debuting iconic commercial characters, showing first trailers for big deal movies or making patriotic statements by established brands. I know in this world of 24 hour news, you're already sick of hearing about the game and the commercials, but hey – I get one column a week and this is what I want to talk about!
Maybe I'm just getting old and out of touch, but were the commercials overall lacking this year? There didn't seem to be much star power, inventiveness or even wackiness that we've come to expect from our Super Bowl commercials. Let's take a look at some of the Good, Bad and Ugly of the Super Bowl Commercials.
First, let's rate the movie previews. The Super Bowl is always good for previewing upcoming big time movies/TV Events. Below are two lists. The first is how effective the commercial was. The second is the order I am most excited for said movies.
EFFECTIVENESS
1. The Fast and the Furious 6
2. Oz, the Great and Powerful
3. The Lone Ranger
4. Star Trek: Into Darkness
5. Vikings
6. World War Z
7. Under the Dome
PERSONAL PREFERENCE
1. Oz, The Great and Powerful
2. World War Z
3. Under the Dome
4. The Viking
5. The Lone Ranger
6. Star Trek: Into Darkness
7. The Fast and the Furious 6
I've never seen a Fast and Furious film. I'm not an action movie guy. I'm not a car guy. The preview for the movie was so good, I actually questioned whether or not I should go see it. I am a fan of most things Oz and I do believe that Oz, the Great and Powerful is going to get things a lot more right than Return to Oz did back in the day. While the World War Z commercial was very vague about what was going on, I know the story, so I'll be watching it. Under the Dome? Commercial was terrible. I've read the 1400 page book. It was great for about 1200 pages. Ending was terrible. I'll watch anyways.
THE GOOD
The commercial of the night for me was probably The Rock trying to get milk while the world was being invaded by aliens, lions ran the street, a bank was being robbed and a cat was stuck in a tree. By the way, was that Big Bang Theory's Simon Helberg making a cameo as the milkman? I couldn't tell. It was a humorous commercial in a night almost devoid of humorous commercials.
On the good side just because of my personal preference was the ad for The Late Show with David Letterman — just because he's a Colts fan and Andrew Luck was in it. Also on the personal preference side was Best Buy's "Shopping with Amy" ad. I like me some Amy Poehler.
Loved the Taco Bell old people partying as well as the Joe Montana miracle stain commercial for Tide. My only complaint would be – no Joe Montana cameo?! I'm also a sucker for any commercial that pulls on the heart strings, so Jeep's commercial with Oprah's voiceover about returning soldiers goes into this category. As does the Ram Trucks "God Made a Farmer" ad. Living in Indiana, I actually know a lot of people who do farm for a living. It's a thankless job and they are the hardest working people I know. This ad sort of hit it right on the head.
Finally, even though I have no real reason I liked Paul Rudd and Seth Rogan trying to recapture their chemistry from The 40 Year Old Virgin for Samsung, as well as the simple Beck's Sapphire "No Diggity," commercial. Simple, but effective.
THE BAD
Heading up THE BAD category was Coca-Cola's attempt at a memorable Super Bowl moment with a bunch of different groups fighting to be the first to find Coca Cola. Apparently, you can vote online for who won. Did we ever see this resolved? I didn't care enough to remember if we saw the eventual winner.
Doritos needs to step up its game. Once solidly counted out for quality Super Bowl commercials, it has missed a lot more than it has hit lately. The goat commercial – bah. Who cares? The same could be said about people talking in Jamaican accents for Volkswagen and humans chasing down cheetahs while wearing Skechers.
The M&M "Do Anything for Love" commercial was "this close" to being in the good, but two things held it back. Naya Rivera looks too much like a Kardashian for me to care about her and M&M does better commercials on a regular basis all year than this one! The Oreo "Whisper Fight" commercial reminded me of the old WWF Super Bowl commercials – chaotic but you just don't remember the product by the end. Toss the Hyundai baby wolf commercial in here as well because – eh. Whatever.
THE UGLY
Worst commercial of the night – Bar Rafaeli's GoDaddy spot. This is really disappointing to me because I'm about to purchase a domain on GoDaddy because everyone tells me it's actually a good place to buy a domain. The commercial would have been alright, maybe even good if they didn't get the closeups of the mouths and the exaggerated kissing sounds. Who likes wet, nasty sounding kisses anyway? Did they do any market research outside of the dork that got to makeout with Bar Rafaeli?
E*Trade needs to go a different directions. The talking baby is played out, man. Let's start a petition to keep babies out of Super Bowl ads. The "babies animals from space" ad was pretty ridiculous as well. I really need to go back to school for marketing. Doritos second spot finds itself in this category because weird looking guys crossdressing might be funny in England, but it's overplayed in America. Also, I'm sick of Psy, so while I love to eat pistachios, their ad goes here as well.
If I didn't mention and ad, it goes into a fourth category – the EH category. This means I had no emotions about it one way or another. Perhaps that's worse than being on THE UGLY list.
FIVE RANDOM THOUGHTS
1. SUPER BOWL THOUGHTS:
a. Joe Flacco is my new hero for dropping the f-bomb on the most watched TV program of all time, then starring in a Disneyworld commercial the next day.
b. For anyone who thinks Rihanna is hot, I present to you the halftime show at the Super Bowl. That's what hot is.
c. Speaking of the halftime show, with the knowledge that there are usually surprise guests during the show, I totally called a Destiny's Child reunion.
d. The greatest receiver of all time actually tries to catch balls in the Super Bowl, instead of letting them sail past him into the arms of the other team, Randy Moss.
e. I think the difference in the game was the quarterbacks. Colin Kaepernick played a hell of a game, but I also think it took him a bit longer to settle in and shake off the nerves of playing in a Super Bowl than it did Joe Flacco. By the time he did, it was too late.
f. I also think without the power outage, it's a Baltimore twenty point blowout.
g. I am now a believer in Colin Kaepernick.
h. I also now believe that Ray Lewis will actually retire. If he had not gotten to the Super Bowl, I don't think there's any chance he would have retired.
i. Every year, you'll hear about how many records in viewers that the Super Bowl broke. While the Super Bowl had a 77% share with $108 million viewers (the share number is especially impressive), it only scored 46.3% in percentage of households. That has a lot to do with the growth of the TV industry, but that puts Super Bowl XLVII eleventh amongst Super Bowls in that category and 19th in TV shows in history. Not a bad number, but not what he TV pundits try to spin at you. Percentage of households is an extremely important number and the current champ (The final episode of M.A.S.H.) will never be dethroned because of the way TV works these days.
2. I wanted to give the Superdome Blackout its own bulletpoint, because this is the kind of thing that is right in my wheelhouse of interest. I love to see how networks deal with stuff like this and I can say that CBS didn't handle it well. I understand there's no "worst case scenario" plan for a half an hour blackout. I think that today's overproduced product is part of the problem. My guess would be that a TV team back in the 60s or 70s, before production values became the biggest attraction, would have the advantage at going off the cuff and filling a half hour of unexpected time.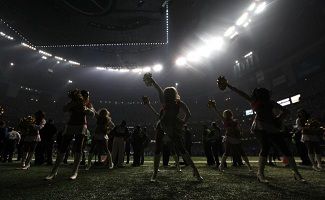 What we got was an obviously rattled Steve Tasker, a throwback to the CBS anchor desk, the same highlight package three different times and a second throwback to the CBS anchor desk for the exact same analysis. CBS was in a tough situation for sure, but it's situations like this that separate the truly talented from the TV pretty. They failed. I don't know that any other network would have done better, but you can bet your underwear that every network that hosts the Super Bowl from here on out will have a contingency plan for such a thing.
I'm not a twitter guy, but my favorite tweet about the Blackout was "Ray Lewis – Where is Your God now?!"
3. I am happy to report that Big Bang Theory is pleasantly surprising me this season. Usually, by a sitcom's sixth season, they've run through most possible storylines, are adding characters just to get more storylines and are completely overrated. Not so for our supernerds. Yeah, Stuart is getting more screen time, but he's a character that we're already used to and he's not being overused. There are still several storylines well into the sixth season that we haven't explored such as Sheldon losing his virginity (which seems a lock to happen this season), Raj either finding a lady or coming out as gay (which they have hinted at) and Leonard eventually proposing to Penny. The jokes are still funny, the characters are still interesting – everything is coming together for the show in a season that's usually a downfall season for most shows.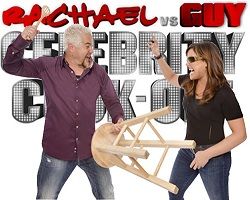 4. My TV watching is way behind, so I am just now getting to the second episode of Ray vs. Guy Celebrity Cookoff and it may be one of my last. It's become a parody of reality TV shows. I bitched about this last year on this show as well as both the Food Network's Worst Cooks in America and Next Food Network Star, but each show goes out of its way to even out the teams no matter how well each team does. In this case, Rachel lost a team member in the first week. It was obvious to me that Guy's team was going to lose someone this week because they are just the stronger team. The best three cooks on the show are on their team. Everything in the lead up to the elimination from how both teams handled the challenge, to the comments from the "voters" as well as Rachel and Guy said that Guy's team killed it and was so much better than Rachel's team. It was so one-sided to the point that I was actually beginning to believe maybe Rachel's team was going to lose. Nope. Despite the evidence of everything to the contrary, Guy's team "lost." There's no doubt in my mind that the "winner" was determined by the producers and had nothing to do with the farmers who were actually supposed to be voting. Not only did Guy's team lose, but the two who had to compete in the bottom challenge were the two strongest cooks on the team. This was an obvious attempt to try and even out the teams to get one of the strongest cooks off the show because Rachel has no clue how to pick a good team. In reality, this would be a five week show where Guy's team sweeps the show and Rachel watches each member of her team go one at a time four weeks in a row. Instead, we are lied to. This may not deter any other viewers, but I'm the guy who stopped watching The Biggest Loser because they started letting people who were eliminated work their way back onto the show. It wouldn't change my life to change my DVR settings.
5. Maybe I'm too old to understand, but I don't get ESPN's Steven A Smith. I hate his delivery. I don't think he has anything of value to say. If he's on TV, I always change the channel. You can take everything I just wrote in this bulletpoint but subsitute "Steven A. Smith" for "Skip Bayless" and it's still true.
USELESS TRIVIA AND SHAMELESS PLUGGING
LAST WEEK'S USELESS TRIVIA
In honor of Super Bowl Week – which NFL player has the most Super Bowl appearances? Not necessarily wins, but appearances.
ANSWER: Mike Lodish and Don Beebe, both with 6 appearances. Both were on all four Buffalo Bills teams that went to the Super Bowl in the early 90s and lost. Lodish went on to win two Super Bowls with the Denver Broncos. Beebe made two more appearances with the Green Bay Packers, winning once. Ironically enough, the two competed on opposite sides for Super Bowl XXXII, the Denver Broncos vs. the Green Bay Packers. HONORABLE MENTION: Adam Vinatieri. He played in four Super Bowls for the New England Patriots (winning three). He got another ring with the Indianapolis Colts 2007. He was on the roster, but was injured and did not play during the Super Bowl with Indianapolis in 2009 against New Orleans. Major ups to USELESS TRIVIA guru DUSTY! For getting Mike Lodish correct!
THIS WEEK'S USELESS TRIVIA
While the most recent Super Bowl rates 11th in all time percentage of households, what the top rated Super Bowl in this category? You don't need to actually give the number, you can just name the participants for credit.
THIS WEEK'S SHAMELESS PLUGGING
Big things are happening at The Resurrection of Zombie 7 Podcast! We just had a contest and are starting another one. We are starting a major franchise soon, but first we have to finish up our Sleepaway Camp franchise with a podcast on 2008's Return to Sleepaway Camp. It's both Robert Hiltzik and Felissa Rose's return to the franchise. Check out the podcast on the stream below. Better yet, subscribe for free on iTunes. What else you got to do? It's an hour a week. I spend three-four hours a week writing this column! This Sunday is our Sleepaway Camp Wrap Up show. Seriously, it's a fun hour and you learn a lot about horror movies you never wanted to learn a lot about!

THIS WEEK IN RETRO
Keeping with somewhat of a sports themes, I'm not a big baseball fan. It's probably there's no local baseball team aside from the Triple A Indianapolis Indians, a farm of team of the Reds (I think – they've changed hands a few times over the years). I sort of root for the Dodgers only because that was the Little League Baseball Team I was assigned to. I've watched less than five full baseball games in my life. However, I do have a fascination with baseball video games.
My first baseball games was Major League Baseball for the Nintendo Entertainment System. I still have this game. It's one of the few Nintendo games I still have despite not having an NES system to play it on. In this game, you could play anyone of the Major League Baseball teams. Check that, you can play as any of the Major League Baseball teams as they existed in 1987. If you're jonesing for some Montreal Expos actions, this is the game for you.
I got this game in 1988 and chose to play with the Milwaukee Brewers. Why the Milwaukee Brewers? They had a player that had a batting average over .350 which was by far the highest in the game. The schedule was like a real MLB schedule – 162 games. There was no interleague play at the time, so I have never played an American League team in the game. Three or four games series were the norm and unlike today's baseball games where the player has to hit twenty seven buttons to pitch, you just hit the one. Every stadium looked exactly the same. The crowd were dots and I loved it.
Since actual player names were not used in the game (only numbers), I assigned my friends and I numbers and kept stats myself in a notebook. Yeah, I used to do crap like that before the video games started keeping their own stats. In fact, I am in year 25 of my Major League Baseball season. 162 games is a lot of games – I still haven't finished the season. I think I'm over a hundred games by now.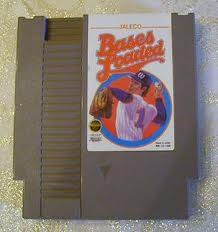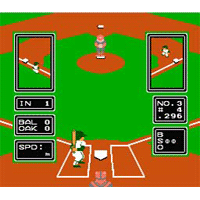 The second game I'd like to talk about today was also for the NES and was also a baseball games — Bases Loaded. The thing I liked about Bases Loaded was that it wasn't MLB sanctioned, so they had to make up teams. I loved playing teams like Utah, Hawaii and Omaha. Even better, each team had its own strengths and weaknesses. New York was by far the best team, but for my money, I was always used Kansas. I don't have a good reason why. They had good starting pitching, but not much else. Of course, back then, I had no idea what that meant.
The best thing about Bases Loaded was you could play different season lengths. I can't remember the exact numbers, but I do remember right around 50 games being about the perfect length because you got a couple of series in with each team and you can get to the playoffs before you get bored with the game. Of course, if you invest 50 games into a season and then lose the deciding game in the World Series, you're not saving that game, but turning the system off to try again tomorrow. I'm pretty sure this is a universal rule.
23 Years Ago Today
February 7, 1990
#1 Single
"How Am I Supposed to Live Without You" by Michael Bolton
#1 Album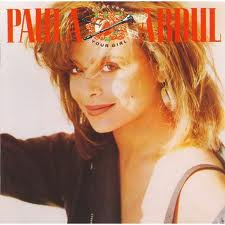 Forever Your Girl by Paula Abdul
#1 Movie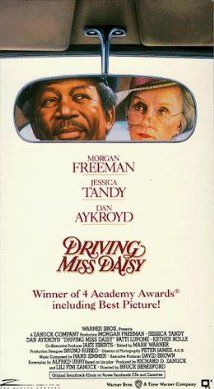 Driving Miss Daisy
I must leave you now.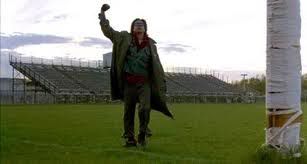 NULL