Alternate Takes 01.25.13 – Thor: God of Thunder
January 26, 2013 | Posted by
Welcome to Week 238 of Alternate Takes, my name is Shawn S. Lealos and you have entered my world.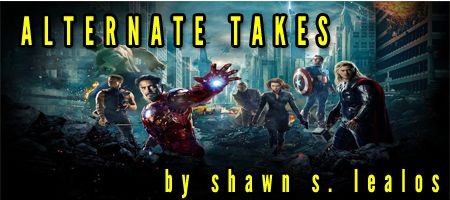 Last week, I named Thor at the 10th biggest jerk in comic books, which some people took personally. I am not sure if those people believe that being a jerk is a bad thing or they just don't think that his attitude is full of arrogant pompous. Heck, his jerky attitude is why he was kicked out of Asgard to begin with in order to mature. Plus, Thor's storyline is that he is still a work in process until the day that he eventually takes over for Odin as the King of Asgard.
Anyway, last week I was stuck between two comics to talk about. The first was the new Fantastic Four and FF series and the second was the new Thor series. I chose the Fantastic Four, which worked out well all things considered. This week I talk about the new Thor series in the Marvel Now line.
Before I get to that, the new issue of FF came out this week, and while I still hate the artwork, I am really liking Matt Fraction's storyline. At the end of the second issue a flaming being flew through the portal the Fantastic Four left in and then destroyed it before saying the Fantastic Four were dead. This issue continued that when it turns out the being is Johnny Storm, as an older man with only one eye and a prosthetic metal leg, the sole survivor of the Fantastic Four. He tells Scott Lang (Ant Man) that Doctor Doom, Kang and Annihilus combined with each other into one bad guy, Doom: The Annihilating Conqueror, and he destroyed the Fantastic Four.
While that sounds ridiculous, it actually works in this comic, which really seems geared towards younger audiences. Also, FF members the Moloids look like they might be moles in the FF and were behind the Mole Man's attack. This is honestly surprising me with its entertainment value.
Now, on to Thor: God of Thunder.
The writer is Jason Aaron and the artist is Esad Ribic, and they have created one of the best comics in the Marvel Now line. The story is about Gorr the God Butcher, a being whose sole purpose in life is to kill all the Gods. What makes the story most interesting is that it takes place over thousands of years, going back to when Thor was young and brash, but without Mjolnir. Then, there is Thor in the present day and finally we see Thor in the future, when he is the King of Asgard and the last God alive.
That is some heavy stuff, and the fact that Aaron is able to blend these three time frames into the story as one cohesive story is a testament to his writing. The Thor from the past is a jerk, someone who saves people but prefers to just head into battles with other Gods, with the entire goal of killing them to keep his goal as the most powerful of the Gods. However, he is also honorable and when he kills another God, it is in battle and both men are noble. When he sees that Gorr is slaughtering Gods with no honor, he decides to avenge all the dead Gods.
Thor, also in the past, is shown as a merciful God, one who shows up on a planet when a girl prays to him for rain and saves everyone's lives by bringing rain. He doesn't want to stick around, but when they offer him alcohol, he is there to tell stories about his heroic past. When one man doubts his stories, he explains that at one time he would have killed him for doubting a God, but now he just wants an apology. Hey, it's an improvement. It is here that he sees the first dead God.
Thor discovers that many civilizations have found their Gods no longer answering their prayers and sets out to find that many Gods have died. When he checks in at the Great Hall to find books about the missing Gods, the librarian shows his distaste for Thor, telling him that all Gods disappear over time and one day ("hopefully soon"), Thor will as well. This all comes from the fact that the librarian is shocked Thor cares about anything but fighting and wars.
In the present day, we learn that Thor fought Gorr in the past and failed to beat him. We also learn, although we don't know why yet, that Thor is the being responsible for Gorr's vengeful attacks on all Gods. That is the mystery of the series – what did Thor do to piss this being off?
Finally, in the future, Gorr has killed every God, except Thor who sits on his father's throne. However, every time Thor sets out to fight, hoping to finally die, Gorr's disciples beat down Thor in a battle of the numbers, but refuse to let him die, forcing him to remain alive, on his throne, with the knowledge of the damage his past actions caused.
The way out of this future involved a group of Gods that allow travel in time, and there might be a chance for Thor to save the day and change the future. Needless to say, this storyline is one of the best going right now in Marvel. It is legendary and befitting of a character with the lineage of Thor. If you haven't given it a chance yet, pick it up. It is well worth it.
Last week, Colossus pretty easily beat Aquaman, 565-204 and Iron Man wiped the floor with Nightcrawler, 597-166. In closer matches, Firestorm beat Iron Fist, 468-272 and Captain Marvel beat Gambit, 468-298.

Green Arrow





She Hulk


Wonder Woman





Nova


Wolverine





Ghost Rider


Professor X





Supergirl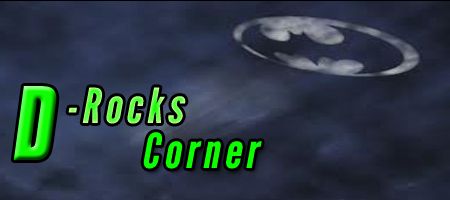 D-Rock will be back next week with his column…
2013
January 29 – The Dark Knight Returns Part 2
February 1 – Bullet to the Head
March 1 – Jack the Giant Slayer
March 8 – Oz: The Great and Powerful
March 29 – G.I. Joe: Retaliation
April 12 – The Evil Dead
May 3 – Iron Man 3
May 17 – Star Trek: Into Darkness
June 14 – The Man of Steel
June 21 – World War Z
June 28 – Kick-Ass 2
June 12 – Pacific Rim
July 3 – The Lone Ranger
July 19 – R.I.P.D.
July 26 – The Wolverine
August 2 – Red 2
August 2 – 300: Rise of an Empire
August 6 – Percy Jackson: Sea of Monsters
September 6 – Riddick
September 13 – I, Frankenstein
September 13 – Machete Kills
October 4 – Sin City: A Dame to Kill For
October 25 – The World's End
November 1 – Ender's Game
November 8 – Thor 2: The Dark World
November 22 – The Hunger Games: Catching Fire
December 13 – The Hobbit: The Desolation of Smaug
2014
April 4 – Captain America: The Winter Soldier
May 2 – The Amazing Spider-Man 2
July 18 – X-Men: Days of Future Past
August 1 – Guardians of the Galaxy
2015
March 6 – Fantastic Four
May 1 – The Avengers 2
November 6 – Ant-Man
NULL