Alternate Takes 02.16.13: Top 10 Most Anticipated Comic Book Movies For 2013
February 16, 2013 | Posted by
Welcome to Week 241 of Alternate Takes, my name is Shawn S. Lealos and you have entered my world.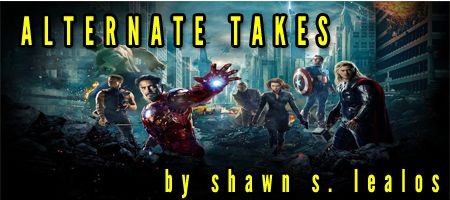 Ranking the Comic Book Movies for 2013
10. I, Frankenstein
I'm putting I, Frankenstein at No. 10 because I don't know much about the direction they are taking this adaptation. I really like Frankenstein from the DC New 52 when he joined up with the Agents of Shade, but this is a different version from the comic line Dark Storm. The synopsis says that Adam Frankenstein (he takes the name of the first man and his creator's surname) takes part in a war between two immortal clans in an ancient city, which makes this sound a lot like Hellboy. Aaron Eckhart stars as Frankenstein, which seems strange, but he is a good actor. It also has Bill Nighy, which gives it a lot of points as well. Until I hear more, I can't move it up in the rankings. Te director wrote 30 Days of Night and Punisher: War Zone, so that is a plus.
9. 300: Rise of an Empire
Honestly, I have very little hope for this, but we'll see. I am a pretty big fan of Zack Snyder, I don't care about the Sucker Punch backlash. I think the movie will miss his touch. But, the first movie was a nice surprise. The movie is a prequel to 300, and deals with the rise to power of Xerxes. The director's only other movie was the above average indie dramedy Smart People, so I don't know if he can handle something of this level. If the first I, Frankenstein trailer kicks butt, this will drop to 10th.
8. Kick-Ass 2
I loved Kick-Ass and thought the movie was pretty darn great. I also liked the comic. Now, we head into Kick-Ass 2, and I just can't get excited about it. I pretty much hate a lot about the comics this one is based on and feel that Mark Millar is just trying to be controversial for the hell of it. I don't like the child killing, I don't like the rape, I don't like the senseless violence that is just there to shock. Millar also said the movie would be shocking and not avoid the topics he wrote. That movie would end up NC-17 and there is no way the studio allows that. Plus, Matthew Vaughn is not directing the sequel. I just don't have a lot of interest in this right now.
7. R.I.P.D.
Kevin Bacon, Ryan Reynolds and Jeff Bridges. That moved this movie into seventh place all by itself. The movie is based on the comic book series about a department of undead police officers who answer to one boss, the big man upstairs. The movie will follow the story where Nick (Reynolds), a newly dead cop, trades in 100 years of service to the R.I.P.D. in exchange for returning and finding out who killed him. He teams with a veteran R.I.P.D. cop (Bridges) to find his killer. The story is fun, the movie has a great cast, and Robert Schwentke, the man who directed Red, is behind the camera. I'm pretty excited.
6. Red 2
Speaking of Schwentke, his last comic book movie is returning with a new director in Dean Parisot, the man who directed the awesome Galaxy Quest. In this case, I don't see the change of directors to be a bad thing. The new director has already made one very fun movie, and this one is all about just cutting loose and having fun. Morgan Freeman is gone, but Anthony Hopkins and Catherine Zeta-Jones join the cast this time around. The one thing I didn't like about the original comic (Bruce Willis' character died at the end), was changed in the first movie and that meant they could have this sequel. I thought the original movie was a lot of fun, but it did have the luxury of surprising me. This one will have to do a little more to earn it, but the first trailer was great.
5. The Wolverine
I didn't hate X-Men Origins: Wolverine. It wasn't great, and it had a lot of problems, but it had decent moments too. Let's just say it was a lesser X-Men movie. I have a lot of hopes for this one. First of all, James Mangold is a different choice as a director, but Marvel proved that is a good thing when the director was chosen for a specific reason. The reason here is that they don't want to go with another "regular" X-Men film. Mangold wants to make a Japanese Noir, and with the Wolverine in Japan storyline, that is the perfect direction to take. If they match the brilliance of the comic stories, this could be a huge comic book success, at least for the fans of the books.
4. Sin City: A Dame to Kill For
Now, we are getting to the movies I am really excited about. I am one of Robert Rodriguez's biggest fans and I loved the first Sin City movie – a lot. This time around, we get a great story about Dwight (Clive Owen is replaced by Josh Brolin, which makes sense because he has facial reconstruction in between the comic stories) and a woman that he used to love. This is a classic Film Noir, much like the original, and the Dame here is his femme fatale. Mickey Rourke is back as Marv (this one takes place before the last movie) and there are three more stories strung though, similar to how the first movie was structured. I don't know if this movie will be as good as the first, but the story is just as good, so this could be one of my top movies at the end of the year if it works as well as the original movie.
3. Thor 2: The Dark World
I really think the first Thor movie was one of the best movies from Marvel before The Avengers. The best part of the movie was the Shakespearian aspects on Asgard, while the movie dropped in quality when they focused on earth. Well, this movie takes place almost completely off of earth, which means that the parts I loved the most will remain intact. If this movie even comes close to reaching the level of the first when it was on Asgard, I will be very, very happy.
2. Iron Man 3
So, if Thor was one of my favorite Marvel films, why is Iron Man 3 ranked higher? Ranking my Marvel movies (for those who remain perpetually confused, those are movies by Marvel studios, and not those by Fox), I have Avengers in first, Iron Man in second and Thor in third. Now, I feel this movie will be a huge improvement on Iron Man 2 for one reason: Shane Black. Ever since Black broke out after writing the original Lethal Weapon, I have been a huge fan. The first movie he directed was Kiss Kiss Bang Bang, which was one of Robert Downey Jr.'s comeback movies.
1. Man of Steel
I am a Marvel guy, but I will admit that I am most interested to see how Zack Snyder's Man of Steel turns out. I love Superman and I want this movie to work. Honestly, the first two Superman movies were fantastic, with the second the best of the franchise. The third was disappointing and the fourth was crap. Superman Returns was a good movie, but it wasn't a good Superman movie, if you know what I mean. Now, it is time to do it right. I am a huge fan of Snyder, and loved his work on The Watchmen, so there is that. Warner Bros. just announced they screened the movie and had huge praise for it. Seriously, this movie needs to be great for DC Comics to be more than just a one-trick bat. I have a lot of faith. It's time to do Superman right and I think they hired the right man for the job.
The first two battles last were, as expected, blow outs. Green Lantern slaughtered Ice Man, 670-176, and Spawn wiped the floor with Ant-Man, 687-236. I saw the other two matchups as very tough. While some mentioned that Vision could use his beams to create fire, which is Martian Manhunter's weakness, everyone agreed this was the toughest fight of the week. Manhunter ended up taking the win, 502-316. I thought the Hulk vs. Rogue fight could be a tricky one, since Rogue could absorb Hulk's powers. However, as some readers mentioned, she would also absorb his rage while making him angrier, and Hulk would win. One person even figured the tradeoff could cause the fight to last forever. Hulk won 595-254 and will be tough to beat.
On to this week's matchups.

Batman





Human Torch


Captain Atom





Cyclops


Scarlet Witch





Storm


Emma Frost





Reed Richards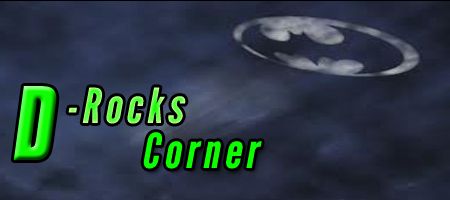 Welcome back to week 7 of D-Rock's Corner! This week Skyfall released everywhere on home video for DVD and Blu-Ray. So therefore our topic of discussion will be the TOP 5 BOND GIRL NAMES from the 007 films. Which Bond girl truly had the best made up name ever? Let us find out: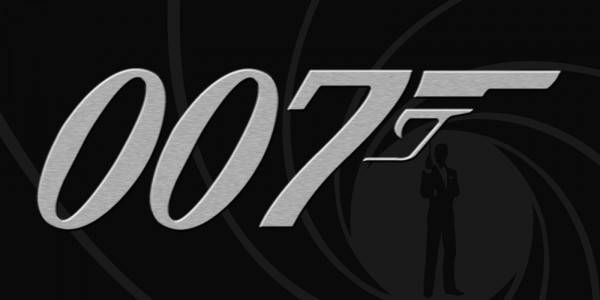 5. Mary Goodnight
Mary Goodnight appeared in the Roger Moore 007 film titled The Man with the Golden Gun. Played by the Swedish actress Britt Eckland, Mary Goodnight rocks a bikini bod that promises much more than a "good night." One of the funniest parts is when Bond sleeps with another Bond girl while Mary Goodnight is in the closet hiding. After the girl leaves, Bond opens the closet and says "Your turn will come, I promise." Oh James, you silver tongue devil you.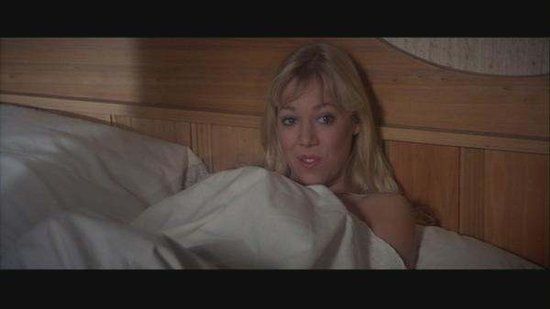 4. Bibi Dahl
Not much can be said about the character Bibi Dahl except she is cute as hell. Played by the ice skater Lynn-Holly Johnson, Bibi is portrayed as a sweet innocent virgin like girl, but don't be fooled, she has her fair share of experience. Bibi Dahl appeared in the 12th Bond movie For Your Eyes Only.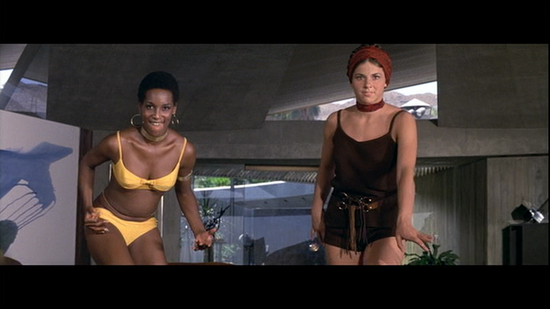 3. Bambi/Thumper
Possibly the most memorable female duo of the Bond franchise is the sexy limber team-up of Bambi and Thumper. These two femme fatales appeared in Diamonds are Forever and gave Sean Connery a good fight. Bambi has thighs of thunder to weaponize by choking Bond in a non-erotic manner. Thumper and Bambi both utilize gymnast style fighting skills to take down good ol' James. Together they bring a whole new meaning to the mickey mouse inspired characters.
2. Pussy Galore
The name says it all. Her name is so ridiculous, when Bond first hears it, even he finds it rather amusing. Portrayed by the sexy actress Honor Blackman, Miss Galore assisted Bond in taking down the villain Goldfinger in the film of the same title. This was her only appearance but the name will forever be famous among the Bond fans for a lifetime.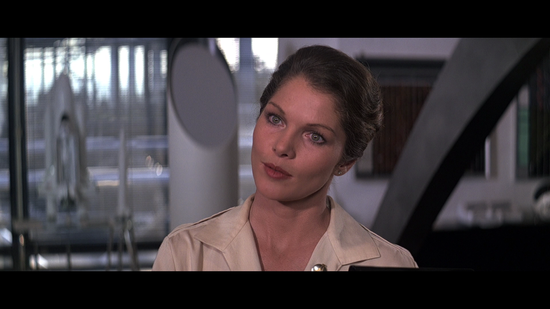 1. Holly Goodhead
This is by far the best name for one of the most insane entries of the franchise. Which Bond film do I speak of? That's right… Moonraker (You may now applaud)! Holly Goodhead, also known as Dr. Goodhead took on the space battle with Bond and set a new world record for how many times you can say the words "good head" in a mainstream big budget franchise. Gotta love a classic!
There you have it folks! Which Bond girl in your opinion had the best name of the series?
2013
March 1 – Jack the Giant Slayer
March 8 – Oz: The Great and Powerful
March 29 – G.I. Joe: Retaliation
April 12 – The Evil Dead
May 3 – Iron Man 3
May 17 – Star Trek: Into Darkness
June 14 – The Man of Steel
June 21 – World War Z
June 28 – Kick-Ass 2
June 12 – Pacific Rim
July 3 – The Lone Ranger
July 19 – R.I.P.D.
July 26 – The Wolverine
August 2 – Red 2
August 2 – 300: Rise of an Empire
August 6 – Percy Jackson: Sea of Monsters
September 6 – Riddick
September 13 – I, Frankenstein
September 13 – Machete Kills
October 4 – Sin City: A Dame to Kill For
October 25 – The World's End
November 1 – Ender's Game
November 8 – Thor 2: The Dark World
November 22 – The Hunger Games: Catching Fire
December 13 – The Hobbit: The Desolation of Smaug
2014
April 4 – Captain America: The Winter Soldier
May 2 – The Amazing Spider-Man 2
July 18 – X-Men: Days of Future Past
August 1 – Guardians of the Galaxy
2015
March 6 – Fantastic Four
May 1 – The Avengers 2
November 6 – Ant-Man