Alternate Takes 10.20.12: Justice League
October 20, 2012 | Posted by
Welcome to Week 225 of Alternate Takes, my name is Shawn S. Lealos and you have entered my world.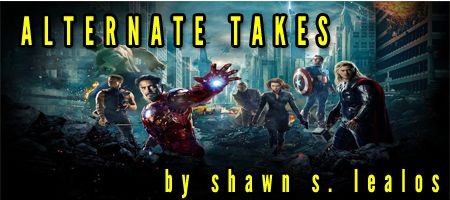 Welcome to Alternate Takes. First off, here is a look at some of my work from the week:
Next up, I was curious if anyone had read any of the new Marvel Now! comics. I guess that Ultimate Avengers was ok, with the highlights being Captain America finally admitting he never did do much for Mutant rights and Rogue knocking the crap out of Scarlet Witch. However, the next book I read was "AVX: Consequences." The book basically has Cyclops in jail and Wolverine in there telling him the other Mutants who worked with him need to turn themselves in. When Cyclops provokes Wolverine, he attacks but then realizes that Scott wants to die to be a martyr for the Mutant cause. Then at the end, guards leave and it looks like Scott and one other Mutant are about to be killed by other prisoners. Honestly, I started to really dislike Wolverine for being complete hypocrite here.
I really hated this book and thought it was complete garbage. I finished the "AVX" storyline very disappointed. I HATED "Civil War" because the last thing I want to see in comics is heroes fighting each other, and that was all that "AVX" was, and honestly, for the second time in a row, the group I wanted to win lost. Now, there are consequences that I really don't care to read. Maybe if they wrap this up, stop fighting each other, and get back to fighting crime and personal problems, it could win me over. It is off to a bad start.
And if Peter Parker dies, I won't buy another issue of Spider-Man.
What is everyone else's thoughts?
News broke this week that DC Comics and Warner Bros. plan to release the Justice League movie in the summer of 2015.
The lawsuit between DC Comics and the family of Superman co-creator Joe Shuster went DC's way, when a judge ruled that Shuster's family have no further rights to the character. The ruling came due to the fact that an heir waived claims to ownership in 1992 when DC Comics paid off Shuster's debts for the family. While this ruling was only part of a battle that should rage on for years between the two parties, it does open the door for Warner Bros. to finally move forward with a "Justice League" movie.
Newsarama announced on Oct. 19 that Warner Bros. quickly followed up the judge's ruling with the news that their long-awaited "Justice League" film will now hit theaters in the summer of 2015. The film should start casting as soon as a director comes aboard and will shoot in 2013. This is huge news, because the summer of 2015 also presents the world with Marvel's team-up movie, The Avengers 2, and a full-scale DC vs. Marvel battle should erupt.
Here is what you need to know about Justice League.
With Justice League coming, the questions will now rise about who the members are. The obvious members are Batman, Superman and Wonder Woman. Aside from the Trinity, Green Lantern and Flash are also pretty apparent as well. That is five members, and if the group matches The Avengers, there should be six heroes here (or seven if you count Nick Fury). Here are some of my choices for those final spots.
GREEN ARROW
The big complaint about the new Justice League movie is that the heroes won't be introduced to audiences with new origin stories before the film hits. While this was important for The Avengers, since few people knew who Nick Fury, Iron Man and Thor was. However, no one should need to be introduced to the Trinity or to Green Lantern or Flash for that matter. With the new TV show for Arrow so good, that helps introduce who he is as well, so this could be a great addition that doesn't need a big setup. Arrow is a good friend of Green Lantern, so he could fit there. Plus, they could go with the new storyline about how Arrow wants in the JLA but the group won't allow it, due to his reputation.
CYBORG
This choice could allow the Justice League movie to follow the same storyline as the New DC 52 JLA origin story, with Cyborg the youngster in the group. There is also a chance for some kids to know who he is thanks to his appearance on the Teen Titans animated television show. The great thing about using Cyborg is that his origin actually ties into the origin of the JLA in the New 52. He gained his powers at the same time the other heroes were joining forces. Plus, this is a character that brings humanity to a team full of gods.
MARTIAN MANHUNTER
This is the choice for those people who want tradition. Martian Manhunter was an original member of the JLA, but that was ret-conned with the New DC 52. J'onn J'onzz is a Martian who ended up stranded on earth and chooses to fight crime. He gives the team a character that doesn't look human, which could be great for two sales, but the real problem is that he is a bit of Batman meets Superman, an all-powerful detective. He might be monotonous and could provide the team with a little too many god-like figures.
BLUE BEETLE
Much like Cyborg, Blue Beetle could bring the youth needed to fill out this group. Of course, I have to go with Jaime Reyes here, and if he has the scarab that makes him the Beetle, that could make him a perfect fit as someone who needs the JLA's help to find his way. The main reason I have him here, instead of people like Booster Gold or Hawkman, is because he is a pet project for Geoff Johns and Johns really wants him to be a star. They even made a screen test that showed how Jaime transforms into Beetle. With the character getting such big plans behind-the-scenes, this could be a great chance to introduce him.
AQUAMAN
Of course, the superhero that will probably fit in here is Aquaman, another god-like figure. Sure, his main power is to talk to fish, but he also has superhuman strength, and as far as his New DC 52 reboot showed, he is bulletproof as well. He is also arrogant and a perfect nemesis for Wonder Woman as far as drama is concerned. Of course, if Aquaman is in the movie, jokes will come because no one will ever take him seriously, no matter who writes him. But, at the same time, everyone knows who Aquaman is, so that means they can jump right into the story.
February 1, 2013

Bullet to the Head

Directed by Walter Hill

Starring Sylvester Stallone, Jason Momoa, Christian Slater, Sarah Shahi, Adewale Akinnuoye-Agbaje

May 3, 2013

Iron Man 3

Directed by Shane Black

Starring Robert Downey Jr., Guy Pierce, Cobie Smulders, Gwyneth Paltrow, Paul Bettany, Ben Kingsley, Don Cheadle, Jon Favreau, William Sadler

June 14, 2013

The Man of Steel

Directed by Zack Snyder

Starring Henry Cavill, Amy Adams, Russell Crowe, Michael Shannon, Kevin Costner, Diane Lane, Christopher Meloni, Lawrence Fishburne

June 28, 2013

R.I.P.D.

Directed by Robert Schwentke

Starring Ryan Reynolds, Kevin Bacon, Mary-Louise Parker, Jeff Bridges

R.I.P.D. is an upcoming action-comedy crime film set to be directed by Robert Schwentke, based on the comic book Rest In Peace Department by Peter M. Lenkov. The film will star Ryan Reynolds and Jeff Bridges as Nick Walker and Bo, respectively.
August 2, 2013

300: Battle of Artemisia

July 26, 2013

The Wolverine

October 4, 2013

Sin City: A Dame to Kill For

November 8, 2013

Thor 2: The Dark World

April 4, 2014

Captain America: The Winter Soldier

May 2, 2014

The Amazing Spider-Man 2

August 1, 2014

Guardians of the Galaxy

May 1, 2015

The Avengers 2

November 6, 2015

Ant-Man