Alternate Takes 10.27.12: Arrow
October 27, 2012 | Posted by
Welcome to Week 226 of Alternate Takes, my name is Shawn S. Lealos and you have entered my world.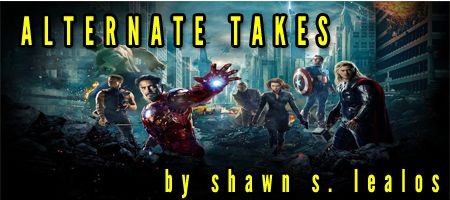 First off, here is a look at the only thing I wrote for 411mania last week:
Next up, let's take a minute to talk about The X-Men movie franchise.
On October 21, Mark Millar did an interview with Super Hero Hype and was talking about X-Men: Days of Future Past. Millar said that "[Matthew] Vaughn is going for a big sci-fi style thing with X-Men: Days of Future Past," Millar said. "It's X-Men meets The Terminator, You've got robots, you've got time travel, you've got superheroes – it's got everything in one film."
Of course, this caused a lot of speculation because robots tell me that we are going to see Sentinels! Then, the time travel tells me that we will see X-Men from the original trilogy as well. Both Famke Janssen and Patrick Stewart said they were possibly going to return to their roles in the future.
That led to news one day later that Janssen was on a plane for Sidney, Australia, and it wasn't for the X-Men sequel, it was for an appearance in The Wolverine. This seemed confusing at first because Jean Grey and Wolverine never met each other until the first movie, so how could she figure in to the Wolverine Japanese movie?
Three days later, Fox announced that Matthew Vaughn has chosen to pull out of the Days of Future Past movie. Even more confusing was the fact that Millar was talking about Vaughn's role in the X-Men movie four days earlier and now the reason that he pulled out was to direct an adaptation of Millar's Secret Service. (You can tell when Mark Millar is lying because his lips are moving).
Then, one day later, the entire Famke Janssen thing was explained. From the new Empire Magazine, the new Wolverine movie takes place after X-Men: The Last Stand where "Jean Grey is gone, most of the X-Men are disbanded or gone, so there's a tremendous sense of isolation for him." It also will be a Noir film with action and not an all-out action movie.
That brings up to the here and now. Which movie are you most interested in?
I was going to talk about this last week, but the Justice League movie news got me distracted. So, this week, we are going to look at the new series Arrow. We'll start with a quick look at the first three episodes and then move on to what we should see in the future.
PILOT
What impressed me the most about this episode was that it was entertaining and you didn't need to know anything about the comic books to jump right in. At the same time, there were some awesome Easter eggs for fans of the comics that never once took anything away from the enjoyment of non-comic readers. The episode starts off with Oliver Queen, a spoiled rich kid, rescued from a deserted island. This is where the first Easter egg appears as a mask, half black and half orange is on a pole with an arrow through it. Of course, this is Deathstroke's mask, but non-fans probably saw it and immediately wondered what it would lead to. Perfect wink to fans and foreshadowing to everyone else.
The series is set up much like Lost was, with present day stuff taking up most of the episodes while flashbacks to what happened on the island is strung through to explain what Oliver was up to for the five years he was trapped on the island. It is a great setup because the show is not reliant on the flashbacks, only using them to set up future storylines. In this episode, we learn what Oliver was doing on the boat when it sank and why he was the only survivor.
Also, we learn that his father was not a good person, but asked his son for forgiveness and asked him to deal with all the bad people in Starling City if he ever made it back alive. That list is almost as long as the Karma list from My Name is Earl.
When Oliver returns home, we find out his mother married one of his father's co-workers, his 17-year old kid sister (nicknamed Speedy, just like Arrow's sidekick from the comics) has an alcohol and drug problem, and his best friend and ex-girlfriend have been hooking up since his assumed death (her name is Dinah Lance, which is Black Cannary's alter-ego in the comics).
Then we see the big difference between Arrow and Smallville. Oliver Queen wants the bad guys to make up for their sins and give back to the people they hurt. However, if they don't then he will put an arrow in them, killing them for their sins. This makes him a murderer and vigilante, and makes him wanted by the police, led by Dinah's dad.
Overall, it was a solid first episode and set up what looks to be a great television series.
HONOR THY FATHER
With the pilot out of the way, it was time to get into the action. The Oct. 17 episode of Arrow, titled "Honor Thy Father," introduced a new villain and continued to develop the characters as the new series continues to roll along.
The episode began with Oliver Queen scratching another name off his list as he forced another big bad guy to give money back to pensioners that he was stealing from. After the cold opening, Oliver headed to court to go through the legal proceedings to legally return from the dead.
We also got some development between Oliver and Dinah, as they began to rebuild a shaky relationship. It was a good thing he was there for this reason, because hit men arrived to kill her because she represented a girl whose father was murdered by a powerful businessman.
Detective Lance continued his mission to catch Arrow, while also trying to protect the city from the evil. However, he also remains a hard character to get behind. Yes, he has the values that justice can prevail without going outside of the law, making him a true white knight, but he makes some questionable decisions in this episode. He orders Oliver to keep away from his daughter, despite the fact she would be dead if he wasn't there. Things like this make him a tough character to care about.
There was also little in the way of development of Tommy, and right now he is nothing more than a minor character. Speedy received a little more screen time, but right now is more of a bratty sister, refusing to admit her drug problem.
However, the fight scenes with China White were great. The character from the comic books "Green Arrow: Year One" attacks early with the hit men to try to kill Dinah, but Oliver and his bodyguard Diggle take care of the bad guys. She also almost kills Diggle before Oliver saves him. The second fight was in a warehouse when Oliver was trying to force a confession out of the killer. The two had a great fight before the police showed up and they both got away. It has already confirmed that she will return.
The episode ended with two cliffhangers. First, Moira admits to a mysterious figure that she was part of the plot to kill Oliver and his dad to begin with. Then, we get a flashback to the island where Oliver is burying his dad when someone in a green cape shoots him from behind with an arrow, explaining the giant scabbed scar on his shoulder.
LONE GUNMAN
First, there is one thing I really hated about this episode. I know Oliver kills people who he feels are un-redemptive, but Deadshot should have been a big time bad guy, and Oliver shot him right through the eye in this episode. Plus, they really didn't have him as cool as he is in the comics. That aside, I am really surprised that the show is getting as good as it is. This is the third episode, but it feels like it has already built a solid history.
This episode only slightly built on the island mythos. Apparently, Oliver learned an herbs potion that cures poison which came in handy against Deadshot. Oliver also knew a lot about computers and tracking information and I'm afraid they are going to use the island as a dues-ex-machina anytime they need Oliver to develop a new skill set. However, as long as the show continues to be as entertaining as it is, I can forgive that.
We also got a good look at Dinah fighting (her father forced her to take self defense classes) when she saved Oliver and Tommy from an ass-kicking. Maybe this foreshadows the Black Cannery. Speedy continued to be annoying, as a bratty teenage girl.
However, Stephen Amell has really bought into the role as Oliver Queen and the Arrow and really carries this show. The fight scenes are great, the action is quick and nothing really drags at all on the show. I'm really liking where the show is heading and have enjoyed the ride so far. Arrow has avoided a lot of the pratfalls that Smallville suffered in its debut season.
What is to Come?
The big thing is that in Episode 5, we get to see Deathstroke for the first time. Of course it takes place on the island, but this is one of the moments that a lot of comic book fans have been waiting for. After that, in Episode 6, The Huntress shows up in Starling City, looking for vengeance for the death of her family. Things are about to kick into high gear, and in my opinion, Arrow is the best new show on television and ranks right up there with The Walking Dead on my must-see list every week.
February 1, 2013

Bullet to the Head

Directed by Walter Hill

Starring Sylvester Stallone, Jason Momoa, Christian Slater, Sarah Shahi, Adewale Akinnuoye-Agbaje

May 3, 2013

Iron Man 3

Directed by Shane Black

Starring Robert Downey Jr., Guy Pierce, Cobie Smulders, Gwyneth Paltrow, Paul Bettany, Ben Kingsley, Don Cheadle, Jon Favreau, William Sadler

June 14, 2013

The Man of Steel

Directed by Zack Snyder

Starring Henry Cavill, Amy Adams, Russell Crowe, Michael Shannon, Kevin Costner, Diane Lane, Christopher Meloni, Lawrence Fishburne

June 28, 2013

Kick-Ass 2

Directed by Jedd Wadlow

Starring Aaron Taylor-Johnson, Chloe Grace Morertz, Nicholas Cage, John Leguizamo, Christopher Mintz-Plasse, Clark Duke

July 19, 2013

R.I.P.D.

Directed by Robert Schwentke

Starring Ryan Reynolds, Kevin Bacon, Mary-Louise Parker, Jeff Bridges

R.I.P.D. is an upcoming action-comedy crime film set to be directed by Robert Schwentke, based on the comic book Rest In Peace Department by Peter M. Lenkov. The film will star Ryan Reynolds and Jeff Bridges as Nick Walker and Bo, respectively.
July 26, 2013

The Wolverine

Directed by James Mangold

Starring Hugh Jackman, Will Yun Lee, Rila Fukushima, Tao Okamoto, Brian Tee

August 2, 2013

Red 2

August 2, 2013

300: Rise of an Empire

September 13, 2013

I, Frankenstein

October 4, 2013

Sin City: A Dame to Kill For

November 8, 2013

Thor 2: The Dark World

December 31, 2013

The Dark Knight Returns Part 2

May 2, 2014

The Amazing Spider-Man 2

July 18, 2014

X-Men: Days of Future Past

August 1, 2014

Guardians of the Galaxy

May 1, 2015

The Avengers 2

November 6, 2015

Ant-Man