Alternate Takes 12.08.12: Comic Book Knockout, Week 5
December 8, 2012 | Posted by
Welcome to Week 231 of Alternate Takes, my name is Shawn S. Lealos and you have entered my world.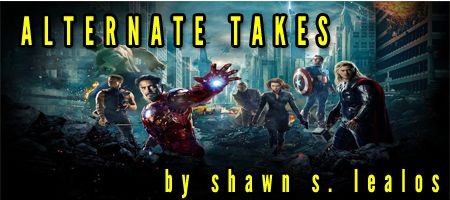 Week 4 Results
No. 4 "Sinestro Corps War" beat No. 13 "The Death of Jean DeWolff," 153-89
No. 4 "The Judas Contract" beat No. 13 "Avengers Forever," 113-105
No. 4 "V for Vendetta" beat "The Kindly Ones," 183-53
No. 4 "Kraven's Last Hunt" beat "From Hell," 228-43
There were no upsets this week and the only disappointment was that Sandman's final storyline was beaten so bad, but it was against "V for Vendetta."
On to this week's matchups.
No. 5 "Under Siege" by Roger Stern vs. No. 12 "The Death of Superman" by Various Writers
5. "Under Siege" – This is going to be an interesting matchup. Back when I ranked the top Avengers stories of all-time, most people seemed to love "Under Siege," most calling it their best storyline. However, this week it has a mountain to overcome and the question is which will win – the beloved storyline or the important storyline? In "Under Siege," the Masters of Evil lay waste to Avengers mansion, beat the hell out of Jarvis, almost beat Hercules to death and come closer than almost anyone to beating the team once and for all. It was gripping stuff and definitely one of the best stories in the team's history.
12. "The Death of Superman" – I'll admit that I undersold "Death of Superman" in the previous paragraph. Yes, it is one of the most important stories in comic book history, but it is also well done. While I don't care for "The Reign of Superman" that followed (although you all did when you voted it over "The Great Darkness Saga"), I thought this death story was very well done. The affect that Superman's death had on those around him was even greater than his defeat. This was one of the best death stories in comic book history.
No. 5 "E is for Extinction" by Grant Morrison vs. No. 12 "Marvels" by Kurt Busiek
5. "E is for Extinction" – Grant Morrison is a polarizing figure in comic books, people either love him or hate him. "E is for Extinction" was the first story arc he wrote when he joined the "X-Men" title and he renamed the comic "New X-Men." In this story, a being named Cassandra Nova uses Sentinels to massacre almost everyone in Genosha, with the exception of Emma Frost, and the X-Men have to find a way to beat Cassandra. It all ends with Cassandra witching minds with Professor X, just as Emma Frost shows up and snaps her neck. It was the daring start of a new direction for the team under the guidance of Morrison.
12. "Marvels" – Alex Ross brought his work to Marvel comics and teamed with Kurt Busiek to work on "Marvels," a special run storyline that features superheroes from the point of view of one man, Phil Sheldon. It starts in 1939 when the Marvels first began to appear (Human Torch, Namor) and society feared them. It moved on to the '60s when more Marvels began to appear, including the X-Men who people feared. Then, later in the '60s, Galactus attacked earth and people even feared Marvels after saving them from this threat. Sheldon takes it upon himself to prove these Marvels are heroes, but after Spider-Man fails to save Gwen Stacy, he finally gives up and plans to retire, knowing that the public will never accept the heroes that protect them. It is strong stuff.
No. 5 "Civil War" by Mark Millar vs. No. 12 "Batman R.I.P." by Grant Morrison
5. "Civil War" – I ranked these based on reality, and not on my personal bias, because I absolutely hated "Civil War." However, it was a huge event and completely changed the Marvel landscape. After a group of young heroes screws up and the result is an explosion that kills a number of children, the government decides there needs to be regulations concerning superheroes. Tony Stark agrees and sets up the superhero registration act, where all heroes much register in order to continue fighting. Young heroes need to be properly trained. However, the problem comes when those who don't want to register their secret identities and become possible pawns of the government become wanted outlaws. Captain America was one of these outlaws. This led to heroes fighting each other and ended with Captain America's death and Iron Man exiled. It was a momentous event that was slightly devalued when it turned out the Skrulls had a hand in the problems.
12. "Batman R.I.P." – The second Grant Morrison story of the week comes from his long run on the Batman titles. The story opens with Joker warning Batman that some bad people want to hurt him. This has Batman battle the Black Glove organization, who is set out to destroy Batman and decimate Bruce Wayne's reputation as well. They go as far as to demean the name of Bruce's parents and break him down mentally and physically, until the series ends with the death of Batman. This led into the "Battle for the Cowl" series where the former Robin's raced to become the new Batman.
No. 5 "The Galactus Trilogy" by Stan Lee vs. No. 12 "Final Crisis" by Grant Morrison
5. "The Galactus Trilogy" – This matchup is old school vs. new school. First up, we have Stan Lee's introduction of Galactus to the Marvel Universe in the pages of The Fantastic Four. The background for this issue is that the world has become fearful of superheroes, despite the fact that they have always protected them. During this, a new being named the Silver Surfer races to earth and attacks the Fantastic Four. He is the herald of Galactus and is bringing the godlike being to earth to consume it, destroying all life on it in the process. It is up to the Fantastic Four and Silver Surfer to stop this from happening. Interestingly (and not meant on purpose), to see this from a regular human's point of view, check out "Marvels."
12. "Final Crisis" – For the new school, here is a comic series that ties into another series in this week's competition (again, not on purpose) with "Batman R.I.P." This was a huge DC crossover event that Grant Morrison wrote as a sequel to "Crisis on Infinite Earths." The enemy was Darkseid and the New Gods, and the series featured the death of both Martian Manhunter and Bruce Wayne. It is a huge and dense story that remains one of the most intense works of the modern era of comics.
January 29, 2013

The Dark Knight Returns Part 2

February 1, 2013

Bullet to the Head

Directed by Walter Hill

Starring Sylvester Stallone, Jason Momoa, Christian Slater, Sarah Shahi, Adewale Akinnuoye-Agbaje

May 3, 2013

Iron Man 3

Directed by Shane Black

Starring Robert Downey Jr., Guy Pierce, Cobie Smulders, Gwyneth Paltrow, Paul Bettany, Ben Kingsley, Don Cheadle, Jon Favreau, William Sadler

June 14, 2013

The Man of Steel

Directed by Zack Snyder

Starring Henry Cavill, Amy Adams, Russell Crowe, Michael Shannon, Kevin Costner, Diane Lane, Christopher Meloni, Lawrence Fishburne

June 28, 2013

Kick-Ass 2

Directed by Jedd Wadlow

Starring Aaron Taylor-Johnson, Chloe Grace Morertz, Nicholas Cage, John Leguizamo, Christopher Mintz-Plasse, Clark Duke

July 19, 2013

R.I.P.D.

Directed by Robert Schwentke

Starring Ryan Reynolds, Kevin Bacon, Mary-Louise Parker, Jeff Bridges

R.I.P.D. is an upcoming action-comedy crime film set to be directed by Robert Schwentke, based on the comic book Rest In Peace Department by Peter M. Lenkov. The film will star Ryan Reynolds and Jeff Bridges as Nick Walker and Bo, respectively.
July 26, 2013

The Wolverine

Directed by James Mangold

Starring Hugh Jackman, Will Yun Lee, Rila Fukushima, Tao Okamoto, Brian Tee

August 2, 2013

Red 2

August 2, 2013

300: Rise of an Empire

September 13, 2013

I, Frankenstein

October 4, 2013

Sin City: A Dame to Kill For

November 8, 2013

Thor 2: The Dark World

May 2, 2014

The Amazing Spider-Man 2

July 18, 2014

X-Men: Days of Future Past

August 1, 2014

Guardians of the Galaxy

May 1, 2015

The Avengers 2

November 6, 2015

Ant-Man
NULL