Alternate Takes 12.15.12: Top 5 Wanted Comic Book TV Adaptations
December 15, 2012 | Posted by
Welcome to Week 232 of Alternate Takes, my name is Shawn S. Lealos and you have entered my world.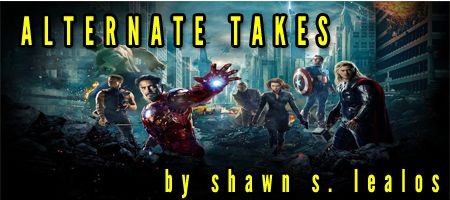 I can see when something isn't working. While there have been a lot of votes, there is not much talking about the comics, so I am going to condense the knockout into a small portion of the column with a synopsis of the book. We'll follow this through to the end, and the next knockout might be for actual comic book movies, which I think might get more attention.
With that said, Alternate Takes is back to a regular column again. With comic book ideas wearing thin, it is going to be more a geek centric column, whether that means comics, sci-fi, film geek stuff, or whatever, I will talk about it in the column. We are sticking with comics this week, though.
The knockout will return next week…
Now, for the topic of this week's column. With all the controversy right now surrounding the PTC and "The Walking Dead" (click here to read how ridiculous the PTC is), here is a look at other more mature comic books I would like to see make their debut as a television series.
While I would love to add Fables to the list, the popularity of Grimm and Once Upon a Time makes that idea obsolete.
5. Sandman
In 2011, The Hollywood Reporter announced that Supernatural creator Eric Kripke wanted to make the Neil Gaiman comic series Sandman into a TV series. However, the idea fell through for "varying reasons." Despite that, this comic series needs to be made into a series for HBO or Showtime. I can see the problems coming with it, basically since this is high concept fantasy and might not be to everyone's taste, but there are a lot of ways it can go. I would be happy with HBO teaming up with Neil Gaiman to create original stories for the Sandman series. To prove this can be done, Kripke described Supernatural and Sandman meets American Gods.
4. Ex Machina
Ex Machina could make a spectacular television series. The comic books tell the story of Mitchell Hundred, the world's only superhero, the Great Machine. The story begins after he is retired from being a superhero and was elected the Mayor of New York City after he stopped United Flight 175 from crashing into the World Trade Center. The stories then show his interactions in politics, while also flashing back to his past as a superhero. The comic's creator Brian K. Vaughn has two stories on this list, and as a former writer from Lost, he could realistically turn either of his stories into television series if given the chance.
3. Y: The Last Man
The second Brian K. Vaughn book on this list is Y: The Last Man. This story could actually fit in with a lot of today's most popular shows, such as Revolution and The Walking Dead. The story focuses on a plague that kills every male mammal on the planet with a Y chromosome and the only two survivors are a man named Yorick and his monkey Ampersand. He sets out to find his girlfriend, only to find himself in great danger as various groups of female survivors want to capture him for their own purposes. Much like a show such as Lost, this story had an end-date from the start, as Yorick set out to achieve his goal, which changes over time. This would be great as a five season series, but the fact there is only one male character in the story might hurt its popularity.
2. 100 Bullets
If there was one comic book adaptation turned into a TV series that I would love to script, it would be 100 Bullets. Created by Brian Azzarello, this tells the story of a clandestine organization that offers individuals a briefcase with information about someone who hurt them and did them wrong. Also included is an untraceable gun with 100 bullets. This means the person can get revenge against a person who hurt them, and no law enforcement agency in the world will hold them on the murder charge, allowing them to get away free and clear. The moral debate for each person is whether or not they will murder someone out of vengeance, or stay true to their morals. Also included is a sweeping tale of a group of people who run the world, with the tales of vengeance as a small part of this story. This would make for great, X-Files-style television, with the mythology building as the interesting 100 Bullets theme would work as individual stories of the week. This could be HUGE.
1. Preacher
While I would write 100 Bullets in a snap of the fingers, the comic series that NEEDS to be made is Preacher. It was supposed to be an HBO series, and Sam Mendes was attached, but it had gone nowhere fast. It has to be on pay cable because of the subject matter and violence, but this would be awesome as a serialized story. Jesse is a minister who has lapsed in faith and then one day a creature called Genesis possesses him, and kills everyone in the church with him at the time. This creature is the spawn of an angel and a demon, one of the most powerful beings in the universe, and gives Jesse the power to use the "Word of God," which he uses to force anyone to do what he tells them. God freaks out and goes into hiding, sending the world into turmoil. Jesse, his ex-girlfriend who became a hitman, and a vampire named Cassidy, set out to find God and make him stand up for his crime of leaving humanity to fend for himself. It is one of the best comics ever created.
January 29, 2013

The Dark Knight Returns Part 2

February 1, 2013

Bullet to the Head

Directed by Walter Hill

Starring Sylvester Stallone, Jason Momoa, Christian Slater, Sarah Shahi, Adewale Akinnuoye-Agbaje

May 3, 2013

Iron Man 3

Directed by Shane Black

Starring Robert Downey Jr., Guy Pierce, Cobie Smulders, Gwyneth Paltrow, Paul Bettany, Ben Kingsley, Don Cheadle, Jon Favreau, William Sadler

June 14, 2013

The Man of Steel

Directed by Zack Snyder

Starring Henry Cavill, Amy Adams, Russell Crowe, Michael Shannon, Kevin Costner, Diane Lane, Christopher Meloni, Lawrence Fishburne

June 28, 2013

Kick-Ass 2

Directed by Jedd Wadlow

Starring Aaron Taylor-Johnson, Chloe Grace Morertz, Nicholas Cage, John Leguizamo, Christopher Mintz-Plasse, Clark Duke

July 19, 2013

R.I.P.D.

Directed by Robert Schwentke

Starring Ryan Reynolds, Kevin Bacon, Mary-Louise Parker, Jeff Bridges

R.I.P.D. is an upcoming action-comedy crime film set to be directed by Robert Schwentke, based on the comic book Rest In Peace Department by Peter M. Lenkov. The film will star Ryan Reynolds and Jeff Bridges as Nick Walker and Bo, respectively.
July 26, 2013

The Wolverine

Directed by James Mangold

Starring Hugh Jackman, Will Yun Lee, Rila Fukushima, Tao Okamoto, Brian Tee

August 2, 2013

Red 2

August 2, 2013

300: Rise of an Empire

September 13, 2013

I, Frankenstein

October 4, 2013

Sin City: A Dame to Kill For

November 8, 2013

Thor 2: The Dark World

May 2, 2014

The Amazing Spider-Man 2

July 18, 2014

X-Men: Days of Future Past

August 1, 2014

Guardians of the Galaxy

March 6, 2015

Fantastic Four

May 1, 2015

The Avengers 2

November 6, 2015

Ant-Man