Are the First Thor: Ragnarok Pictures Encouraging?
March 11, 2017 | Posted by
Marvel Studios released the first pics from Thor: Ragnarok via EW and the reaction has been split. They give us our first good look at Tessa Thompson as Valkyrie, Cate Blanchett as Hela, Jeff Goldblum as The Grandmaster and a sense of how the movie will look. The film also stars Chris Hemsworth, Tom Hiddleston, Mark Ruffalo, Idris Elba, Anthony Hopkins, Karl Urban, Sam Neill and Benedict Cumberbatch and releases on November 3rd.
We also got a taste of what the movie will be about. SPOILERS, so turn According to Entertainment Weekly, the action starts off with Thor trying to find out who manipulated the Avengers at the end of Age of Ultron and discovers that Loki has been impersonating Odin, who is missing. Thanks to Loki's failing leadership, the imprisoned Hela escapes captivity and successfully fights off Thor, sending him to Sakaar, a planet ruled by the Grandmaster.
With the help of Valkyrie, an elite woman warrior, Thor meets the Grandmaster and is then forced to participate in his gladiator matches, which leads to Thor losing much of his hair and his powerful hammer. Thor quickly discovers that Bruce Banner has become the most popular gladiator. And Doctor Strange pops up at some point.
Director Taika Waititi revealed to EW he has drawn inspiration from films like Planes, Trains, and Automobiles, and 48 HRS, specifically in regard to showing off star Hemsworth's comedic chops.
That's an interesting angle to approach.
"He's so good and underutilized in that department," Waititi says. "He's legitimately one of the funniest things in this film." The director also confirmed that Ragnarok will set up Avengers: Infinity War and will reinvent the Thor franchise.
Going back to the photos, let's take a look: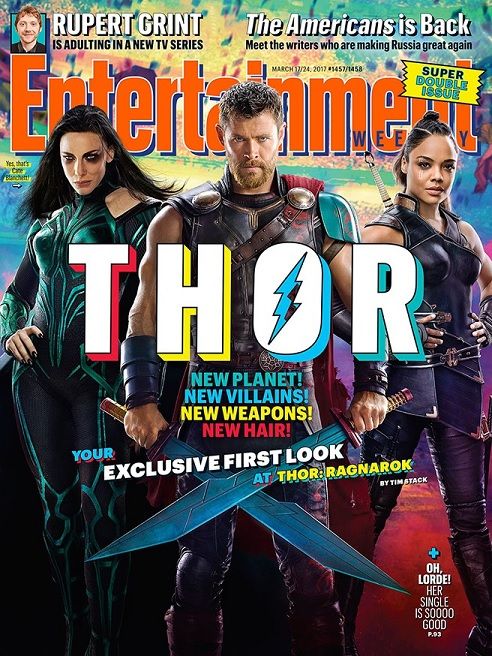 First, we can all agree that Thor: Ragnarok has a lot on its plate. From continuing the adventures of Thor and showcasing Marvel's best villain in Loki, it's introducing a number of new characters, balancing two major set destinations (Asgard and Sakaar), adding the Hulk to the mix, and setting up Infinity War, it's almost like Marvel is taking a page out of DC's cinematic playbook.
Not only that, a number of fans are a little concerned at what the pictures are showing. Especially a Grandmaster who doesn't live up to his comic book inspiration. Maybe it's the lack of blue skin coloring or the weird thing under his lip, Goldblum's costume has raised some eyebrows. Honestly speaking, I wasn't a fan of Benicio del Toro's Collector on the big screen. While he sort of fit the Guardians of the Galaxy tone, his look and mannerisms took me out of the movie. I'm seeing the same thing with Goldblum's Grandmaster.
Then we have the Hulk. Speaking to EW, Ruffalo said that in Ragnarok Hulk is "more of a character than the green rage machine you've seen in the Avengers movies." This time around, Hulk's "got a swagger. He's like a god." I'm cool with all that but I'm wondering how this movie is going to shift the different tones it needs to nail in order to be successful.
It's no secret that Marvel's bad guys haven't been their strong suit. Outside of Loki, they've been forgettable and rather flat. Here's hoping Hela, their first female baddie, changes that. EW spoke to Blanchett, who shared a detail about her role as the Asgardian goddess of death. Blanchett confirmed that her villainous character "can manifest weapons out of different parts of her body," as well as her headdress.
We'll see how that plays out on the big screen. Along with everything else Ragnarok is trying to be.
What do you think of the first pictures? Is Thor: Ragnarok attempting to do too much?