Arrow Review: 3.07 – 'Draw Back Your Bow'
November 20, 2014 | Posted by
Arrow Review: 3.07 – 'Draw Back Your Bow'
[Warning: SPOILERS if you have not seen tonight's episode]
So after last week's debacle of an episode, it was exciting to see Arrow somewhat get back on track. Honestly, I was excited to see the writers' take on Cupid—a decently popular Green Arrow villain—but I had my reservations after her horrible introduction: the line "I am cupid, stupid," is as dumb as it sounds. However, actress Amy Gumenick does a great job as Carrie Cutter, perfectly toeing the line between campy and theatrically creepy: especially with the way she kills without remorse.
And a lot of her creepiness is thanks to the way tonight's episode was shot: for instance, when the Arrow finds her apartment, which is a shrine to him, there is a dark red color palette and a eerie score that puts the viewer on edge. By no means is one legitimately scared for Oliver's health, yet the overall ambience is enough to make the audience anxious. And best of all, Cupid is a fairly strong female villain, which is not seen that often: yes, it is disappointing that her drive is her obsession with a man, but one can forgive this because it is comic lore and she is mentally unhinged.
The audience later finds out that she has Attachment Disorder—she was a cop, who was forced out because of her strong obsession with her partner—and this fixation was transferred over to our hero when he saved her during Slades' attack on Starling City. Perhaps this is a little thin, but the character's overall craziness allows the audience to buy into her mindset, which eventually makes the final confrontation thoroughly engaging.
At the same time, there is a correlating side story that re-introduces the love triangle between Ray Palmer, Oliver and Felicity: which is starting to become one sided, with Ms. Smoak leaning towards the charming billionaire. And who could really blame her: he is peppering her with gifts, is ridiculously charming and pays attention to her—opposed to Oliver, who has been distant since the beginning of the season. So after Diggle plays mediator between his two partners—there are two scenes where Diggle attempts to individually sit down with Oliver and Felicity that are both genuine and heartfelt—Ray takes Felicity on a 'business dinner:' which everyone knows will turn out to be something more. Now, the actual dinner is designed to show Smoak's growing affection for Ray, but the resulting scene, which has a speech by Felicity, comes off extremely cheesy: especially since the writers wanted it to be a sweeping revelation.
Now as this scene comes to a close, Felicity must rush back to help Arrow because Carrie uses a computer hacker to figure out our hero's hiding spot: they briefly explain how by saying Statistic Correlation, yet that is not the point. The villain is now putting Thea at risk, even demanding a face to face with the archer or she will kill everyone in the club—a convincing threat after the events of the episode. The final confrontation has Arrow lying by saying he cares for Cupid, but cannot be with her because vigilantism is the life he has chosen: Felicity hears this and takes it as a not so subtle metaphor for her and Oliver's relationship. Again, I do not really mind the blatancy of tonight's episode because the pace is relentless: keeping what usually bogs down this show—the love triangle—moving.
Ultimately, the speech just makes Cupid mad, so she attempts to kill Arrow. And after failing to best the protagonist in a fight, she drags him into a trap by handcuffing him to a subway track: basically attempting to kill both herself and Oliver, so they can be together in the afterlife. I absolutely loved this part because the character's craziness is properly set up throughout the episode, making me believe that she would go this far to win Arrow. This eventually leads to one of the coolest moments of the season, where Queen dislocates his thumb in order to escape: thus capturing Cupid—even better, later it is revealed that she is delivered to the suicide squad, making me hope that perhaps we shall see Cutter again.
So the revelation of the hero's aforementioned speech obviously pushes Felicity towards Ray: when the two finally kiss, Oliver is walking in to tell Smoak how he feels. Yes, the oldest cliché in the book—which makes him so mad he sort of trashes his secret lair—actually happens in the show: did the writers somehow think this plot line would be fresh? Basically, the love triangle, for once, is decent in 'Draw Back Your Bow,' but this moment made it feel like I was watching The O.C. or One Tree Hill.
On top of this, there are a few minute side stories that fill out the rest of the episode. Roy is still dealing with the hardships of being a murderer, but it is not given enough screen time to develop his character. They briefly talk about it—with it sort of affecting his vigilante work—but it does not warrant any merit. It solely exists to mirror Oliver's own emotional rollercoaster: culminating when the two go to Diggle's house for a family dinner.
Also, there is a weird story between Thea and a DJ named Chase: he comes off arrogant and I hope he was not added to create another love triangle in an already over-packed show—ultimately, I have to wait and see how this pans out. And finally, the flashbacks this week is again lackluster: its only point is to create a connection between the protagonist and Tatsu, while also showing that she is incredibly gifted with a sword—something everyone knew was coming. I would not go as far to say these scenes are pointless because they are building towards a bigger picture: however, over the last few episodes, this part has been quite a letdown.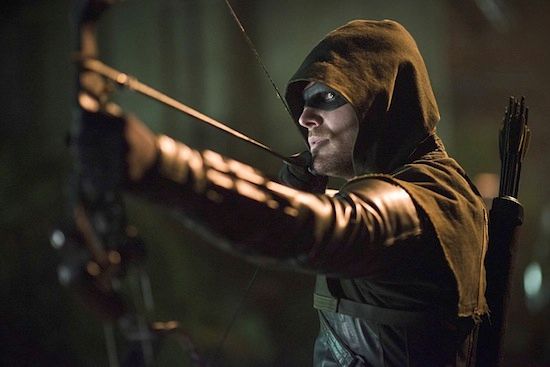 8.0
The final score: review Very Good
The 411
After a very poor episode last week, Arrow bounces back with a great villain, a decent story and some adequate conflict. At times, 'Draw Back Your Bow' could feel a little too packed, but its main aspects did enough to entertain the viewer. I am intrigued to see what they do with Boomerang, yet I am patiently waiting for the return of Ra's al Ghul: something that might not come until the midseason finale.
legend