Blair Witch (Blu-Ray Combo Pack) Review
January 6, 2017 | Posted by
Blair Witch (Blu-Ray Combo Pack) Review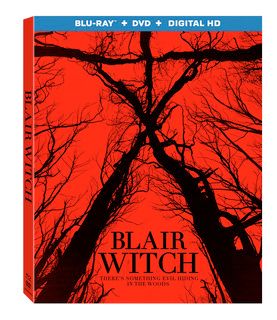 Honesty is always the best policy, especially when writing reviews, and I must confess that I have not seen the first two Blair Witch films. Thankfully, 2016's Blair Witch, which is a sequel to the first film, was still easy for me to follow and understand. This was a fear I had going into the movie. I've heard nothing good about the second film, so it is probably for the best that they didn't connect it in any way to it. I remember being asked about it in Fact or Fiction a while back, and I was skeptical about it, but I trusted the talents of director Adam Wingard and his screenwriter Simon Barrett.
The film opens with the audience being introduced to James Donahue (James Allen McCune) looking for his sister in 2014, twenty years after she has gone missing. He has found a video online of her and keeps wondering if she is still lost in the woods. That would be pretty remarkable for her to survive twenty years without any food or water of any kind. He finds the man that had the video. His name is Lane (Wes Robinson) and he has Talia (Valorie Curry) by his side. They want to come with and they are pretty steadfast in this demand, so James has to bring them along with his group.
His group consists of a documentary filmmaker in college named Lisa (Callie Hernandez) and also Ashley (Corbin Reid) and Peter (Brandon Scott). Peter doesn't think much of Lane and often mocks him and some of his beliefs, but they have the information they are looking for in order for James to find his sister, so they are trying to get Peter to not anger them too much. Before long, some strange and weird things occur in the woods along with disappearances and symbols.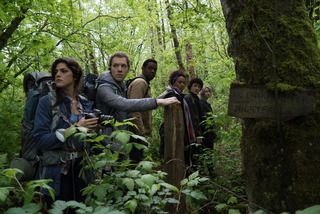 The film has a running time of 89 minutes, which really benefits it, as the pacing is terrific. It allows for the audience to get to know the key participants and their personalities, and it allows for the mood to be set up in the second half hour of the film, which is incredibly creepy and unsettling. It gives off that vibe where there are a lot of questions and the audience wants to know the answers. It is built up just perfectly with tension, a little humor, and great filmmaking. A lot of people had complained about the first one making them feel ill, but that will not happen with this flick.
It all leads up to the last 15-20 minutes when they find the house and it gets incredibly scary and unnerving. By the time they get there, the anxiety is raised to a whole new level. They were wise to not overuse the found footage formula. At times, it is not really noticeable. It is noticeable near the end of the film, but it adds to the horror as opposed to taking away from it and becoming a gimmick, which is a complaint many have with found footage films.
In the end, this film gets better and better as it goes on, and that is a testament to the writing/director duo of Simon Barrett and Adam Wingard, both responsible for You're Next and The Guest, two really good flicks. After watching it a second time, it is even more enjoyable. The trust in them was paid off with this terrific movie. The reviews and box office numbers were not what were expected, but hopefully this is the type of flick that picks up traction as the years go on and now that it is released on Blu-Ray and DVD. It is much better than the reviews or box office numbers would indicate.
Blu-Ray Info: Blair Witch is released on a two-disc Blu-Ray, DVD, and Digital HD Combo Pack from Lionsgate Home Entertainment. The digital copy can be watched on UltraViolet or on iTunes. It runs at 89 minutes and is rated R for language, terror and some disturbing images.
Video Info: The film is released on a 1080p High Definition 16×9 Widescreen 1.85:1 presentation. I always find it a little difficult to review found footage films because of the nature in which they are supposed to be presented and viewed by the public, but this one is clear and it is viewable in a way that does not look grainy or poorly shot. The picture is vivid and adds to the terror of the situation the characters find themselves in throughout the film. It has a very realistic look to it.
Audio Info: Everything is also easy to understand on the audio tracks which are English Dolby Atmos, Spanish 5.1 Dolby Digital Audio, English 2.0 Dolby Digital Audio Optimized for Late-Night Listening, and English Descriptive Audio. Adam Wingard, also the director, did the music, and he does a fine job with building up the suspense without it being too overbearing, which is something I comment on a lot. It is subtle but effective. There are also subtitles in English and Spanish.
Special Features:
Audio Commentary with Director Adam Wingard and Writer Simon Barrett: There seems to be a lot of people in an uproar on Twitter from what I've seen on the director's page about this commentary track. He says that people are not understanding that they take the work seriously but not themselves. I thought the commentary track was entertaining. They realize they are making a movie and they are not changing the world, and they have some fun. I had no issues with it, and I enjoyed it quite a bit. The two have an awesome rapport. Side note: I was scheduled to interview the two of them about four years back, ended up waiting for them or the publicist to call me for an hour, and it never happened. I was bummed, but I know things like this can happen. They seem like genuine dudes that love horror and work really well together.
Never Ending Night: The Making of Blair Witch (6-Part Documentary) (01:46:00): This can be watched either using the play all option or you can watch one at a time, which I always enjoy. There is some great behind-the-scenes footage here, and I can definitely tell it was a hard/fun shoot. They break down everything that one could want to know about the film from why they wanted to make it, how they made it, the cast, shots on location, putting the film together, and their approach. Adam Wingard talks about throwing the audience in the environment and making it relentless.
House of Horrors (Exploring The Set) (15:50): Adam Wingard and Tom Hammock, the production designer, talk about the set and what they were hoping to accomplish with it and how it came together. They wanted to try to match some things from the original film when putting the set together while also adding their own unique touches.
8
The final score: review Very Good
The 411
I really had a blast with Blair Witch in a way that I did not expect. I know they tried a different marketing campaign with it, and for those who read my reviews, you know I'm all about things being different and outside the box. Maybe the film needed more time to be built up or maybe all of the Paranormal Activity movies have soured people on found footage. It can be hard to get into the minds of the audience at times and wonder what they are thinking in a particular case. Nevertheless, when you have a talented director and writer duo that know horror, love horror, and put their all into it; it shows in the final product. That is the case here. This is not your average found footage film and it is its own film that is really, really good and supremely well made. The way Adam Wingard is involved in many aspects of the filmmaking process is a testament to him. It was a great ride, and I love when a film can keep me glued to my chair and interested in exactly how it is all going to play out. The Blu-Ray is awesome as well with a digital copy, an almost two hour documentary, and a highly entertaining commentary track. It is worth owning for horror fans, without question. I'm still trying to figure out all of the negativity surrounding it, but it didn't prevent me from enjoying it. I was skeptical going in, but they knew what they were doing here.
legend