Could DC Survive Without Batman?
March 1, 2017 | Posted by
I'm Steve Gustafson and thanks for stopping by. Don't forget to check out 411mania's Comic Book Review Roundtable, every Thursday! Read up on the best reviews and let us know what you're reading as well. Click to read the latest Comic Book Review Roundtable! Super Sons #1, Wild Storm #1, and more!
Now, on with the show!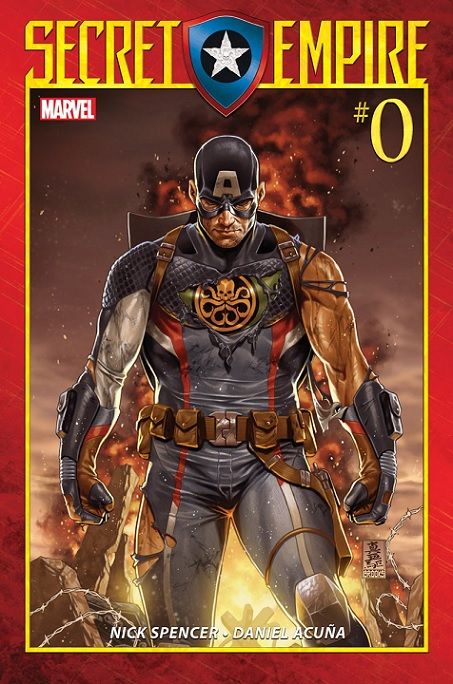 Two weeks ago we asked, "How Will Marvel's Secret Empire Change Captain America?" Here's what you all had to say:
JestersTear: "I just don't give a shit how / when / if / what will change. Marvel and DC have taught us to not care about anything in their comics because the next big event will retcon / alter / change it.
We no longer have a reason to care about anything that happens to these characters because it will all be undone in a few months to a year."
Mark of Excellence: "Do not give a fuck. There's been too many of these "Michael Bay" moments with Marvel in the last decade. Secret Wars and the re-imagined, politically correct characters have kinda ruined the whole line for me anyway."
BoycottWWE: "Ya ever since secret wars I just can't pick up a comic anymore, it's played out"
Richard H1S: "This reminds me of world war hulk and or shadow land. Set up a hero to be the villain, fast forward to two months after the event and no one even bring some it up anymore."
Al Lobama: "So it's Steve Rogers vs. the Marvel Universe, but "This is not heroes fighting heroes, this is heroes fighting a bad guy," There is NO way Axel Alonso could have said that with a straight face. Hell, I could barely keep a straight face myself when I looked at that cover and saw Rocket Raccoon leading the charge of heroes. ; )"
Jim Jones: "Man, the folks in charge of DC and especially Marvel have really lost touch with their audience.
I mean, I stopped collecting years ago. I just say that based on how people react to the content and how the sales have been declining.
Also, subtext is a thing. Comics used to have it. Now they seem to be alienating their audience on purpose thinking some new and more desirable audience will just show up. They won't. It's a niche market. You don't get to choose your audience."
Matthewdubs: "I used to love comic books. Did they forget about how to tell stories?"
KipSmithers: "Don't read comics or really care about the story, but that artwork is terrific!"
Adam: "I tend to go into any story lines as non canon, then I decide if I like it or not. Less stressful"
Chris K: "Maybe somebody will come in with 7 Dragonball, summon Shenron, and wish everything back to normal. Oh wait… we have Marvel writers for that."
Bruce Wayne: "#Event Fatigue #Money Grab"
To read ALL the comments, CLICK HERE! As always, thanks for the input!
This week we discuss…
Could DC Survive Without Batman?
That's a crazy question, right? It's unthinkable but after checking out the sales from January, the idea swung in and made a great "What if?" Could DC survive without Batman?
The numbers for January 2017 comic book sales came out and comics were up a little from last January while graphic novel sales were down. What caught my eye was the Top 10. Yes, it's only a one-month snapshot but it reflects a trend that DC has had for quite a while.
1. U.S.AVENGERS #1
2. BATMAN #14
3. BATMAN #15
4. JUSTICE LEAGUE/POWER RANGERS #1
5. THE WALKING DEAD #162 (MR)
6. ALL-STAR BATMAN #6
7. JUSTICE LEAGUE VS. SUICIDE SQUAD #3
8. MONSTERS UNLEASHED #1
9. AMAZING SPIDER-MAN #23
10. JUSTICE LEAGUE #12
Every DC book in the Top 10 had Batman in it. Oh, and DC's Batman Vol. 1: I Am Gotham was the bestselling graphic novel of the month.
It's crazy to think that Batman has been around since 1939, where he proved to be so popular that a self-titled ongoing comic book series was launched the next year.
Over the years his tone and style have changed, settling on the Batman we're familiar with now but his impact on DC comics can't be overstated. I dare say, even more than Superman, Batman is DC comics. his influence, sales, and the Bat Family are integral parts of the universe. I can't think of any other character who has more weight on its publisher. You could make the debate for Spider-Man over at Marvel but while his importance is obvious, they have more than enough characters to take up the slack.
Batman's sales are the one constant for DC and books that he appears in get a boost from his presence. The number of "classic" stories he's been involved in is more than any other character as well. The Dark Knight Returns, Year One, The Killing Joke, Son of the Demon, Dark Victory, The Long Halloween, Red Rain, Hush…the list goes on and on.
Then you take the Bat Family. who have achieved a level of success of their own. From Nightwing and Robin to Alfred and Batwoman. And I haven't even taken into consideration his rogue gallery of villains, who are the best in the comic book industry.
But as I said, this is just a crazy "What if?" from someone who has had the flu for a couple of days.
That's all the time I have. Check out our Comic Book Reviews tomorrow and see you next week!