Creed (Blu-Ray Combo Pack) Review
March 1, 2016 | Posted by
Creed (Blu-Ray Combo Pack) Review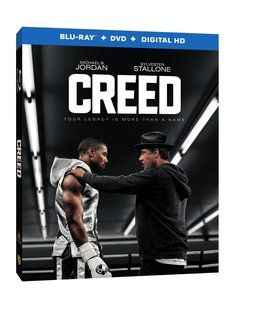 Back when I was on Facebook, a friend linked me to a trailer for the upcoming film, Creed, which was being called a spin-off of the Rocky series. I must admit I was skeptical and a little cynical about the idea. In my mind, they had regained their respectability with 2006's Rocky Balboa. Why tarnish that? When I saw it was being directed by Ryan Coogler and starring Michael B. Jordan, the director and actor behind 2013's amazing Fruitvale Station, and also featuring Sylvester Stallone, I felt a lot better about the idea of another Rocky film (I'm not sure if others are putting this in the category of a Rocky movie or consider it a separate franchise, so bare with me in this review. Many might have different viewpoints, but to me, it looks and feels like a Rocky movie.) It was one of those ideas that sounded great on paper, and I'm happy to report the finished product lived up to the expectations I had for Creed.
Creed opens with young Adonis Johnson (Michael B. Jordan) fighting, much like his father Apollo Creed, although this type of fighting is frowned upon when he's staying at a youth facility. Mary Anne Creed (Phylicia Rashad) shows up to bring him into her home, even though he's not her real son. Apollo Creed had an affair with another woman, and Adonis never got the chance to meet his father as he passed away before he was born. As far as his real mom, she also passed away. Adonis works a 9-5 desk job, even though it doesn't appeal to him in the least. He's a fighter, deep down, and that's what he wants to do more than anything in the world.
Mary Anne doesn't want to take care of another fighter after going through so much pain and turmoil with her husband, so Adonis moves to Philadelphia in an attempt to get his boxing career moving in the right direction. Adonis got his start in Tijuana, Mexico, where he's an undefeated 15-0, but it's hardly the type of fighting anyone takes seriously. He shows up to Adrian's, the restaurant named after Rocky Balboa's late wife and tries to convince the Italian Stallion to train him. He's reluctant at first and content to live his lonely life without his wife and Paulie. However, before long, he sees that he can help this kid and even has some regrets about how things ended between him and Creed in Rocky 4 in terms of Creed's death.
I must admit that I loved this film even more on Blu-Ray. I had goosebumps while watching it and was moved to tears, which didn't occur while viewing it in the theater. I loved it in the theater, but the power was felt even more on Blu-Ray. It truly is a shame that Michael B. Jordan was not nominated for an Oscar for this performance and this film was not nominated for Best Picture. Michael B. Jordan gave it his all, physically and emotionally in this performance. It's also the best Rocky film since the original in 1976. It has all of the elements of the original that made it such an emotional and moving film, but it's done in a modern way.
Stallone is an actor that has frustrated me for years. I'm not against his action movies, but when I see him in films like this, I see the range, depth, and charisma he has as an actor. Sure, it is fun to watch him blow things up and have fun with his action buddies, but he should do more dramatic work and even comedies to even it out. The film has some great one-liners and comedic moments from Stallone. Of course, he knows this role, as he's played it so many times, but still, I don't see why that type of acting in a different role wouldn't translate to other films.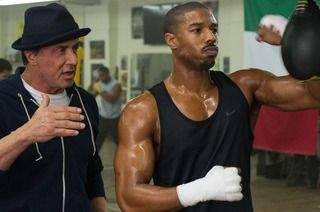 This is one of the best films of 2015. I realize I've thrown that around a lot lately, but this is the time of year when they all come out on Blu-Ray, before or after the Oscars. I give credit to Ryan Coogler, Sylvester Stallone, and Michael B. Jordan for making this a memorable and heartfelt film. I can now say I've seen and reviewed two Rocky movies for 411wrestling.com in my lifetime and also saw both of them on the big screen. I have one minor complaint about the movie, though, and it was the love story between Adonis and Bianca (Tessa Thompson). She gives a great performance, but it feels like it could have been cut from the film and it wouldn't have suffered all that much. It seemed sort of tacked on for the sake of adding a love story.
Blu-Ray Info: Creed is released on a two-disc Blu-Ray Combo Pack from Warner Brothers Home Entertainment. It also comes with a Digital HD copy thanks to UltraViolet. The film is rated PG-13 for violence, language, and some sensuality. Its running time is 133 minutes.
Video Info: Released on 1080p High Definition 16×9 2.4:1, Creed is an absolute stunning Blu-Ray. The picture just popped off the screen and the movie really came to life. Again, I saw this in the theater, and I honestly felt like the Blu-Ray picture quality was way better. I love my films in this video format where the picture is just so clear and colorful. I have a friend who is from the area, and he has told me that the film really does Philadelphia justice. The Blu-Ray captures the grit, the hard work, and the grandeur of the city perfectly.
Audio Info: The Audio formats are DTS-HD Master Audio: English 7.1, English Descriptive Audio 5.1, Dolby Digital: Françias 5.1 (Dubbed in Quebec), and Español 5.1. Subtitles are included in English, Françias, and Español. I really need to get a hold of the soundtrack for this film, as I absolutely adored it. The back of the Blu-Ray slipcover says the film features music from Future, Meek Mill, and Tessa Thompson. I loved the song used in the end credits. I stayed long after the film was over to listen to as much of the music as I could until there wasn't any more. The same applied for the Blu-Ray release. It enhances the tension, the fights, the drama, you name it. I love a great movie soundtrack. Besides my love of movies and the Green Bay Packers, I also LOVE great music. When you combine the two (movies and music), I'm in heaven.
Special Features:
Know the Past, Own the Future (14:49): This is a nice special feature which includes interviews with many of the actors, key contributors, and the director as well. Ryan shares how he fell in love with the Rocky movies by watching them with his father, so it was very personal to him. He also knew Michael B. Jordan was the right guy for the role because of working with him on Fruitvale Station. Clips are also included from previous Rocky films. We hear from actual fighters who talk about how this character, Rocky, inspired them and how they enjoyed the training scenes in the films. In the end, Ryan Coogler said he made the movie for his dad. Stallone thought the idea was insane at first but then found it interesting and was intrigued by it.
Becoming Adonis (05:46): Anyone who has seen the film can't help but notice how incredible Michael B. Jordan looks as Adonis Johnson. His body looks perfect. Here, we learn about the process it took for him to get to that point from changing his diet to spending one year training. Stallone even says that Michael B. Jordan was in better shape for this film than Stallone was in any of the previous films. A lot is talked about getting it right and making it authentic.
Deleted Scenes (19:36): Eleven deleted scenes are included here, which I'll mention a few, as deleted scenes are probably best watched after seeing the film. Adonis is seen looking at his father's old stuff, getting an apartment, and spending lots of time with Bianca. Rocky, on the other hand, is looking at old VHS tapes, scrapbooks, and talking to Adrian at the cemetery in some of his scenes. As far as the deleted scenes, I found a few of them really interesting and layered.
9.5
The final score: review Amazing
The 411
Even as I'm wrapping up this review, I still feel like I'm missing something and leaving something out. There is a lot going on in this film, and I was riveted throughout most of it. The only thing that didn't interest me as much was the love story. Again, both actors do a great job, but I feel the movie is more about Adonis coming to terms with his life and who he wants to be as a boxer and as a person. As the tagline says, "Your legacy is more than a name." At first, he doesn't even want to use the name Creed as he wants to stand out on his own and make his own distinct impression. The relationship and character chemistry between Stallone and Jordan is off-the-charts. They are the heartbeat of the movie. Another minor complaint that I forgot to mention earlier, something I have with most boxing movies, is the actual boxing. I'm much more interested in the relationships, the story, and their personal journeys. Balboa says that Adonis taught him a few things along the way and there's something very poignant about that. No matter the age difference in terms of friends, or in this case, they like to call each other family, you can still make a difference in someone's life. This is a movie that needs to be purchased on its opening release date on Blu-Ray (be on the lookout for the SteelBook of this film, which is only at Target.) The fact that I watched this movie with both my girlfriend and my dad and they both loved it equally speaks to the power of this franchise. It reaches everyone. The special features are pretty good as well, but a commentary track with Stallone, the director, and Michael B. Jordan would have really made this an A+ Blu-Ray. The audio/visual aspects are also better than what I watched in the theater, which says a lot. As the kids today say, this movie gave me the feels.
legend