Game of Thrones: The Complete Second Season (Blu-Ray) Review
February 27, 2013 | Posted by
Game of Thrones: The Complete Second Season (Blu-Ray) Review
Game of Thrones: The Complete Second Season
HBO
560 Minutes
The biggest complaint people have over adaptations of fantasy novels is that it's nearly impossible to do justice to a work in two or three hours. However, Game of Thrones shows another facet: That even with over ten hours and a good budget, it's hard to fulfill every piece of a book. But you can do more than enough justice in what you do have, especially when you have an amazing cast to back you up. The first season of the adaptation of George R.R. Martin's A Song of Ice and Fire series was a massive ratings hit, earning an Emmy for Peter Dinklage and becoming the newest "Must-see TV" for geeks. Its second year took a few more departures from the material but delivered another fantastic year that balanced its epic story with great drama and humor (not to mention some very adult content) to keep fans enthralled. Now on Blu-Ray, the series continues to set itself apart from anything else on TV and why you love to watch.
The Series
We pick up a few weeks after the events of the season 1 finale as things in Westeros have gotten bad. Following the death of his father Robert, Joffrey Baratheon (Jack Gleeson) is now King of the Seven Kingdoms atop the Iron Throne. Unfortunately, he's also a budding sociopath whose arrogance and refusal to listen to others pushed the public beheading of former advisor Ned Stark. This has naturally led Ned's family to declare war as son Robb (Richard Madden) now declares himself "The King of the North" to join others in rebellion against the Iron Throne, aided by his mother, Ned's widow, Catelyn (Michelle Fairley). Joffrey doesn't know that he is not Robert's son but rather the product of an incestuous affair between Robert's wife Cersei Lannister (Lena Headey) and her twin brother Jamie (Nikolaj Coster-Waldau), who's held prisoner by the Starks. The Lannisters hold Sansa (Sophie Turner), the oldest Stark daughter who's starting to realize how dangerous Joffrey is. Worried about his grandson losing control, Tywin Lannister (Charles Dance) has outcast dwarf son Tyrion (Peter Dinklage) be named Hand of the King. Tyrion thus does his best to handle the court, including Petyr "Littlefinger" Belish (Aidan Gillen) and sneaky eunuch Varys (Conleth Hill), getting aid from sardonic sell-sword Bronn (Jerome Flynn) and lover Shae (Sibel Kekilli).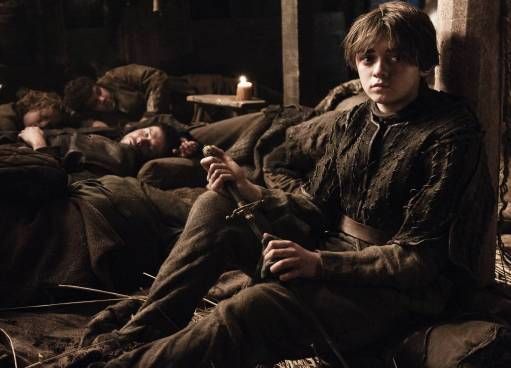 The other Stark daughter, Arya (Maisie Williams) escaped King's Landing, cutting her hair and soon finds her way into the service of none other than Tywin. Meanwhile, Robert's brothers Stannis (Stephen Dillane) and Renly (Gethin Anthony) each claim the Iron Throne for themselves and are soon at war. Stannis is aided by the alluring priestess Melisandre (Carice van Houten) whose work soon pits Catelyn and skilled but rough knight Brienne (Gwendoline Christie) on the run. Theon Greyjoy (Alfie Allen), long held hostage by the Starks, is able to finally return home to the Iron Islands where his father Balon (Patrick Malahide) and arrogant sister Yara (Gemma Whelan) push him to accept his fate with his family. To prove his loyalty, Theon sets himself after the Starks' home of Winterfell, ruled by crippled Bran (Isaac Hempstead-Wright) who is having strange dreams that wilding maid Osha (Natalia Tena) seems to think mean something. Across the sea, the widowed Daenerys Targaryen (Emilia Clarke) tries to use her newly-born dragons to build an army, aided by Jorah Mormont (Iain Glen). And beyond the Wall, soldier Jon Snow (Kit Harrington) is about to discover a darkness greater than the war waging forth.
The first season of the show was great with bold strokes. Even those who had read the books still felt the shock when Sean Bean's Ned Stark was beheaded after trying to expose the truth of Joffrey's parentage and proved the series was willing to take huge dramatic risks. That just continues here as it's clear season 1 was just the set-up, now the game truly begins. The battles between the various factions fighting for the throne are key but more important is the interpersonal relations. This is not a world where honor is held dear (as Tyrion nicely puts it to the leader of the guard who murdered all of Robert's bastard children throughout the city: "I'm not questioning your honor, I'm denying its existence.") but everyone for themselves and the show brings that to life brutally and wonderfully. True, we lose some of the fantastic language of Martin's books (I especially miss bits like Tyrion introducing Bronn with "He'll change loyalties three times before supper, don't take it personally") but the writers still keep to the spirit of the books, which is important. Thanks to its larger budget, we get the fantasy elements of dragons as well as the birth of a shadow monster among other touches, reminding us this is still fantasy despite how realistic in tone it takes.
That realism is sold by the actors. Having won an Emmy and Golden Globe for the first season, Dinklage continues to rule his role with amazing skill. He's shown easily handling being the Hand with a brilliant bit of finding out which of the various advisors is an informant for Cersei by giving each fake information and seeing which one Cersei bites at. His humor is plain, especially with his great banter with Bronn ("Would you kill a baby if I ordered you to?" "No. I'd ask how much first.") but also a touch of honor and even love for Shae although clear he hates to show that. He's matched by Headey, who takes a character we are meant to hate and adds some pathos to her and even sympathy. A major moment in the first episode is when she slaps Joffrey after an insult and he hisses he can have her killed and you see Cersei realizing for the first time that her lifelong coddling of the boy has created a monster. While she and Tyrion bicker, we also get moments that show their connection, that family trumps all and each actor is able to showcase that tiny bit of warmth in their twisted games. Meanwhile, Gleeson is truly terrifying as this boy convinced that being a king means he can do whatever he wants, from ordering Sansa beaten to having a pair of prostitutes wail on each other for his amusement and doesn't understand why he's not respected for it all. Turner spent much of the first season indulging in being the princess but now realizes the darkness in Joffrey and the death of her father waking her up to the realities of her situation. Her fear of things such as her first "bleeding" and how she's become a pawn in this game adds to the tension of the King's Landing scenes that dominates the show.
Meanwhile, Madden steps up to the plate well as Robb accepts his job as a leader, out to avenge his father but still knowing he has to lead his kingdom and followers. He has a good connection to Talisa (Oona Chaplin), a nurse on the battlefields who he's soon drawn to despite the urges to marry a noblewoman for an alliance. Fairley has new steel as Catelyn, still mourning her husband but doing her best to help her son, even though he refuses her aid lest he be seen as leaning on his mother too much. Her clashes with the captured Jamie are great as Coster-Waldau spends most of the season wrapped in chains but keeping his dry humor and knowledge that honor is an overrated concept. Christie is a great find, perfect as the brawny Brienne, a capable fighter with loyalty to Catelyn and a nice snarky banter with the captured Jaime. The conflict between the two brothers is well played with Van Houten fantastic as the seductive Melisandre who has hands down the freakiest birth scene in TV history. Another good role is Margaery Tyrell (Natalie Dormer), the wife of Renly who knows her husband is secretly gay but willing to work with that for his claim to the throne, Dormer showing unique cunning and a quick grasp of this game.
Mostly background in the first season, Theon gets a very meaty role this year as his return home is not as expected, no hero's welcome but rather an awkward (to say the least) reunion with his sister and hwo clearly his father considers him a waste as a son. This drives Theon to turn on the Starks and lead an attack on Winterfell, Allen terrific showing Theon torn between family and those who cared for him for years, wanting to impress and be respected but failing. It's a major turn that the actor pulls off well with a bitter end for him. Meanwhile, Williams shows experience beyond her years as Arya, handling her captivity well (when asked why she's posing as a boy, she instantly says it's safer to travel which Tywin believes). She strikes up a friendship with mysterious knight Jaqen H'Ghar (Tom Wlaschiha) who seems able to kill those she wants and has an interesting bonding with Tywin (who Dance plays with a cold certainity that explains a lot of why his name intimidates people). Heampstead-Wright has a nice touch as Bran discovering new abilities and trying to handle the betrayal of a friend while Jon is put on a long quest in the icy reaches beyond the Wall, meeting the feisty Ygriette (Rose Leslie). For the most part, Daenerys' story is the weakest of the lot, mostly time in the desert before coming to a city where her dragons are considered key property and involved with power players. But it does have a good payoff with her that sets up the next season nicely. Plus nice turns like Liam Cunningham as Davos, a soldier trying to warn Stannis of getting too much into the dark religion of Melisandre and Sandor Clegan (Rory McCann) alias "The Hound," a brutal guard for Joeffrey that add to the amazing world of characters.
The season does play like that well, reminding you this is truly a novel for television. Yes, it's easy to dismiss due to the cursing and constant nudity (the infamous exposition scenes for example and nude turns by Dormer and Tena) but the show is expert at distilling the massively complicated backstory in a good way to bring you up to speed quickly. The production values have improved this year, better work with cameras and sets and effects and able to show more fine battle sequences. That's all showcased in episode nine, an epic battle scene mixing a boat on fire with attacks on land that comes off as big-budget as anything Peter Jackson can produce. The finale brings these elements together while also boasting a final scene that sets up season three in a major way. The series has always been about peeling back the layers of fantasy and show how, no matter the setting, the quest for power is never pretty. But in Game of Thrones, it's damn wonderful to watch, darkness and all.
Rating: 9.0 out of 10.0
Video
As always, HBO provides a great transfer in keeping with their cutting-edge show with a near- flawless 1080p AVC encoded 1.78:1 transfer. There are some minor banding issues but you can overlook those, too enraptured by the amazing detail of the show, from its authentic looking sets to nuances of expressions and even the detail of the costumes. Scenes like the battle of episode nine and the appearance of the long-awaited characters in the final scene are brilliant on TV, crisp and clear and helps enthrall you. Sure, some might appreciate that detail for the nude scenes but even in simple conversations, the presentation is exquisite and helps pull you into this novel for television. Another true gem from HBO worthy of its material.
Rating: 10.0 out of 10.0
Audio
5.1 DTS-HD Master Audio as flawless as the picture, every sound clear from dialogue to clash of swords to the backgrounds in forests and the icy chill beyond the Wall that pulls you into every scene wonderfully. You can feel the shakes and rumbles of massive armies and the rocking of explosions along with the thrill of night scenes and pounding rain. Subtitles in English, French, Spanish, Korean, Thai, Portuguese and Mandarin Chinese help you understand some of the nuances of the talk that accents might hide and even some details you might have missed, more than enough to entertain with this stunning work.
Rating: 10.0 out of 10.0
Special Features
You can always count on HBO to provide some great bonus material and for one of their flagship shows, they pull out the stops. Whereas the first season had seven audio commentaries, this one boasts a dozen with just episode five having no commentaries at all:
"The North Remembers" with executive producers David Benioff and D.B. Weiss
"The Night Lands" with Alfie Allen and Gemma Williams
"What is Dead May Never Die" with writer Bryan Cogman and director Alik Sakharov. Secondary track with Sophie Turner, Maisie Williams and Isaac Hempstead
"Garden of Bones" with Carice Van Houten and Liam Cunningham
"The Old Gods and the New" with Kit Harrington, Rose Leslie and co executive producer/writer Vanessa Taylor
"A Man Without Honor" with Benioff and Weiss
"The Prince of Winterfell" with Nikolaj Coster-Waldau and Michelle Fairley
"Blackwater" with George R.R. Martin. Secondary track with Peter Dinklage, Lena Headey and director Neil Marshall.
"Valar Morghulis" with special effects workers Rainer Gombos and Steve Kullback. Secondary track with Emelia Clarke and co-executive producer/director Alan Taylor.
Each one is more than worth listening to and you don't mind repeating episodes to get different outlooks. Gleeson is given huge props for more adult than he seems and "someday he'll be teaching Hebrew to undergraduates amazed to find him on this show." Allen used the fact he was mostly background in season 1 to fuel his performance as Theon this year, wanting to make the right choices but failing constantly. The kids are a true delight, doing a rap to the show's opening credits theme and being exposed to adult material with Williams needling Turner on how the latter gets to act in a palace with nice dresses while Williams is in the mud all the time. There's a lot of discussion on how scripts typically start out as three-hour versions that need to be cut down including some fight scenes having to be edited. Location shooting is always tough with a storm blowing away tents and shooting in Iceland was a major challenge so often, they have to rewrite scenes to fit the location properly. Cogman was excited to introduce Briene, one of his favorite characters and using the camera to make her look taller on screen. A fun bit is how newer actors are often told they don't have a lot to do but "Just wait till next season" to remind you how this is a novel for television. The Van Houten/Cunningham one is a bit tame with her shushing him and him reminding her "people expect us to talk!" Taylor gets a good crack on how she was told during an execution scene that "there can never be too much blood." We get mentions of other shows as Leslie cracks "this is a lot different than Downton Abbey" and dry remarks on "our throat cutting is big but still way below Spartacus." The best commentaries are for "Blackwater" as Martin is a bit dry, going into the history of the books and families but liking how they followed his hating the cliché of two armies marching against each other in straight lines. The other one is more lively with Headey dropping F-bombs all the time, Dinklage singing and noting how he was happy they didn't make Tyrion's injuries as gruesome as in the book. All told, excellent insight to the creation of the show and fun backstage stories to remind you why it resonates so well.
Each episode comes with an In Episode Guide that lets you in on histories of characters and locations as well as backstories of the land. A separate part allows you to access the Histories and Lore where you see artwork with voiceovers of characters explaining events and tribes well for newer viewers, fun bits like how Robb and Theon share their differing views of the battle for the Iron Islands. War of the Five Kings gives an overview of each of the five claimants to the Iron Throne, their claims, their armies and backgrounds to flesh out the grand conflict.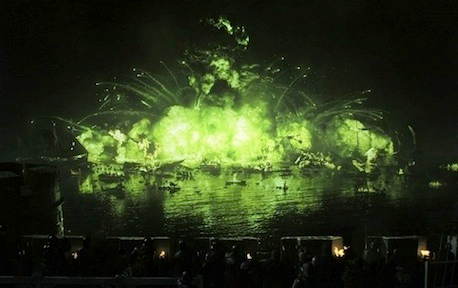 Creating the Battle of Blackwater Bay (31:16) is a focus on the creation of the centerpiece of the entire season. Benioff explains they didn't have the budget or time for any major battles in season 1 but knew they had to have this as it's a key turning point of the entire series. It goes in depth to the building of a huge ship ("we don't have to make it float so that's an advantage") and using pre-viz technology to get an idea how things would go. Building the castle wall sets was a big event as well as figuring out the style of the huge explosion set off, something never used before on the show. The stuntmen are given huge credit for their work as well as crafting various weapons, including the 15,000 feathers needed for arrows. The CGI guys helped a lot with adding in thousands more soldiers to putting in arrows to match guys falling and the mood of the show. It just makes you appreciate that amazing scene all the more and the work required by everyone to do justice to Martin's work.
Game of Thrones: Inner Circle (24:03) is a roundtable discussion between Clarke, Harrington, Headey, Fairley, Cunningham, Benioff and Weiss. They touch on the themes of the book and bringing it all to life with observations like Clarke saying Danerys doesn't have a choice in what she does and doesn't quite get how others don't share that drive. Harrington talks of the nightmare of shooting in Iceland just making his sequences more authentic and Headey shares insight to trying to insert some sympathy in Cersei. A big thing is on the insertion of dragons and other aspects, that they're trying to create a world that's "myth with evidence of it being real" and the birth of the dragons in the season 1 finale means a change to this world. A good talk but short as you could easily listen to these people share for another half hour.
The Religions of Westeros (7:34) looks at the various themes and beliefs of the show. Martin is in his element creating the backgrounds and explaining the Seven Gods of Father, Warrior and Smith for males, Mother, Maiden and Crone for females and the Stranger representing death. A bit more dry but still good insight to the world of the show.
Also spread around are some easter eggs of deleted scenes, most obviously cut for content but fun ones like a good Littlefinger/Varys scene.
Rating: 10.0 out of 10.0
The 411: As great as the first season was, Game of Thrones only gets better in its second year with bold and daring character arcs and twists as well as a stunning battle scene that puts most big-budget movies to shame. The cast is at the top of their form and while the nudity and blood may turn some off, it adds to the realism of a fantasty world and the detail of the production pulls you in. The Blu-Ray makes it better with perfect picture and sound as well as extras that flesh out the creation of the show and the care put into it. For fans of the novels and newcomers, this is truly a novel for television that deserves to be immersed into for a truly rich experience.

Final Score:  9.5   [  Amazing ]  legend