Gangster Squad Review
January 12, 2013 | Posted by
Directed by: Ruben Fleischer
Written by: Will Beall
MPAA Rating: Rated R for strong violence and language
Runtime: 113 Minutes
Starring:
Josh Brolin – Sgt. John O' Mara
Ryan Gosling – Sgt. Jerry Wooters
Sean Penn – Mickey Cohen
Emma Stone – Grace Faraday
Anthony Mackie – Officer Coleman Harris
Michael Pena – Officer Navidad Ramirez
Robert Patrick – Officer Max Kennard
Giovanni Ribisi – Officer Conway Keeler
Nick Nolte – Chief Parker
Mireille Enos – Connie O' Mara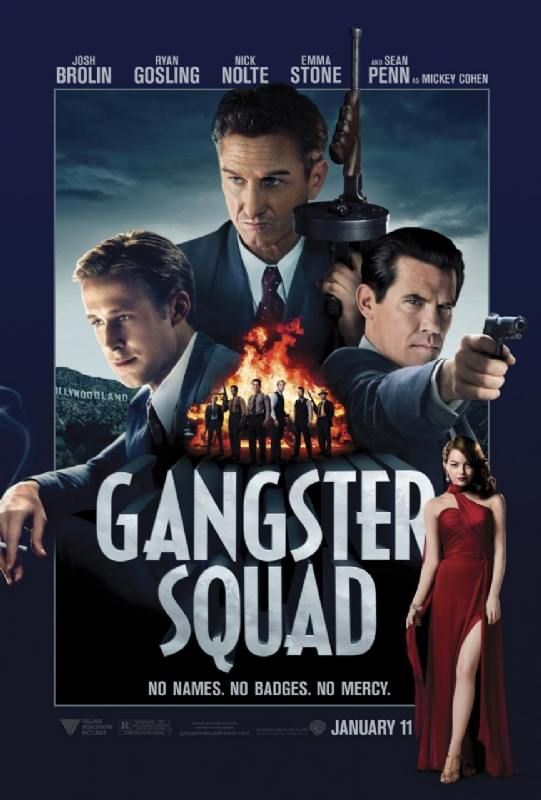 You ever watch a movie that had a better trailer than the movie itself? I'm willing to bet you have. There is nothing that beats the frustration of seeing a film that doesn't live up to its full potential. Sadly, this is such the case with Gangster Squad. When the trailer hit screens last year, we were promised a fun and stylishly slick film unlike any other. The trailer showed a montage of gun fights and beautiful women, while pleasing our ears to the sounds of Jay-Z. The final shot ended with a clip of Ryan Gosling delivering justice in the form of a shotgun blast to a gangster's face. Hell yeah, right? Well, the last few days I've been seeing many critics speak negatively towards the film, and I was crossing my fingers that they were wrong. I'm sorry to say it to the readers, but this time they have a point.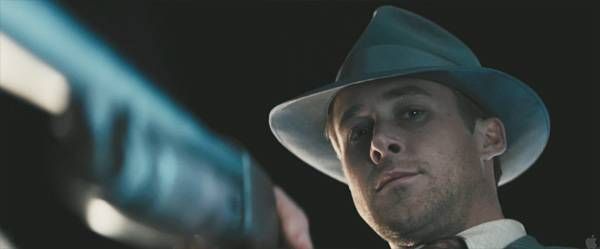 Gangster Squad centers on Sgt. John O'Mara (Brolin), a dedicated man of the badge who has seen his lovely city slowly become corrupt thanks to a former boxer turned crime boss by the name of Mickey Cohen (Penn). The film has an excellent start as it sets up all the players in this game of gangsters versus the LAPD. Cohen has an extreme over the top introduction to his character from the beginning. The way Penn plays the role was constantly giving me flashbacks of 1990's Dick Tracy. Ryan Gosling is charming as ever during the first act of the movie as Sgt. Jerry Wooters. Gosling and Emma Stone have great chemistry during the first half, but for some odd reason feels forced later.
John O' Mara is ordered by Chief Parker (Nolte) to wage war against the crime world in Los Angeles, and put an end to Mickey Cohen for good. As Sgt. O'Mara puts together a team to accomplish his mission, what follows is a build up that has an A-Team type of vibe. I almost half expected Brolin to put a cigar in his mouth and drop the famous line, "I love it when a plan comes together." As the task force is assembled, we're humorously introduced to the squad, which includes a great ensemble, including Anthony Mackie, Michael Pena, Giovanni Ribisi, and Robert Patrick aka T-1000. At this point, you're pumped and ready to see the team kick some serious gangster ass.
The biggest problem though is right after this point in the film, it begins to stop having fun with itself. All of a sudden, the glossy tongue in cheek tone begins to switch back and forth to a film that wants to take a semi-serious direction. What results is a distracting unbalanced tone that can't decide if it wants to be a stylized pulp gangster film with humor, or a dramatic exaggeration of the inspired events. The story never once establishes a great balance of both.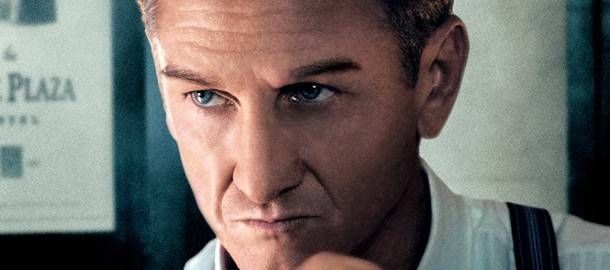 Now that we are being asked to take these cinematic elements seriously, acting becomes unintentionally funny, dialogue becomes somewhat terrible in delivery, and scenes lose their overall impact on the viewer. This is a classic example of a film that wanted to have its cake and eat it too. For example, I mentioned earlier that the Mickey Cohen character reminded me of the film Dick Tracy. That type of acting style would not work in a film such as The Untouchables, and it's very clear in different moments of the film that it wants to be like that movie.
Another thing that bothered me was the film's cinematography. I'm not sure why but the glossy pulp feel the film had going for it became very inconsistent as the movie progressed. I even noticed towards the finale that it seemed as if they were shooting the film in the same manner as Public Enemies, which felt completely out of place. I may be incorrect on this, but if you notice this also, let me know.
I want to be clear that I'm not implying that Gangster Squad is a terrible film. It's just not the exceptional one we have all been expecting. With all the amazing talent this movie had behind it, the potential just somehow ends up being completely wasted. There was so much fun to be had with Gangster Squad, but what is left at the end of the day is a lot of missed opportunities. However, I do believe if you understand all this, and lower your expectations, you may still have a good time at the theater. As for me, well, it will take some time for the disappointment to fade.
The 411: The story has trouble deciding if it wants to be fun or serious, and ultimately fails at finding a consistent balance in both. The cast has incredible charm during the setup, but loses traction in character investment in the second half. Even if there is entertainment to be found in Gangster Squad, the film never reaches its full potential. Bottom line, Gangster Squad ends up being a film that does not live up to the exciting mobster flick that was promised.

 
Final Score:  6.0   [ Average ]  legend