Henry: Portrait of A Serial Killer (30th Anniversary Blu-Ray) Review
December 6, 2016 | Posted by
Henry: Portrait of A Serial Killer (30th Anniversary Blu-Ray) Review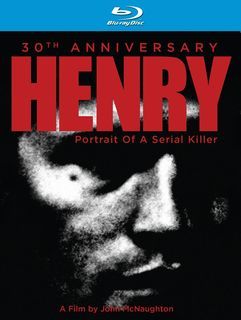 Henry: Portrait of A Serial Killer is, without question, my favorite horror film of all time. Even though it is thirty-years old and I first saw it about a decade ago, its impact is still felt to this day. I discovered it thanks to looking up old YouTube clips of Siskel and Ebert and hearing them rave about the film. For a lot of people, they found out about the film through word-of-mouth, and it achieved status as a film that had to be seen and a film with a powerful impact. While it is not an overly bloody film at all, it is most disturbing in tone and in performance. That is really saying something.
Michael Rooker plays Henry, and he seems like an average, everyday person to most. He tells a waitress she has a pretty smile and shares an apartment with Otis (Tom Towles), someone he met in prison. Henry is soft-spoken, low-key and known to snap at any minute and kill someone. The film is brilliant in the fact that most of the murders are shown off camera. It leaves it up to the imagination of the audience, as all that is heard is the screams and the carnage that is left behind. Otis gets in on the killing, but he does not have the smart intelligence as Henry.
Henry talks about how it is important to not leave any trails behind. If he is going to kill people, he is going to kill them four different ways, so the cops have no way to trace him. As he says, they are looking for four different killers. Otis just seems to get a kick out of it and does not even consider the consequences. The film, being as disturbing as it is, is also known for its comedic elements that are played completely straight. When Otis and Henry try to buy a television, it is a particularly funny yet brutally scene.
Becky (Tracy Arnold) is the sister of Otis and she seems to take a liking to Henry. He can be nice when he needs to be, but he doesn't lay it on too thick. He knows how to play it just right. The film also has an eerie and unsettling score that truly enhances the disturbing feeling the film gives the audience. It is incredibly effective in the way it goes to show the audience that evil is lurking all around the world, sometimes even next-door, and it might be too late before anyone notices.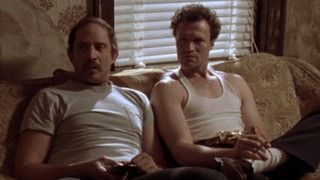 Oftentimes, people expect a killer to be someone that is obvious. They are creepy, anti-social, and give off a certain vibe. That never happens with Michael Rooker's performance, which is still one of, if not, the best horror performances to date. From the way he walks to the way he looks at people, he is very unsuspecting. He is an exterminator in his spare time and as he says, the key is to keep moving. That is how he never gets caught. The film does not have a happy ending nor does it need to have one, as that would cheapen the film.
It is wonderful that the people behind this film really stuck to the guns on this one, even after going through so much with the MPAA and having an X-rating and then an NC-17 rating after many years of fighting them. Again, in my view, I don't believe they were disturbed by what was happening on screen. The home invasion scene is supremely unpleasant, but the goal of any good to great horror film is to unnerve and unsettle the audience. It is supposed to make them feel not safe. Henry: Portrait of a Serial Killer succeeds with flying colors on that front.
Blu-Ray Info: Henry: Portrait of A Serial Killer is released on a 30th anniversary single-disc Blu-Ray from Dark Sky Films. It runs at 82 minutes. There is also a booklet with black and white photos from behind the scenes and an essay by Stephen Thrower entitled Henry: Portrait of a Masterpiece. There is also reversible artwork as well.
Video Info: According to the press release, the film has a brand-new 4K scan and restoration from the 16mm original camera negatives. It has an aspect ratio of 1.33:1. It is not perfect looking, but this is probably the best we are going to get when it comes to this film. I'm not a fan of the 1.33:1 aspect ratio, but it is the same for the version of the film I own that was released in 2009. Again, there are improvements, but I'm assuming because of the low budget, it will be hard to get it as good as they would have liked.
Audio Info: The audio is also described as being a new 5.1 English audio mix from the stereo 35mm reels, which were all approved by Director John McNaughton. The audio is very good and the score is tremendous. It is one of the better horror scores I've heard on a horror flick, so they did a great job there.
Special Features:
Commentary with Director John McNaughton: It was great to have John on here, but it would have been even better if they also included Michael Rooker. It would have been awesome to hear his thoughts on the film as well as his approach to the character.
In Defense of Henry: An Appreciation (20:43): Filmmaker Joe Swanberg, Filmmaker Errol Morris, Critic Joe Bob Briggs, and Critic Kim Morgan share their love of the film and talk about certain key moments in the film. I really enjoyed this.
Henry vs. MPAA: A Visual History (10:52): This is narrated by Pat Healy. He talks us through the many years it took to get this film seen by audiences, how they were stubborn about not making any cuts and having the film be seen as it was meant to be seen. Even thirty-years later, it has the same rating, so its impact is still felt to this day.
Henry At The BBFC: An Interview with Nightmare USA Author Stephen Thrower (27:25): This details the battle the film had with the BBFC (British Board of Film Classification), which were just as rough as its battle with the MPAA. It is interesting to look at it now, as certain people had certain problems with certain images and scenes and they just couldn't get over them.
It's Either You Or Them: An Interview with Artist Joe Coleman (08:28:) This is an interesting interview to say the least. He talks about how he did the poster for the film and really got behind the film from the start. He says the power of the film is in its simplicity.
A Conversation with John McNaughton (28:05): This is hosted by Spencer Parsons. John had an interesting path to get into filmmaking from working in advertising and steel mills. At one point, his father threw him out and he was living with a friend that was having an affair with a married woman. He would stay at bars until they closed and then sleep in the bushes. He also worked as a carnie.
Portrait: The Making of Henry (52:35): I believe this was included on the other Blu-Ray I own from 2009. From my remembrance of viewing the original special features, I'm pretty positive. They walk you through the process of how the film got off the ground, shooting certain scenes, preparing for their characters, and has interviews with the director, Michael Rooker, the co-producer, co-writer Richard Fire, the editor, Tom Towels, Tracy Arnold, art director, the composers, and director of photography. I wish they would have added an updated version of this, even though it has been less than a decade. There is also more talk of the MPAA and the issues they had with them.
Deleted Scenes and Outtakes (21:25): Again, I also believe this was included on the original Blu-Ray from 2009. The sound elements are missing, so the scenes and outtakes have commentary with the director and are moderated by documentarian David Gregory. One of the things I liked the most about the film, which I forgot to mention in my review but it has come to mind now, was the pacing and the running time. There is the old Roger Ebert saying that no good movie is too long, and there is also the expression that less is more. I agree with both, but in the case of this movie, less is more and without sound, they don't have the same impact.
Interview with John McNaughton (1998) (30:44): This is said to have been appeared as bonus content on the now out-of-print MIP DVD release of the film. John McNaughton is a lot of fun to listen to, no question, but after a while, some of the same stories are being told over and over again just in various formats.
Original Trailer (01:53)
30th Anniversary Trailer (01:46)
Still Gallery
Storyboards
10.0
The final score: review Virtually Perfect
The 411
This is a must-own if you love Henry: Portrait of A Serial Killer as much as I do. There are plenty of special features on here, both new and old, which add a lot of context to the film. This is not to take away from the work that Dark Sky Films has done with it, but I really believe this is a film that deserves to be in the Criterion Collection. Nonetheless, the film itself is a masterpiece and it shows how a movie can really get under people's skin. Michael Rooker plays the character in such a way where I didn't hate him and that is a testament to his performance. Yes, he is doing awful things to people that don't deserve them, but there is so much going on beneath the surface. I hate to even say this, but I was fascinated by Henry and glued to him. Whenever he was on screen and everything he said, it was just movie magic at its finest. I don't think this film will ever become dated or feel out of touch. As someone that lives in Chicago, it really has that Chicago feel to it. My favorite line in the film, as a Packer fan in Illinois, is when a cashier asks Henry, "Hey, how about those Bears?" Henry replies with, "F*** the Bears." Indeed, Henry. Indeed! Even if you own the 2009 Blu-Ray like I do, there is enough new stuff here to justify the dreaded double dip.
legend