Is Josh Brolin Right for Cable?
April 15, 2017 | Posted by
This past week Josh Brolin was cast in the highly talked coveted role of Cable in the sequel to the R-rated Deadpool 2.
We had rumors of Brad Pitt, Michael Shannon, Russell Crowe and David Harbour making the shortlist for the role but Brolin came out of nowhere to snag the role. Can you imagine if Pitt had gotten it?
Reaction has been mainly positive and Deadpool headliner Ryan Reynolds has taken to Twitter to reveal his thoughts about Brolin's casting. Check out Reynolds' tweet below: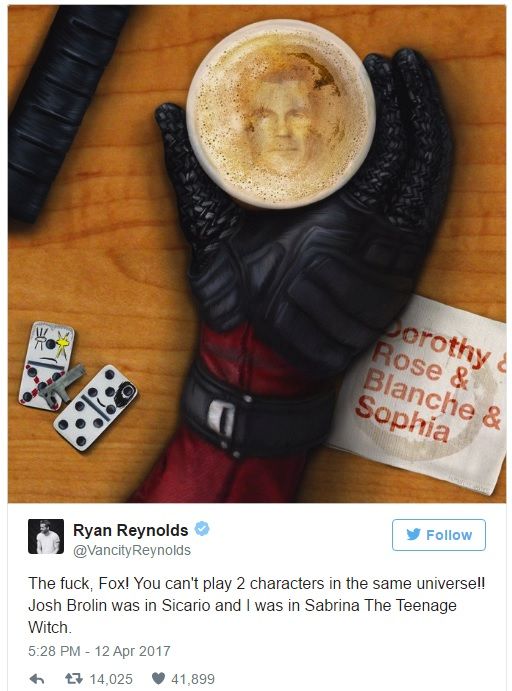 You gotta love Reynolds. No one is going to bring Deadpool to life as much as he has.
Back to Brolin. A number of fans have pointed out that Brolin is now playing two Marvel characters–Cable, and Thanos in the upcoming Avengers: Infinity War. It should also be noted that Brolin portrayed the Jonah Hex in the DC Comics movie adaptation and in Sin City: A Dame to Kill For, Brolin appeared as Dwight McCarthy. movie. And let's not forget that he portrayed the younger version of Tommy Lee Jones' Agent K in Men in Black 3.
It's a little surprising that so much is being made of Brolin's involvement in other superhero franchises. Does it really make a difference?
Take Chris Evans. Evans is currently playing Steve Rogers, aka Captain America, but made his first appearance in a comic book movie with the role of Johnny Storm, aka Human Torch, in the Fantastic Four. He also played Nick Gant in the 2009 flick Push, first appearing in the movie's prequel mini-series, which was produced by Wildstorm. In 2010, Evans appeared as Captain Jake Jensen in the Vertigo adaptation The Losers. That same year, he played Lucas Lee in Scott Pilgrim vs. the World. Not to be forgotten, Evans played Curtis Everett in the French comic book-based Snowpiercer. An impressive array of comic book inspired sources.
We could go down the list of over 35 actors who have made multiple appearances as multiple superheroes. While it seems they are drawing from the same talent pool over and over, it still comes down to who can do justice to the role. Going back to Evans, while he's made Captain America his own and done superb in the role, it doesn't take away from, say, his turn as Jensen in the underrated The Losers. Nor does his other roles distract from the Captain America franchise. I actually thought he was a bright spot in the Fantastic Four movies. No pun intended.
Brolin is a solid choice as Cable. Rob Liefeld and Louise Simonson created Cable, describing him to The Hollywood Reporter as "the opposite of Deadpool: a man who is a leader and used to being obeyed, who is very controlled but with an aura of simmering violence." Brolin's movie resume gives us an idea of what he's going to bring to the role and Cable is well within his wheel-well.
What do you think about Brolin as Cable? Do multiple comic book movie appearances bother you? Sound off in the commnets below!