Lion (Blu-Ray) Review
April 12, 2017 | Posted by
Lion is a film that left me with very mixed emotions while watching it and even more after its conclusion. It is really a tale of two movies with the first half focusing on young Saroo (Sunny Pawar) getting lost from his family as a five-year-old boy and trying to find his family. The second half is about Saroo as a young adult played by Dev Patel being adopted but still wondering about his past. The first half is rather tedious, meandering, and boring, even though Sunny Pawar is a really good young actor. It picks up somewhat in the second half, but it ends up being paint-by-the-numbers in this true story.
Saroo as a young Indian boy is very close to his older brother Guddu as they struggle in Kwanda, India with their mother and sister. They do what they can to get by and survive during very difficult times. One day in 1986, Saroo gets separated from his brother Guddu and ends up on a train that takes him all over the place. He struggles to communicate due to language barriers in these locations and the fact he is only five. He is confused by everything that is happening to him. All he knows is that he wants to find his family.
Before long, he finds himself adopted by an Australian family played by Nicole Kidman and David Wenham. They are happy to have him, and Saroo finds himself fitting in quite well and adjusting to his new circumstances as well as his new home in Australia. The same cannot be said for his new adopted brother Mantosh as he often hits himself and struggles with real emotional problems, which puts a strain on Sue (Nicole Kidman). Throughout all of this, they love the boys equally and treat them with respect and give them a good home. Before long, Saroo ends up being a young adult that is working to become a hotel manager.
He meets his girlfriend Lucy (Rooney Mara) and even forms a circle of friends. He gets introduced to Google Earth, where he starts to think about his old family and if there is a way for him to find them and get back in touch with them. He is not exactly sure how to handle all of this and all of his repressed emotions, which causes him to let himself go and find himself in a rather dark place. He has a home and a family that loves him, but he can't pretend like his old family is not in his memory bank.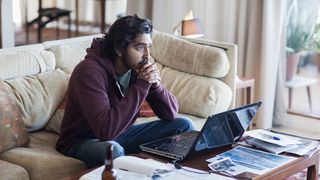 The major problem with Lion is the fact that it is pure Oscar bait to the core. This is a film that is screaming from the top of a mountain that it wants you to cry, be moved, and feel something. Between the music, the flashbacks, and the reveals that take place throughout the film, it is trying too hard. That is one of the most annoying things in film is when it tries too hard and it wants to elicit an emotion out of the audience. Now, that is dependent on the filmgoer, as different viewers cry and are moved by different things, but the true story is enough that it does not need to resort to these cheap tactics.
That is not to say the film is a complete failure. There were moments that gave me goose bumps and moved me. The film earns those moments too and they are genuine, but more often than not, it feels phony, which is not supposed to happen in a true story. Again, this material should have been handled a whole lot better. The two-standout performances for me were from the always-great Rooney Mara and the young Sunny Pawar. Dev Patel is good in this one, but he is not great, although he can only perform what is written on the page. He has subtle moments of power, but the film needed more of them.
Blu-Ray Info: Lion is released on a single-disc Blu-Ray with a Digital HD copy from The Weinstein Company Home Entertainment/Anchor Bay Entertainment. It has a running time of 118 minutes and is rated PG-13 for thematic material and some sensuality. The Digital HD copy comes from UltraViolet.
Video Info: The film is presented in a Widescreen Presentation with an aspect ratio of 2.40:1 on 1080p High Definition. There is no denying that this is a gorgeous looking film shot in India and Australia. All of the sights and scenery are shown beautifully without ever showing off. They were true to the locations of the story.
Audio Info: The audio formats are English DTSHD-MA 5.1 and French DTSHD-MA 5.1 with subtitles in English, Spanish, and French. The audio is right on point with no problems at all.
Special Features:
Behind the Scenes Gallery (22:16): This can be viewed using the play-all option and it features quick little features. They are titled A Conversation with Saroo Brierley, Dev Patel, Nicole Kidman, Director Garth Davis, and Making the Music. These are your standard fare as far as special features go, but the most interesting one is hearing from Saroo Brierley, on what he went through and what was going through his mind at the time. Dev Patel responded to the material immediately and Nicole Kidman met with the real-life Sue. She also had a special connection to the character because she has also adopted children. There are other interviews with the other key actors placed in these special features as well.
Deleted Scenes (04:36): Three deleted scenes are here, and they are Dance Party, Panic Attack, and Saroo in the Lake.
Never Give Up Performed by Sia-Official Lyric Video (03:45)
6
The final score: review Average
The 411
In the end, Lion is one of the most overrated films of 2016. I'm not exactly sure how it got nominated for Best Picture. Apparently, all of their efforts to get Oscar buzz worked out for them, although they did not win any Oscars or Golden Globes. I would have replaced this film with Loving, which is far superior, as far as a Best Picture nomination. Again, this is not to take anything away from Saroo Brierley and his book A Long Way Home, which I have not read. It is also not to take away from what he went through and what he endured both as a young child and as a young adult. It is an amazing true story and in the right hands, it could have been something really, really special. Writer Luke Davies and Director Garth Davis really let him down with this film. It is a true misfire and a truly wasted opportunity. It is still worth seeing at Redbox as the film does have scenes that are worth watching, and the true story, even though they butchered it, deserves attention. It is an average film about an inspiring true story.
legend