Moana (Blu-Ray Combo Pack) Review
March 7, 2017 | Posted by
Moana (Blu-Ray Combo Pack) Review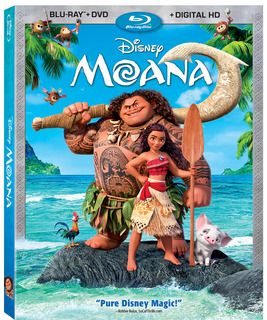 After watching Moana for the first time, it is hard not to question what the Academy saw in the film and why it received so much praise. Of course, this can work both ways. There are films that possibly get overlooked or receive bad reviews and one sees them and is unsure why that has been the case. Moana was up for the Best Animated Feature Film at the Academy Awards, an award that went to Zootopia. Finding Dory is far more deserving than Moana, which is a flat, dull, predictable, and rather lifeless film. It looks great on Blu-Ray, but that is not enough to recommend it.
When one thinks of Disney, they think of the heart, the message/themes, and the beautiful animation. As far as the heart of the story is concerned, it is not really all that unique. There is a strong-willed character named Moana (Auli'i Cravalho) that wants to do more but also has trouble believing in herself. Her father tells her to play it safe and not take any chances, especially when it comes to leaving the Village of Motunui. He does not want her to go beyond the reef or even anywhere near the water.
Though, when food is running low and things are looking gloom, she realizes she has to do something in order to save the Village. A demigod named Maui, played by Dwayne Johnson, sadly does not appear in the film until the thirty-six minute mark. Maui is the one who caused the darkness. Moana decides the ocean is calling her and she needs to seek out Maui, get the heart of Te Fiti and make everything right in her village. Despite her father's wishes, she feels as though she is meant to do something and will not just watch all of the food disappear and her homeland fall apart.
The movie picks up slightly when Maui appears. He is big, full of himself, and has some rather active tattoos. He believes that Moana is a fan of his and even goes out of his way to sign her oar. She wants the heart returned to its rightful place and will stop at nothing to get it, even as Maui tries to get rid of her at every turn. A clumsy rooster that has trouble even figuring out how to eat food properly also joins her. No matter what roadblocks or obstacles are thrown her way, she is as determined as ever.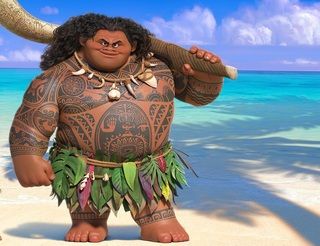 The themes and messages here are familiar, as mentioned: believe in yourself, stay true to your dreams, and follow your true calling. They all feel a little cliché. Disney showed the world films like Finding Dory and Zootopia where they touched on those familiar themes, but they expanded upon them such as Dory overcoming her short-term memory loss and the animals in Zootopia getting along even though some of them get judged or are seen as predators. There is a way to stick to familiar themes while also having something to say at the same time. Moana really has nothing new to say and nothing new to add. It sits on the screen and even though it ends at a little over an hour and a half (the credits are ten minutes long), it really drags.
Disney had a great year with Zootopia and Finding Dory, but they missed wildly here. Perhaps the film would have worked better if Dwayne Johnson had a better counterpart. The actress that voices Moana is not bad, but she is not particularly memorable either. Dwayne Johnson is charismatic and entertaining all of the time and it comes naturally for him. He produces laughs just from his line readings. He does not have a strong voice partner nor does he have a strong script. As Ben Affleck and Matt Damon mentioned at the Oscars in reference to an Alfred Hitchcock quote, "The script, the script, the script." It took too many writers to make a forgettable flick here.
Blu-Ray Info: Moana is released on a two-disc Blu-Ray/DVD Combo Pack from Buena Vista Home Entertainment. It comes with a Digital HD copy as well that can be watched on iTunes. It is rated PG for peril, some scary images and brief thematic elements. It runs at 107 minutes.
Video Info: It comes on a 1080p High Definition transfer with a widescreen aspect ratio of 2.39:1, and it looks gorgeous and stunning. I don't think Disney could make a bad looking movie or Blu-Ray if they tried. This one is perfect for Blu-Ray and the blues are eye-popping and every little detail looks nothing short of magical. It's truly fantastic.
Audio Info: The Audio formats are English 7.1 DTS-HD Master Audio, 2.0 Descriptive Audio, and Spanish and French 5.1 Dolby Digital. Subtitles are in English, Spanish, and French. All of the songs captured here are crystal clear as well.
Special Features:
Maui Mini Movie: Gone Fishing (02:29): This one shows Maui looking to get a fish as his stomach is rumbling and the trouble it brings him.
Theatrical Short Film: Inner Workings (06:26): The producer and the director of the short film introduce this. The director talks about his heritage and how the short shows off his ethnic side coming out. This one is great fun and really creative. It is full of life and energy.
Voice of The Islands (31:13): This includes interviews with co-directors Ron Clements and John Musker, whose credits include Aladdin, The Little Mermaid, and The Princess and the Frog, to name a few. They have been working together for over 39 years and were incredibly interested in the Pacific Islands. They made a trip there to help them make the film and gather research. Some great footage is included here, which is gorgeous. The research trips took five years and covered many areas. They wanted to talk to people who had lived on the Islands to get a real feel for it. There are also other individuals interviewed as well that have tremendous knowledge on the subject. The filmmakers did their homework. They wanted to cast actors that had roots in the Pacific Island. Dwayne Johnson is interviewed as well, and he was their only choice. Auli'i Cravalho talks about this being a whole new experience for her, as they did an open casting call.
Things You Didn't Know About …(02:02): This can be watched either using the play-all option or one at a time. It is rapid-fire questions with the directors, Dwayne Johnson, and Auli'i Cravalho. The second part is the same format including interviews with Mark Mancina, Lin-Manuel Miranda, and Opetaia Foa'i. This runs at one minute and fifty-seven seconds. Most of the questions are pretty standard stuff about favorite foods and what they had for breakfast.
Island Fashion (05:13): This includes an interview with the costume designer/visual developer. Since it was 3,000 years ago, there were no photos to choose from, so they had to put on their thinking caps to do their best. As with anything Disney, everyone puts their all into it as far as it being authentic.
The Elements of Mini-Maui, Water, Lava, and Hair (14:14): Again, this can be watched using the play-all option or one at a time. Plenty of interviews are included with the key behind-the-scenes participants that often go unnoticed to the regular moviegoer, but Disney always gives them their props.
They Know The Way: Making The Music of Moana (12:37): Opetaia Foa'i, Mark Mancina, and Lin-Manuel Miranda share their experience of working on the film and how important music is in a Disney movie. They wanted the audience to feel like they were there. They talk more about the research process for them in terms of going to the Pacific Islands. Lin-Manuel actually won a dance contest while there!
Deleted Song: Warrior Face With Introduction By Songwriter Lin-Manuel Miranda (03:41): He talks about the genesis behind the song and how it was going to play into the film. It is shown in storyboard format.
How Far I'll Go by Alessia Cara Music Video (03:04)
Deleted Scenes With Introductions By Directors John Musker and Ron Clements (25:56): There are plenty of deleted scenes here, and I say this often, but these were probably deleted for a reason. These are storyboarded and they still love these scenes very much, even though they didn't make it into the film. As I've said before, sometimes I find it hard to get into these because they are not fully completed. I do like hearing from the directors why they were deleted, though, as it offers some context.
Fishing For Easter Eggs (02:52): Auli'i Cravalho talks about the Easter eggs that pay tribute to other Disney movies throughout the film.
Audio Commentary With Directors John Musker and Ron Clements: These are two likable and highly accomplished directors, and it is great to hear from them on this commentary track, although I did not see what they saw in terms of the film. A lot of it was already stated on some of the other special features, but they offer up some new tidbits as well.
5
The final score: review Not So Good
The 411
As a film buff, it is always a drag when one walks into a movie with great excitement, anticipation, and a sense of wonder only to find out that it was not what you expected. Even though, it is usually best to go into a film with an open mind, that is not always easy, especially when word travels around a film the way it did for this one. It really suffers because there are too many cooks in the kitchen, as the film had way too many writers. It's odd because one would think that would make the story too convoluted or too mashed together. It is quite the opposite, in fact. Instead, it is too simple and there are no real surprises here. With the exception of Dwayne Johnson, no one really stands out in the voice department. The film does perk up when the voice of his character is heard, but the rest of the voice work is rather run-of-the-mill. The story is clichéd and predictable. It might look fantastic on Blu-Ray, but looks only get you so far. There needs to be more and there is nothing more to this flick. The audio and visuals are great and they go all out with the special features, but the bottom line is the movie. It is a clunker. I would recommend avoiding this one unless the kids beg you to see it.
legend