Movie 43 Review
January 26, 2013 | Posted by
Directed by
Elizabeth Banks
Steven Brill
Steve Carr
Rusty Cundieff
James Duffy
Griffin Dunne
Peter Farrelly
Patrik Forsberg
James Gunn
Bob Odenkirk
Brett Ratner
Jonathan van Tulleken
Writing credits
(in alphabetical order)
Steve Baker written by
Will Carlough
Jacob Fleisher
Patrik Forsberg
Matt Portenoy
Greg Pritikin
Rocky Russo
Jeremy Sosenko
Elizabeth Wright Shapiro
Cast
Dennis Quaid – Charlie Wessler (segment "The Pitch")
Greg Kinnear – Griffin Schraeder (segment "The Pitch")
Common – Bob Mone (segment "The Pitch")
Hugh Jackman – Davis (segment "The Catch")
Kate Winslet – Beth (segment "The Catch")
Jeremy Allen White – Kevin (segment "Homeschooled")
Liev Schreiber – Robert (segment "Homeschooled")
Naomi Watts – Samantha (segment "Homeschooled")
Anna Faris – Vanessa (segment "The Proposition")
Chris Pratt – Jason (segment "The Proposition")
Kieran Culkin – Neil (segment "Veronica")
Emma Stone – Veronica (segment "Veronica")
Richard Gere – Boss (segment "iBabe")
Kate Bosworth – Arlene (segment "iBabe")
Justin Long – Fake Robin (segment "Super Hero Speed Dating")
Jason Sudeikis – Fake Batman (segment "Super Hero Speed Dating")
Uma Thurman – Fake Lois Lane (segment "Super Hero Speed Dating")
Christopher Mintz-Plasse – Mikey (segment "Middleschool Date")
Chloë Grace Moretz – Amanda (segment "Middleschool Date")
Patrick Warburton – Dad (segment "Middleschool Date")
Gerard Butler – Leprechaun 1 & 2 (segment "Happy Birthday")
Seann William Scott – Brian (segment "Happy Birthday")
Johnny Knoxville – Pete (segment "Happy Birthday")
Halle Berry – Emily (segment "Truth or Dare")
Stephen Merchant – Donald (segment "Truth or Dare")
Terrence Howard – Coach Jackson (segment "Victory's Glory")
Elizabeth Banks – Amy (segment "Beezel")
Josh Duhamel – Anson (segment "Beezel")
Rating: Rated R for strong pervasive crude and sexual content including dialogue, graphic nudity, language, some violence and drug use
Runtime: 90 minutes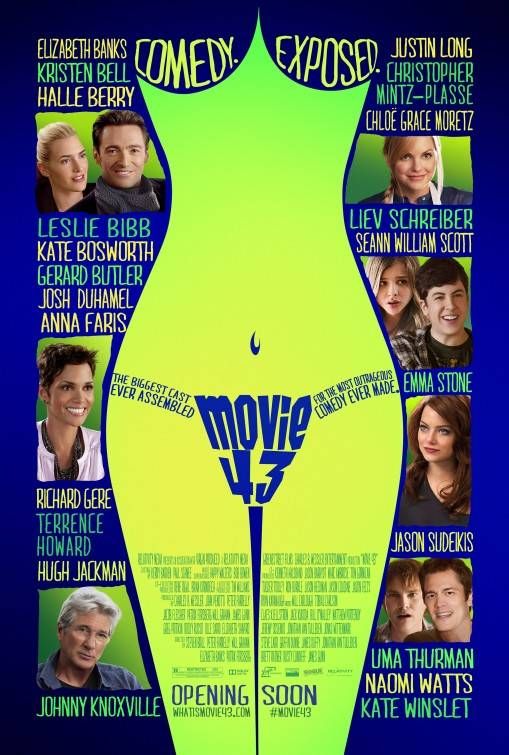 Before I really dive into the insane responsibility of trying to review the creature that is Movie 43, I would like for everyone to understand that this is not a movie. In fact, this isn't even a story. I'm not even sure what the hell you can call it. What I can say about Movie 43 is that everyone who had the nerve to sign up for this project gets huge points from me for having the balls to make this "thing" happen. This is a movie that is damn near unreviewable for many reasons. It's not trying to tell a clear narrative, it's not trying to be a "good" movie, and it wants to offend its audience. Movie 43 only has one clear objective in mind when you watch it, which is to make you laugh by any means necessary.
This is a film very similar to the horror flick V/H/S, because it's a whole bunch of shorts that is loosely connected to one short. Just like that film, some things worked extremely well, while others not so much. Now, in order for me to properly review this film, I think the best way to tackle this is to divide it into its best and worst moments. So, without further ado, let's begin!
The film begins with its main 'plot-driving' short, which is titled "The Pitch." It involves a mentally unbalanced screenwriter named Charlie (Quaid) who is pitching a film to a studio man named Griffin Schraeder (Kinnear). What results is the most insane series of short pitches ever, which sets up all the segments for Movie43. The setup is somewhat brilliant, because it has a very sophisticated feel. They lead us into the first pitch, which is titled "The Catch," and it involves two of the biggest names in cinema, Kate Winslet and Hugh Jackman. The short begins with a very subtle romance feel about a woman having a date with the perfect man, and it just completely takes a left turn in a reveal that will just leave your jaw on the floor for the rest of the short. As shocking as the segment was, I have to give major props to Jackman for doing this role because it was quite raunchy.
Then we're lead into the next absurd pitch titled "Homeschooled", which is one of the funniest skits I think in the entire movie. It was shock humor, but delivered in the most balanced manner of the entire segments. Naomi Watts and Liev Schreiber are brilliant as parents that take the meaning of "Homeschooled" to the next level. I laughed until my stomach hurt while this whole segment was playing out.
Another one of my favorite segments was "Veronica", which involved Kieran Culkin and Emma Stone in a weird grocery store romance. I'm not even sure how to explain this one. You readers will just to have to discover the craziness of this segment for yourself. Other awesome segments include "Machine Kids," "Middle School Date," "Tampax," and "Victory's Glory" involving the basketball team that everyone saw in the trailer.
As funny as some of the segments were, Movie 43 definitely has its terrible moments. You could feel they were trying a little too hard to achieve laughs in certain skits, such as "Superhero Speed Dating." I'm really not even sure how anyone read the scene and thought, "Wow, this is comedy gold." There is also an extremely disgusting segment titled "The Proposition" involving Anna Faris wanting to be pooped on by her longtime boyfriend. The segment doesn't play out in the manner you would expect, but it's still gross nonetheless.
The best way I can describe the experience that is Movie 43 would be kind of like watching a live-action 90 minute version of Robot Chicken. Some segments are funny as hell, some segments are offensive, and some segments just make no damn sense whatsoever. This is not a film that will be aimed to please critics by any standard. So, if you are looking to check the Rotten Tomatoes score, it's not going to be a reliable source. This is a movie you are either going to love or downright hate depending on your stance with this brand of humor. That being said, I don't feel cheated at all and actually laughed my ass off through almost 70% of the film.
The 411: Overall, if you are wanting to know whether Movie 43 is a good or bad experience, there really isn't a clear answer to that question. The film is a mixed bag of brilliance and awful all at the same time. It depends on your tolerance for crude and strongly offensive comedy. The movie brings the laughs but you will feel awful for laughing the entire time. It's not a film I would recommend without giving a cautionary warning before saying "Hell yes! Watch it." However, even though I feel guilty for saying it, I did enjoy the movie and give it credit for having the balls to exist. May God have mercy on me.

 
Final Score:  7.0   [ Good ]  legend