Nether Regions 01.25.11: A Brighter Summer Day
January 25, 2011 | Posted by
Nether Regions started as a segment of the Big Screen Bulletin that meant to showcase films that have been discontinued on DVD, are out of print in the United States, are only available in certain regions outside the United States, or are generally hard to find. Now it is a column all its own! You might ask, "Why should I care about a film I have no access to?" My goal is to keep these films relevant because some of them genuinely deserve to be recognized. Every time I review a new film I will have a list of those I covered below so you can see if they have been announced for DVD release, or are still out of print.
MISSING:
A BRIGHTER SUMMER DAY

Starring: Chen Chang, Lisa Yang, Guozhu Zhang
Directed By: Edward Yang
Written By: Edward Yang, Mingtang Lai, Alex Yang, and Hung Hung
Running Time: 237 minutes
Release Date: July 27, 1991 (Taiwan)
Missing Since: 1991
Existing Formats: Nothing but bootlegs
Netflix Status: Not Available
Availability: Almost everything Edward Yang made is very rare
Edward Yang was a meticulous and impassioned filmmaker who left the world way too soon. Along with Hou Hsiao Hsien and Tsai Ming Liang, he shaped how the world views Taiwanese cinema. He received degrees in electrical engineering, and always had a great interest in film, but initially did not want to pursue that path. When he saw Werner Herzog's Aguirre: The Wrath of God, it changed his life. Yang was born in Shanghai in 1947 and grew up in Taiwan. He wasn't alone. His background was similar to many in the late 40's. As the opening intertitles of his 1991 magnum opus A Brighter Summer Day explains, many Chinese left the mainland for Taiwan after the civil war defeat by the Chinese Communists in 1949. Children were raised in an uneasy atmosphere of ambiguity and isolation that led to numerous kids joining street gangs.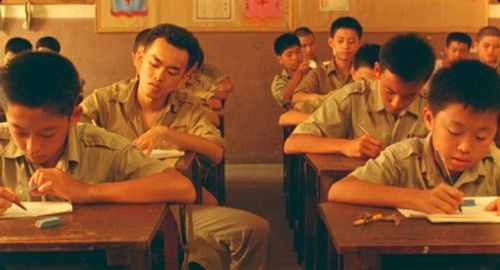 Sly fails to
convince Si'r to help
him cheat in class.
A Brighter Summer Day could only have been made by someone with a deep-rooted connection to the period. In fact, the climax was taken from a real incident Yang recalled from his youth. The title translates literally as "The Boy in the Murder Incident on Guiling Street." One of his favorite themes was the relationship between business and art, and he believed that greed tends to corrupt art. He also stood firm on the grounds that selling films for money was not his primary purpose as a filmmaker. For those reasons, many of the titles in his canon are extremely difficult to find. To date, I have located three of the eight. Yi Yi is of course his most popular effort because it was released through the Criterion Collection. While I understand his position and respect it, I don't see how preventing the world from experiencing these achievements is smart.
The story kicks off in 1960 Taiwan where two main rival gangs battle for territory and honor. They are the Little Park Boys and the 217. One of the Little Park Boys is Si'r (Chen Chang), a 14-year-old whose family were among those that emigrated from China. The gang he's in consists of young boys who frequently cut school, stay out late, and spend time at film studios and pornographic book stands. Si'r becomes friends with Ming (Lisa Yang), the girlfriend of gang leader Honey (Hongming Lin). He went into hiding after he murdered the rival gang leader because he was romantically interested in Ming. Meanwhile, Si'r got into trouble at school when one student named Sly (Hongyu Chen) asked to copy Si'r's answers on a test. When he refused, Sly threatened him and went ahead and copied anyway. Though Si'r's father (Guozhu Zhang), a civil servant, attempts to use his influence in exchange for leniency, his pleas are mostly ignored. As tension rises between the gangs, Si'r struggles to find himself in the midst of the unstable political climate.
Yang spent four years just preparing this film, mainly because his cast is comprised of over 100 nonprofessional actors, all of whom are superb. In almost every article about this preeminent picture, the writer will mention the running time, and that even though it is close to four hours, not one scene is superfluous or unnecessary. They're all correct, and the longest version is certainly the one to check out, though I doubt you would even be able to find the 202 minute cut that Yang was forced to create in order to find a distributor. A 127 minute version was also floating around.
Cat leads a band
as they belt
Frankie Avalon's "Why".
A Brighter Summer Day is a joy to watch because Yang's approach is so natural and effortless. I'd be hard pressed to think of another director whose style is so smooth and unassuming. He unravels the story at a calculated, rhythmic and intuitive pace. Although Yang does integrate commentary on the era of the White Terror, he does so in a manner that is not invasive, but conveyed through the personal perspective of the characters, normal people in the eye of the storm during that time. Yang was competent in that he allowed what made sense to a specific stage of the plot. For instance, gang skirmishes and scheming occupy the majority of the picture, but eventually he slides into the methods in which the authorities monitored what they considered suspicious citizens.
The time in which A Brighter Summer Day is set, the late 1950's and early 1960's, was a phase of uncertainty and unpredictability for Taiwan. The entire country, including individual families, was raising their children in an atmosphere where everyone was unsure about what the future would hold. Analyzing the modern and the traditional is a substantial theme in much of Yang's oeuvre, but it carries a profound impact here. The characters move about in a detached fashion, many resting in a gray area between patriotism and opposition. If some stick to Taiwanese values, others rely on other avenues, like religion or crime. Control seems to be transparent. The authorities loom over the society wanting everything to be rigid, orderly, and consistent, but in fact nothing meets that standard. The strict regime and the citizens operate on two totally different wavelengths. The kids are not ignorant to all of this, but definitely don't know how to escape it. Take the scene where one student shows the teacher that writing the character for the Chinese "I" takes longer than doing the same in English. This angers his instructor.
The immigrants that live in Taiwan confront influences from many other cultures, and since the country does not appear to have matured or found its own identity, it leads to confusion and at times exasperation. One first-rate family sequence has the mother complaining that they fought the Japanese for years, yet now they live in a Japanese style home and must listen to Japanese music from the neighbors. Objects play a crucial role for Yang and his universe. A samurai sword, watches, a radio, and the prevalence of American music send the message that Taiwan had yet to come to terms with its past and is too disoriented trying to find itself in the present. Few items actually originate from Taiwan. The saturation of imports is key to grasping the existential dilemma of the characters.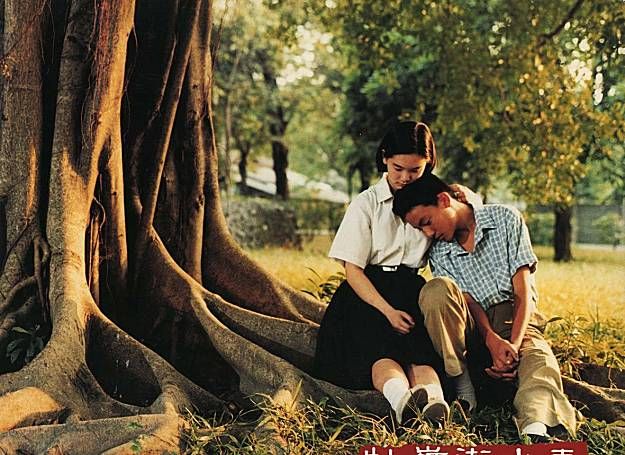 Si'r looks for
comfort from Ming.
Metaphors and symbolism enhance the overall state of disarray; yet also subtly communicate central points. Early on, there is a moment where Si'r and his friend Cat are looking down on a movie set and an actress is upset about her dress color. The director replies, "This is a black-and-white film." That statement, not to mention the sporadic blackouts during that time (examples of how unreliable the utilities were), symbolize the dark qualities that infuse the film. Many of the scenes are shot in dimly lit areas or in darkness, while a common color for the cast to wear is white, reaffirming the quote by the director and the conflict of light and dark. The problem is, this was anything but a "black-and-white" era no matter how much the government strove for that goal.
The cast is uniformly impressive. Each has a distinct nickname: Airplane, Sly, Cat, Worm, Animal, Underpants, Honey, Elephant, Tiger, and Ma just to name a few. They are in gangs after all. Chen Chang is extraordinary as Xiao Si'r, a young man who, like his parents, is trying to assimilate in a country that he maybe wasn't meant to. His family is collapsing, and he can never measure up to what they expect from him. Chang exudes Si'r's inner turmoil organically and with the right mixture of dedication and heart. He would go on to appear in Crouching Tiger, Hidden Dragon and Red Cliff, among others. Guozhu Zhang is amazing as Si'r's father (they are real life father and son too), a man who is not nearly as vital to his job (or Taiwan) as he wants to be, or perhaps should be. The melancholy walk home late in the film as Si'r attempts to toss a positive light on his chaotic school behavior is beautifully captured by Yang and his cinematographers, and perfectly played by the actors. Si'r and his father are not close, but both want the best for one another, and it is incredible that both performers can transmit those emotions through body language and expression. Lisa Yang is terrific as Ming, who is burdened with an ill mother when she isn't toying with gang thugs, and Wong Chi Zan is delightful as Cat, the youngest Little Park Boy and most energetic personality by far.
One of the best sequences struck me as almost disturbing in how the sinister motives gradually unfolded. Si'r's father is requested to accompany the secret police to the station, and they ask this in a polite, informal way. When his father asks if it can't wait until the next day, they casually advise him to clear it up right away. Soon enough, the affable nature of the police fades away as the questions and interrogations regarding his potential traitorous Chinese contacts becomes increasingly debilitating. Si'r's father is grinded down so that he feels as small and desperate as humanly possible. It doesn't matter how much or little he knew of the names on the list. The philosophy comes across as "Guilty until proven innocent" and ignorance is not an excuse.
Yang was a great admirer of Michelangelo Antonioni, and that can be observed through his constant use of medium and long shots. The purpose was to keep the viewer at somewhat of a distance from the characters, to judge them evenhandedly. Many have accused Yang of being a better storyteller than a visual artist, but I would disagree slightly. He presents equal amounts of mastery in both, and every color he uses in A Brighter Summer Day is as deliberate as the tempo. The music was brilliantly laced throughout the film as well. There is a soundtrack available, though it's extremely rare, but every song that appears is poignantly arranged. Yang is recognized and revered primarily for his portrayals of contemporary urban Taiwan, and even though similarities can be found upon comparing this triumphant trip into the past to the rest of his canon, it undeniably stands in a class all by itself.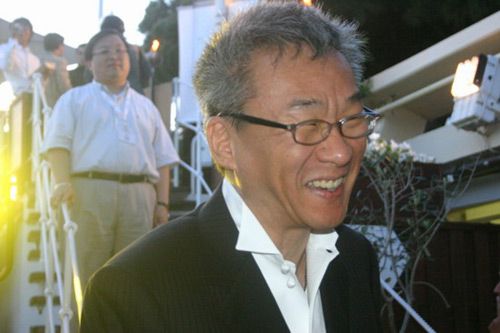 A picture of
Edward Yang sporting
a big smile.
I like to believe that if a film is truly great, that greatness will be apparent despite the quality of the viewing experience. Obviously some films can be tarnished or improved depending on the audio/video quality and the overall experience, but those special, irreplaceable aspects should always be there. Unfortunately the quality of the DVD-R I had was not spectacular. The picture quality was poor and the fact that Yang shot in the dark didn't help. The subtitles were white, and aggravatingly blended in with the white surroundings and white clothing of the cast at times. Since they already released Yi Yi, I sincerely hope Criterion has the opportunity to release this effort, and others from Mr. Yang. I have heard rumblings of a restoration process that is underway, but nothing for sure yet.
The title A Brighter Summer Day emanates from an Elvis refrain in the song "Are You Lonesome Tonight?". Cat, who also sings at the concerts, has those lyrics translated by Si'r's older sister, who is educated at a prestigious university. Regardless of the problems with the copy of my DVD-R, I was fascinated by this film, the second Edward Yang film I've seen and I would give both this and Yi Yi four-stars. This epic is so richly textured, exquisitely detailed, intricately constructed, and wonderfully performed. If it ever receives a proper DVD release, I can almost guarantee it will be held in higher regard. It's just such a shame this film is so hard to find. Everyone should have the chance to watch it.
Final Rating = 10.0/10.0
Rare Film News
–This is a new feature I thought would be fun to add. You won't see it every week because the point is to focus on updates solely with rare and out of print titles, which can have weeks go by without any news. Since one of the goals of this column is to spread the word on these films, I thought the latest news would be important for those who are interested.–
The World May Finally See Orson Welles' The Other Side of the Wind
News of this picture seeing the light of day has been up and down for a long time, but according to IndieWire, the dispute over the rights may be a few weeks away from being solved.
Welles began shooting this in 1972, but he failed to finish it because, well, Orson had that problem of commonly being out of money and shot scenes only when he had the funds to do so. One of the parties involved in the rights dilemma is the widow of the Shah of Iran, who had acted as one of the producers. Welles borrowed from EVERYONE folks. Oja Kodar (Welles' lover) also has a claim to the rights, but now we hope everyone is willing to sell. The cast included John Huston, Peter Bogdanovich, Susan Strasberg and had appearances by Dennis Hopper, Paul Mazursky, Henry Jaglom and Claude Chabrol. The plot is "about an aged Hollywood director (John Huston) attempting to revive his career by making a trippy movie filled with sex and violence"
This does give us some light at the end of the tunnel if all goes well, but if the rights are sold, it just means that someone will have access to the prints. The actual release has been debated for years also. Peter Bogdanovich, who has Welles' editing notes, wants to complete it, but many have said that is ridiculous and others say it is an "act of betrayal." If it were up to me, I would release the existing footage unedited and then simply display the editing notes regarding the material not shot for people to read. Kino did that with the destroyed footage on the Houdini film box set, and it was outstanding. Stay tuned, hopefully we have more updates on this.
Archives
—Out of Print—
The Taking of Pelham 123 (1998-TV)
The Stepfather 3
Salem's Lot
Latin Lovers
State Fair (1933)
Wings
Sleuth (1972)
Johnny Guitar
Children of the Corn 2: The Final Harvest
Barfly
Assembly
High Noon Part II: The Return of Will Kane
Ishtar
The Prehysteria! Trilogy
Only Yesterday
Ocean Waves
The Little Norse Prince
Breaking the Waves
Seconds
Cruel Story of Youth
The Magnificent Ambersons
Two Rode Together
The Portrait of a Lady
The Unholy Three
King Solomon's Mines (1937)
Love with the Proper Stranger
The Cook The Thief His Wife & Her Lover
Betrayal
Willard (1971)
Ben
The Wizard of Speed and Time
Return from the River Kwai
Clarence
It Happened One Christmas
Napoleon (1927)
—Available on Netflix, Instant Watch (But Not to Purchase)—
The Heartbreak Kid
Cinemania
Richard Burton's Hamlet
Orson Welles' Othello
The Keep
The Swimmer
Only the Lonely
—Now Available on DVD—
The African Queen
A Return to Salem's Lot – Available Through Warner Archives
Phantasm II
Red Cliff Part 1 and Part 2 – All Versions Available
The Stepfather
The Stepfather 2
Homicide
America, America
Cavalcade – Available in the 20th Century Fox 75th Anniversary box set
Random Thoughts
– I've been really obsessed with UFC and MMA lately. I picked up tickets to UFC 128 since it will be in my area, which should be a good time. Since pro-wrestling has been exceedingly lackluster as of late, I'm glad MMA matches fill the void.
– Make sure to check out my new reviews for Rabbit Hole and The Company Men. Because of those, and this week's Nether Regions, I only had time for some Robot Chicken and to watch Todd Solondz's brilliant dark comedy/drama Happiness from 1998. Well, I did manage to endure The Green Hornet, which started off at around two stars, but by the end dropped down to one star easily. Horrible film. I also became depressed when Edward Furlong popped up in a nothing role as a guy who ran drug hideouts.
– This week we have The Girl Who Kicked the Hornet's Nest coming out, so I close out that trilogy in my collection. Also in stores is Red, which was satisfying, actiony fun, Saw: The Final Chapter, which I need to see, Enter the Void, which I also need to see, and Criterion's release of Broadcast News, which should be exciting. Other titles hitting stores this week that I will have to add to my Netflix queue are Dogtooth and Inspector Bellamy.
My Blog featuring Mini-Reviews of New Releases!
The Best and Worst of 2010
The Best and Worst of 2009
The Best and Worst of 2008
The Best and Worst of 2007
The Best and Worst of 2006
The Best and Worst of 2005
"The plural of Chad is Chad?"
–From the movie Recount
NULL