Nether Regions 04.26.12: Reykjavik-Rotterdam
April 26, 2012 | Posted by
Nether Regions started as a segment of the Big Screen Bulletin in the movie-zone that meant to showcase films that have been discontinued on DVD, are out of print in the United States, are only available in certain regions outside the United States, or are generally hard to find. Now it is a column all its own! You might ask, "Why should I care about a film I have no access to?" My goal is to keep these films relevant because some of them genuinely deserve to be recognized. Every time I review a new film I will have a list of those I covered below so you can see if they have been announced for DVD release, or are still out of print.
MISSING:
REYKJAVIK-ROTTERDAM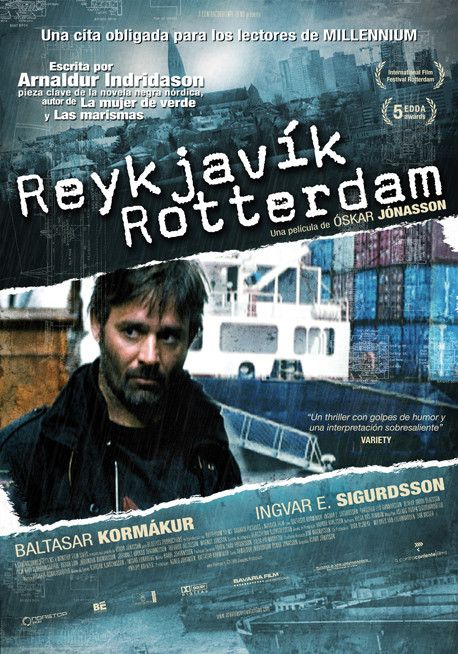 Starring: Baltasar Kormakur, Ingvar Eggert Sigurdsson
Directed By: Oskar Jonasson
Written By: Oskar Jonasson and Arnaldur Indridason
Original Release Date: September 30, 2008 (Iceland Premiere)
Missing Since: Never Released in US
Existing Formats: None
Netflix Status: Not Available
Availability: Extremely Rare
Hollywood remakes popular or highly acclaimed foreign titles numerous times each year. This is widely known. The great Swedish film Let The Right One In was redone as Let Me In. Moviegoers were familiar with both versions, but more often than not, the original is barely given a chance to make a splash in the US, or not given an opportunity at all, so as to leave room for the easily marketable remake. In many cases, casual viewers will never realize the film they are watching was done first in another country. Last year's Mossad thriller The Debt was a remake. The original is not available on DVD in the US. The same problem can be attributed to Reykjavik-Rotterdam, which would go on to become Contraband starring Mark Wahlberg.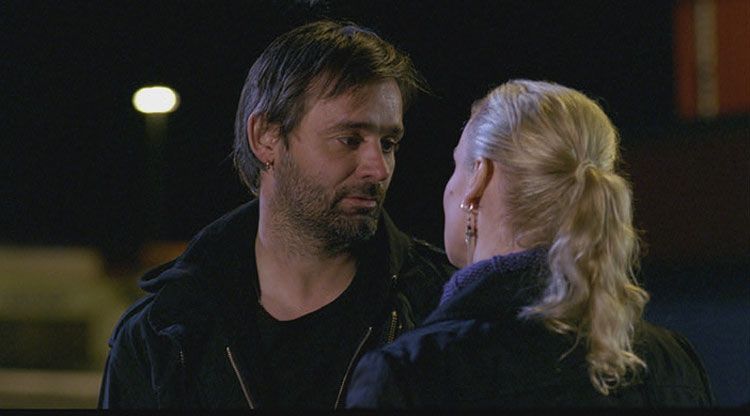 Christopher says goobye
to Iris
One of my preferences is to seek out the original and watch it before I see the remake. Sometimes I don't discover this until after I've seen the remake (The Next Three Days) and on other occasions there are simply no reasonable options to see the original save for hopping on a plane and traveling to the country to find a copy. Reykjavik-Rotterdam was difficult to pin down since only a region 2 DVD exists to date, not to mention that there are other titles called simply "Rotterdam," so I had to wade through the confusion to finally find what I wanted. I'm glad I went through the trouble because Reykjavik-Rotterdam is a lean, taut, and satisfying thriller at 83 minutes. I doubt it will knock your socks off, but it's entertaining enough.
The story kicks off with Christopher (Baltasar Kormakur), a security guard whose dimwitted brother-in-law Arnor (Jorundur Ragnarsson) messes up severely with some gangsters he was smuggling for. This results in Christopher being lured back in the game that got him put in prison. Now he has to do one more job, for his brother-in-law, and to alleviate the normal debt from rent, etc. His stint behind bars damaged his relationship with just about everyone, including his wife (Lilja Nott Porarinsdottir), who is vehemently against him going down this path again. Christopher uses his friend Steingrimur (Ingvar Eggert Sigurdsson) to land a position on a ship, the same one he was busted on, for the same Captain that everyone assumes turned him in. While he is away on the ship trying to smuggle alcohol, he has entrusted Steingrimur to take care of his family while he's gone.
Reykjavik-Rotterdam is far from perfect. Granted, I haven't seen Contraband just yet, though I'll be submitting a review of the Blu-Ray soon, but this is not going to be a snooty article where the movie writer holds up the original as brilliant just because it was a remade. The title most ripe for being restructured are those which are in mediocre territory. The plot in Reykjavik-Rotterdam is overwhelmingly conventional, but the hiccup is with its predictability. It does not take a genius to foresee the major twist. On the other hand, director Oskar Jonasson infuses his third feature with an insatiable grittiness and a light, fluid atmosphere that suits the proceedings. While effective on certain levels, there is room for improvement. More characters could have been fleshed out, one or two significant action sequences could have been added, and so forth.
In many instances regarding films released outside the US, they offer actors who tend to be more unknown, allowing the viewer to effortlessly accept the character since the possibility of perceiving them as recognizable Hollywood stars is unlikely. This helps the cast of Reykjavik-Rotterdam. Baltasar Kormakur affords a competent, reserved performance as Christopher. He has a likable personality and is smart, but has difficulty escaping his past. Baltasar Kormakur would go on to direct the American remake after starring in this one. Ingvar Eggert Sigurdsson is fabulously sneaky and somewhat pathetic as Steingrimur, the best buddy who has no financial hang-ups and who obviously still has feelings for Christopher's wife iris. Apparently they had dated at one time. Lilja Nott Porarinsdottir occupies the thankless role as Iris, who is given the stressful task of looking worried all the time. Most of the actors are fairly solid, each disappearing into stereotypical parts which are balanced out by the organic turns. Everyone looks as they should: absent of celebrity looks, unshaven, dirty, crooked teeth, and ordinary clothing.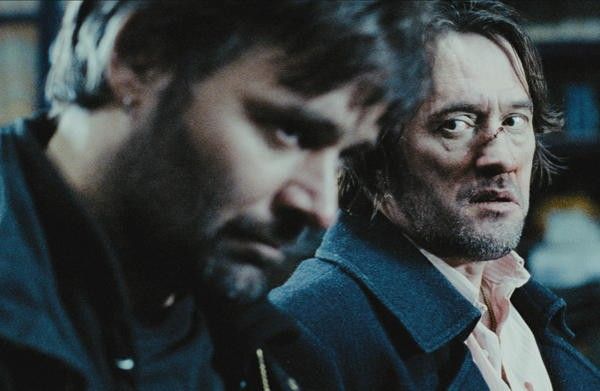 Christopher chats about smuggling
with a fellow criminal.
What makes Reykjavik-Rotterdam exciting is not only its crisp pacing, but the fact that it possesses a clear idea of its own identity. There is no pretentiousness within this story. This is a straightforward crime thriller and does not pretend to be anything more. The grounded nature, combined with the brisk run time, makes this an easy film to watch. You're not ignorant to the drawbacks as the drama unfolds, but they're not glaring either. The only exception is a scenery-chewing crime boss named Hoogland (Victor Low), but he's extremely memorable (in a pleasantly cheesy way) and provides a fun sub-plot with a Jackson Pollock paitning. And having not seen many Icelandic motion pictures, I find it enjoyable to admire the environment, the houses, and general terrain which I have not visited. Oskar Jonasson could give lessons on how to properly shoot in the rain, at dusk, or during the night. These choices heighten the ominous, yet slick mood. Jonasson and cinematographer Bergsteinn Bjorgulfsson generate tension via naturalistic approach. The camerawork on the boat is suave and suspenseful without being too confining.
Reykjavik-Rotterdam ended up taking home several awards for Iceland's equivalent of the Oscars (Edda Awards), and was submitted as their official entry to the Academy for Best Foreign Language Film in 2010. Jonasson crafts a fulfilling piece, which is average at best, but certainly has merit. If a film can blend action, comedy, drama, and heist cliches into an acceptable whole, it should be a proud accomplishment regardless of the faults. Reykjavik-Rotterdam will probably not be an effort one runs to the store to buy or pre-order on Amazon, but it's sharp, engrossing, and capable enough that it should be on Netflix for people to check out if they wish. Keep an eye out for it in the future.
Final Rating = 7.0/10.0
—Out of Print—
The Taking of Pelham 123 (1998-TV)
The Stepfather 3
Latin Lovers
State Fair (1933)
Sleuth (1972)
Johnny Guitar
Assembly
High Noon Part II: The Return of Will Kane
Ishtar
The Prehysteria! Trilogy
Only Yesterday
Ocean Waves
The Little Norse Prince
Breaking the Waves
Cruel Story of Youth
Two Rode Together
Love with the Proper Stranger
Betrayal
Willard (1971)
Ben
The Wizard of Speed and Time
Return from the River Kwai
Clarence
It Happened One Christmas
Napoleon (1927)
A Brighter Summer Day
Little Darlings
Karen Carpenter Double Feature
The Crimson Pirate
Roman Polanski's Pirates
The Mighty Thor: 1966 Cartoons
Hulk: The 1966 Cartoons
Mr. Boogedy Double Feature
Stanley Kubrick's Boxes
Shanks
7 Women
Last Summer
We Sold Our Souls for Rock 'N' Roll
Saxon – Heavy Metal Thunder: The Movie
Christopher Columbus: The Discovery
1492: Conquest of Paradise
The Decline of Western Civilization (1981)
The Decline of Western Civilization Part II: The Metal Years
The Decline of Western Civilization Part III
Execution of Justice
The Gambler
Death of a Salesman (1951)
Italianamerican & American Boy
Greed
No Holds Barred – Available 7/3/12
The Godfather Saga: A Novel for Television
—Available on Netflix, Instant Watch (But Not to Purchase)—
The Heartbreak Kid
Cinemania
Richard Burton's Hamlet
Orson Welles' Othello
The Keep
The Swimmer
Only the Lonely
North
The Cook The Thief His Wife & Her Lover
SubUrbia
—Available through Amazon Video on Demand Only—
Barfly
Seconds
King Solomon's Mines (1937)
—Now Available on DVD—
The African Queen
A Return to Salem's Lot – Available Through Warner Archives
Phantasm II
Red Cliff Part 1 and Part 2 – All Versions Available
The Stepfather
The Stepfather 2
Homicide
America, America
Cavalcade – Available in the 20th Century Fox 75th Anniversary box set
Ensign Pulver – Available Through Warner Archives
Children of the Corn 2: The Final Harvest
The Unholy Three – Available Through Warner Archives
The Magnificent Ambersons – Available with Citizen Kane Blu-Ray set
Salem's Lot
1-900
I'm a Cyborg, But That's Ok
Captain America – The 1979 Movies
Captain America (1990) – Available through MGM Limited Edition Collection
Wings
World on a Wire
The Portrait of a Lady
—Other Articles to Read—
The Artist: Analyzing Its Popularity
When Going to the Movie Theater Became Torture
The Best and Worst Movie Posters of 2011
Top 50 Movies of the Decade (2000-2009)
Check out my Top 10 Pet Peeves articles as well:
The Pet Peeves of 2011
The Pet Peeves of 2010
The Pet Peeves of 2009
The Pet Peeves of 2008
The Pet Peeves of 2007
The Pet Peeves of 2006
The Pet Peeves of 2005
Follow @Mr_CWebb
Follow @411mania
Follow @411wrestling
Follow @411moviestv
Follow @411moviestv
Follow @411games
Follow @411mma
---
"The plural of Chad is Chad?"
–From the movie Recount
NULL