Nether Regions 05.24.12: The Legend of Ni**er Charley
May 24, 2012 | Posted by
Nether Regions started as a segment of the Big Screen Bulletin in the movie-zone that meant to showcase films that have been discontinued on DVD, are out of print in the United States, are only available in certain regions outside the United States, or are generally hard to find. Now it is a column all its own! You might ask, "Why should I care about a film I have no access to?" My goal is to keep these films relevant because some of them genuinely deserve to be recognized. Every time I review a new film I will have a list of those I covered below so you can see if they have been announced for DVD release, or are still out of print.
MISSING:
THE LEGEND OF NI**ER CHARLEY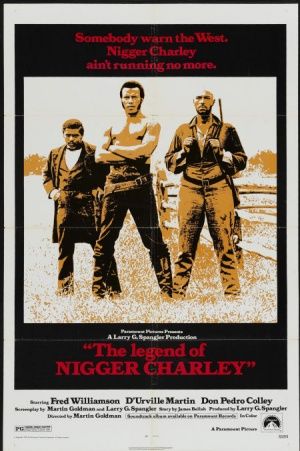 Starring: Fred Williamson, D'Urville Martin, and Don Pedro Colley
Directed By: Martin Goldman
Written By: Martin Goldman & Larry G. Spangler
Original Release Date: March 17, 1972
Running Time: 90 minutes
Missing Since: Never "Officially" Released on DVD
Existing Formats: None
Netflix Status: Not Available
Availability: Extremely Rare
In the 1970's, the blaxploitation genre was all the rage. The term was coined by the Los Angeles branch of the NAACP. These movies sprouted as a sub-category from regular exploitation flicks. Some might just label them B-movies, and this might be true in many circumstances, but many blaxploitation titles were mammoth hits at the box office. Perhaps you already knew that definition. Of course you think, I've heard of Shaft, Coffy, Blacula, and Superfly. Yes, those are among the most popular examples. One trilogy you might not be familiar with concerns a slave portrayed by Fred Williamson, a well-known actor of this territory. Drawing a blank? The reason might be the title: The Legend of Nigger Charley.
Let's get this out of the way. That is the actual title. You can find it spelled out on IMDB, Wikipedia, and most other sites. The movie makes a point to use "ni**er" every chance it can, but to avoid any misunderstandings I will simply refer to this film as the abbreviated Legend. One can only assume that the controversial title is what has prevented this from gaining an official DVD release. The third installment, originally titled Boss Ni**er, has been released, but simply shortened to Boss. Legend was renamed The Legend of Black Charley for broadcast television. Why the studio didn't just use that for DVD is beyond me. This is a Paramount offering, so as far as I've researched there are no rights issues. It was also one of Paramount's highest grossing movies of 1972. Apparently there was a banner in NYC Times Square that read "Ni**er Charley is Coming." I wonder what happened to that.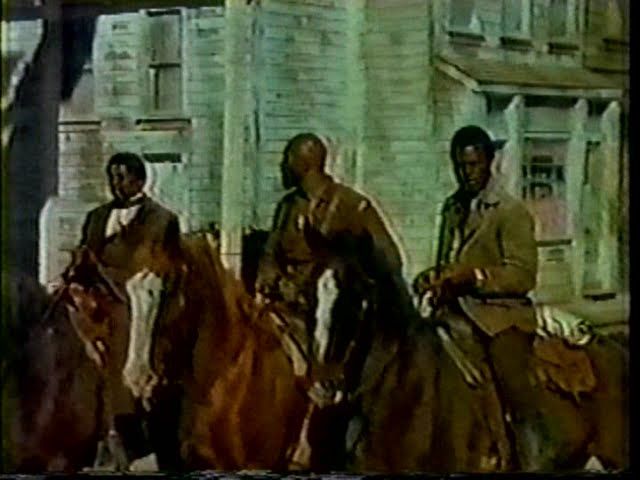 Charley, Toby, and Joshua
ride into town.
The story kicks off hilariously by showing us "archival" footage of Africa in 1820 where people were attacked on their own land regardless of skin color and forced to flee to America on boats. Right before the main credits roll, the camera cuts to a baby and then the title flashes. Fast forward to pre-Civil War south where an aging African American maid Theo (Gertrude Jeannette) cares for her dying master. He has granted her freedom, but she declines because she is older and knows nothing else. She decides to request that her son be granted his freedom. As you may have guessed, his name is Charley (Fred Williamson). He is given a piece of paper signed by the land owner acknowledging his freedom. Houston (John P. Ryan), the cartoonish villain that oversees the slaves and goings on around the plantation, doesn't like this one bit. After an evening of public drunkenness and rowdy cockfight watching, Houston encounters Charley outside.
In a fit of rage, Charley kills Houston for his cruel behavior and escapes with his two friends, Toby (D'Urville Martin) and Joshua (Don pedro Colley). Hot on their trail is Niles Fowler (Keith Prentice), who either helps sell or buy the slaves from Houston. They were buddies, and Fowler eloquently explains he "never lost a ni**ger," so he sets out with a band of thugs to chase down Charley and company. This leads them all to a random town for a shootout, much to the chagrin of the Sheriff (Jerry Gatlin), who begs both parties to take their problem somewhere else. In addition to Fowler wanting him dead, Charley also helps out a couple who lives nearby. They are plagued by the Reverend (Joe Santos), who robs and annoys them with his goons. Because the wife is a "half-breed" (half Indian/half white) no one in the area will assist them. Charley turns out to be their man. He's also driven by the hotness of the wife (Tricia O'Neil), but I digress.
After about a decade playing football in the 1960's for the NFL and then the AFL, Fred Williamson was going to try his hand at architecture of all things, but opted not to and went into acting. Imagine if "The Hammer" had designed buildings? He picked up spots on some TV shows, then the M*A*S*H movie and Otto Preminger's Tell Me That You Love Me, Junie Moon, but his first starring vehicle was as Charley in Legend. Williamson has a natural charisma, and is exceedingly comfortable on screen. His delivery was a still a bit rough around the edges at this early stage, hampered by the haphazard script, but he brings an intensity and vigor to this role. Williamson would improve throughout the years, but observing him here should leave no doubt as to why he became a star. Legend is nowhere near his best blaxploitation effort. Hammer, Black Caesar, and Three the Hard Way just to name a few, are superior. Williamson stuck with these low-budget actioners throughout his career. One wishes he would have exhibited his full potential at some point, but you could say "if it ain't broke, why fix it?" I actually met him at a movie convention once. Nice guy, very enthusiastic about his accomplishments.
Legend is, more appropriately, a blaxploitation western, and the desire for a mainstream format release will likely never heat up because it is absolutely mediocre as both. As a western, the shootouts are conventional and dry. In terms of blaxploitation, the framework exists and a few elements can be found, but Legend lacks the necessary humor for these oddities to age well. Shockingly, no one-liners can be heard, and combine that with the incredibly standard action sequences, and the result is a rather tedious experience. To his credit, Williamson gets animated during one or two moments, but those are all too brief bursts of desperately missing cheese. If Legend elicits any laughter whatsoever, it stems from the hysterical depiction of southern white hicks, who constantly spew racial slurs and put down Charley, Toby, and Joshua just for being alive. But this is one-note, and the same exaggerated joke is not endless amusing.
Truth be told, the picture transfer on the bootleg DVD I own is pretty poor, but that does not mask the struggling direction of Martin Goldman. This was his debut as a filmmaker. He would only stand at the helm on two more occasions. Goldman clearly knew nothing of pacing, establishing mood, or fleshing out characters. Granted, expecting profound characters is asking a bit much for B-movies in general, but pacing and mood are vital. Legend feels like the rough draft of a promising premise. Charley's saga shifts abruptly after about the 1 hour mark, beginning a new, albeit short sub-plot before the conclusion. This transition makes little sense aside from tacking on minutes to the running time. Mostly though, Legend wanders along without much purpose, wasting time until the next shootout. Goldman's aim falls between a somber Blazing Saddles and a corny Magnificent Seven.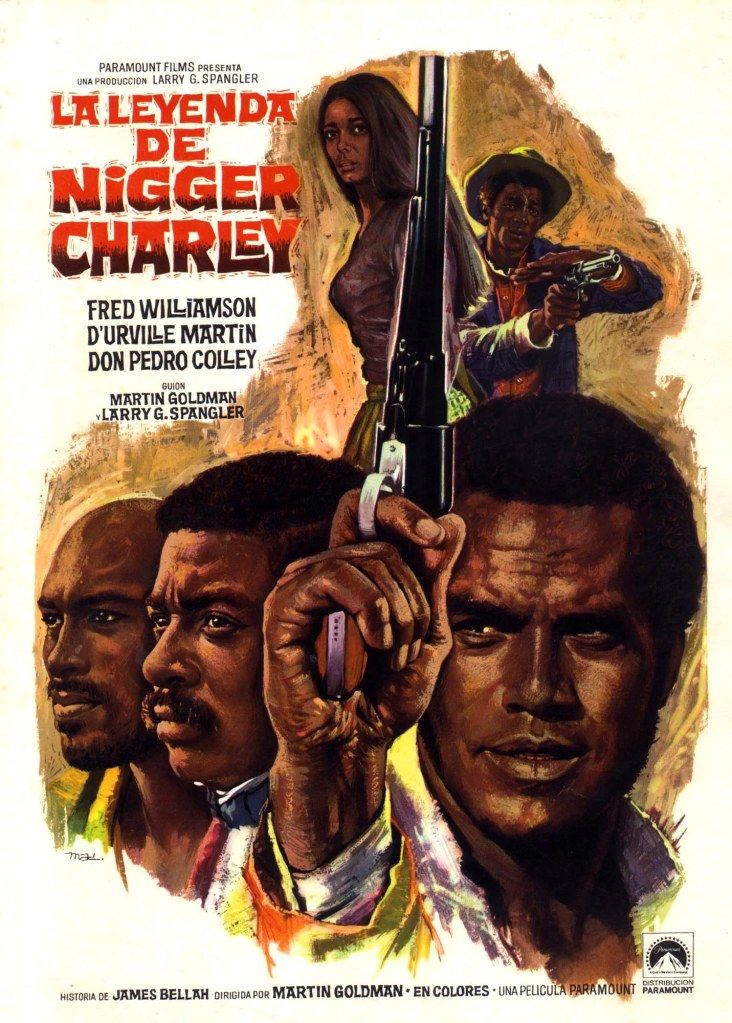 The cover of the
bootleg DVD available.
D'Urville Martin's Toby provides sporadic comic relief as the clumsy sidekick who questions Charley's every move that gets them into deep water. Don Pedro Colley takes up space as the bald & burly third member of the trio, Joshua, whose fate can be seen a mile away since he has nothing to do. Too much time is spent on conversing with Shadow (Thomas Anderson), the old coot who claims to be half Native American, but later admits he is all black. He resembles an grizzled voodoo witch doctor, and puzzlingly joins Charley's battles…because he was bored? As is the case with Legend and Boss Ni**er the music makes the lasting impression. Lloyd Price belts the opening and closing numbers, "In The Eyes of God" and titular tune "The Legend of Ni**er Charley." As the story progresses, the funk country stylings from John Bennings and/or whoever was playing guitar will definitely get stuck in your head.
In every blaxploitation, the white man appears excessively violent, mean, and weak-willed, while the black heroes are strong, confident, resilient, and smart. This is a trademark of the genre, but in Legend all the villains can pull off is an uttering of "ni**er" ever now and then. Without humor or even a tongue-in-cheek attitude, all this is conveyed with more seriousness than it deserves. It develops as a black man overcoming slavery and racism and retreats into a disappointing shoot 'em up western. The predictability of the plot is fine. Westerns are not known for their twists, but panache is essential, which Legend completely missed the bar on. I have read arguments that this movie gets a bad rap, and that because it was the 70's, in the heyday of the Black Power movement, Williamson's performance was a voice of what people were feeling then. Perhaps that was the intention, but I doubt it, and if it was, The Legend of Ni**er Charley is an unmitigated failure. In my opinion, Goldman is never sure what Legend should be: compelling or sensationalistic, dramatic or silly? In the end it's just a title. And ask yourself, if that's all that stands out, does it really warrant any praise?
On a side note, you should note the poster and the "PG" rating in the corner. The film also carried the tagline: "Somebody warn the west. Ni**er Charley ain't running no more." This was released on a double with Hannie Caulder starring Raquel Welch, one of the inspirations for Quentin Tarantino's Kill Bill. That is a much better movie, and also hard to find. Check it out if you can.
Final Rating = 4.0/10.0
—Out of Print—
The Taking of Pelham 123 (1998-TV)
The Stepfather 3
Latin Lovers
State Fair (1933)
Sleuth (1972)
Johnny Guitar
Assembly
High Noon Part II: The Return of Will Kane
Ishtar
The Prehysteria! Trilogy
Only Yesterday
Ocean Waves
The Little Norse Prince
Breaking the Waves
Cruel Story of Youth
Two Rode Together
Love with the Proper Stranger
Betrayal
Willard (1971)
Ben
The Wizard of Speed and Time
Return from the River Kwai
Clarence
It Happened One Christmas
Napoleon (1927)
A Brighter Summer Day
Little Darlings
Karen Carpenter Double Feature
The Crimson Pirate
Roman Polanski's Pirates
The Mighty Thor: 1966 Cartoons
Hulk: The 1966 Cartoons
Mr. Boogedy Double Feature
Stanley Kubrick's Boxes
Shanks
7 Women
Last Summer
We Sold Our Souls for Rock 'N' Roll
Saxon – Heavy Metal Thunder: The Movie
Christopher Columbus: The Discovery
1492: Conquest of Paradise
The Decline of Western Civilization (1981)
The Decline of Western Civilization Part II: The Metal Years
The Decline of Western Civilization Part III
Execution of Justice
The Gambler
Death of a Salesman (1951)
Italianamerican & American Boy
Greed
No Holds Barred – Available 7/3/12
The Godfather Saga: A Novel for Television
—Available on Netflix, Instant Watch (But Not to Purchase)—
The Heartbreak Kid
Cinemania
Richard Burton's Hamlet
Orson Welles' Othello
The Keep
The Swimmer
Only the Lonely
North
The Cook The Thief His Wife & Her Lover
SubUrbia
—Available through Amazon Video on Demand Only—
Barfly
Seconds
King Solomon's Mines (1937)
—Now Available on DVD—
The African Queen
A Return to Salem's Lot – Available Through Warner Archives
Phantasm II
Red Cliff Part 1 and Part 2 – All Versions Available
The Stepfather
The Stepfather 2
Homicide
America, America
Cavalcade – Available in the 20th Century Fox 75th Anniversary box set
Ensign Pulver – Available Through Warner Archives
Children of the Corn 2: The Final Harvest
The Unholy Three – Available Through Warner Archives
The Magnificent Ambersons – Available with Citizen Kane Blu-Ray set
Salem's Lot
1-900
I'm a Cyborg, But That's Ok
Captain America – The 1979 Movies
Captain America (1990) – Available through MGM Limited Edition Collection
Wings
World on a Wire
The Portrait of a Lady
Reykjavik-Rotterdam
—Other Articles to Read—
The Artist: Analyzing Its Popularity
When Going to the Movie Theater Became Torture
The Best and Worst Movie Posters of 2011
Top 50 Movies of the Decade (2000-2009)
The Best and Worst of 2011
The Pet Peeves of 2011
Follow @Mr_CWebb
Follow @411mania
Follow @411wrestling
Follow @411moviestv
Follow @411moviestv
Follow @411games
Follow @411mma
---
"The plural of Chad is Chad?"
–From the movie Recount

NULL