Nether Regions 05.31.12: The Soul of Ni**er Charley
May 31, 2012 | Posted by
Nether Regions started as a segment of the Big Screen Bulletin in the movie-zone that meant to showcase films that have been discontinued on DVD, are out of print in the United States, are only available in certain regions outside the United States, or are generally hard to find. Now it is a column all its own! You might ask, "Why should I care about a film I have no access to?" My goal is to keep these films relevant because some of them genuinely deserve to be recognized. Every time I review a new film I will have a list of those I covered below so you can see if they have been announced for DVD release, or are still out of print.
MISSING:
THE SOUL OF NI**ER CHARLEY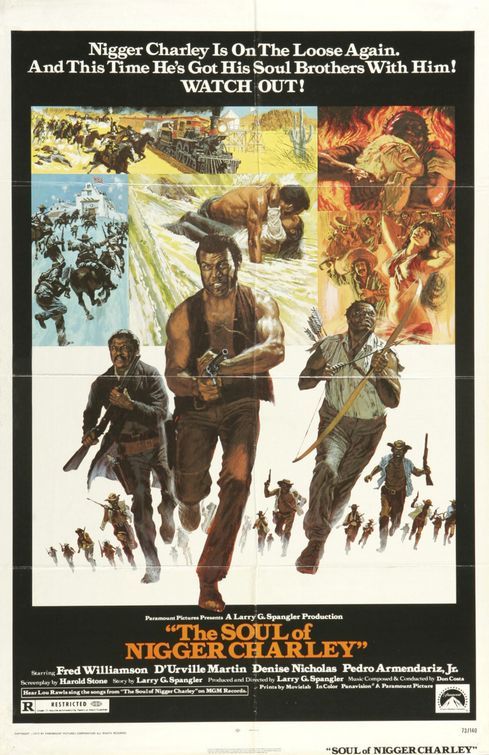 Starring: Fred Williamson, D'Urville Martin, and Denise Nicholas
Directed By: Larry G. Spangler
Written By: Harold Stone & Larry G. Spangler
Original Release Date: May 16, 1973
Running Time: 109 minutes
Missing Since: Never "Officially" Released on DVD
Existing Formats: None
Netflix Status: Not Available
Availability: Extremely Rare
Bouncing off the success of The Legend of Nigger Charley, Paramount launched a sequel immediately, entitled The Soul of Nigger Charley. And wouldn't you know it, the MPAA rating magically jumped from "PG" to "R" for this follow-up. Duh. Although the perception is that this series is firmly rooted in blaxploitation due to Fred Williamson's involvement and the general premise, Soul separates itself from the standard elements of that sub-genre as much as possible. The objective was to be a conventional western, where it just so happens that the heroes are black and the villains are white. The more cohesive storyline is an improvement from its predecessor, but Soul is just as haphazard and forgettable.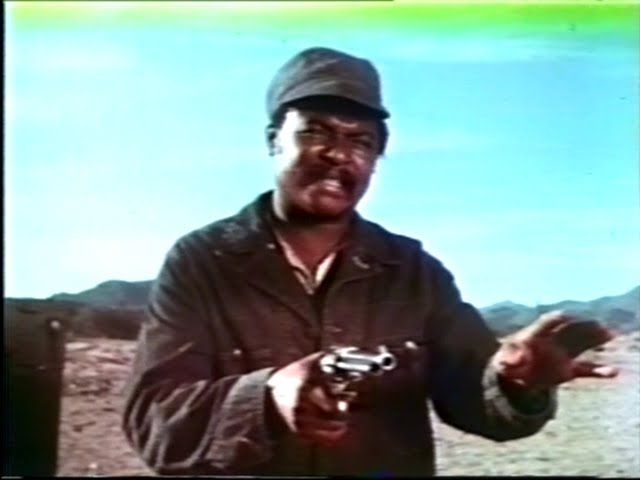 Toby poses as a
railroad worker for a heist.
Opening in a small town, viewers meet Colonel Blanchard, a.k.a. Blanchard the Butcher (Kevin Hagen), who decimates everyone in his path with his band of thugs if they do not receive money and food as they pass through. After his damage is done, Charley (Fred Williamson) and pal Toby (D'Urville Martin) wander through and stumble upon the result. They find a teenage kid (Marcellus – Kirk Calloway) hidden, who emerges to discover his parents shot and killed. At the same time, the duo discovers a big slave who is unconscious and beaten. He turns out to be Ode (George Allen), similar to Madonna and Cher, no last name. In order to nurse Ode back to health, they travel to a nearby Quaker town where a doctor is known to reside. Upon arrival, Charley amasses a group of freed slaves and fights off Blanchard and company during their first encounter. Apparently Blanchard's goal is to reform the Confederacy. He also plans on meeting a train stocked with $100,000 in gold, which will be split with his partner, General Hook. Charley is one step ahead of the game however and robs the train before Blanchard can greet it. He aims to free Hook's slaves by purchasing them, but the General obviously does not agree to this.
Not much has changed in the acting department from movie to move. Fred Williamson does appear to be more comfortable in the role, looser and not handed as many cheesy lines to deliver aside from the final scene. D'Urville Martin remains the trusty sidekick, but since less humor exists in Soul his relevance is dialed down considerably. Thankfully they awarded Williamson with a love interest that made sense for the sequel. In case you forgot, he romanced the wife of a white man in the original. Here they simply wait for the woman's husband to get killed off. Old Charley waits approximately two hours before landing a firm smooch on her (Elena – Denise Nicholas) lips. Nobody in Soul ventures over the top or into cartoonish territory, and with 20 minutes added on to the running time, the movie wears on you quickly. Ode is the most intriguing new character (portrayed by George Allen), resembling a linebacker as he contributes to each skirmish, yet somehow the powers at be thought he looked like a master archer, so we never see him engage in any vicious beatdowns. He launches a mean arrow though.
Giving credit where credit is due, Charley's foes in this adventure are an upgrade. In truth I already started to forget Houston and the Reverend from Legend. This time we have Blanchard the Butcher, one of probably a million wicked villains in cinematic history to carry that moniker. Sporting a cream colored cowboy hat and a bushy red beard; Colonel Blanchard is at least consistent throughout the entire picture. Kevin Hagen falls in line with the rest of the cast and provides a straightforward performance, so there is no scenery chewing sadly, but I guess he does succeed in making a small impression whereas those before him made none. Pedro Armendariz Jr. is somewhat enjoyable as Sandoval, leader of a banditos clan Charley collaborates with. Blanchard has a memorably nasty albino assistant (Collins-James Garbo) that is puzzlingly killed off early on and General Hook makes a total of one (maybe two) brief appearance toward the end. The actor is not even billed in the credits, but Richard Farnsworth is. You won't recognize him, but he's there. Make no mistake, the rogue gallery is still feeble, but compared to Legend, anything is a step up.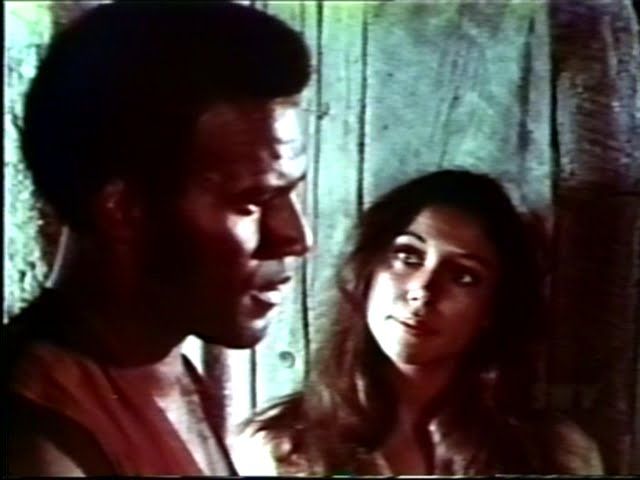 Charley gets "motivated" by
the widowed Elena.
I wrongly assumed when reviewing The Legend of Ni**er Charley that the music would be as prevalent and catchy for the sequel as it was for that and Boss Ni**er. For some reason, the bizarre funk that was impossible to shake from your head is absent in favor of Don Costa's generic, barely noticeable western score. Larry G. Spangler, producer and co-writer of Legend, takes over directing duties for Soul. He elects a pedestrian approach, toning down the racial slurs and offensive treatment for a basic tale of good versus evil amidst desolate dirt towns and long stretches of barren land. Spangler is a more assured filmmaker, who establishes superior pacing and ambitious scope, but his style comes off as if he wanted to make a legitimately effective spaghetti western, and Soul fails at that. His construction of action set pieces marks the brightest spot of this picture. Spangler chooses those points to accentuate his flair, and each gun battle possesses a keen intellect of strategy, excitement, and suspense.
While Spangler attempted to craft a sprawling western, he simply wastes too much time. The Soul of Ni**er Charley meanders and dawdles until finally springing to life for the surprisingly bittersweet conclusion. He does succeed at elevating Charley's status as a hero, glorifying his past achievements and inserting random characters that know all about his reputation. He is more of an avenger than a freed black man that runs into trouble. Charley searches for his quandaries now, so he has only himself to blame for the consequences. Analyzing the shift from "PG" to "R" ratings could be its own column. Some writers have argued that Soul warranted the "R" because it is increasingly violent, but I disagree. The deaths and shootouts are more intense if anything, but the use of "ni**er" is decreased for sure. Charley's white devil opponents do not necessarily shy away from using the hateful term, but you won't hear it every other sentence as in Legend either. And this also has a clear indication of nookie, whereas Charley only got a kiss previously.
I bought these movies a long time ago. When I initially learned of the titles and researched them I knew they would be ideal for this column. But they sat on my shelf collecting dust until just now. I understand why. Combined with the shoddy picture transfer, these arduous stories are almost tortuous to endure. The "Blax" edition DVD bootlegs are out there if you're an ardent fan of the genre, but if you're only enticed by the controversial title don't bother seeking these out. You will be disappointed.
Final Rating = 5.5/10.0
—Out of Print—
The Taking of Pelham 123 (1998-TV)
The Stepfather 3
Latin Lovers
State Fair (1933)
Sleuth (1972)
Johnny Guitar
Assembly
High Noon Part II: The Return of Will Kane
Ishtar
The Prehysteria! Trilogy
Only Yesterday
Ocean Waves
The Little Norse Prince
Breaking the Waves
Cruel Story of Youth
Two Rode Together
Love with the Proper Stranger
Betrayal
Willard (1971)
Ben
The Wizard of Speed and Time
Return from the River Kwai
Clarence
It Happened One Christmas
Napoleon (1927)
A Brighter Summer Day
Little Darlings
Karen Carpenter Double Feature
The Crimson Pirate
Roman Polanski's Pirates
The Mighty Thor: 1966 Cartoons
Hulk: The 1966 Cartoons
Mr. Boogedy Double Feature
Stanley Kubrick's Boxes
Shanks
7 Women
Last Summer
We Sold Our Souls for Rock 'N' Roll
Saxon – Heavy Metal Thunder: The Movie
Christopher Columbus: The Discovery
1492: Conquest of Paradise
The Decline of Western Civilization (1981)
The Decline of Western Civilization Part II: The Metal Years
The Decline of Western Civilization Part III
Execution of Justice
The Gambler
Death of a Salesman (1951)
Italianamerican & American Boy
Greed
No Holds Barred – Available 7/3/12
The Godfather Saga: A Novel for Television
The Legend of Nigger Charley
—Available on Netflix, Instant Watch (But Not to Purchase)—
The Heartbreak Kid
Cinemania
Richard Burton's Hamlet
Orson Welles' Othello
The Keep
The Swimmer
Only the Lonely
North
The Cook The Thief His Wife & Her Lover
SubUrbia
—Available through Amazon Video on Demand Only—
Barfly
Seconds
King Solomon's Mines (1937)
—Now Available on DVD—
The African Queen
A Return to Salem's Lot – Available Through Warner Archives
Phantasm II
Red Cliff Part 1 and Part 2 – All Versions Available
The Stepfather
The Stepfather 2
Homicide
America, America
Cavalcade – Available in the 20th Century Fox 75th Anniversary box set
Ensign Pulver – Available Through Warner Archives
Children of the Corn 2: The Final Harvest
The Unholy Three – Available Through Warner Archives
The Magnificent Ambersons – Available with Citizen Kane Blu-Ray set
Salem's Lot
1-900
I'm a Cyborg, But That's Ok
Captain America – The 1979 Movies
Captain America (1990) – Available through MGM Limited Edition Collection
Wings
World on a Wire
The Portrait of a Lady
Reykjavik-Rotterdam
—Other Articles to Read—
The Artist: Analyzing Its Popularity
When Going to the Movie Theater Became Torture
The Best and Worst Movie Posters of 2011
Top 50 Movies of the Decade (2000-2009)
The Best and Worst of 2011
The Pet Peeves of 2011
Follow @Mr_CWebb
Follow @411mania
Follow @411wrestling
Follow @411moviestv
Follow @411moviestv
Follow @411games
Follow @411mma
---
"The plural of Chad is Chad?"
–From the movie Recount

NULL