Nether Regions 06.08.12: Quadrophenia
June 8, 2012 | Posted by
Nether Regions started as a segment of the Big Screen Bulletin in the movie-zone that meant to showcase films that have been discontinued on DVD, are out of print in the United States, are only available in certain regions outside the United States, or are generally hard to find. Now it is a column all its own! You might ask, "Why should I care about a film I have no access to?" My goal is to keep these films relevant because some of them genuinely deserve to be recognized. Every time I review a new film I will have a list of those I covered below so you can see if they have been announced for DVD release, or are still out of print.
MISSING:
QUADROPHENIA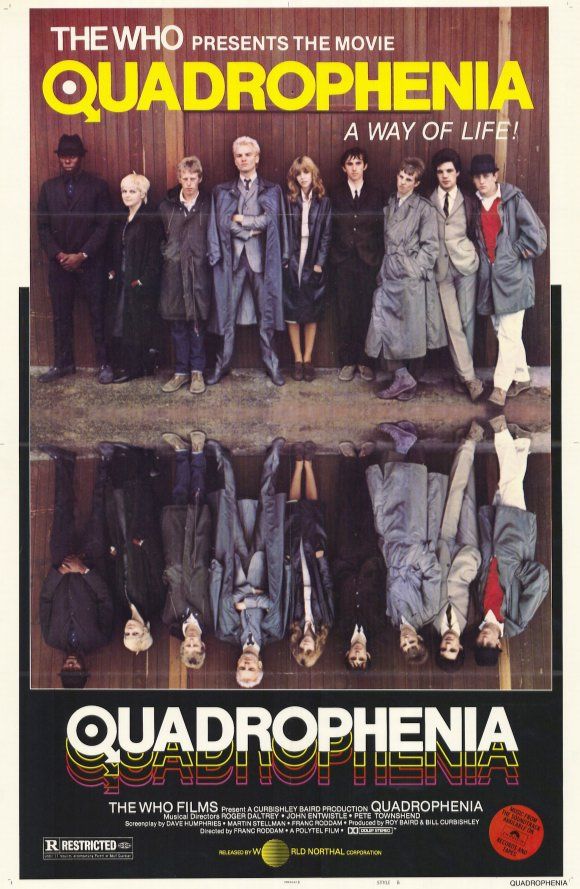 Starring: Phil Daniels, Leslie Ash, and Philip Davis
Directed By: Franc Roddam
Written By: Dave Humphries, Martin Stellman, and Franc Roddam
Original Release Date: November 2, 1979
Running Time: 115 minutes
Missing Since: September 25, 2001
Existing Formats: OOP Region 1 DVD, VHS, and Region 2 DVD
Netflix Status: Not Available
Availability: Moderately Rare
The English rock band The Who released their sixth studio album Quadrophenia on October 19, 1973. Six years later the film adaptation of their second rock opera would hit theaters. Oddly enough, it took six years, from 1969 to 1975, for The Who's album Tommy to be made into a film as well. Unlike Tommy, which literally was an opera on the big screen, Quadrophenia is not a musical piece. Obviously the soundtrack featured numerous pertinent classics by The Who and other artists, but they are not the priority. The title is a variation on the term schizophrenia as dissociative identity disorder by reflecting the four personalities of the main character, Jimmy.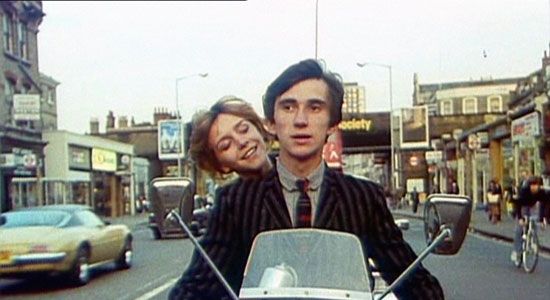 Jimmy gives his crush
Steph a scooter ride.
The title is also a play on the term quadraphonic sound. Composer Pete Townsend elaborates on that: "The whole conception of Quadrophenia was geared to quadraphonic, but in a creative sort of way. I mean I wanted themes to sort of emerge from corners. So you start to get the sense of the fourness being literally speaker for speaker." Additionally, parts of the story were inspired by a newspaper article Townsend read about an eighteen year old who threw himself off a cliff. On a bonus trivia side note, this is said to be Cameron Crowe's favorite film.
After seeing The Who in concert in 2002, I became a tremendous fan. Yet while I had heard most of the songs from Quadrophenia, I realized I never listened to the album from start to finish until preparing for this review. The most recent anniversary edition is fabulous by the way. What always struck me about The Who's material is the brilliance with which each album flows. The film Quadrophenia echoes that. As a matter of fact, it is one of the most faithful adaptations I can recall. We're commonly familiar with adapting books and graphic novels, but look no further than Tommy and Quadrophenia for examples of music coming to life in cinematic form. Franc Roddam's feature debut is not a masterpiece, but certainly an exhilarating piece of work.
Kicking off in 1965 London, the story follows the disillusioned existence of teen Jimmy Cooper (Phil Daniels). He lives with his critical parents and is employed as a post room boy at an advertising firm. But he lives to spend time with his friends, known as the Mods (short for modernist) riding their Vespa scooters, drinking, fraternizing, and popping pills. His parka wearing crew consists of many people, but his three main pals are Dave (Mark Wingett), Chalky (Philip Davis), and Spider (Gary Shail). Jimmy's life begins to spiral out of control as he gets closer with a young girl named Steph (Leslie Ash) and reignites a childhood friendship with Kevin (Ray Winstone), who happens to be a member of the Mods' rival gang, the Rockers. Both groups highly anticipate a three-day Bank Holiday which leads to a convergence at Brighton Beach. Amidst rebellious music and daze-ridden partying, Jimmy struggles to find himself as reality rears its ugly end.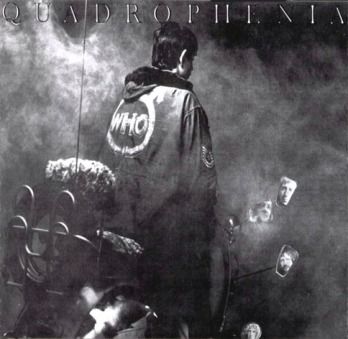 The album cover.
At the core, Quadrophenia is about a confused 19 year-old and that tumultuous transition period from the conclusion of your teenage years to the beginning of adulthood. Every decade sees frequent updated takes on this concept, so in that realm Quadrophenia was hardly novel. But it's the execution that counts with regard to recycled themes, and Franc Roddam's first mainstream offering is saturated with a contagious energy. Combine that with the flawless music by The Who and their tale of schizophrenic woe and a near great film is born. The shifting of Jimmy's personalities are subtle, perhaps excessively so, and I wonder if the message would have been as clear had his father not casually accused him of being schizophrenic. In the film they lean more towards mood swings, each representing a different member of The Who: Roger Daltry, Keith Moon, Pete Townsend, and John Entwistle. Nevertheless, the tough guy, the romantic, the lunatic, and the beggar/hypocrit are all present, creating a volatile atmosphere.
But the soundtrack can only elevate the premise so much. The cast needs to speak for themselves, and Quadrophenia is carried by Phil Daniels, who delivers a raw, emotional rollercoaster of a performance as Jimmy. Being able to nail the "teen angst" role is almost a rite of passage for young actors, but Daniels proves he is not willing to settle for passable. His depiction of Jimmy is passion-fueled and it is a testament to his abilities (and the filmmakers) that observing this kid draw closer and closer to exploding instills an unstable, yet engaging form of suspense. The rest of the line-up disappears into their respective parts of Mods and Rockers. This is Daniels' show, so no one challenges his spotlight. Leslie Ash is wonderful as the understandably fickle teenage girl whom every guy has their eye on. Mark Wingett, Philip Davis, Gary Shail, Michael Elphick, and Kate Williams all supply exemplary turns. And you will also notice a marvelous young Ray Winstone (sans beard) as the Rocker Kevin.
Roddam and his crew capture the details of the era flawlessly, such as the trademark uniforms, the strife, the sudden violence, the carefree sex, the drugs, and of course the music that inspired and influenced a generation. Recreating these idiosyncrasies and recognizable traits is a fine accomplishment, but Roddam and The Who mix them in an organic fashion, eliminating all artificiality. At the same time, the director's flow radiates an enthusiastic "off the cuff" quality. Take the sequence where Jimmy and his friends crash a party. The camera investigates each corner of the home as it simultaneously follows Jimmy doing that as well. Dave Humphries and Martin Stellman's script is infused with streetwise dialogue and a believable vibe. The accents are thick, so using the subtitles might be a necessary option, but the hardened exchanges definitely aid the chemistry between the actors. Roddam's employment of close-up shots and a handheld camera approach maintains the superb pacing and starkness of the tale.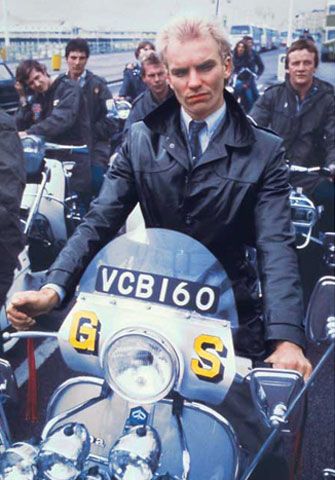 Meet "Ace Face"
played by Sting
While the music is an important bone in the body of this film, the action is not controlled by it as in Tommy where the songs acted as a vital character in the structure. The Who produced Quadrophenia and were the musical supervisors, so they along with Franc Roddam balance the music with the storyline and acting astutely. It serves as a sort of narration, though not one were everything is explained in the simplest manner. Analyzing the soundtrack with the plot would be beneficial and thought-provoking for future viewings. What's remarkably refreshing is that The Who did not limit the soundtrack to only their tunes. Music was everywhere in the 60's so the film includes: "Da Doo Ron Ron" by The Crystals, "Night Train" by James Brown, along with Who classics like "Reign O'Er Me" from the titular double-album, even "My Generation," and more. Parking their ego at the door, the decision to use a wide variety of sounds only helps encapsulate the age.
Quadrophenia could have narrowed its focus to merely rival gangs, a teenage crush, addiction to controlled substances ("Blues" in this case), or a coming-of-age path, but it corals all of those elements with splashes of brilliance. Although the schizophrenic angle is discussed and targeted, one wonders how literal The Who and Franc Roddam intended that to be exhibited. Does Jimmy truly suffer from multiple personalities, or is he just a misunderstood young man who feels like everyone is against him? The movie does not say outright, but perhaps that's the point. From a sociological perspective, Quadrophenia is a blast from the past examining youth dissent and the British middle-class. On the other hand, the relevance and timelessness of its "searching for an identity" message is indisputable.
Quadrophenia has been released on DVD before, but early on when the format was still gaining speed and the transfer left a lot to be desired. Since then, it has been dipped multiple times on Region 2 and currently they have a solid 2-disc edition available on standard and Blu-Ray. That's what I own, but don't fret, Criterion acquired the title and it will see a newly refurnished edition from that company in August. I would not give Quadrophenia a "10" necessarily, but it is a powerful effort, if you're a music and film buff, I promise this will be right up your alley.
Final Rating = 9.0/10.0
—Out of Print—
The Taking of Pelham 123 (1998-TV)
The Stepfather 3
Latin Lovers
State Fair (1933)
Sleuth (1972)
Johnny Guitar
Assembly
High Noon Part II: The Return of Will Kane
Ishtar
The Prehysteria! Trilogy
Only Yesterday
Ocean Waves
The Little Norse Prince
Breaking the Waves
Cruel Story of Youth
Two Rode Together
Love with the Proper Stranger
Betrayal
Willard (1971)
Ben
The Wizard of Speed and Time
Return from the River Kwai
Clarence
It Happened One Christmas
Napoleon (1927)
A Brighter Summer Day
Little Darlings
Karen Carpenter Double Feature
The Crimson Pirate
Roman Polanski's Pirates
The Mighty Thor: 1966 Cartoons
Hulk: The 1966 Cartoons
Mr. Boogedy Double Feature
Stanley Kubrick's Boxes
Shanks
7 Women
Last Summer
We Sold Our Souls for Rock 'N' Roll
Saxon – Heavy Metal Thunder: The Movie
Christopher Columbus: The Discovery
1492: Conquest of Paradise
The Decline of Western Civilization (1981)
The Decline of Western Civilization Part II: The Metal Years
The Decline of Western Civilization Part III
Execution of Justice
The Gambler
Death of a Salesman (1951)
Italianamerican & American Boy
Greed
No Holds Barred – Available 7/3/12
The Godfather Saga: A Novel for Television
The Legend of Nigger Charley
The Soul of Nigger Charley
—Available on Netflix, Instant Watch (But Not to Purchase)—
The Heartbreak Kid
Cinemania
Richard Burton's Hamlet
Orson Welles' Othello
The Keep
The Swimmer
Only the Lonely
North
The Cook The Thief His Wife & Her Lover
SubUrbia
—Available through Amazon Video on Demand Only—
Barfly
Seconds
King Solomon's Mines (1937)
—Now Available on DVD—
The African Queen
A Return to Salem's Lot – Available Through Warner Archives
Phantasm II
Red Cliff Part 1 and Part 2 – All Versions Available
The Stepfather
The Stepfather 2
Homicide
America, America
Cavalcade – Available in the 20th Century Fox 75th Anniversary box set
Ensign Pulver – Available Through Warner Archives
Children of the Corn 2: The Final Harvest
The Unholy Three – Available Through Warner Archives
The Magnificent Ambersons – Available with Citizen Kane Blu-Ray set
Salem's Lot
1-900
I'm a Cyborg, But That's Ok
Captain America – The 1979 Movies
Captain America (1990) – Available through MGM Limited Edition Collection
Wings
World on a Wire
The Portrait of a Lady
Reykjavik-Rotterdam
—Other Articles to Read—
The Artist: Analyzing Its Popularity
When Going to the Movie Theater Became Torture
The Best and Worst Movie Posters of 2011
Top 50 Movies of the Decade (2000-2009)
The Best and Worst of 2011
The Pet Peeves of 2011
Follow @Mr_CWebb
Follow @411mania
Follow @411wrestling
Follow @411moviestv
Follow @411moviestv
Follow @411games
Follow @411mma
---
"The plural of Chad is Chad?"
–From the movie Recount
NULL