Nether Regions 06.14.12: Wuthering Heights (1939)
June 14, 2012 | Posted by
Nether Regions started as a segment of the Big Screen Bulletin in the movie-zone that meant to showcase films that have been discontinued on DVD, are out of print in the United States, are only available in certain regions outside the United States, or are generally hard to find. Now it is a column all its own! You might ask, "Why should I care about a film I have no access to?" My goal is to keep these films relevant because some of them genuinely deserve to be recognized. Every time I review a new film I will have a list of those I covered below so you can see if they have been announced for DVD release, or are still out of print.
MISSING:
WUTHERING HEIGHTS (1939)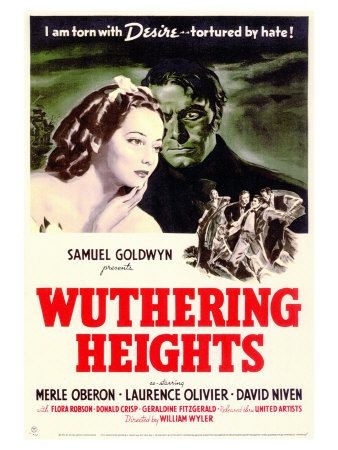 Starring: Laurence Olivier, Merle Oberon, and David Niven
Directed By: William Wyler
Written By: Charles MacArthur and Ben Hecht
Original Release Date: April 7, 1939
Running Time: 104 minutes
Missing Since: December 12, 1994
Existing Formats: VHS
Netflix Status: Not Available
Availability: Moderately Rare
Emily Bronte wrote Wuthering Heights between October of 1845 and June of 1846. It was her only published novel. Since then it has given rise to adaptations in just about every form of artistic expression, from all corners of the world. There have been approximately 23 film and television versions, more than half a dozen radio broadcasts, 7 unofficial sequel/spin-off novels, 3 operas, a ballet, and evens various songs. Suffice to say, this story has been around, so you probably have some familiarity with it. Now considered a masterpiece of English literature, I first encountered the book in high school. It was assigned to us for a reading assignment. I doubt I even tried to read it. But afterwards our teacher showed us one of the movie versions, and that I do indeed remember vividly.
Lockwood enters Wuithering Heights
and gets warm by
the fireplace.
Although not the first book-to-screen translation, William Wyler's 1939 film is definitely the most popular, acclaimed, and yet oddly enough, the hardest to find. There are unofficial region 0 DVDs in circulation, but they might as well be bootlegs. Wuthering Heights is an archetypal example of a 1930's Hollywood production. It was nominated for 8 Academy Awards and won 1 for Best Cinematography (black-and-white category) to Gregg Toland. The story is known for the sweeping forbidden romance between Heathcliff and Cathy, but this re-telling is much darker and more foreboding than its given credit for. This is an established classic, but it is not free of blemishes, despite the remarkable qualities of the direction and at least one-half of the leads.
In case you've only heard the title, Wuthering Heights takes place on the moors of Yorkshire, England at a property called Wuthering Heights. We join the events with Mr. Lockwood (Miles Mander) fighting the freezing temperatures and unrelenting snow by stumbling onto the miserable, desolate land trying to find shelter from the storm. He enters Wuthering heights and discovers that the inhabitants are anything but happy and the host, Heathcliff (Laurence Olivier) greets him with a cold demeanor. After Lockwood is allowed a room for the night, he has a vision of a female outside and a voice calling out, "Heathcliff, let me in! I'm out on the moors. It's Cathy!" Heathcliff learns of this and promptly throws him out of the room. Heathcliff then runs out of the house calling out to Cathy. The housekeeper Ellen (Flora Robson) informs Lockwood that he has seen the ghost of Cathy Earnshaw (Merle Oberon). When he responds that he does not believe in ghosts, she says he might once he hears Cathy's story.
The primary plot then unfolds via flashback, where Mr. Earnshaw (Cecil Kellaway) returns home with a boy, Heathcliff, whom he found on the streets. Mr. Earnshaw has two children, Cathy and Hindley. Cathy becomes close with Heathcliff, but Hindley is cruel to him and treats him like an outcast. This behavior gets worse once Mr. Earnshaw dies and Hindley is made master of the house. Flash forward ten years and everyone is grown up. Heathcliff and Cathy have fallen in love and commonly meet on Peniston Crag as a favorite spot. Hindley (Hugh Williams), now a drunken gambler, orders Heathcliff around as a stable boy. One night Heathcliff and Cathy spy on a party at the Linton estate, their neighbors. Cathy is injured as they try to escape from the guard dogs, so the family takes her in for a time to heal her wounds. Soon Cathy is torn between the wealth and glamour of the Linton family and the deep love she feels for Heathcliff.
As melodramatic as this pre-Victorian tale is, the controversy behind the scenes of the production might have it beat. Initially intended as a vehicle for actress Merle Oberon, that certainly changed when Sir Laurence Olivier was cast as Heathcliff. He instantly wanted his fiancée Vivian Leigh hired to play Cathy, but studio executives felt she was too unknown in America then. She was offered the role of Isabella, but declined only to reach glory by diving into Gone with the Wind. The arguments on set between the leads, the leads and the director, not to mention the director and the studio, were numerous. One incident involved Olivier accidentally spitting on Oberon during an intense sequence. She quickly scolded him for this, which incited a heated exchange and Oberon running from the set in tears. David Niven (Edgar Linton) hated the fact that he was working with Wyler again, but he also was uncomfortable with Oberon since they once had an illicit love affair. Because he allegedly had trouble being convincingly upset, he was given a substance to help him cry, which resulted in green goo coming out of his nose.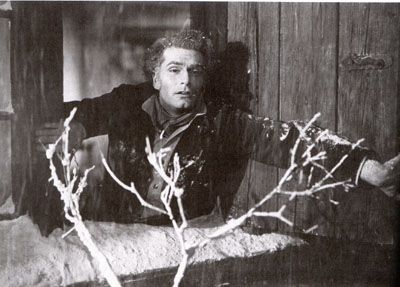 A worn Heathcliff is
plagued by Cathy's ghost.
Even though Olivier would recall his interactions with William Wyler more kindly later in life when penning his autobiography, the word was that he was extremely frustrated with the director's tiring style. Many scenes required countless takes. During one, Olivier exclaimed, "For God's sake, I did it sitting down. I did it with a smile. I did it with a smirk. I did it scratching my ear. I did it with my back to the camera. How do you want me to do it?" Wyler's response was, "I want it better." Wyler had more to contend with other than his cast however. Producer Samuel Goldwyn to be exact. The final scene is debated to this today. I will not spoil it, but it was not in the novel and Wyler refused to include it. The addition was happier in nature, so Goldwyn overruled him. Someone else was summoned to film this short moment, and because Olivier and Oberon had long left for other projects, doubles were cast in their place.
As far as Laurence Olivier and David Niven's performances are concerned, their quarrels with Wyler only complimented their turns. Heathcliff is Olivier's maturation from a stage actor to a matinee idol. Olivier has been in just about every adaptation of a written classic you can think of, but he has a tendency to ham it up. I have seen all of his Shakespearean projects and none of them really knocked my socks off. Nevertheless, his resume is long and his abilities versatile. Olivier is legendary now, but in 1939 he had not broken through the American audiences. Heathcliff would turn him into an international superstar. His piercing gaze is magnetic and his forceful line delivery steals every single scene he's apart of, effectively leaving Merle Oberon in the dust.
Proving himself to American studio executives was just as difficult as it was doing for its moviegoers. Samuel Goldwyn was dissatisfied with his exaggerated performance early on during the filmmaking and threatened to fire him. The eternally egotistical Olivier then voiced his displeasure with Oberon, calling her an amateur. But in Hollywood reputation is everything and Oberon was well-liked by the public. Goldwyn informed Olivier that he was dispensable. Olivier soon realized Goldwyn was correct and began to hone his performance to better suit the big screen. He credited William Wyler with helping him ease through the transition. And even if they were not best friends, I guess we have Wyler to thank for the future decades of Olivier greatness.
Merle Oberon was indeed already an established star with her sole Oscar nomination for The Dark Angel, but this was largely due to her relationship and marriage to famous producer Alexander Korda. Wuthering Heights would be her most famous offerings, but her depiction is a symbol for unevenness. The reason why Olivier's career is cherished is because his recitals have aged well. Oberon graduated from the old-fashioned method of acting, accentuating every movement of her body, using sharp whips of the head to suggest dramatic flair, and generally overstating the her script requirements. She is best in the intimate scenes with Olivier, whose effortless capacity for creating chemistry absolutely aids his struggling co-star. Where she missteps is the character development from a head over heels homegrown girl to a pretentious rich wife. Olivier's Heathcliff accomplishes his shifts with extraordinary subtlety. Oberon seems to change almost instantly, which is odd. In supporting roles, David Niven is exceptional as the snooty Edgar Linton, Flora Robson is a gem as the housekeeper Ellen, while Geraldine Fitzgerald is solid but rough around the edges as Edgar's sister Isabella and Hugh Williams is delightfully nasty as Hindley.
From a purist standpoint, I'm sure Emily Bronte fans dismiss this version since it got the ball rolling on the majority of the trends that would carry over to nearly ever other recountal. To start, the film only covers the first 17 out of 34 chapters. The entire sub-plot with the second-generation family members was excised. Secondly, the optimistic ending and emphasis on undying love is a theme most other attempts would emulate. There is a small yet vocal group that feels the 1970 film starring Timothy Dalton and Anne Calder-Marshall is the best. The first to be in color, it has the asset of a fervent male lead, but also possesses clear problems. I have also seen the 1992 interpretation starring Juliette Binoche and Ralph Fiennes, and while it ventures to incorporate every chapter, it makes some severe mistakes (Sinead O'Connor narrates?) and is mostly bland. I have received positive feedback on 2009 TV movie with Tom Hardy, so that will be the next one I check out.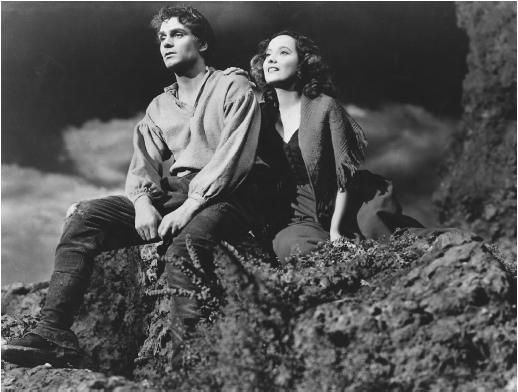 Heathcliff & Cathy
admire the view
on Peniston Crag.
Having failed to read and pay attention to the book in high school, I cannot lend my opinion as to Bronte's message or aim, but I do have some thoughts on the scope of this account. Gregg Toland's bravura moody cinematography and Alfred Newman's ominous score contradict Goldwyn's apparent objective to flesh out the romance. Obviously that is integral to the story, but Wyler's knack for instilling dread, even horror to a degree far surpasses the exertions to sweep viewers off their feet admiring Heathcliff and Cathy's affection for one another. I enjoyed Wuthering Heights as story of vengeance and holding grudges. They say revenge is a dish best served cold and Heathcliff unquestionably lived by that credo. This is a man who never forgot anyone (including Cathy) that wronged him. As he grew older and acquired higher status, he just could not let go, dragging everyone in his path down with him. He loves Cathy, but when he cannot lure her into his arms immediately, he drives the nail in by courting her sister-in-law. With any book adaptation, the structure is bound to be a bit choppy, but Wyler does a fine job of cutting those bumps down. Not every relationship is given a lengthy amount of time to burgeon, but I appreciated the pace considering this is a brisk 104 minutes. The major hurdle Wyler and Goldwyn crash into is in skipping over the means with which Heathcliff became wealthy. It is not explained and should have been.
William Wyler was 37 when he made Wuthering Heights and had been employed in the movie industry for over a decade. His best work was yet to come. In the 40's and 50's he churned out a string of great films like Mrs. Miniver, The Best Years of Our Lives, Ben-Hur, and many more. His Wuthering Heights is immensely entertaining, but at times strikes me as two different ideas clashing, an epic romance or the downfall of two families? Regardless of any faults, Wyler was a skilled craftsman and viewers will remain glued to the screen for the entirety. The locations supplement that goal. It was filmed in the San Fernando Valley, but Wyler captures the aura of England and the imposing presence of the fictitious abode adeptly. The production design and costumes heighten the elegance of the project. The story transpires in the late 18th century, but Goldwyn supplied mid-19th century Civil War era clothing allegedly to recycle them from another film.
The rights to this Wuthering Heights have probably changed hands over the years, but why it has not been given an acceptable DVD release as of this date is anyone's guess. William Wyler and Laurence Olivier make this a suspenseful, absorbing piece of drama, but I also recognize its shortcomings. Period dramas are routine from year to year, so are ones focusing on rich snobs, but I wonder if the woefully arrogant personalities in this Yorkshire yarn are increasingly hard for people to relate to as time passes. Maybe that has something to do with why MTV tried to pull off a ridiculous updated rendition in 2003. Anyone expecting the quintessential Wuthering Heights to land in our laps is likely to be waiting awhile. The size of the plot is just too intimidating to fit into one package. It would need an ambitious orchestrator. This first-rate achievement from the Golden Age of Hollywood might not be pristine, but it is still arguably the best version of Bronte's unresolved passion narrative until another challenges its spot atop the rocky cliffs of Peniston Crag.
Final Rating = 7.5/10.0
—Out of Print—
The Taking of Pelham 123 (1998-TV)
The Stepfather 3
Latin Lovers
State Fair (1933)
Sleuth (1972)
Johnny Guitar
Assembly
High Noon Part II: The Return of Will Kane
Ishtar
The Prehysteria! Trilogy
Only Yesterday
Ocean Waves
The Little Norse Prince
Breaking the Waves
Cruel Story of Youth
Two Rode Together
Love with the Proper Stranger
Betrayal
Willard (1971)
Ben
The Wizard of Speed and Time
Return from the River Kwai
Clarence
It Happened One Christmas
Napoleon (1927)
A Brighter Summer Day
Little Darlings
Karen Carpenter Double Feature
The Crimson Pirate
Roman Polanski's Pirates
The Mighty Thor: 1966 Cartoons
Hulk: The 1966 Cartoons
Mr. Boogedy Double Feature
Stanley Kubrick's Boxes
Shanks
7 Women
Last Summer
We Sold Our Souls for Rock 'N' Roll
Saxon – Heavy Metal Thunder: The Movie
Christopher Columbus: The Discovery
1492: Conquest of Paradise
The Decline of Western Civilization (1981)
The Decline of Western Civilization Part II: The Metal Years
The Decline of Western Civilization Part III
Execution of Justice
The Gambler
Death of a Salesman (1951)
Italianamerican & American Boy
Greed
No Holds Barred – Available 7/3/12
The Godfather Saga: A Novel for Television
The Legend of Nigger Charley
The Soul of Nigger Charley
Quadrophenia – Available 8/28/12
—Available on Netflix, Instant Watch (But Not to Purchase)—
The Heartbreak Kid
Cinemania
Richard Burton's Hamlet
Orson Welles' Othello
The Keep
The Swimmer
Only the Lonely
North
The Cook The Thief His Wife & Her Lover
SubUrbia
—Available through Amazon Video on Demand Only—
Barfly
Seconds
King Solomon's Mines (1937)
—Now Available on DVD—
The African Queen
A Return to Salem's Lot – Available Through Warner Archives
Phantasm II
Red Cliff Part 1 and Part 2 – All Versions Available
The Stepfather
The Stepfather 2
Homicide
America, America
Cavalcade – Available in the 20th Century Fox 75th Anniversary box set
Ensign Pulver – Available Through Warner Archives
Children of the Corn 2: The Final Harvest
The Unholy Three – Available Through Warner Archives
The Magnificent Ambersons – Available with Citizen Kane Blu-Ray set
Salem's Lot
1-900
I'm a Cyborg, But That's Ok
Captain America – The 1979 Movies
Captain America (1990) – Available through MGM Limited Edition Collection
Wings
World on a Wire
The Portrait of a Lady
Reykjavik-Rotterdam
—Other Articles to Read—
The Artist: Analyzing Its Popularity
When Going to the Movie Theater Became Torture
The Best and Worst Movie Posters of 2011
Top 50 Movies of the Decade (2000-2009)
The Best and Worst of 2011
The Pet Peeves of 2011
Follow @Mr_CWebb
Follow @411mania
Follow @411wrestling
Follow @411moviestv
Follow @411moviestv
Follow @411games
Follow @411mma
---
"The plural of Chad is Chad?"
–From the movie Recount
NULL