Nether Regions 07.04.12: The Defiant Ones (1958)
July 4, 2012 | Posted by
Nether Regions started as a segment of the Big Screen Bulletin in the movie-zone that meant to showcase films that have been discontinued on DVD, are out of print in the United States, are only available in certain regions outside the United States, or are generally hard to find. Now it is a column all its own! You might ask, "Why should I care about a film I have no access to?" My goal is to keep these films relevant because some of them genuinely deserve to be recognized. Every time I review a new film I will have a list of those I covered below so you can see if they have been announced for DVD release, or are still out of print.
MISSING:
THE DEFIANT ONES (1958)

Starring: Sidney Poitier, Tony Curtis, and Theodore Bikel
Directed By: Stanley Kramer
Written By: Nedrick Young and Harold Jacob Smith
Original Release Date: September 27, 1958
Running Time: 96 minutes
Missing Since: December 11, 2001
Existing Formats: OOP Region 1 DVD and VHS
Netflix Status: Not Available
Availability: Moderately Rare
The Defiant Ones was nominated for 9 Academy Awards in 1959. The story follows two escaped convicts, one black and one white, who must get along to elude capture. They are Joker Jackson (Tony Curtis) and Noah Cullen (Sidney Poitier). After their prison transport truck wrecks off the side of the road, they flee the scene while the Sheriff (Theodore Bikel) and a search party follow in close pursuit. The story was remade in mediocre fashion for television in 1986 starring Robert Urich and Carl Weathers and even worse in 1996 with Laurence Fishburne and Stephen Baldwin in Fled.
Having heard of The Defiant Ones but never actually seen it, I made a point to seek it out after Pixar's John Lasseter hailed it as one of the greatest movies ever to Charlie Rose and mentioned that the relationship between Woody and Buzz (Toy Story) was modeled after Joker and Cullen. Though I wouldn't quite bow down like Mr. Lasseter, The Defiant Ones succeeds in being a masterfully paced, multi-layered thriller with harmonizing amounts of drama and action. In researching reviews from the past (and those more current), I discovered that despite its accolades, Stanley Kramer's third feature is far from unanimously praised. But even those who had issues with how the film's central message was conveyed agree that the two leads are sensational.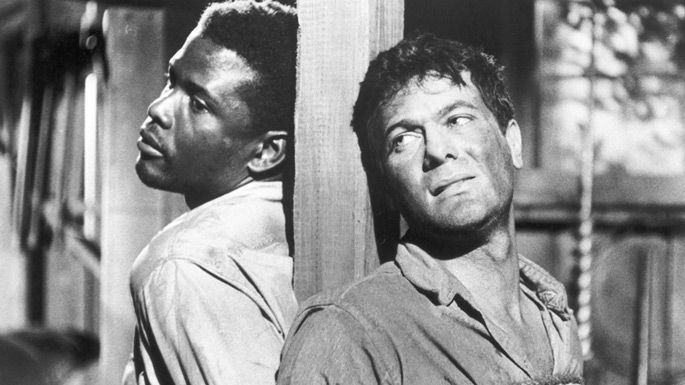 Joker and Cullen
tied up.
The fact that The Defiant Ones carries a theme of racial tolerance and equality is admirable enough, but integrated with that is the moral/political dilemma faced by Sheriff Max, and observing the main characters struggle with the parameters set by the chain. The Sheriff initially approaches the situation as if the escape is an annoyance, but he is persistently laid back and nonchalant. All the while State Police Captain Frank Gibbons (a wonderfully bearish Charles McGraw) questions his every move. The two have many verbal jousts as they argue over who is in charge, who is making the correct decisions, and whether or not the Sheriff's re-election will be affected. Theodore Bikel is funny, sufficiently intense, and surprisingly compassionate as Sheriff Max Muller. His most memorable moments occur when he is antagonizing the dog trainer, who values the safety of his Dobermans and bloodhounds above all else.
By the late 50's, Sidney Poitier was well-known, but his greatness was not yet fully established. His breakthrough role from Blackboard Jungle had happened, but Noah Cullen was certainly a stepping stone to being the first black person to win the Academy Award for Best Actor in 1963 for Lillies in the Field. He was nominated for The Defiant Ones, and it was the first time a male black actor received a nod for a competitive Oscar. Some have contested that Noah falls under the stereotypical "Magical Negro" character category, meaning he will do anything for the white character. I disagree with this notion wholeheartedly since both Joker and Noah fight and help each other out in an evenhanded manner. Poitier's turns strikes me as the calm before the storm. He possesses a bubbling fervor that makes him increasingly hypnotizing. One objective was in presenting a realistic portrayal of the black man, and Poitier triumphs in that respect. That was a goal he never had trouble meeting, although later in his career he tended to play black characters with no flaws. Noah does not suffer from that.
One of the finest sequences has the two linked prisoners sitting and waiting for a small town General Store to close so they can break in for necessities. While they rest, each man shares the story of how they got arrested. Both Noah and Joker are similar in that they have pent-up anger in regards to their position in life. Both men have tempers they have difficulty controlling, and being chained to someone they assume to have nothing in common with only adds fuel to the fire of those volcanic emotions. Noah wants to be treated like everyone else and hates having to conform, while Joker desires wealth and notoriety. Being average is akin to torture. Joker consistently refers to "Charlie Potatoes," an old slang term depicting someone who is on top of the world. Both men are searching for something more in life and seem to ignore the mistakes they've made. Their crimes might be different, but they stem from the same resentment, inflexibility, and longing for the easy way out. From the journey together, they confront their faults and learn to care about someone other than themselves regardless of color.
For Tony Curtis, The Defiant Ones provided him the challenge of two transitions. The first was overall in his career, moving away from the pretty boy roles he was recognized for and into more serious parts. Fortunately this period marks his peak, kicking off with Sweet Smell of Success in 1957 and on through Spartacus in 1960. The second transition is that of the character Joker, who must adapt from a contemptible jerk who would gladly slay his companion to a man who might sacrifice himself to save a friend. Curtis on occasion does not get the acclaim he deserves, but it is a testament to his abilities that he pulls off this evolution with such ease. He has the majority of the noteworthy lines. Take his debate with Cullen on the utterances of terms like "honky" and "nigger." The intimate segment with Cara Williams' splendidly seductive single mother stands out as well. Describing Curtis and Poitier as having chemistry might not be totally appropriate. They are in sync and flow magnificently as a conflicting unit since well, that's the point. The stubbornness of both men is their greatest weakness, and even if you don't agree with their actions, you will at least understand them.
Watching the duo develop from enemies to reluctant partners and eventually buddies is quite stirring. Three times during the tale Poitier's Cullen sings "Long Gone." Joker is aggravated by this at first, but gradually appears soothed by it. They accept each other, even if their deep-rooted feelings about race have not been completely eradicated. The Defiant Ones speaks as much about brotherhood as it does race, however one could contest that neither man has irrevocably seen the error of their ways, yet the script does insinuate this. Even if the communication is muddled, Joker and Cullen's arduous destination can be seen as a pathway to change rather than an instant conversion. They encounter an obstacle (which is also inadvertently beneficial) during the hunt after a group of townsfolk plan to lynch them. Lon Chaney Jr. has a mystifying, brief, yet towering contribution as Big Sam, who shouts at the people in his town being so eager to kill two humans.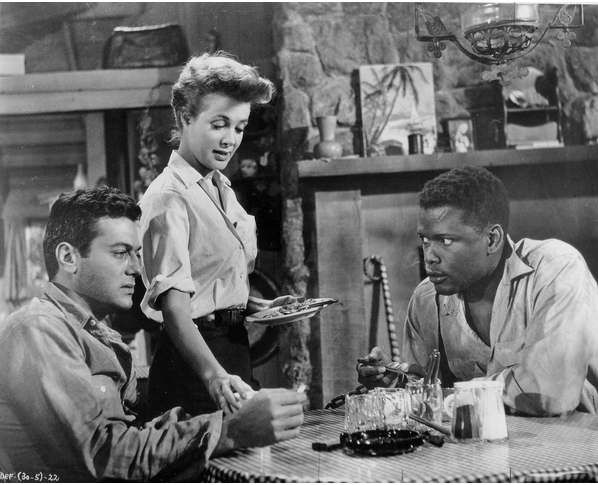 A lonely woman
offers food.
Aside from Poitier's acapella renditions, the only music comes from the radio of Angus, one of the Sheriff's newly deputized citizens. Amusingly, some are irritated that he always has the radio turned on as they continue the search. Angus is played by Carl "Alfalfa" Switzer, the last role before his death. Robert Mitchum was approached for the role of Joker, which would have been significant since he was a member of a Southern chain gang. He declined based on the opinion that a white man would never be chained to a black man in the segregated South. This reasoning snowballed and became misconstrued to the point where some were spreading the story that Mitchum didn't want to work with a black man, which was false. On a side note, there was an uncredited crew member who was a member of a chain gang. Director Stanley Kramer had Poitier in mind right off the bat along with Marlon Brando, and even delayed production for them. But Brando was still filming Mutiny on the Bounty, so Curtis was hired as a replacement. As strong as Curtis is, I can't help but think Brando would have improved this even more, but I digress.
The Defiant Ones launched Kramer to the upper echelon of Hollywood filmmakers. He was now beginning to acquire the "message movie" moniker that would stick with him to this very day. Kramer was never a flashy director and for that reason some have criticized his style. To me he is simple, but confident. Inherit the Wind, Judgment at Nuremberg, Guess Who's Coming to Dinner?, and It's a Mad, Mad, Mad Mad World are all consummate examples of his talent. In The Defiant Ones, he instills an infectious energy with a momentum that is persistently cycling forward, a surefire trademark for Kramer. When the action does stop, the characters are given opportunities to be further fleshed out. The editing is also crackling, suspenseful, and tautly assembled. Timing and pacing were important in polishing out this motion picture. Sam Leavitt took home one of the Oscars for Best Black & White Cinematography, and it's easy to see why. He manipulates shadow and light with stupendously gorgeous results. One scene has Joker and Billy's mother talking about Cullen while standing in front of a car. In the middle of that viewers will notice a small reflection of Poitier entering the room listening to the conversation. Apart from that, the environment and sense of location is deftly outlined by the camerawork, creating a higher clarity and grasp of the surroundings for the audience.
The Defiant Ones should be a known classic, but like many of Kramer's efforts, it has flown relatively under the radar from familiar Golden Age masterpieces. The patchy DVD availability didn't help its cause. But it packs two mammoth performances into a deeply absorbing and spirited parable about racial clashes and camaraderie. The intended lessons could use some smoothing, but other than that critics seem to exaggerate its missteps. I leave you with a quote from George Stevens Jr., who screened the film five years after it was released at the Moscow Film Festival: "The screening was one of the most emotional I have experienced. After the film, the crowd stood—many with tears in their eyes—and gave Poitier and Kramer an ovation that subsided only when we had left the auditorium. Stanley's visit to Moscow marked the high point in the cultural exchange between the two countries during those long years of estrangement."
Final Rating = 9.0/10.0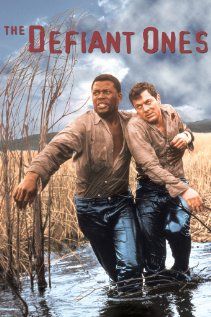 —Out of Print—
The Taking of Pelham 123 (1998-TV)
The Stepfather 3
Latin Lovers
State Fair (1933)
Sleuth (1972)
Johnny Guitar
Assembly
High Noon Part II: The Return of Will Kane
Ishtar
The Prehysteria! Trilogy
Only Yesterday
Ocean Waves
The Little Norse Prince
Breaking the Waves
Cruel Story of Youth
Two Rode Together
Love with the Proper Stranger
Betrayal
Willard (1971)
Ben
The Wizard of Speed and Time
Return from the River Kwai
Clarence
It Happened One Christmas
Napoleon (1927)
A Brighter Summer Day
Little Darlings
Karen Carpenter Double Feature
The Crimson Pirate
Roman Polanski's Pirates
The Mighty Thor: 1966 Cartoons
Hulk: The 1966 Cartoons
Mr. Boogedy Double Feature
Stanley Kubrick's Boxes
Shanks
7 Women
Last Summer
We Sold Our Souls for Rock 'N' Roll
Saxon – Heavy Metal Thunder: The Movie
Christopher Columbus: The Discovery
1492: Conquest of Paradise
The Decline of Western Civilization (1981)
The Decline of Western Civilization Part II: The Metal Years
The Decline of Western Civilization Part III
Execution of Justice
The Gambler
Death of a Salesman (1951)
Italianamerican & American Boy
Greed
No Holds Barred – Available 7/3/12
The Godfather Saga: A Novel for Television
The Legend of Nigger Charley
The Soul of Nigger Charley
Quadrophenia – Available 8/28/12
Wuthering Heights (1939)
—Available on Netflix, Instant Watch (But Not to Purchase)—
The Heartbreak Kid
Cinemania
Richard Burton's Hamlet
Orson Welles' Othello
The Keep
The Swimmer
Only the Lonely
North
The Cook The Thief His Wife & Her Lover
SubUrbia
—Available through Amazon Video on Demand Only—
Barfly
Seconds
King Solomon's Mines (1937)
—Now Available on DVD—
The African Queen
A Return to Salem's Lot – Available Through Warner Archives
Phantasm II
Red Cliff Part 1 and Part 2 – All Versions Available
The Stepfather
The Stepfather 2
Homicide
America, America
Cavalcade – Available in the 20th Century Fox 75th Anniversary box set
Ensign Pulver – Available Through Warner Archives
Children of the Corn 2: The Final Harvest
The Unholy Three – Available Through Warner Archives
The Magnificent Ambersons – Available with Citizen Kane Blu-Ray set
Salem's Lot
1-900
I'm a Cyborg, But That's Ok
Captain America – The 1979 Movies
Captain America (1990) – Available through MGM Limited Edition Collection
Wings
World on a Wire
The Portrait of a Lady
Reykjavik-Rotterdam
—Other Articles to Read—
Fathom Events: Frankenstein & The Tempest
The Artist: Analyzing Its Popularity
When Going to the Movie Theater Became Torture
The Best and Worst of 2011
The Pet Peeves of 2011
Follow @Mr_CWebb
Follow @411mania
Follow @411wrestling
Follow @411moviestv
Follow @411moviestv
Follow @411games
Follow @411mma
---
"The plural of Chad is Chad?"
–From the movie Recount
NULL