Nether Regions 07.26.12: The Stepford Children
July 26, 2012 | Posted by
Nether Regions started as a segment of the Big Screen Bulletin in the movie-zone that meant to showcase films that have been discontinued on DVD, are out of print in the United States, are only available in certain regions outside the United States, or are generally hard to find. Now it is a column all its own! You might ask, "Why should I care about a film I have no access to?" My goal is to keep these films relevant because some of them genuinely deserve to be recognized. Every time I review a new film I will have a list of those I covered below so you can see if they have been announced for DVD release, or are still out of print.
MISSING:
THE STEPFORD CHILDREN
Starring:
Barbara Eden, Don Murray, and Tammy Lauren
Directed By:
Alan J. Levi
Written By:
William Bleich (Based on Ira Levin's Novel)
Original Release Date:
March 15, 1987
Running Time
: 96 minutes
Missing Since:
???
Existing Formats:
VHS exists, but very hard to find
Netflix Status:
Not Available
Availability:
Extremely Rare
The Stepford Wives hit theaters in 1975. Five years later, a made-for-TV sequel was shown called Revenge of the Stepford Wives. Seven years after that, a second sequel was requested. This time it's The Stepford Children. I envision a studio executive dusting off paperwork pertaining to The Stepford Wives after so many years have gone by and thinking "Hey, we should make another one of these!" For those hoping that children as the focus would bring a fresh air to the franchise, sorry to disappoint you. This is mostly a retread of what we've seen before, though I admit, this is increasingly cheesy fun due to the lame overacting of the youngsters in the cast.
Don't fu** with Tammy.
She did kill the
Wishmaster after all.
It doesn't take very long for Laura, Mary, and David to realize that all is not normal in Stepford. Mary and David go to school and see that no one dresses like them. David joins the basketball team, coached by Dick Butkus, and is dismayed when he makes mistakes and everyone else is flawless. No worries. He meets Lois Gregson (Debbie Barker), a hot blonde who wastes no time in getting her some of Davey. Laura finds that the school principal is frustrating to deal with when he thwarts her attempts to start a PTA. Stepford doesn't need one you see. She eventually meets Sandy Gregson (Sharon Spelman), Lois' mom. She appears normal and is eager to make fun of the weird peeps of this suburb. And who would have guessed it, Sandy transforms one day into the epitome of an ideal housewife, a far cry from the peppy woman she once was. The Hardings are not doing well in this new environment, aside from Steven, who is welcomed with open arms by the Men's Association. He has plans to make his family fall in line or else they will suffer a make-over the Stepford way!The action commences as we meet the Harding family. Steven (Don Murray) is a former resident of Stepford and wants to move back for a simpler life, away from the city. Knowing the history of this town, would anyone really want to return? That darn Men's Association must be quite alluring. He was married once, but he doesn't like to talk about it. His new wife, Laura (Barbara Eden), has mixed emotions about the move, but she is starting her own law practice, so there's that. They have two children, carrying the common names of Mary (Tammy Lauren) and David (Randall Batinkoff). Both characters remind us that this takes place in the 80's with their respective punkish wardrobes. Meanwhile, Stepford is busy abusing their children by turning them into straight-laced, polite, attentive teenagers. One creepy scene involves a father taking his irritating son on a fishing trip, only to have three members of the Men's Association join them, tackle the kid into submission, and inject him with something.
Here are some facts you might not have known about Stepford. Their school mascot is the Eagle. Oh yes, I'll bet seeing the Stepford Eagles on your basketball schedule would not make for happy news. They are on their way to winning 10 consecutive conference championships. If the team never loses and as one scene indicated, the players never miss a shot, how could nobody have questioned it? I tell ya, a decade or so later, everyone would have been crying "Roids!" The Sheriff is reminiscent of Boss Hogg from The Dukes of Hazzard with his speech and stature. And thankfully the police force has more than one officer. Relying solely on Don Johnson in Revenge of the Stepford Wives just wasn't cutting it.
A cool poster,
but who is that woman?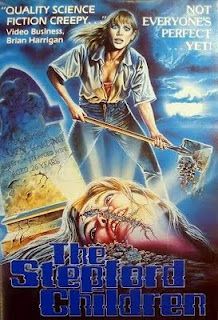 I Dream of Jeannie herself, Barbara Eden, stars as Laura and she's actually tolerable, for this series at least. Her performance has energy and is nowhere near as serious as was portrayed by her female predecessors. Odd how Steven continues to do incredibly insulting things to her in front of the whole town only to win out with his empty apologies quickly thereafter. If I legitimately made fun of my wife in front an entire community, she would crucify me. Don Murray acts as Steven Harding. Murray had delivered some serviceable turns prior to this, most notably in Otto Preminger's Advise & Consent and his debut in Bus Stop alongside Marilyn Monroe. He could also be seen in Conquest of the Planet of the Apes and the television show Knots Landing. Like all of the males in the Stepford flicks, Murray is one-note and forgettable. He's not even vile enough. Interestingly, Ken Swofford's Frank Gregson is the truly despicable villain, even eclipsing the head of the Men's Association. Dick Butkus' intimidating town coach Tom Wilcox is a close second. We have difficult believing Steven's motivation. Every other man is conventional power hungry. Steven just acts confused.
Mary Harding is depicted by a young Tammy Lauren, who had already been involved with several TV projects at this point. I first saw her in The Wishmaster and thought she was quite attractive. However, she looks ridiculous with her huge 80's hairstyle, evidently having exhausted many cans of hairspray. She does exhibit some solid comic timing here and there, but she's also in the strangest sequence of The Stepford Children. After goofing off in class, the photography teacher promptly orders her to be the next subject of posing for shots. He makes every student incessantly snap photos of her in a chair. This has a menacing undertone and upsets Mary to the point of tears. Randall Batinkoff is the stereotypical "afterschool special" version of a teenage boy. He wears super cool sunglasses, drinks from the carton, and :wait for it:…bounces the basketball in the house. Hang him from the nearest tree! Anyway, his romance with Debbie Barker's spunky Lois Gregson is monotonous and eye-rolling. Together, Lauren and Batinkoff supply sitcom level acting. As a matter of fact, most of the moments with the Hardings are eerily similar to Full House meets The Burbs.
Some may argue that The Stepford Children does not directly rip-off the storylines of the previous installments. I would disagree. Both the original Stepford Wives and Revenge used a single plot line. The Stepford Children uses two, both of which are almost exactly the same. Viewers still have the central female protagonist investigating the perplexing events. But where they separate is the inclusion of children. Barbara Eden has an adult friend who suddenly "changes," but then her son David encounters a parallel situation with his girlfriend Lois. Both have trouble gaining the support of others. What would have been a refreshing change of pace is if both parents were in cahoots on building new kids. But this sequel falters in that not only are the children Stepford-ized, so are the mothers….again. It's also never explained why kids are now a factor. The Men's Association never mentioned or cared about children in regards to their "perfect families" in the previous movies, so why now? Is it asking too much for these low-budget sequels to adhere to some semblance of continuity and not just rigidly cling to the same tired outline?
Still not quite sure
what these are.
Alan J. Levi took the directorial reigns for this adventure in Stepford. His style is pedestrian, which is not a shock considering this was made-for-TV. Levi was and remains to this day, strictly a TV show director. He occasionally dips into TV movies like this, but otherwise his allegiance lies with episodic structure. His pacing, story depth, and overall approach reaffirm that statement. I will give credit for Levi infusing William Bleich's lifeless screenplay with a handful of ominous instances, but the loyalty to this familiar premise was just silly. Look, I can't say I've never enjoyed a series that rehashed the same plot over and over. Any fan of mindless action or horror slashers understands that. But it's the small details that matter in those cases, and that is why
The Stepford Children
is such a paltry and sappy exercise. Apart from using concurrent plot threads, little effort was made to alter Stepford or its techniques. You'd think the Men's Association would learn their lesson for goodness sakes! I suppose this sequel had potential, but that's hardly worth thinking about. I wonder how
The Stepford Husbands
will unfold? Check back for the exciting finale of this franchise!To make matters worse, the method of becoming a Stepford child or wife has been adjusted once more. Here it comes across as a combination of both the original and
Revenge
. Initially, when we witness the MA injecting the boy fishing, I assumed they stuck with the pill process from
Revenge
, but later it is revealed that they are created from tubes and wires. This would recall the first film. Ultimately, the skinless concoction you see in the picture is what we're left to analyze, so I have no idea how the new arrangement works. Do they kill the original people? Where do they put the bodies? Does no one in Stepford have any outside relatives that give a shi*? I guess one could say that there is a "twist" in
The Stepford Children
, but it is so blatantly clear from a mile away. Nevertheless, I will leave you to seek it out. Wouldn't want to spoil too much from this gem. Also, the conclusion is abrupt and somewhat jarring, but if you take time for commercials, perhaps they had to wrap things up to make the two-hour slot. Closure you say? Who cares about that?!
Final Rating = 3.0/10.0
—Out of Print—
The Taking of Pelham 123 (1998-TV)
The Stepfather 3
Latin Lovers
State Fair (1933)
Sleuth (1972)
Johnny Guitar
Assembly
High Noon Part II: The Return of Will Kane
Ishtar
The Prehysteria! Trilogy
Only Yesterday
Ocean Waves
The Little Norse Prince
Breaking the Waves
Cruel Story of Youth
Two Rode Together
Love with the Proper Stranger
Betrayal
Willard (1971)
Ben
The Wizard of Speed and Time
Return from the River Kwai
Clarence
It Happened One Christmas
Napoleon (1927)
A Brighter Summer Day
Little Darlings
Karen Carpenter Double Feature
The Crimson Pirate
Roman Polanski's Pirates
The Mighty Thor: 1966 Cartoons
Hulk: The 1966 Cartoons
Mr. Boogedy Double Feature
Stanley Kubrick's Boxes
Shanks
7 Women
Last Summer
We Sold Our Souls for Rock 'N' Roll
Saxon – Heavy Metal Thunder: The Movie
Christopher Columbus: The Discovery
1492: Conquest of Paradise
The Decline of Western Civilization (1981)
The Decline of Western Civilization Part II: The Metal Years
The Decline of Western Civilization Part III
Execution of Justice
The Gambler
Death of a Salesman (1951)
Italianamerican & American Boy
Greed
The Godfather Saga: A Novel for Television
The Legend of Nigger Charley
The Soul of Nigger Charley
Quadrophenia – Available 8/28/12
Wuthering Heights (1939)
The Defiant Ones (1958)
Revenge of the Stepford Wives
—Available on Netflix, Instant Watch (But Not to Purchase)—
The Heartbreak Kid
Cinemania
Richard Burton's Hamlet
Orson Welles' Othello
The Keep
The Swimmer
Only the Lonely
North
The Cook The Thief His Wife & Her Lover
SubUrbia
—Available through Amazon Video on Demand Only—
Barfly
Seconds
King Solomon's Mines (1937)
—Now Available on DVD—
The African Queen
A Return to Salem's Lot – Available Through Warner Archives
Phantasm II
Red Cliff Part 1 and Part 2 – All Versions Available
The Stepfather
The Stepfather 2
Homicide
America, America
Cavalcade – Available in the 20th Century Fox 75th Anniversary box set
Ensign Pulver – Available Through Warner Archives
Children of the Corn 2: The Final Harvest
The Unholy Three – Available Through Warner Archives
The Magnificent Ambersons – Available with Citizen Kane Blu-Ray set
Salem's Lot
1-900
I'm a Cyborg, But That's Ok
Captain America – The 1979 Movies
Captain America (1990) – Available through MGM Limited Edition Collection
Wings
World on a Wire
The Portrait of a Lady
Reykjavik-Rotterdam
No Holds Barred
—Other Articles to Read—
Fathom Events: Frankenstein & The Tempest
The Artist: Analyzing Its Popularity
When Going to the Movie Theater Became Torture
The Best and Worst of 2011
The Pet Peeves of 2011
Follow @Mr_CWebb
Follow @411mania
Follow @411wrestling
Follow @411moviestv
Follow @411moviestv
Follow @411games
Follow @411mma
---
"The plural of Chad is Chad?"
–From the movie Recount
NULL