Nether Regions 08.09.12: The Stepford Husbands
August 9, 2012 | Posted by
Nether Regions started as a segment of the Big Screen Bulletin in the movie-zone that meant to showcase films that have been discontinued on DVD, are out of print in the United States, are only available in certain regions outside the United States, or are generally hard to find. Now it is a column all its own! You might ask, "Why should I care about a film I have no access to?" My goal is to keep these films relevant because some of them genuinely deserve to be recognized. Every time I review a new film I will have a list of those I covered below so you can see if they have been announced for DVD release, or are still out of print.
MISSING:
THE STEPFORD HUSBANDS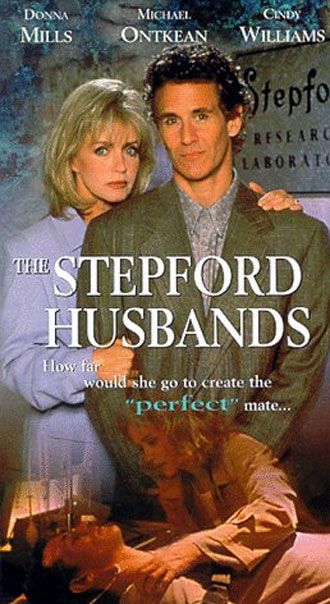 Starring: Donna Mills, Michael Ontkean, and Louise Fletcher
Directed By: Fred Walton
Written By: Ken and Jim Wheat (Based on Ira Levin's Novel)
Original Release Date: May 14, 1996
Running Time: 105 minutes
Missing Since: May 18, 1999
Existing Formats: VHS
Netflix Status: Not Available
Availability: Extremely Rare
In 1996 Paramount/CBS dusted off the Stepford franchise one last time before ultimately deciding to launch the remake under a decade later. We observed the vengeance of the wives, endured the wrath of the children, and all that is left is to turn the tables on the men of the household. The customary outline remains in tact, but instead of the males acting as villain, the women assume that position. I suppose they ran out of ideas following this adventure, though one wonders if they ever considered The Stepford Pets or The Stepford Housekeepers. Maybe The Stepford Wives Go Public could have made an intriguing tale, but I digress. The Stepford Husbands is just as bland, routine, and haphazard as the previous sequels. I know, you're shocked.
In the chilling prologue, a seemingly tame middle-aged man suddenly kills his wife and then commits suicide. Flash-forward to New York City where Jodi Davison (Donna Mills), a graphic designer, and her husband Mick (Michael Ontkean), a struggling author, are having marriage trouble. Jodi is fairly successful and Mick once was, but he has suffered from writer's block for a long time and his last book barely sold at all. He is bitter, resentful, and doesn't want to go out pretending to like Jodi's douchey friends. So the couple chooses to move to Stepford, Connecticut where Jodi takes up her old college friend Caroline (Cindy Williams) on a property offer. Once there, Jodi learns of the accomplished Dr. Borzage (Sarah Douglas) and Miriam Benton (Louise Fletcher), who runs the local women's group. They have introduced a radical new "treatment" for men whom they deem to have issues. It turns out that Caroline's husband had this done. He is completely attentive and caring to his wife, but extremely strict to his kids.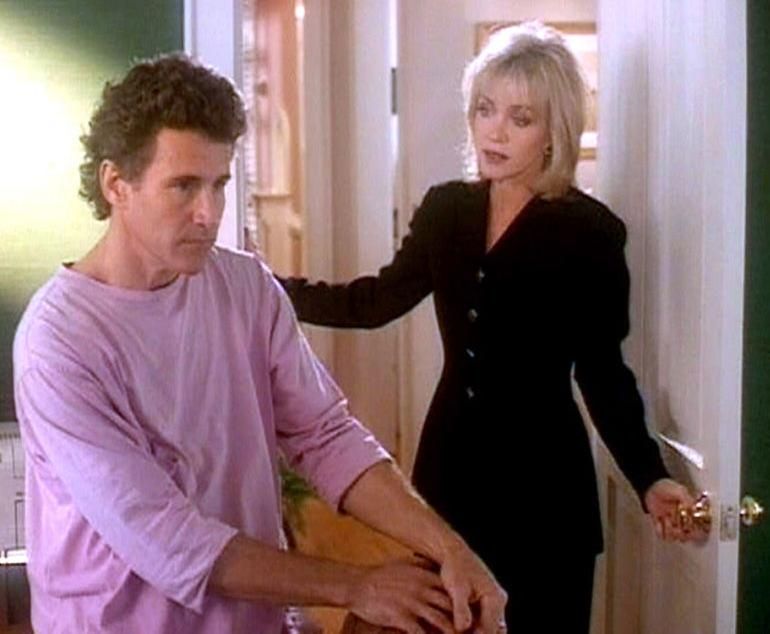 Let me wear my
pink shirts woman!
When Mick meets his neighbor Gordon (Jeffrey Pillars), a lawyer who enjoys sports and drinking, they are both unnerved by how docile the other men in the community are. Soon Gordon is manipulated into undergoing the same process and he returns a totally different person. This only makes Mick's behavior worse. One night at a party, Caroline drugs one of Mick's drinks and he reacts in a preposterously violent way. This clinches it for Jodi that Mick needs to enter the Stepford Institute for Human Behavior for curing. Eventually Mick comes back and is a changed man, but Jodi is worried about all the pills he must ingest on a regular basis. She is increasingly suspicious, but her doubts are confirmed when she denies him sex and he replies "That's ok, we can just cuddle." The horror!
On one hand, I can sympathize with the main character of this installment. After all, we're dealing with men as the victims here instead of women. In this case, the goal of the Stepford females is to domesticate and emasculate their husbands in every conceivable manner. And on top of that, my wife would refuses me sex and I'm going to be fine with it? No siree, that is where I draw the line! Unfortunately, the mental breakdown of this movie is that the shortcomings of the men are nowhere near vile enough to warrant this outlandish experimentation and surplus of psychotropic drugs. They prefer to watch sports on television and tip back a few brews. Oh, and not all of them have the same job security they once did. These sound like normal relationship hiccups. In The Stepford Wives and even Revenge of the Stepford Wives, the Men's Association viewed women as a threat because of the rise of feminism, women's rights, etc. For the wives in The Stepford Husbands, they simply want their husbands as emotionless slaves because, why not?
Low and behold, the method of being a "Stepford" citizen has been altered once again. If you are keeping track at home, in the first film the women who were switched for robots. In Revenge a hairdryer was put on their heads and they were prompted to take one pill after a siren sounded. In Children they went back to robots, albeit more sophisticated looking ones. In Husbands, Gordon and Mick are given weird electroshock therapy and are pumped full of liquids. But somehow instead of only taking one pill to elongate the transformation, they must swallow more than a dozen multiple times per day. This is easily the most plausible "treatment" of the three sequels, but it is terribly silly that Jodi is only slightly concerned when Mick returns with a medicine chest he must carry with him for a lifetime. The side effects of the pills are glazed over and never adequately explained, but these stories have never cared about details, just reiterating the same concept that is hardly scary anyway.
I will tell you what would have engaged me to a degree. Perhaps if we were to learn about how the women usurped the Men's Association, what happened to that pesky band of nitwits, The Stepford Husbands would rise above the level of a insipid Lifetime movie. One nifty little tidbit is that the Stepford Institute is actually the old building where the Men's Association gathered. Still, you have to pay attention to notice that, and puzzlingly they never delve deeper into the history of the regime transfer. The set-up and trajectory basically stays the same aside from the lazy gender reversal. Mick meets a friend who has not yet been changed, that friend ends up getting the rehab treatment and acts differently, and then the danger hits the main character. This movie tries to go a step further, but ends up hurting itself in the process. In light of the fact that anyone who pens one of these scripts cannot avoid focusing on a woman at some point, the action drifts from Mick and revolves around Jodi. They attempt to portray Jodi as he villain and the victim of the Stepford treatment, which is perplexing and silly.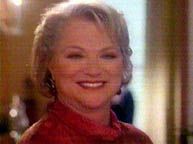 Nurse Ratched comes
to Stepford.
The acting from the cast is largely run of the mill. Continuing to recruit from Knots Landing, Donna Mills brings her phony, soap opera approach to the role of Jodi, while Michael Ontkean (the Sheriff from Twin Peaks) should have channeled Woody Allen in depicting a fledgling writer. If I were rating the chemistry of all the primary Stepford couples, Mills and Ontkean possess the least amount of "sparks." Cindy Williams (Laverne & Shirley) is fantastic as the ruthless bit** Caroline, definitely a better villain than Louise Fletcher (One Flew Over the Cuckoo's Nest), who pretty much just turns in a more subdued version of her Louise Fletcher shtick. Sarah Douglas from the first two Superman films is underutilized as Dr. Frances Borzage. Her character is essential for the ending, but other than that she serves little purpose. I will give credit to Jeffrey Pillars as Gordon, who is by far the most entertaining character in this waste of time. Even when he becomes a Stepford Husband, Pillars is sufficiently tongue-in-cheek.
I would say Paramount deserves a pat on the back for hiring a known horror director for this finale, but that selection didn't mean much since the production was plagued with the usual made-for-TV drawbacks. That director was Fred Walton, who gave us mediocre titles such as When a Stranger Calls, When a Stranger Calls Back, and April Fool's Day just to name a few. And who better to pair him with than Ken and Jim Wheat, a duo who bludgeoned us with more random unnecessary sequels than any screenwriter(s) should have a right to: A Nightmare on Elm Street 4: The Dream Master, Ewoks: The Battle for Endor, The Birds II: Land's End, It Came from Outer Space II. Luckily for them they would go on to land a hit with the Riddick series. Together, the Wheats and Mr. Walton perpetuate the trend of delivering a story that itself seems to have been "Stepford-ized" and stripped of all passion, but it has that in common with the other sequels.
I for one, am ecstatic that I will be able to move on from Stepford, hopefully erasing these sequels and the near 5 hours of my life that they stole, from my memory. I have reviewed other rare franchise sequels in the past and stated then that it makes zero sense why someone can't just lump all these onto a cheap value pack. But now that Warner Archives and the Sony Choice Collection are gaining popularity, I can't imagine many fans would go out of their way to buy individual DVRs of these crappy sequels for $20 or more. Although it would be neat if Paramount just went nuts and released a mammoth box set with all the film in the shape of Katherine Ross' Stepford head, kind of like the Planet of the Apes set. Alas, that wish will have to go unfulfilled.
Final Rating: 3.5/10.0
Sadly no clips or trailers for The Stepford Husbands were available on YouTube or anywhere else, so for fun, here an episode of Married with Children called "The Stepford Peg."
—Out of Print—
The Taking of Pelham 123 (1998-TV)
The Stepfather 3
Latin Lovers
State Fair (1933)
Sleuth (1972)
Assembly
High Noon Part II: The Return of Will Kane
Ishtar
The Prehysteria! Trilogy
Only Yesterday
Ocean Waves
The Little Norse Prince
Breaking the Waves
Cruel Story of Youth
Two Rode Together
Love with the Proper Stranger
Betrayal
Willard (1971)
Ben
The Wizard of Speed and Time
Return from the River Kwai
Clarence
It Happened One Christmas
Napoleon (1927)
A Brighter Summer Day
Little Darlings
Karen Carpenter Double Feature
The Crimson Pirate
Roman Polanski's Pirates
The Mighty Thor: 1966 Cartoons
Hulk: The 1966 Cartoons
Mr. Boogedy Double Feature
Stanley Kubrick's Boxes
Shanks
7 Women
Last Summer
We Sold Our Souls for Rock 'N' Roll
Saxon – Heavy Metal Thunder: The Movie
Christopher Columbus: The Discovery
1492: Conquest of Paradise
The Decline of Western Civilization (1981)
The Decline of Western Civilization Part II: The Metal Years
The Decline of Western Civilization Part III
Execution of Justice
The Gambler
Death of a Salesman (1951)
Italianamerican & American Boy
Greed
The Godfather Saga: A Novel for Television
The Legend of Nigger Charley
The Soul of Nigger Charley
Quadrophenia – Available 8/28/12
Wuthering Heights (1939)
The Defiant Ones (1958)
Revenge of the Stepford Wives
The Stepford Children
—Available on Netflix, Instant Watch (But Not to Purchase)—
The Heartbreak Kid
Cinemania
Richard Burton's Hamlet
Orson Welles' Othello
The Keep
The Swimmer
Only the Lonely
North
The Cook The Thief His Wife & Her Lover
SubUrbia
—Available through Amazon Video on Demand Only—
Barfly
Seconds
King Solomon's Mines (1937)
—Now Available on DVD—
The African Queen
A Return to Salem's Lot – Available Through Warner Archives
Phantasm II
Red Cliff Part 1 and Part 2 – All Versions Available
The Stepfather
The Stepfather 2
Homicide
America, America
Cavalcade – Available in the 20th Century Fox 75th Anniversary box set
Ensign Pulver – Available Through Warner Archives
Children of the Corn 2: The Final Harvest
The Unholy Three – Available Through Warner Archives
The Magnificent Ambersons – Available with Citizen Kane Blu-Ray set
Salem's Lot
1-900
I'm a Cyborg, But That's Ok
Captain America – The 1979 Movies
Captain America (1990) – Available through MGM Limited Edition Collection
Wings
World on a Wire
The Portrait of a Lady
Reykjavik-Rotterdam
No Holds Barred
Johnny Guitar – Now Available on Blu-Ray and DVD!
—Other Articles to Read—
Fathom Events: Frankenstein & The Tempest
The Artist: Analyzing Its Popularity
When Going to the Movie Theater Became Torture
The Best and Worst of 2011
The Pet Peeves of 2011
Follow @Mr_CWebb
Follow @411mania
Follow @411wrestling
Follow @411moviestv
Follow @411moviestv
Follow @411games
Follow @411mma
---
"The plural of Chad is Chad?"
–From the movie Recount
NULL