Nether Regions 08.16.11: Shanks
August 16, 2011 | Posted by
Nether Regions started as a segment of the Big Screen Bulletin that meant to showcase films that have been discontinued on DVD, are out of print in the United States, are only available in certain regions outside the United States, or are generally hard to find. Now it is a column all its own! You might ask, "Why should I care about a film I have no access to?" My goal is to keep these films relevant because some of them genuinely deserve to be recognized. Every time I review a new film I will have a list of those I covered below so you can see if they have been announced for DVD release, or are still out of print.
MISSING:
SHANKS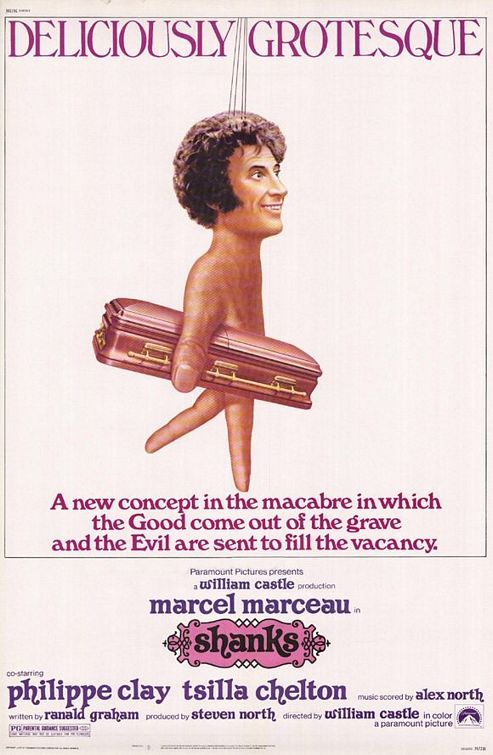 Featuring: Marcel Marceau, Tsilla Chelton, and Philippe Clay
Directed By: William Castle
Written By: Ranald Graham
Running Time: 93 minutes
Original Release Date: October 9th, 1974
Missing Since: Never Released
Existing Formats: None
Netflix Status: Not Available
Availability: Extremely Rare
Shanks was the final film of legendary B-movie director William Castle. It is also the first major role for the famous pantomime Marcel Marceau, who had appeared in numerous short films and in Barbarella (1968), but Shanks was intended to display his extraordinary talents. When you learn about a film starring Marceau, one expects something possibly in the vein of Chaplin or another silent film star. Of course since the gimmick king himself, Mr. Castle, is at the helm that is obviously not the case. This is an inventive horror film, spliced with some terrific dark humor, but ultimately it is not well thought out enough to deserve a recommendation.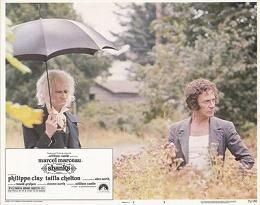 Malcolm takes Old Walker
outside for the first
time after death.
The story follows a deaf, mute puppeteer named Malcolm Shanks (Marcel Marceau) who lives with the Bartons, his sister (Tsilla Chelton) and her drunken lout of a husband (Philippe Clay), both of whom are nasty and treat him like dirt. His skills entertaining the children in town is observed by Old Walker (Marcel Marceau), a doctor who decides to take him on as a lab assistant in his gothic Mansion. For this help, Malcolm receives $500 weekly, which his sister and husband take for themselves. Old Walker wastes no time in showing Malcolm his experiments, which involves reanimating dead bodies. They test this with a frog, followed by a rooster. Unfortunately, Old Walker dies, but when Malcolm discovers his body, he proceeds with the experiments and carries them out with human beings himself. Meanwhile, the Bartons soon notice the absence of money, and try to find out what is going on.
Admittedly, there are several grimly hilarious sequences in this film. One includes Malcolm controlling two dead bodies and actually having them stroll into a grocery store to buy various items. For those who care, the clerk is played by William Castle. The problem is, while the premise is creative and fun, its execution is not adequately developed. This is not a matter of nitpicking; it's taking an idea and filling in the gaps instead of just concentrating on the few significant set pieces. First of all, it seems to me that anyone could reanimate corpses based on the theories presented here. Just insert some electrical shock pins into a few important nerve endings (wrist, back of neck) and you can manipulate your very own dead body. This would be fine if Malcolm didn't maneuver them in the most intricate fashion. To do this, he uses a controller with approximately three knobs. This enables him to contort the bodies any way he chooses. Regardless of how subtle their movements are, how deliberately timed they must be, only a few knobs are required. When he is using the control pad, he does so inside his vest or jacket to conceal the truth. This looks like he is twisting his own nipple.
Marceau assumes two roles, as the titular Malcolm Shanks and Old Walker, the latter of whom actually speaks, albeit very little. Under the guise of Old Walker, he is caked in enough makeup that he looks dead even when he is not yet. Obviously, Castle and Marceau took this storyline as a way to express Marceau's pantomime prowess without simply describing the character as a pantomime. That goal succeeds, but it is only a portion of what it takes to craft an enjoyable whole. As gifted as Marceau is, his acting leaves a lot to be desired. Now, he doesn't speak much, but Malcolm is our hero, someone we must sympathize with, yet the creepy sinister grin he has permanently etched on his face causes us to wonder what his intentions are. Shanks is a film that everyone refers to as bizarre or weird. It is because of Marceau's performance, not the plot. In the horror genre, this premise is not so outlandish, but the character of Malcolm is an enigma, and Castle never really delves beneath the surface of his personality or emotions.
Marceau's real-life friends, Tsilla Chelton and Philippe Clay, help out a great deal with the pantomime hijincks via dead bodies. They are extremely funny as the Bartons, but the overacting during any spoken bits is almost grating. In fact, almost all of the supporting cast members overplay their roles as if vying for an daytime Emmy. Cindy Eilbacher portrays Celia, the young blonde girl with pigtails who finds Malcolm fascinating. She pops up everywhere he happens to wander, and is the first to learn his secret. Up until that point, Malcolm was parading the bodies in public, and everyone interacted with them as if they were alive and normal, which is a bit of a stretch even for this fantasy. There is also the smell, or lack thereof, to consider, but I digress.
So what would you expect from the climax of such a strange film? Someone else discovers Malcolm's technology and tries to exploit it? Nope, a motorcycle gang crashes the party, duh. I won't elaborate on the ending, but I will just say these are the most inept gang of bikers in history, and the final twist was unnecessary. Suffice to say, the last 20 minutes warrants a collective "WTF!?".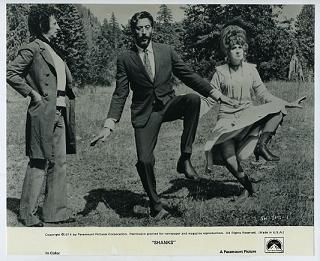 Malcolm controls
the Bartons as they
perform a show.
As kooky and odd as Shanks might be, it could have been gutsier, crazier, and increasingly gruesome. For a 93 minute film, this could have easily been shortened. There are segments that tend to drag, and Castle integrates silent film intertitles for seemingly no reason. Since the action contains dialogue, the use of these baffles me. His desire was a silent…talkie? Maybe that could explain the zany acting. The tone transitions are incredibly jarring and uncomfortable: black comedy, sentimental drama, and revenge film. The sad fact is that the story is sufficiently offbeat and peculiar to hold our attention, but the pacing and structure is a complete mess.
Alex North's score received an Oscar nomination, which I thought was interesting since his compositions came across as music one would hear in a family picture. It turns out he used parts of his rejected score from 2001: A Space Odyssey for Shanks. The music during the opening and closing credits possesses a dream-like quality. While that is playing, viewers see still images of Marceau and some kids that soon become live-action.
Shanks is a disappointment, but didn't have to be even though the final efforts of recognized directors tend to be among their weakest. There are similarities to Frankenstein, but Castle was aiming for a sillier product, one that was not fully realized despite its sprinkles of charm. I caught Shanks on TCM, which periodically airs out-of-print titles. It has not been released on DVD, and until Paramount launches a service like Warner Archives, I would not bet on seeing Shanks in stores anytime soon. Still, this is an intriguing look at Marceau on screen, and can appeal to those who like silent comedy, dark comedy, horror, or William Castle.
Final Rating: 5.5/10.0
No trailer or clip could be found of "Shanks", so instead I have provided this snippet of the score.
Archives
—Out of Print—
The Heartbreak Kid
The Taking of Pelham 123 (1998-TV)
The Stepfather 3
Latin Lovers
State Fair (1933)
Sleuth (1972)
Assembly
Ishtar
The Prehysteria! Trilogy
Only Yesterday
Ocean Waves
The Little Norse Prince
Breaking the Waves
Cruel Story of Youth
Two Rode Together
Love with the Proper Stranger
Betrayal
Willard (1971)
Ben
The Wizard of Speed and Time
Return from the River Kwai
Clarence
It Happened One Christmas
Napoleon (1927)
A Brighter Summer Day
Little Darlings
Karen Carpenter Double Feature
Barfly
King Solomon's Mines (1937)
Roman Polanski's Pirates
The Mighty Thor: 1966 Cartoons
Hulk: The 1966 Cartoons
Mr. Boogedy Double Feature
Stanley Kubrick's Boxes
The Swimmer
7 Women
Last Summer
We Sold Our Souls for Rock 'N' Roll
Saxon – Heavy Metal Thunder: The Movie
Christopher Columbus: The Discovery
1492: Conquest of Paradise
The Decline of Western Civilization (1981)
The Decline of Western Civilization Part II: The Metal Years
The Decline of Western Civilization Part III
SubUrbia
Execution of Justice
Death of a Salesman (1951)
Italianamerican & American Boy
Greed
The Godfather Saga: A Novel for Television
The Legend of Nigger Charley
The Soul of Nigger Charley
Wuthering Heights (1939)
The Defiant Ones (1958)
Revenge of the Stepford Wives
The Stepford Children
The Stepford Husbands
The Emigrants
A Bittersweet Life
Johnny Stecchino
Chimes at Midnight (Falstaff)
The Terrorizers
Rabbit Test
Twice Upon a Time
Human Highway
A City of Sadness
—Available on Netflix, Instant Watch (But Not to Purchase)—
Cinemania
Richard Burton's Hamlet
Orson Welles' Othello
The Keep
Only the Lonely
The Cook The Thief His Wife & Her Lover
—Available through Amazon Video on Demand Only—
Seconds
The Gambler
The Crimson Pirate
The New Land
—Now Available on DVD—
The African Queen
A Return to Salem's Lot – Available Through Warner Archives
Phantasm II
Red Cliff Part 1 and Part 2 – All Versions Available
The Stepfather
The Stepfather 2
Homicide
America, America
Cavalcade – Available in the 20th Century Fox 75th Anniversary box set
Ensign Pulver – Available Through Warner Archives
Children of the Corn 2: The Final Harvest
The Unholy Three – Available Through Warner Archives
The Magnificent Ambersons – Available with Citizen Kane Blu-Ray set
Salem's Lot
1-900
I'm a Cyborg, But That's Ok
Captain America – The 1979 Movies
Captain America (1990) – Available through MGM Limited Edition Collection
Wings
World on a Wire
The Portrait of a Lady
Reykjavik-Rotterdam
No Holds Barred
Johnny Guitar
North – Available Through the Sony Choice Collection
Quadrophenia
High Noon Part II: The Return of Will Kane
Shanks
—Other Articles to Read—
Fathom Events: Frankenstein & The Tempest
The Artist: Analyzing Its Popularity
When Going to the Movie Theater Became Torture
The Best and Worst of 2011
The Pet Peeves of 2011
Follow @Mr_CWebb
Follow @411mania
Follow @411wrestling
Follow @411moviestv
Follow @411moviestv
Follow @411games
Follow @411mma
---
"The plural of Chad is Chad?"
–From the movie Recount
—Other Articles to Read—
My Blog featuring Mini-Reviews of New Releases!
The Best and Worst of 2010
Top 50 Films of the Decade (2000-2009)
When Going to the Movie Theater Became Torture
Follow @Mr_CWebb
Follow @411mania
Follow @411wrestling
Follow @411moviestv
Follow @411moviestv
Follow @411games
Follow @411mma
---
"The plural of Chad is Chad?"
–From the movie Recount
NULL