Nether Regions 08.23.12: The New Land
August 23, 2012 | Posted by
Nether Regions started as a segment of the Big Screen Bulletin in the movie-zone that meant to showcase films that have been discontinued on DVD, are out of print in the United States, are only available in certain regions outside the United States, or are generally hard to find. Now it is a column all its own! You might ask, "Why should I care about a film I have no access to?" My goal is to keep these films relevant because some of them genuinely deserve to be recognized. Every time I review a new film I will have a list of those I covered below so you can see if they have been announced for DVD release, or are still out of print.
MISSING:
THE NEW LAND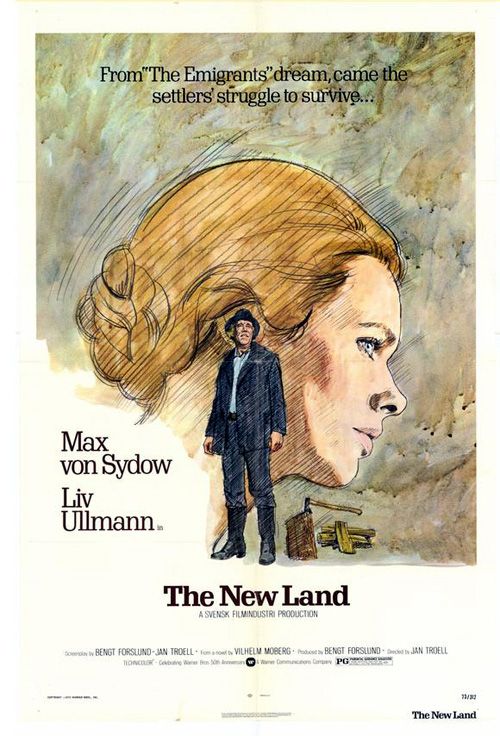 Starring:
Max Von Sydow, Liv Ullman, and Eddie Axberg
Directed By:
Jan Troell
Written By:
Jan Troell and Bengt Forslund (Based on Vilhelm Moberg's Novel)
Original Release Date:
October 26, 1973
Running Time
: 157 minutes
Missing Since:
July 7, 1994
Existing Formats:
VHS
Netflix Status:
Not Available
Availability:
Extremely Rare
Jan Troell's The New Land picks up right where The Emigrants left off. Putting both films together is the appropriate method of viewing. I suppose this sequel could stand on its own, but I'm not sure why anyone would be in the mood for just this part of the story. Describing both chapters as one glorious saga just feels right. The same amount of diligence, heart, and respect was instilled in both equally. Evidently though, Amazon thinks people will prefer only The New Land as it is available on their Video on demand service, while The Emigrants is not. If a company like Criterion, or even Kino Lorber, does acquire this property one day, they would release them as a set because that's how they were meant to be packaged. The arduous journey overseas might be over, but the Nilsson's have plenty of blessings and hardships in The New Land. This fitting closure is every bit as involving and moving as its predecessor.
Director Jan Troell
on the set.
By itself,
The New Land
explores more thematic territory than
The Emigrants
. For starters, important events from the period (1840's-1890) are a highlight, but what makes Troell's angle so rewarding is that she is not bludgeoning us with a history lesson. The Gold Rush, the onset of the Civil War, the Sioux Rebellion, not to mention religious fanatics, yellow fever, and more are covered, but not from an encyclopedic perspective. Troell's characters encounter these tangents and/or obstacles with uncommon realism. The family is at the threshold of an evolving country, but they are still the nucleus of the tale. Their feelings, transitions, and conformability drive the film, while the fluently integrated history persists around them, the details of which are grazed upon yet apparent. Juggling so many ingredients while maintaining the serene beauty and astoundingly subtle acting is effective because Troell understands composure and restraint. As cinematographer, he never hesitates to observe elements normally not addressed: birds flying south, win blowing through trees, making bread, dirtying hands from outside work, etc. These minor, relatively silent, but symbolic scenes are where the true power in the picture lies.Karl-Oskar Nilsson (Max Von Sydow) has now found the piece of land he wants to settle his family down on near Lake Chisago, Minnesota (known as Ki-Chi-Saga to the locals). Initially they must live in a small shanty, but eventually Karl-Oskar builds a house for them with the help of Robert and other emigrants. Shortly thereafter, Robert (Eddie Axberg) and his friend Arvid (Pierre Lindstedt) decide they will be leaving to search for gold in California. Karl-Oskar considers this foolish, but they depart anyway. Meanwhile, Karl-Oskar starts planting and plowing, taking advantage of the rich, fertile soil they traveled so far to obtain. The primary obstacle for the family is money, which they have none of. Obviously everything costs in America, including food, oxen, and even postage charges. They get by nonetheless as Uncle Danjel (Allan Edwall) and Ulrika (Monica Zetterlund) help out when possible. Karl-Oskar and most of the other emigrants have no regrets about moving and find it easy to adapt. His wife Kristina (Liv Ullman) has difficulty however. She misses Sweden and it becomes increasingly harder for her to cope as a result. As their lives continue to unfold, the Nilssons deal with new neighbors, religious turmoil, Indians, and the Robert's sudden return…without Arvid.
There are small differences between the two films that I noticed. One was the use of a narrator and voice-overs. Whenever a character passed away, robotic sounding male narration could be heard to boost the chilling atmosphere. Since I do not think it is a spoiler to reveal that we follow all of our leads until their deaths, untimely or through old age, I'll say that the concluding voice over for one of the central players was particularly emotional. Knowing the saga has come to an end after spending more than five hours with a family tends to leave an impression. The audience tagged along with them through the ups and downs, accepting their strengths and flaws as people. Troell's gentle grip on the humanity throughout both segments is unparalleled. I'm sure there are other offerings that might rival The Emigrants/New Land in regards to that quality, but I can scarcely come up with one off the top of my head. Another change is the efficient score, which is nowhere near as pointed, sharp, or hair-raising this time around. One of the few occasions Troell and Swedish composers Bengt Ernryd and Georg Oddner employ that discernable technique is for Robert's suspenseful, dizzying flashbacks, which dial back the sound almost entirely so that we soak in his tumultuous quest for riches with Arvid.
The performances are just as conservatively brilliant, but Max Von Sydow, Liv Ullman, and Eddie Axberg carry more of the weight from the supporting cast. That does not prove to be an issue as they are all endlessly mesmerizing. The dubbing is pronounced and could be bothersome to some, but it didn't really get on my nerves because the painstaking passion is evident despite that hiccup. Von Sydow and Ullman both have scenes that require more enthusiasm than was previously witnessed in the story, but they are searing. Von Sydow truly is a wonder to behold, shifting from just working around the farm tirelessly to shouting at Robert for lying and back to a quiet, amiable exchange with his troubled wife. He also sports a rad mustache midway into the film, so there's that. And his angry retort when a group of die-hard Christian inform the Nilsson that they cannot associate with Ulrika (a converted Baptist) was no doubt unheard of in the 1840's, but it is cogent and thought-provoking. The final portion of The New Land bizarrely reminded me of the prologue in Pixar's Up as we see Karl-Oskar old and dying wandering lonesome around the settlement he erected from scratch.
The VHS cover.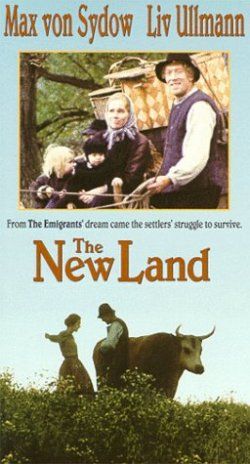 Ullman has a harder task as the last half of this vast tale commences. Troell did such a magnificent job of not portraying Kristina as a nag or a blandly submissive wife in The Emigrants, but rather one who lived by her values, ones which Ullman conveys as ingrained and apart of the soul of the persona. In The New Land, Kristina is regularly upset due to homesickness, but Ullman still steers clear of being whiny or unsympathetic. Ullman is not just an 1840's wife on the outside; she has deeply rooted these morals and customs internally as well. She speaks and moves with a selfless urgency, yet doggedly has a handle on the essential range of the role. We see a woman from an era we are unfamiliar with, but that does not mean we fail to identify with her. When she longs for the sights and smells of home, anyone can connect with that. When a permanent problem arises where she and Karl-Oskar cannot have sexual relations, she responds in a manner females can appreciate, if not agree with. Her uneasy expression as the boat landed on the shore of New York, while everyone else lit up with glee foreshadows her mood in The New Land. The escalation is expected, even though Karl-Oskar is delighted with Minnesota. But she is devoted and accessible until her final moments. Eddie Axberg is superb as Robert, stubborn in his immaturity, yet glimmers of manhood are visible as his sub-plot progresses. And Swedish actress and singer Monica Zetterlund impeccably impels the cast uniformity as Ulrika, handing in a sensitive, glowing turn.
Not all of the newly introduced story threads are addressed with as much attentiveness as they should be, but Troell's balance is sensational regardless and the pacing is never episodic. Ulrika marrying a Baptist minister and getting knocked up was surprising, but Troell just touches on it and moves on. I do wish the script had referred back to the threats made by the Nilsson's neighbors as to their loyalty for Ulrika. Because she is a friend, the idea of not accepting her into their home because she becomes a Baptist enrages them. This prompts the overly faithful neighbor to reply that no other Christians will visit them until their house has been "properly cleaned." This allegiance to Ulrika is intriguing considering the heated arguments, accusations, and name calling on the boat in The Emigrants. Troell's control and strategy with the camera is no less hypnotizing. The brutality of the winter storms, the dense mystery of the forests, and the desolate emptiness of the desert are all exhibited with such infectious immediacy. The milieu illustrations are acutely pragmatic. There are some moments inside the home that are a tad too dark, but that could be my poor transfer. My bootleg copy was recorded from Cinemax back in the 80's onto VHS and then to DVD, so you get the picture. Credit is also deserving for P.A. Lundgren production design and the authentic costumes from Ulla-Brit Soderlund.
I did adore this film and might even refer to it as a masterpiece, but I would not award either installment a perfect grade. Having said that, I would snatch up a Blu-Ray edition faster than you say its foreign title, "Nybyggarna." The Emigrants and The New Land afford moviegoers an unusual depiction of foreign settlers, adjusting to a new country, and the uncertainty times that were prevalent during the mid-late 1800's. These films circumvent glamorization, are free of artificiality, and do not rely on action or frenetic editing. That is not say excitement cannot be found. The New Land keeps the calm, deliberate speed, but packs more pulse-pounding instances than you might expect. Other than the terrific Everlasting Moments, I have not seen many titles from Troell's resume, but that will soon be rectified. This chronicle displays what he is capable of, so I'm an instant fan. It is unfortunate that these are not available in any format in the US and do not air much on television. They should be held in higher esteem. As Mr. Hirsch commented last week, this was nominated for an Academy Award for Best Foreign Language Film in 1973, the same year The Emigrants was nominated for Best Picture. And The Emigrants got the Best Foreign Language Film nod a year before. I'd love to ask an Academy member how that went down. Over the years, the phrase "The American Dream" has been thrown around and embellished, but to comprehend what that sincerely meant to people over 150 years ago, seek out and be enlightened by these films.
Final Rating: 9.0/10.0 (for both)
—Out of Print—
The Taking of Pelham 123 (1998-TV)
The Stepfather 3
Latin Lovers
State Fair (1933)
Sleuth (1972)
Assembly
High Noon Part II: The Return of Will Kane
Ishtar
The Prehysteria! Trilogy
Only Yesterday
Ocean Waves
The Little Norse Prince
Breaking the Waves
Cruel Story of Youth
Two Rode Together
Love with the Proper Stranger
Betrayal
Willard (1971)
Ben
The Wizard of Speed and Time
Return from the River Kwai
Clarence
It Happened One Christmas
Napoleon (1927)
A Brighter Summer Day
Little Darlings
Karen Carpenter Double Feature
The Crimson Pirate
Roman Polanski's Pirates
The Mighty Thor: 1966 Cartoons
Hulk: The 1966 Cartoons
Mr. Boogedy Double Feature
Stanley Kubrick's Boxes
Shanks
7 Women
Last Summer
We Sold Our Souls for Rock 'N' Roll
Saxon – Heavy Metal Thunder: The Movie
Christopher Columbus: The Discovery
1492: Conquest of Paradise
The Decline of Western Civilization (1981)
The Decline of Western Civilization Part II: The Metal Years
The Decline of Western Civilization Part III
Execution of Justice
The Gambler
Death of a Salesman (1951)
Italianamerican & American Boy
Greed
The Godfather Saga: A Novel for Television
The Legend of Nigger Charley
The Soul of Nigger Charley
Quadrophenia – Available 8/28/12
Wuthering Heights (1939)
The Defiant Ones (1958)
Revenge of the Stepford Wives
The Stepford Children
The Stepford Husbands
The Emigrants
—Available on Netflix, Instant Watch (But Not to Purchase)—
The Heartbreak Kid
Cinemania
Richard Burton's Hamlet
Orson Welles' Othello
The Keep
The Swimmer
Only the Lonely
North
The Cook The Thief His Wife & Her Lover
SubUrbia
—Available through Amazon Video on Demand Only—
Barfly
Seconds
King Solomon's Mines (1937)
—Now Available on DVD—
The African Queen
A Return to Salem's Lot – Available Through Warner Archives
Phantasm II
Red Cliff Part 1 and Part 2 – All Versions Available
The Stepfather
The Stepfather 2
Homicide
America, America
Cavalcade – Available in the 20th Century Fox 75th Anniversary box set
Ensign Pulver – Available Through Warner Archives
Children of the Corn 2: The Final Harvest
The Unholy Three – Available Through Warner Archives
The Magnificent Ambersons – Available with Citizen Kane Blu-Ray set
Salem's Lot
1-900
I'm a Cyborg, But That's Ok
Captain America – The 1979 Movies
Captain America (1990) – Available through MGM Limited Edition Collection
Wings
World on a Wire
The Portrait of a Lady – Available on Blu-Ray 11/20
Reykjavik-Rotterdam
No Holds Barred
Johnny Guitar – Now Available on Blu-Ray and DVD!
—Other Articles to Read—
Fathom Events: Frankenstein & The Tempest
The Artist: Analyzing Its Popularity
When Going to the Movie Theater Became Torture
The Best and Worst of 2011
The Pet Peeves of 2011
Follow @Mr_CWebb
Follow @411mania
Follow @411wrestling
Follow @411moviestv
Follow @411moviestv
Follow @411games
Follow @411mma
---
"The plural of Chad is Chad?"
–From the movie Recount
NULL